Is your day characterized by fatigue and lethargy? Do you feel like you don't have the Energy to pull through life's daily challenges? Do you unwillingly have to resort to energy drinks and caffeine? Do you wish there was an alternative to induce Energy? Don't worry. You're not alone. People all over the world are finding it difficult to stay productive due to a lack of Energy.
Energy is vital to get going, but it certainly doesn't come for free. The good news is there are ways to improve your energy levels without having to drink coffee, espresso, or energy drink — which often contain dangerous chemicals.
Instead, you can turn to an energy-boosting supplement to help you sustain through the day. Of course, not all supplements are the same. The majority of them contain caffeine, but some don't. Even those that are caffeine-free aren't always going to be a healthy option. Today, we're going to look into one of the most popular and effective non-caffeine energy supplements, Performance Lab Energy.
We'll conduct an in-depth analysis of this supplement's ingredients, pros/cons, claims, benefits, and more so you can decide if it is worth the purchase. So let's get started with this complete review of Performance Lab Energy.
Performance Lab Energy Review – Energy Boosting Dietary Supplement

$69.00
Free Worldwide Shipping on orders over $250
Performance Lab Energy is an energy-boosting supplement that improves energy levels and the digestive system. with mental performance, sex life, better sleep, and improved mood.
Performance Lab Energy is a non-caffeine energy-boosting supplement made by Opti-Nutra Ltd. through their secondary company Performance Lab Ltd. This supplement brand has gained widespread popularity over the past five years and comes with plenty of recommendations. Performance Lab Energy is not like your usual energy supplements and is one of the purest products on the market for mitochondrial support.
Unlike caffeine pills, Performance Lab Energy targets whole body energy and long-term energy improvement by supplying food, supporting and promoting your mitochondria – the powerhouse of your energy cells. And unlike energy pills filled with synthetic additives, Energy is clean.
No caffeine, no crash, no additives. Just pure revitalizing Energy in 100% plant-based NutriCaps. Featuring MicroActive® Q10, BioPerine®, BioPQQ®, and Bio-Enhanced® nutrition technology, Energy optimizes cells' mitochondria for a surge of natural vitality in both body and mind. Optimize cells' mitochondria powerhouses, improve mental vitality and workout intensity, and offers clean, jitter-free, crash-free life energy.
Performance Lab Energy works without caffeine for a cleaner and healthier energy boost. One of the things to note is that Performance Lab is exceptionally high quality. It's vegan-friendly, allergen-free, soy-free, and contains no synthetic additives.
Who Makes Performance Lab?
Performance Lab is made by Opti-Nutra Ltd through their secondary company, Performance Lab Ltd. It is based in the U.K. and manufactures all its supplements in the USA.
What is Mitochondria & How Does Performance Lab Energy help?
Mitochondria is your body's powerhouse for Energy – If they were not there, you wouldn't be able to achieve any form of energy production. It's usually found in huge numbers in organs such as the brain, heart, and muscles. Over time your mitochondria suffer damage from age and unstable free radicals which causes problems like long-term fatigue, brain fog, and other disorders related to a lack of Energy.
Performance Lab Energy saves this situation by offering stimulant-free fuel to your mitochondria. It supplies your mitochondria with support to help them grow, become effective, stay protected, and function at their maximum level. Thus performance lab energy provides a cleaner and safer way to boost Energy.
Performance Lab Energy Ingredients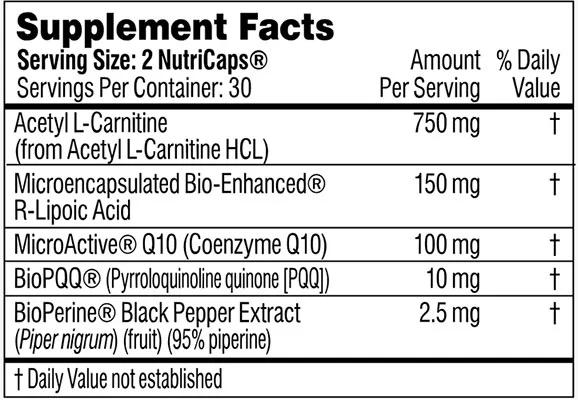 Before we get into the ingredients in Performance Lab Energy, let us tell you that there are no proprietary blends in it, all the dosages are clearly labeled, so you know for sure what you're getting from each ingredient in this supplement in terms of the dosage. Also, there are no hidden fillers or artificial additives which could damage the purity of this product.
Now let's get into the Performance Lab Energy ingredients:
ALCAR – Amino acid cofactor needed for cellular Energy also stores muscle energy and targets fat.
Lipoic Acid – Help carbohydrate metabolism for Energy and also helps combat oxidative stress.
CoQ10 – Vitamin-like compound that ignites cell energy and protects and forms mitochondria.
PQQ – Works with CoQ10 to support mitochondria formation as well as protect it from oxidative stress.
Black Pepper Extract – speeds up absorption and also provides a few thermogenic fat loss benefits.
As you can see, performance Lab energy is a great formula for energy production. It includes several angles, with some of the ingredients here working together for optimal energy production. If you want to know in detail about the ingredients, you can visit the Performance Lab Energy website for thorough research.
Side Effects of Performance Lab Energy
Performance Lab Energy is generally safe to consume. There are no ingredients in this supplement that have been linked to causing damaging side effects – and there have been no reports of any side effects from any of its users. One can safely use Performance Lab Energy for long-term daily use. The dosage of all the ingredients fits according to clinical research made. Thus, based on research and experience, Performance Lab Energy is a very safe energy supplement.
Energy achieves this by avoiding the stimulants used in usual energy supplements and instead using clean and powerful ingredients for cell energy production that are dosed properly and backed by clinical research. Energy is free of GMOs, gluten, soy, colorants, preservatives, and other additives and is thus well-tolerated by the body; safe and advantageous for long-term use. However, it is recommended to consult your doctor before starting to include Performance Lab Energy in your daily routine.
Performance Lab Energy Dosage
It is recommended to take 1-2 capsules of Performance Lab Energy in the morning and 1-2 capsules in the early afternoon. The CoQ10 and R-Lipoic Acid in this supplement are fat-soluble, which means you should take it with a healthy fat for best results. For best results, you can use unrefined coconut oil or virgin olive oil, or some food when using Energy. You can also try another healthy fat: the new organic, non-GMO Performance Lab® MCT Oil.
You should take Performance Lab Energy capsules daily and consistently. With consistent use of Performance Lab Energy, you'll derive maximum benefits from the product. Performance Lab Energy is not a typical energy booster, so taking the capsules before work or a grueling activity won't give you any considerable effects.
How Performance Lab Energy Works in Real Life?
The ingredient combination in the Performance Lab Energy stack could change your life in good ways. To say the least, you should feel better. Users report feeling a higher level of clean Energy with less tiredness during the day and clearer and quicker thinking. And the unique combination of ingredients in Performance Lab Energy means increased Energy without the crash, which is usually associated with stimulant-based stacks.
Many reports boosted mental performance, better memory, and mood. Even your sex life could improve. For men, ALCAR helps get and maintain an erection. And both men and women can have more stamina. Some users report less nerve pain, mostly because of the R-Lipoic Acid. And your other nootropic stack and prescription meds may give more effective results because of the Piperine in this formula.
Nootropics Expert Recommendation – Performance Lab Energy Review
Nootropics Expert Tested, Approved and recommend the use of Performance Lab® Energy as an energy supplement. The pricing of Performance Lab Energy is economical for what you get. Buying individual supplements can cost up to twice as much depending on where you get them and in what form. The biggest benefit of Performance Lab Energy is full-day Energy without the use of stimulants. And without the crash. You get natural clean Energy for quicker thinking, better athletic performance, and more efficient use of fats.
Performance Lab Energy works well with the company's Performance Lab NutriGenesis Multi formula which supplies the necessary vitamins and minerals to your body. All Performance Lab products, including their Energy formula, are available only on their website. You cannot find it on Amazon or other online retailers. Performance Lab Energy is one step ahead of others in the market because it uses top-notch ingredients in this formula, including patented and science-backed sources of CoQ10, PQQ, and Alpha Lipoic Acid.
The company uses vegan NutriCaps for capsules infused with Prebiotics to ensure faster absorption and better bioavailability. Each batch of product undergoes tests before and after encapsulation for unparalleled quality checks. And Performance Lab also provides a risk-free, "empty bottle" money-back guarantee if you are not satisfied with any of their products. Note that CoQ10 and R-Lipoic Acid in this supplement are fat-soluble and need to be taken with healthy fat for the best absorption into your cells.
Where to Buy Performance Lab Energy?
Performance Lab energy is available only on the company's official website. One bottle (a month's supply with 60 capsules) costs $69, but you can save money by purchasing in bulk. If you want to achieve maximum brain performance, I recommend combining Performance Lab Energy with other Performance Lab supplements.
Providing you with the top suggestions:
Performance Lab Mind (for concentration, brain fog, and mental performance)
Performance Lab Sleep (for improving sleep quality)
Performance Lab Caffeine+ (a stimulant for short-term Energy)
Performance Lab Whole-Food Multi (a general top-quality multivitamin supplement)
Performance Lab MCT – combine it with a cup of coffee for a further energy boost
Can You Trust Performance Lab?
When it comes to quality standards, performance Lab provides superior quality products, which not many supplements on the market today can offer. Their NutriCaps® contribute to making them such a trustworthy and well-known brand. They're also very clear with their labeling and ensure the right dosages.
Their manufacturing facilities are registered with the FDA, NSF cGMP compliant, NPA-certified, UL-certified, 21 CFR Part 111 compliant, Prop 65 compliant, USDA Organic certified, meet USP standards, HACCP-certified, STR-certified, ESC compliant, and U.S. Pharmacopeia certified. Not only that, but their Energy supplement undergoes third-party testing and is eco-friendly, non-GMO, prebiotic-infused, vegan-friendly, GMP-certified, caffeine-free, soy-free, synthetic additive-free, soy-free, gluten-free, allergen-free, free of WADA banned substances, and non-irradiated.
Performance Lab Energy Dosage, Packaging, and Prices
Those who are familiar with the Performance Lab supplement line will instantly recognize the packaging of their Energy supplement. It consists of the same minimalist bottle design that all its other products contain. Only the color and symbol of the big box on the front are different, as Energy features a lightning bolt icon and a green gradient box. The other part of the bottle is white with a white cap and black lettering. The box in which the bottle comes has the same design.
The bottle or box does not have too many claims written on it, but it does mention the ingredients and dosages. Each bottle contains 60 capsules, and each serving is 2 NutriCaps capsules. If you take the recommended serving of one per day, one bottle will last you one month. Given the dosages of each ingredient, you can double up the dose per day if you want, but it's not needed for results. Sign up for emails to get 10% off on your first order and receive unique insights, suggestions, and exclusive offers.
1. Ultramodern Design
Energy is formulated to boost your natural production of cell energy, supplying all metabolic processes. A clean, smart supplement made from advanced form nutrients that boost your mitochondria. Offering a safe, natural source of stimulant-free vitality for complete mind-body performance, including improved athletics and efficient fat burning.
2. Easy to Swallow
Performance Lab Energy comes in convenient, easy-to-swallow 00-sized NutriCaps®. 100% plant-based capsules made from pullulan (fermented tapioca) that are spotless and naturally infused with Prebiotics. Promoting easy digestion and maximum nutrient absorption into your body.
3. Designed for Performance
Stimulant-free booster boosts energy production in cells' mitochondria*
Helps give results by maintaining Energy in muscle and metabolizing Energy in fat
Improves vitality by helping to increase, protect, and fuel mitochondria
Supports efficient metabolic performance in almost every cell in the body
4. Ingredients
Supplement Facts
Serving Size: 2 NutriCaps®
Servings per container: 30
Amount
Per Serving % Daily Value
Magnesium (as NutriGenesis®) 60 mg 14
Acetyl L-Carnitine(from Acetyl L-Carnitine HCL) 500 mg †
Microencapsulated Bio-Enhanced®
R-Lipoic Acid 100 mg †
MicroActive® Q10 (Coenzyme Q10) 100 mg †
BioPQQ® (Pyrroloquinoline quinone [PQQ]) 10 mg †
BioPerine® Black Pepper Extract
(Piper nigrum) (Fruit) (95% Piperine) 2.5 mg †
Daily Values are based on a 2,000 calories per day diet.
† Daily Value not established.
5. Other Ingredients
NutriCaps® Pullulan Capsule, NuFlow® Rice Concentrate. Suitable for vegans. Contains NO soy, egg, fish, shellfish, dairy, peanut, tree nuts, wheat, or other allergens. Non-GMO and non-irradiated. Free of gluten, synthetic additives, caffeine, artificial colors, and preservatives.
Shipping & Returns of Performance Lab Energy
Performance Lab ships its products quickly, anywhere in the world. And also make returns easy. All orders are sent out on the same day or the next day. If you've placed your order on the weekend or a public holiday, then it will be sent out on the next business day. All shipments are sent out by a tracked mail service. You will receive a tracking number within 48 hours of your order being sent out.
Please note: Parcels can be delayed for many reasons. Please check your tracking number with the courier and wait for 72 hours before contacting them.
If you live in the USA (including Hawaii, Alaska, and Puerto Rico), Canada, or Mexico, your order will be delivered by USPS, FedEx, or DHL.Orders made before 2 pm Eastern Time, will be sent out the same day. Orders made after 2 pm Eastern Time will be sent out the next shipping day.
Returns Policy of Performance Lab Energy
If you've ordered something by mistake or for any reason do not want it, then returning an unused item is easy. Simply contact their customer support team within 14 days of receiving your order. They will give you the address and detailed instructions on how to return your item(s) to them. You will have to pay for return shipping, and when they receive the items back, they will issue you a refund, less their shipping costs.
Money-Back Guarantee of Performance Lab Energy
Your first order is covered by a money-back guarantee. You can try Performance Lab for a full 30 days. If you don't see results, the company will happily refund your money (minus any shipping costs). This guarantee applies to your first order of Performance Lab, up to a maximum of one container of each product.
If you open more than one container of the same product, you cannot claim a repayment on the additional containers. Before requesting a refund, you should take your supplement according to the label instructions. Evaluate your results, but please keep in mind that for best results, all supplements should be used alongside a healthy lifestyle, including a healthy diet and regular exercise.
Performance Lab Energy FAQ
Who should take Performance Lab Energy?
Anyone who is seeking to enhance their overall performance and life energy in a healthier way other than traditional stimulants can use Performance lab Energy. As it boosts energy production at the cellular and molecular levels, Energy helps increase whole-body vitality in all people.
How do I take Performance Lab Energy?
Take 1 or 2 capsules of Performance Lab Energy in the morning or in the evening with an empty stomach. If you want to get the best results, then take Performance Lab Energy daily and consistently.
Is Performance Lab Energy safe?
Just like other Performance Lab supplements, Energy is also designed for daily use, and it is entirely safe. As compared to the other supplements in the market, which contains stimulants, Performance Lab Energy contains all the natural and potent ingredients.
Is Performance Lab Energy gluten-free?
Yes, The formula of Performance Lab Energy is designed to be free of gluten, GMOs, soy and preservatives.
Is Performance Lab Energy legal?
Yes. Performance Lab Energy is a safe, natural, and 100% legal way to boost physical as well as mental Energy.
Performance Lab Energy Review 2023: Is this the right supplement for you?
If you want to naturally increase your vitality levels without the use of caffeine but by using a booster to your cells' mitochondria, Performance Lab Energy may be most suitable for you. After all the research and studies, we conclude that Performance Lab Energy is one of, if not the best, energy supplements on the market. It does not consist of stimulants and gives your body composition, cells, and the mitochondrial system added Energy to have it work more efficiently instead of just adding in stimulants like caffeine and giving short-term benefits.
So, if you need a long-term, healthy, and risk-free natural energy enhancement, this is a product to try. Safe, natural, and legal way to re-energize mental and physical performance. Performance Lab Energy is an amazing long-term energy booster that lacks short-term effects. When we say Performance Lab Energy is better than others, we mean it. They provide a clean and effective natural energy boost that cannot be got from any other similar supplement. With no caffeine and no stimulants, you'll be startled at the amount of Energy you receive daily. Let us end this review with our final verdict.
Performance Lab is a great supplement if you want to gain high energy without an energy crash, but for best results, you need to combine it with Performance Lab Caffeine+ and a good nootropic stack. So if you've tried other ways to boost your Energy, including countless cups of coffee – I recommend giving Performance Lab Energy a try. If you'd like to try Performance Lab Energy or gather more information about this extraordinary line of supplements, please go to their website. And while you're there, you can place an order for your first Performance Lab Energy.
Performance Lab Energy Review
Performance Lab Energy is an energy-boosting supplement. With boosted mental performance, better memory, and mood. Even your sex life could improve. And also easy digestion.
Pros
Complete revelation on the amount of each ingredient.
Top quality branded ingredients (i.e., MicroActive® Q10, BioPQQ®, Bio-Enhanced® Na-RALA, BioPerine®).
No added ingredients.
No World Anti-Doping Agency (WADA) banned substances.
Vegan-friendly NutriCaps capsules mixed with Prebiotics.
Tested before encapsulation for allergens, GMOs, microbes, pesticides, herbicides, heavy metals, and other contaminants.
Decent dosage ingredients.
Ships in recyclable cardboard security boxes filled with biodegradable packing peanuts.
Open-source formula without unneeded fillers.
Money-back guarantee (less shipping).
24/7 customer support.
Cons
Only available on their website.
Quite expensive.
A too-low dosage of magnesium.
No short-term results.