Collagen supplements have gained tremendous traction with numerous benefits. While aging, we do not get the skin radiance like in our 20s. One possible reason is lost collagen due to aging. Vitauthority Multi Collagen Protein is a dietary supplement that contains collagen peptides enhanced with vitamin C and hyaluronic acid. As we go deeper into Vitauthority Multi Collagen Protein Review, you will find its pros and cons, dos and don'ts, side effects, and more. With many collagen supplements in the picture, choosing the right one is indispensable. We hope Vitauthority Multi Collagen Protein Review (unflavored) clarifies your concerns about a collagen protein supplement.
Detailed Vitauthority Multi Collagen Protein Review

-20%
$34.99
60 Day Money Back Guarantee
Click on the above button to buy Vitauthority Multi Collagen Protein and enjoy a flat 20% discount. Hurry! Grab the offer now.
As we decline with age, the natural collagen production of our body starts decreasing. This is the major reason which causes aging. Especially after the age of 30, our natural collagen production begins to decline and causes uneven skin tone, fine wrinkles, sore cracking joints and Loose, wrinkly skin
Vitauthority Multi Collagen Protein is a powder that helps you get multi collagen with every scoop. Moreover, it comprises five different peptide forms. It covers the very many aspects of your overall health. Most people's definition of fitness includes healthy bones and joints, improved skin, less aging signs, enhanced hair, gut, and muscle mass. In this regard, Vitauthority Multi Collagen Protein caters to these aspects. Every scoop of Multi Collagen + is fortified with 5 types of collagen and Hyaluronic Acid & Vitamin C. This powder contains five multi collagen peptides and is odorless and tasteless. The peptides which this product contains are types I II, III, V, and X, along with Vitamin C and Hyaluronic acid. All these collagens are sourced from four different food groups.
Type I and Type III collagen, bovine collagen comes from Grass-Fed Beef.
Type II collagen comes from Farm-Raised Chicken, which is an excellent source of it. This type is ideal for people looking to improve their joint health.
The Marine based collagen is an excellent source of types I and V collagen
Finally, the Eggshells which contains most of the types of collagen Types I, II, III, IV, and X.
Vitauthority makes a wide range of nutritional supplements, which it manufactures in the U.S in certified cGMP (current Good Manufacturing Practices) facility. All their products do have a scientific formula and are non-GMO, gluten-free, and soy-free.
What are the essential ingredients in Vitauthority Multi Collagen Protein?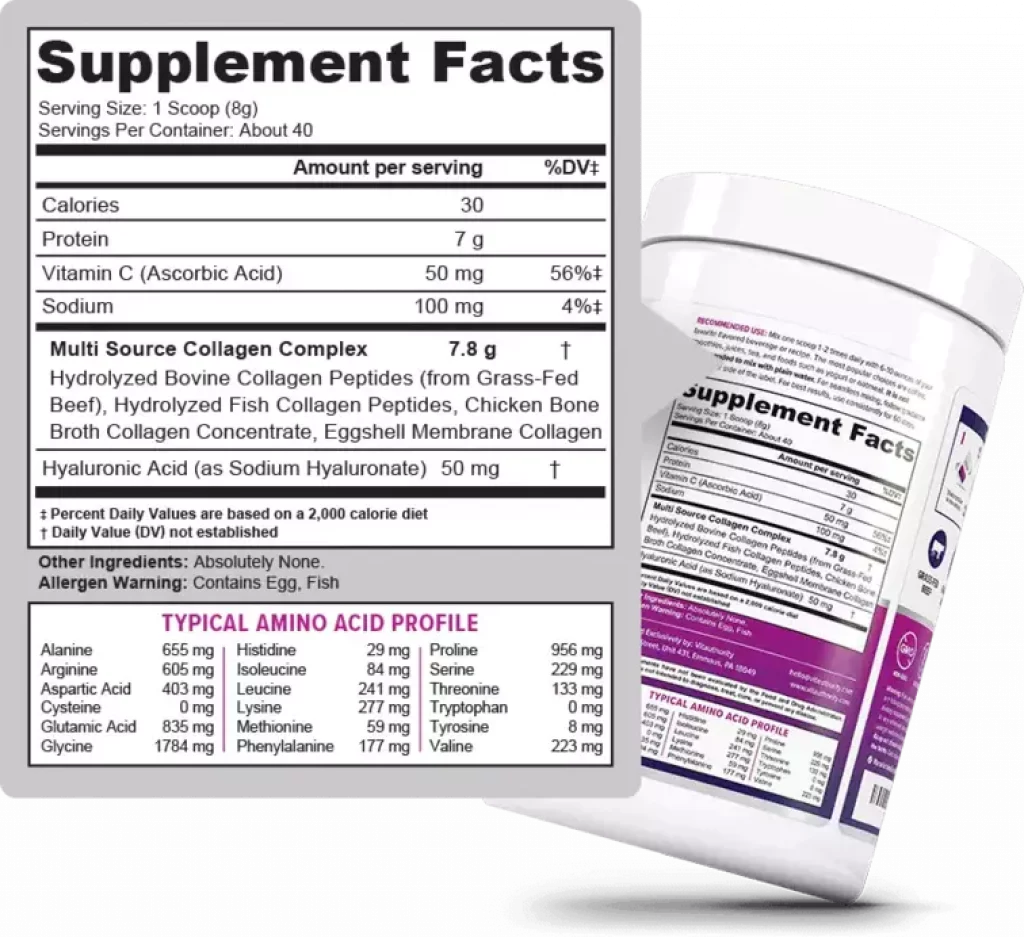 Vitauthority Multi Collagen Protein comprises a multi-source collagen complex, hyaluronic acid, vitamin C, and an amino acid profile. Let's start our brief description of its ingredients' benefits:
Multi-source collagen complex:You get 7.8 g multi-source collagen complex with Vitauthority Multi Collagen Protein. In addition, it comprises hydrolyzed bovine collagen peptides (from grass-fed beef), hydrolyzed fish collagen peptides, chicken bone broth collagen concentrate, and eggshell membrane collagen.
Type I collagen: It is abundantly found in connective tissue like skin, bones, etc. Type 1 collagen helps improve the skin by reducing aging signs like fine lines and wrinkles. Additionally, it helps strengthen the nails and is viable for muscles.
Type II collagen is crucial in the cartilage and helps support the joints. It contains elements like glucosamine and chondroitin sulfate, which are known to help with joint health. In addition, it helps provide structural support to the joints.
Type III collagen:It is associated with skin elasticity and is an essential component of our hollow organs. Additionally, it is found in blood vessels and joints.
Type V collagen:It supports the bone and may help eye health. Moreover, it is found in placental tissues and other sources.
Type X collagen:It contributes to the new bone formation in articular cartilage. Thus, it is associated with joint health and bone development.
Vitamin C: Vitamins play are crucial in many dietary supplements. You get 50 mg of vitamin C as ascrobic acid in with each serving of Vitauthority Multi Collagen Protein, Vitamin C also is the key ingredient that plays a vital role in the synthesis of collagen and the regulation of the collagen/elastin balance in the skin. Without Vitamin C, body cannot cannot form or store collagen. Apart from this vitamin C helps boost immunity to fight many ailments. In addition, it is essential for growth and bone health.
Hyaluronic acid:
This product contains 50mg of hyaluronic acid, which is known to help treat problems such as stretch marks, age spots, and fine lines. It also helps retain moisture in the skin for elasticity. It has many use cases in many skincare products. Moreover, it has excellent use in countering the effects of aging signs. It helps speed up wound healing and relieve pain in joints.
Typical amino acid profile: Amino acids are the building blocks of proteins, but they also act as activators in many processes, including catalyzing the synthesis of proteins and other molecules. In this regard, Vitauthority Multi Collagen Protein comprises alanine, arginine, aspartic acid, glutamic acid, Cysteine, leucine, lysine, serine, Tryptophan, and Tyrosine and more.
Benefits of Vitauthority Multi Collagen Protein
There are a large number of different types of collagen on the market that use collagen from a variety of sources. In Vitauthority hydrolyzed collagen protein, you get all sources in one product. It has five types of collagen from four food-based sources to support your skin, nails, hair, joints, and gut health. So lets just quickly check with the benefits offered by it:
Helps in reducing Fine lines and Wrinkles
Fine lines and wrinkles are caused by the skin breakdown of collagen and elastin. These breakdowns can occur when a person is exposed to ultraviolet radiation, pollution, smoke, or physical stressors like smoking. Collagen and elastin are two of the most important proteins that work together to provide the support structure for skin, helping it be smooth and resilient. The product contains hyaluronic acid, which can help eliminate wrinkles and fine lines which occur around the jaw and brow.
Gives you a Youthful and Vibrant Skinte
The benefits of collagen supplementation in your skin are as impressive as they sound. It creates tougher, smoother skin and helps with all the elements that would contribute to a lovely complexion. Collagen has also been studied to help reduce cellulite by improving skin elasticity and preventing water loss.
Strengthens your Joints and Bones
A recent study has shown that the Type II Collagen can alleviate the pain in joints and stiffness, improving flexibility. Daily collagen also supplements the body against tendonitis, ligament sprains, and joint pain.
Gives you Lean Muscle Mass
Collagen protein is one of the essential building blocks to help restore muscle and connective tissue that has been damaged, leading to increased lean muscle and improved metabolism. It contains amino acid, which helps repair and rebuilds damaged muscles and connective tissue.
Helps in Maintaining a Healthy Gut
Glutamine is an essential amino acid that is present in Collagen. It is an amino acid that is abundantly present in the body. This amino acid, along with alanine, helps promote optimal gut and digestive health.
Stronger and Healthier Hair and Nails
Health supplements such as collagen have been shown to help people grow stronger, healthier hair and nails. A recent study found that when individuals took collagen supplements, they grew an average of 0.5 inches in their hair and a total of 1.6 inches in their nails over the course of the study.
Vitauthority Multi Collagen Protein Flavors and Taste
Next, in our Vitauthority Multi Collagen Protein Review, we will discuss its taste and flavors. Quite recently, the company has launched its new range of flavors which are as follows:
Unflavored (original)
Pink Lemonade
Chocolate
Strawberry
Tropical Punch
All these flavors contain the same formula that made the original product so popular. Most of its users have initially been a fan of the unflavored option, but with the addition of new flavors, it has added the cherry on the cake. Speaking about Vitauthority Multi Collagen Protein Taste, all flavors taste great. Vitauthority offers a wide range of great-tasting collagen powders that are formulated to provide optimal nutritional value. My two personal favorites are the chocolate and the pink lemonade, which are crafted in a way to be able to easily mixed with water or juice. Primarily with the unflavored option, we have to mix it with some other beverage like the pre-workout or BCAA supplement, but now, with new flavors, we can have them without even mixing them.
Vitauthority collagen Side effects
With many positive reviews, Vitauthority Multi Collagen Protein may not have side effects. Of course, the ingredients are safe as amino acid profile and collagen are essential for the human body. However, one should speak to the doctor before using the product. Hence, it is essential to know the potential Vitauthority collagen side effects.
Recommended Dosage of Vitauthority Multi Collagen Protein and who is it for?
The official website recommends mixing one scoop 1-2 times daily with 6-10 ounces of your favorite recipe or beverages. You can mix it with your coffee, smoothies, tea, juices and other foods like yogurt or oatmeal. To get the best taste and result, you should mix the content before use. We recommend you not mix it with plain water and take it consistently for 60 days to get the best results. You get 7g of protein with every scoop. Furthermore, taking too much collagen is not beneficial. It may result in some side effects like headaches, digestive problems etc. Adults and children should consult a doctor to know the ideal collagen intake.
When to expect results from Vitauthority multi collagen protein?
As with any dietary supplement, one should wait for the stipulated time to see the results. The website states that joint pain relief comes within two to three weeks. However, the long-term results for hair and nails can be seen after using the product for sixty days.
What does Vitauthority multi collagen protein do?
There are minimal chances of Vitauthority collagen side effects with many positive customer reviews. On the other hand, it is loaded with many health benefits. As we age, our skin loses collagen, and many other factors like environmental stressors affect the skin. In this regard, collagen supplementation helps strengthen joints. It also helps grow healthier hair and nails. Moreover, collagen protein helps provide a feeling of fullness and reduce cravings. Furthermore, the essential amino acids in collagen help boost gut health and maintain microbiome health. To get healthy skin, one needs to boost collagen production. In this regard, multi collagen protein helps remove fine lines and wrinkles. Hence, it helps keep the skin toned and enhances elasticity.
Where to Purchase Vitauthority Multi Collagen Protein?
The best place to but this collagen powder is its official website. When you purchase through the company's official website, you can get access to the best deals, latest promotions, and free shipping on all US orders, ensuring that you are always able to get that item at a great price. You can be confident that you are buying a product that is guaranteed to be genuine, by going through their website. In addition, if you are not happy with the purchase, they will provide you with a full refund. The company offers a 60-day money-back guarantee which further strengthens the buyers' confidence. Vitauthority Multi Collagen Protein Pricing.
The product comes in two sizes; 40 Serving Bottle and Eighty Serving Bottle. The forty servings are for $34.99 with a one-time purchase. Also, the eighty servings are for $64.99 for a similar mode of payment. You get a one-time purchase and a subscription. If you subscribe and buy the product you can get the forty serving bottle for $26.24 and the eighty serving bottle for $48.74. Additionally, Vitauthority ensures product quality and cleanliness. All its products are manufactured in the USA in an FDA-registered and cGMP-certified facility. Interestingly, its products are tested for heavy metals, pathogens, mold, and others. Thus, we can say that it ensures the purity and quality of its ingredients.
Shipping Policy of Vitauthority Multi Collagen Protein
When you buy the product from its official website, you get free shipping on all domestic orders in the US. The company ships all its domestic orders within 24 hours. They have partnered with USPS, DHL, and FedEx to deliver your orders from their warehouse in eastern Pennsylvania 7 days a week. The company has further states that most of the orders are delivered within 2-5 business days and tracking information is sent via email from [email protected] once your order is processed.
Vitauthority Multi Collagen Protein Customer reviews
Interestingly, it has received a five-star rating from 9089 reviews. The best thing is many positive reviews are also on the Amazon store. It also contains many customer reviews on its official website. Thus, many customers are satisfied with their multi collagen protein intake.
🌟 Vitauthority Multi Collagen Protein FAQ
✅Is Vitauthority Multi collagen protein safe?
Most of the Collagen supplements are generally safe but have potential side effects like digestive issues, nausea and heartburn. Some people have also cited one side effect as feeling of fullness. As stated in our Vitauthority Multi collagen protein Review, this collagen product is dairy-free and gluten-free and does not contain fish and eggs. Collagen is an exciting supplement to give you a boost of benefits. However, it would be best if you always talked to your doctor before trying it out.
✅With what you can mix Multi Collagen in?
Adding the powder to a cup first or to your favorite recipe is a great way to ensure that the final product is tasty. You just have to stir it and mix it well to enjoy it. You can mix a few popular choices: milk, tea, protein powder shakes, oatmeal and pancake batter. We would recommend you not to mix it with water.
✅What are the flavors in Vitauthority Multi collagen protein?
Vitauthority goes beyond health benefits and helps you get unique flavors. Some Vitauthority multi collagen flavors include tropical punch, pink lemonade, chocolate, unflavored, etc.
✅How many scoops of Multi Collagen can you take?
As discussed in our Vitauthority Multi Collagen Protein Review, you can take 1-2 servings daily. Taking it regularly would certainly be essential in getting all the benefits of this product. You can also try another method which is called the "front-load" . In this method, you can saturate your body with collagen to get the results more faster.
✅How quickly can you expect the results of Vitauthority Multi Collagen Protein?
To witness all the benefits of this product, you got to maintain the continuity of the product. Some results like relief from joint pain can be seen within 2-3 weeks. In the longer term, you would see skin, hair, nails and skin elasticity results.
✅How many grams of carbs are present in Vitauthority Multi Collagen Protein?
With this product, you get zero grams of fat, sugar or carbs per serving. You get only 7g of protein per scoop, and that's all.
✅Is collagen safe for men?
Yes! Its absolutely safe for Men to take as thousands of men have used collagen and have experienced the benefits on their hair, skin and joints.
✅Can people allergic to shellfish take Vitauthority Multi Collagen Protein?
Wild-caught red snapper and Atlantic cod are the two main sources of the hydrolyzed marine collagen peptides in this product. Though it is not a shellfish, we recommend that you consult your doctor before buying this product if you are seriously allergic to it.
✅Can you gain weight by taking Vitauthority Multi Collagen Protein?
Weight gain due to collagen is the least possible noticed as this product contains only 30 calories per scoop. So it is almost physiologically impossible for it to cause weight gain.
✅What are the Benefits of multi collagen protein
They help increase bone density and make the skin elastic. Collagen plays a vital role in our bodies. So, multi collagen protein supplements help reduce the aging signs. In addition, they work to hydrate the skin. They also help improve muscle mass and relieve joint pain.
Moreover, multi collagen proteins help you get the goodness of different collagen types in a product. So, they are beneficial for getting essential amino acids and a rich source of collagen. Furthermore, collagen caters to many health benefits. Thus, multi collagen protein supplements seem an excellent way to boost the skin and health.
✅Can you pay via payment plans to buy Vitauthority Multi Collagen Protein?
Yes, you can pay via Sezzle & AfterPay. The official website to the product does mention that you can break your payment down into 4 interest free installments.
✅How much collagen is safe to be taken every day?
Few studies which have been recently conducted suggest that adults can take a daily collagen supplementation of anything between 2.5 to 15 grams of collagen per day. You can also consume collagen powder by mixing it into smoothies, shakes, baked goods and even with coffee or tea.
✅What are the symptoms which suggest a lack of collagen?
Following are the few symptoms which can suggest that you lack collagen: 
– If you start loosing the elasticity of your skin and your wounds don't heal quickly. 
– Your tendons and ligaments get stiffer and your joint health is affected. 
– Decrease in muscle mass. 
– Your intestinal lines get thinner. 
✅Which foods are high in collagen?
Following are some of the enlisted foods which are high in collagen:
 
– Citrus fruits
– Red and yellow vegetables
– Egg whites
– Berries
– White tea
– Tomatoes
– Avocados
– Bell peppers
– Beans
– Leafy greens
– Cashews
– Chicken
– Fish
– Garlic
✅Which collagen is best for skin? 
Although all collagen benefits skin, Type I is usually considered best for the skin. This collagen has preserved the collagen levels in your skin, nails and hairs. The levels of Type I collagen begins to decrease after the age of 25.
✅Does consumption of collagen thicken your hairs?
Collagen has been found to be a highly effective solution for strengthening and regenerating hair. It has also been seen to reduce hair loss and improve the health of skin and nails, and would give you healthy hair.
✅Is collagen harmful for kidneys?
Generally, it has been found that collagen supplements are not recommended for people who are at a higher risk of developing kidney stones. But consuming collagen in moderation should be made a part of your healthy diet.
✅Is collagen safe for elderly people?
Many studies have been conducted on collagen intake among elderly people. Few of them have suggested that supplementing with collagen peptides can be beneficial for older people. It can promote skin and healthy as their skin ages.
Vitauthority Multi Collagen Protein Review: Final words
We have reviewed Vitauthority Multi Collagen Protein have found it to be safe. Vitauthority Multi Collagen Protein is a suitable collagen protein source. It comprises the essential collagen types and supports a vibrant skin. It also works for strengthened joints, bones, and healthy weight. To ensure quality, it is tasteless, odorless, and free from soy and gluten. Thus, one can try the product under a dietician's guidance. Moreover, its price looks affordable as it has a decent portfolio of health benefits. Vitauthority Multi Collagen Protein sets the standard with many advantages. We hope you like our Vitauthority Multi Collagen Protein Review. If you try this product, do share your views in the comment section below.
Disclaimer: The information in this article is from different internet sources and may update. We advise you to consult a doctor before using the product. Before use, you should know its pros and cons, benefits, applications, side effects, safety, and other implications. 
Vitauthority Multi Collagen Protein Review
The essential amino acids in Vitauthority Multi Collagen Protein help boost gut health and maintain microbiome health.
Pros
It contains variety of collagen types.
It supports a vibrant and youthful skin.
It helps strengthen joints and bones.
Contains hyaluronic acid which help in reducing fine lines and wrinkles.
The product will give you lean muscle mass and improve metabolism.
Cons
It contains eggs and fish, so people allergic to them should find it difficult to take them. 

Vitauthority Multi Collagen Protein Review 2023: Is It Worth To Try?