‍"May you always know, little one, that you were wished for, longed for, prayed for and will be forever loved." – Anonymous.
PREGNANCY is an exciting time for expecting parents. However, it can also be a stressful period as the due date draws closer. But still, it is all worth it.
When you see your newborn's first glimpse, you experience nothing less than heaven. That adorable little child is half you and half of the person you love. But, some couples find naturally conceiving difficult. To help all of those, we have brought in our Beli Prenatal review, by which you can check out all the latest products and facts associated with fertility.
The infertility case study states that 1 in every 5 women may have problems when trying to conceive. But that does not mean you cannot do anything. Prenatal supplements are a great way to go. They are packed with vitamins and minerals that support healthy growth during pregnancy. They also help support the development of the fetus and reduce the risk of various complications in the later stages of pregnancy.
Of course, there are other ways and modern scientific techniques. But the problem with them is that they are expensive and have low chances of success. But Prenatal supplements are effective for both partners; they help enhance sperm quality and support a healthy pregnancy. Beli Fertility Prenatal is one such supplement that has proven effective for fertility issues.
Detailed Beli Prenatal Review | What is Beli Prenatal?
Beli was launched by its CEO and founder Joni Hanson Davis in 2019. The company's name comes from the word 'believe,' which is the primary step of anything and everything. They help support healthy pregnancy across the US but are not shipping globally. The company had an initial mission of supporting women's health before and through pregnancy by providing dietary supplements. But after strenuous research, they also came across the men's side of conception, which is often overlooked.
After understanding the sperm health which has a key role to play in conception and maintain healthy pregnancy, they thought of supporting this process by their own proprietary blend of supplements. Beli is a fertility supplement brand striving to spread the joy of pregnancy. They provide prenatal vitamins for both men and women to help conceive and grow and become parents to a little one.
The healthy combination in their men's and women's supplements works from day 1 to deliver healthy conception. The Beli Women pills work in 5 sections, and the science behind Beli Men is a little different. Their formulations are backed by scientific research. It uses high-quality nutritional and easily bio-available ingredients. The brand produces non-GMO, gluten and allergen-free, and vegan-friendly supplements.
It is made in the USA and manufactured in an FDA-registered facility with GMP. A ton of testimonials on their site are evidence of how they have helped people with their pregnancy problems. It takes two to have a baby; with that motto in mind, their fertility supplement is designed for Both the male as well as female companion.
How does Beli Prenatal Works?
Speaking about its working, well it is among the few brands who have created conception supplements for both men and women. Both parents-to-be can take these prenatal vitamins at any point of their journey, although it's strongly recommended to start taking them as soon as you start thinking about starting a family.
Beli has broken this entire process into following products:
Believe (Prenatal)
Positive (First Trimester)
Grow (Second and Third Trimester)
Plus One+ (Postpartum Recovery & Breastfeeding Support)
Beli Vitality for Men (Fertility and Sperm Support)
The women's vitamins are intended to boost fertility, egg quality, support for the baby's brain and spine development, and more. All these Beli capsules are easily digestible which are made in a minty flavor. They contain high-quality methylated folate, B vitamins, TRAACS minerals and Iron. The Beli prenatal vitamins for men have been scientifically proven to boost sperm quality, increase fertility, protect growth, and help your little swimmers race to the egg and penetrate it effectively.
What is Different with Beli Supplement?
Optimal Choline Content: Choline is an essential vitamin that becomes very vital during pregnancy. And many women don't get enough fit, even though it supports multiple biological processes during pregnancy. But the high amount of it in the Beli supplement helps in the development of a child. It helps with the brain and critical development growth of the baby.
Usage of Methylated Folate: Folate is one of the common ingredients in pregnancy-supporting supplements. It is credited for increasing sperm and egg quality, enhancing conceiving chances and supporting the offspring's healthy growth. And the supplement uses the most bio-available and high-quality Methylated form of folate (not folic acid) for best results.
Presence of Shilajit in Beli Men Vitality Blend: It is what makes the supplement potent enough. Shilajit has been used for centuries to enhance sexual wellness. Beli men's proprietary blend is the first to include all-natural Shilajit as a critical ingredient. It helps boost vitality and energy. Studies have found it guilty of increasing sperm count and quality.
Beli Men & Beli Women Prenatal Multivitamin
Beli Men Prenatal Multivitamin help males improve their sperm quality and overall sexual health. The powerful nutrients in Beli's proprietary vitality blend are capable of improving sperm count and enhancing egg penetration. It even balances the acid-alkaline in the body to elongate sperm's lifespan and functioning.
The supplement helps the sperms swim better. The vitality blend is keto-friendly, vegan-friendly, non-GMO, soy-free and gluten, allergen-free. The key ingredient in the vegan capsules is shilajit, which works throughout to provide better sperm quality and expected results. With only 2 capsules a day, 6 months before trying to conceive can help you change your life.
Beli Men Prenatal Multivitamin Ingredients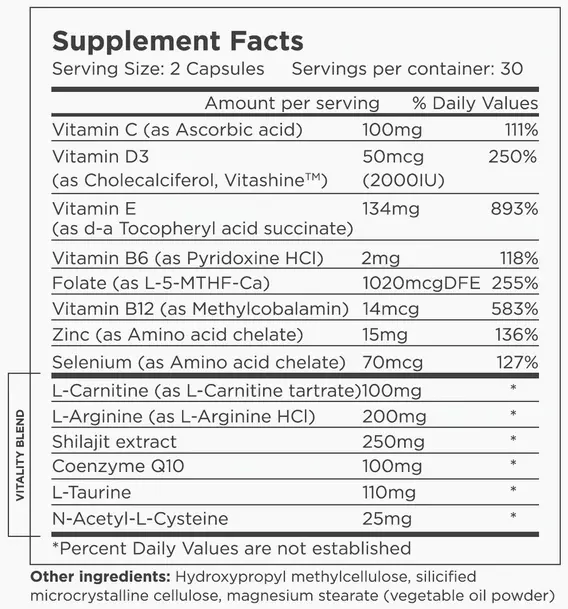 Shilajit
Zinc
Folate
Vitamin B12
Vitamin B6
Vitamin C
Vitamin D
Vitamin E
CoQ10
L-Arginine
L-Taurine
L-Carnitine
N-acetyl-L-Cysteine
Selenium
How does Beli for Men Work?
Men have an essential part to play while conceiving, but not so much during pregnancy. Sperm health is where the supplement focuses. Their formulations are science-backed; hence they should be safe and effective. Sperm count is necessary for conceiving, as the higher it is, the more the chances are for the sperm to reach and fertilize the egg. And the inclusion of Vitamin B12, Shilajit, L-Taurine, CoQ10 and zinc makes the pills potent in doing so. Selenium is a versatile ingredient that can build strong sperm, improve sperm motility, and work as the energy source for sperm maturation.
Along with other ingredients, L-Carnitine and Folate are responsible for protecting sperm growth. The Vitamin complex, L-Arginine and Folate work to increase the sperm quality, increasing the chances of attaining pregnancy. To stay in the game and complete their destiny, sperm must swim faster and better.
Vitamin C and D, Zinc, N-acetyl-L-Cysteine and folate help increase the sperm's mobility and movement speed. At last, the final part, where one sperm out of millions and billions meets the egg. Vitamin D and vitamin E are the ones that lend a helping hand in this process. So all the ingredients have their significant role and work as a team to give you the joy of pregnancy.
Benefits of Beli for Men
Improvement in sperm quantity  
Improvement in sperm quality
It would help with sperm movement 
Supports sperm maturation 

-10%
$50.00/mo
30-Day Supply & Free Shipping
Beli for Men's Prenatal Multivitamin gives men the nutrients they need for reproductive and sperm health.
Beli for Women is a comprehensive prenatal multivitamin that can be taken both before and after pregnancy. Beli is designed to help take care of you and your baby's health by giving you the nutrients you need. Beli Women Prenatal Multivitamin helps females by supporting a healthy pregnancy.
The best part about this supplement is that it provides help when trying to conceive, during pregnancy and even after the baby is born. It comes with a minty essence, is gentle on the stomach and is suitable for both mom and baby. It includes active ingredients that are good for egg quality. The vegan capsules are free from gluten, allergen and dairy.
The blend boosts fertility for healthy conception. It is even known to guard the baby's brain and spine. The site mentions that it supports bone density for both the child and the mother. It helps maintain healthy energy during pregnancy and postpartum; it is even known to reduce nausea. May even support after birth recovery and breastfeeding. The key ingredient here is choline; the supplement has optimal levels of it. And thus, with only 3 pills a day, the supplement will support you in all stages of pregnancy.
Beli Women Prenatal Multivitamin Ingredients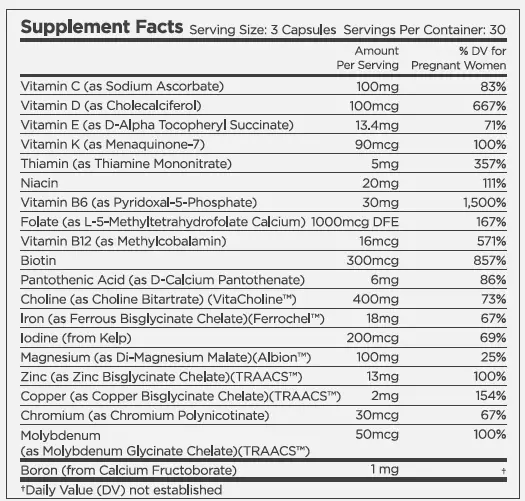 Choline
Vitamin B6
Vitamin B12
Vitamin C
Vitamin D
Vitamin E
Vitamin K2
Folate
Iodine
Zinc
Magnesium
Iron
How does Beli for Women Work?
Firstly, the blend pays attention to fertility and conception. Vitamin B6 and B12 trigger ovulation, Vitamin D helps in egg implantation, zinc support reproductive hormones, and Choline and Vitamin C reduce the chances of miscarriage. Vitamin K12 helps in the production of progesterone and estrogens, and these ingredients combine to get you pregnancy ready.
Then comes the first trimester, which is very crucial because you and the child require proper nourishment. Vitamin B6, B12 and D, folate, choline, zinc and iodine, they all together support the early stages of pregnancy and even help prevent nausea. Now for the second trimester, the powerful multivitamin blend supports the fetus's growth and keeps an eye on its nourishment.
The vitamin blend along with iodine, choline, iron, magnesium and zinc are a part of it. The third trimester refers to the final months of pregnancy; the ingredients present support and protect your child-to-be. This part also includes labor support, iron, folate, vitamin B12 and k2, with a few others to help the mother ease labor. A set of ingredients also combine to form a blend that will support you post-pregnancy and breastfeeding. It also does not include vitamin A as it may be harmful in the early stages of pregnancy.
Benefits of Beli for Women
Increase in fertility
Increase support for fetal brain development
Gives you good energy and metabolism
Good support for bones, joints, and muscles
Enhanced immune system function

-10%
$50.00/mo
30-Day Supply & Free Shipping
Beli for Women's Prenatal Multivitamin helps in the healthy development of a baby's brain and spinal cord.
What is the Price of Beli Prenatal?
The science, ingredients and benefits of the Beli supplement seem to be very legit. Their official site is very informative. They even provide evidence in the form of testimonials and reviews to support their claims. The article section on their site addresses multiple pregnancy queries, which might be very helpful for new parents. The male and female versions of the Beli prenatal supplement will cost $50 each, and if you decide to order both, the price will be $100. Which is very decent as compared to its competitors. Plus, their quality is top-notch, so it wouldn't be wrong to say that the supplement is affordable.
Beli Prenatal Fertility Subscription
Beli Prenatal Multivitamin comes in the form of a monthly subscription, so both Beli for Women and Beli Vitality for Men cost $50 each. Additionally, Beli offers free shipping on all orders, and you can cancel your subscriptions at any time. The brand also offers a refund for your first month's order if you are not satisfied with the product. A vast majority of couples who have used Beli's prenatal multivitamin have reported being very satisfied with their purchase, and it is unlikely that you will be unsatisfied with your order.
How to Sign up for Beli Prenatal fertility subscription? 
As you would have read in our Beli Prenatal review, these beli pills are only offered on a subscription basis only. So, first thing's first. You need to create an account on our website. From there, you'll be able to select the products you would like to receive each month.
👉 Steps to be followed for Beli Subscription
Head to the official website belibaby.com.
Now click on the the 'Account' tab in the top right corner.
Fill your personal details.
Now select the stage in which you are in your journey (thinking about a baby, trying to conceive, pregnant, post-natal, other).
After this, Fill in your email and password.
Just click on "Create Account" and you are ready to Go!
After you have successfully created your account with Beli, its time to place your first order; Beli will also offer you a 10% discount on it.
Is Beli Prenatal Worth it?
In our Beli Prenatal review, we did come across many positive reviews. Also there were no red flags concerning side effects, ineffectiveness or about its quality. Also, the Beli brand's subscription model is a great way to ensure you never forget to buy the supplements. They're conveniently provided on your doorstep every month, so you don't need to worry about forgetting!
The makers of these Prenatal vitamins have made them vegan and with an all-natural formula which is very good for both mom and babies. Also, all these capsules are free of gluten, dairy and allergens. The brand also ensures good transparency about its list of ingredients and gives you extensive information about the benefits of each key nutrient.
All you need to know about prenatal vitamins.
What are they?
Prenatal vitamins are specifically designed supplements that promote a healthy pregnancy. They deliver essential nourishment needed for the baby's development. The nutrients needed for the baby's growth are hard to obtain from a regular diet, so one can turn to prenatal supplements for their proper dosage.
What are the common Ingredients?
Now, this may vary from company to company. But some common ones include vitamin complex, folic acid, iron, choline, iodine and DHA. This is the general ingredient list, but consult your doctor about which vitamins or nutrients you require and look for that in the supplement you choose.
Are they necessary?
To be honest, they are not compulsory until prescribed by a professional. But they support a healthy pregnancy and enhance the entire journey. Folic acid is one of those nutrients that are considered beneficial for the growing fetus and its protection; this can be easily consumed through supplements. And many other nutrients can be delivered from the supplements, which are hard to be delivered by the diet alone.
When do you need them?
You should only take a prenatal vitamin if you have a deficiency in one or more essential nutrients or if your doctor advises you to do so. While most women can get all the nutrition they need from a balanced diet, certain groups of women are more likely to fall short of nutrients. These include vegetarians, vegans, people with poor eating habits, or people who have a diet that is low in particular nutrients. They are also good when you are trying to get pregnant.
Do they have any side effects?
Most of them are free from side effects, but still, you should be aware of the consequences. Make sure to consult your doctor before getting down for any supplement. Common side effects may include constipation or nausea. But at times, prenatal vitamins may help prevent pregnancy's side effects, such as morning sickness, thanks to its potent ingredients.
Do Beli Parental Vitamins really Work?
To all those women who are planning on conceiving, actively trying to conceive, pregnant, or recovering after the birth, Beli recommends them to take their pills regularly. All the ingredients in these multivitamins would help them recover quickly and support a healthy system. It would also nourish your body and your baby, who is inside. Although, the brand does not mention the exact time frame in which the results would be shown.
For all the future dads out there who wish to take these pills, the brand suggests they take these pills for at least 3-6 months before they try to conceive. The brand says that it can take about 2-3 months for the Beli men's preconception vitamins so that their sperm count improves.
Beli's Shipping Policy
In our Beli Parental Review, we did find that the brand offers free shipping within the US. Also, the brand would deliver your package within 7–10 business days. For people who wish to receive their supplements earlier, the company also offers expedited shipping with minimal charges of $11. Using this option, you can expect your delivery within 1–3 business days. The only sad part about this brand is that it does not offer international shipping. So the international audience has to wait further until the company expands its operations.
Beli's Return Policy
The return policy of Beli supplements is such that it only offers a refund on your first month's order. The company would also not ask any questions. To initiate the refund, you can find out more about the happiness guarantee, and you would have to get in touch with Beli's customer service team. It's unclear whether there's a timeframe beyond which they no longer accept requests.
🌟 Some Frequently Asked Questions related to Beli Prenatal
What exactly is Beli Prenatal?
Beli is the primary prenatal vitamin system designed to assist women, guys, and babies to reach their full ability from day one. Together, Beli for Women and Beli for Men is a winning combination for a healthy conception and pregnancy. Also, Beli for Men contains eight essential vitamins and a powerful combination of supplements and herbs that work collectively to enhance sperm parameters. Most prenatal multivitamins are designed to improve power and enhance the immune system, promote egg quality, and sperm parameters Reduce the chance of miscarriage and fetal abnormalities. Unfortunately, maximum prenatal fitness supplements are geared toward enhancing the fitness of women-simplest and fall brief in admire of helping guys on their fertility journey.
How should you use Beli Vitality Vitamins?
The best thing about Beli Parental Vitamins is that you can start anytime. However, the brand recommends you take them six months before trying to conceive for optimum results. Further, they tell you to take two pills daily, and each bottle would contain a supply for one month. Beli supplements clearly states that their products are not a replacement for proper diet and exercise. Rather, they say it acts as a support formula that will complement both crucial factors, increasing the chances of healthy conception.
Do male fertility supplements really work?
In recent years, an increasing number of scientific studies have shown that male fertility supplements which contain vitamins like Zinc and Folate can improve sperm health and sperm count. These supplements are known to increase the quantity and quality of sperm while also reducing the risk of infertility.
What are the common side effects of taking Beli Prenatal vitamins?
Prenatal vitamins are safe to take as long as you are not allergic to any of the ingredients. However, taking too many prenatal vitamins could lead to side effects like dizziness, nausea, and constipation.
Can you take Beli Prenatal vitamins when you are not pregnant?
Prenatal vitamins are secure to take while you are no longer pregnant; prefer to begin prenatal before pregnancy; as it can benefit you and your baby. Many prenatal multivitamins are designed to be taken 3-6 months earlier than conceiving to enhance fertility and boom your chances of conceiving. If you're breastfeeding or presently looking to get pregnant, taking a prenatal vitamin is a superb idea.
How to make sperm stronger for pregnancy?
In order to ensure that the sperm cells are in top condition, it is of utmost importance to ensure a healthy diet and lifestyle before trying for a baby. Being constantly exposed to environmental toxins and air pollution and other harmful chemicals really affects your sperm count. So to counter those factors, you can also take fertility supplements which can be really good for increasing your sperm count.
What are the factors which govern male fertility?
Following are the few factors which are according to Mayo Clinic that govern male fertility: 
1. Sperm Quantity: A man is most likely to be fertile if a single ejaculation contains around 15 million sperm per milliliter.
2. Sperm Structure: A healthy structure in sperm supports its movement and fertilization without genetic abnormalities.
3. Sperm Movement: How well the sperm can swim through the female reproductive tract to reach the egg.
Which are the supplements that work well for male fertility?
Numerous studies have shown that Zinc, Vitamin B12, Shilajit, L-Taurine, and CoQ10 can support sperm production, which is included in Beli Vitality's proprietary vitamin formulation.
How long do you need to take prenatal vitamins?
It all depends on the prenatal vitamins you choose to use. Most prenatal vitamins are meant for use earlier than being pregnant. They have to be discontinued as soon as being pregnant has been performed because a few products comprise specific vitamins that aren't recommended to be supplemented with at the same time as pregnancy, including vitamin A (retinol).
Does Beli Prenatal vitamins work immediately?
The advantages of prenatal vitamins are generally take several weeks to 3 months after starting their use. Prenatal vitamins are absorbed quickly by the body, and you need the folic acid to produce healthy blood cells. This will allow the baby to develop faster. After taking their prenatal multivitamins after three to six months, maximum couples record success.
What is the refund policy of Beli Prenatal vitamins? 
So in case you are not happy with Beli supplements, they do offer a refund on your first month's order within 30 days of purchase. Owing to the nature of the product, they do not accept returns as they do not resell it after it is shipped out to maintain its quality and integrity.
Can you take Beli Men Vitality while undergoing IVF?
The company claims that the proprietary blend of ingredients in their product works to boost the odds of conception during an IVF cycle. However, we would recommend you to consult a doctor before taking any supplements when undergoing IVF.
When can you take Beli Vitality Men?
Beli recommends taking two capsules daily with or without food at any time of the day. By doing so, you can get amazing benefits of energy and wellness.
How long does it take to improve sperm count while taking Beli Vitality for Men?
While reviewing the Beli Vitality for Men, we found that Beli says that the improvement can be expected within 2-3 months. You can take Beli anytime during the reproductive years.
Has Beli been approved by the FDA?
All the products of Beli supplements are made in an FDA-registered facility in the United States. Also, their manufacturing process follows all the FDA's Good Manufacturing Process Guidelines (CGMP). 
Where to buy Beli Vitality Vitamins?
We would recommend you to order all Beli products directly from their official website as the recurring shipments are set up from the first order. Also, you can cancel your order at any time with no extra charges. One more plus point of buying from the official website is that you get a full money-back guarantee on the first bottle if you're not satisfied with the product.
Conclusion: Beli Prenatal Review
In our review, we found Beli Parental Vitamins Safe, but the question of whether or not to take prenatal vitamins is a hotly debated one. Prenatal supplements are not a necessary part of pregnancy, but there are, after all, a lot of benefits that come with taking them. Still, it's important to note that they aren't strictly necessary for every woman. However, if you have a poor diet, are a vegetarian, or have been trying to conceive unsuccessfully for a while, you may want to seriously consider taking a prenatal supplement.
Supplements like Beli are a little special, as they help you with fertility and conceiving. Along with that, they support you during pregnancy and even after the child is born. There are available for both the partners. It is safe and uses top-quality ingredients to support a healthy pregnancy. The cost of both Beli Men and Women is very reasonable. They are science-backed, and the research is available on their official site. They aim to give you the happiness of parenthood, so when are you going for it?
Beli Prenatal Review
Beli Fertility helps couples on their fertility journey by providing a two-in-one solution with its products Beli for Women and Beli Vitality for Men.
Pros
Clinically-proven ingredients.
No artificial enhancers like steroids.
It helps boost vitality and energy.
It helps males improve their sperm quality and overall sexual health.
It helps prevent nausea.
Beli Women Prenatal Multivitamin helps females by supporting a healthy pregnancy.
Vegan-friendly.
Non-GMO.
Gluten-free.
Convenient recurring shipments.
Products have a full refund policy.
Free U.S. shipping.
Cons
The product may take 2-6 months to take full effect.
Not open for shipping worldwide.

Beli Prenatal Supplements for Men & Women
Beli for Women and Beli for Men work well together to ensure a safe conception and pregnancy.
🚀 Free Shipping

Beli Prenatal Review 2023: Astonishing Facts Revealed!