One of the most important things for people nowadays is to look good, and good looks do not come without flawless and healthy skin. Healthy skin gives the person a better and clean feel, making you feel more confident. For healthy skin, you need the proper nutrients and moisturization. Ever looked at famous personalities, models, stars, and thought, how is their skin so glowing? Here is the answer to your question! Vitamin C!
---
How Vitamin C is beneficial for your skin?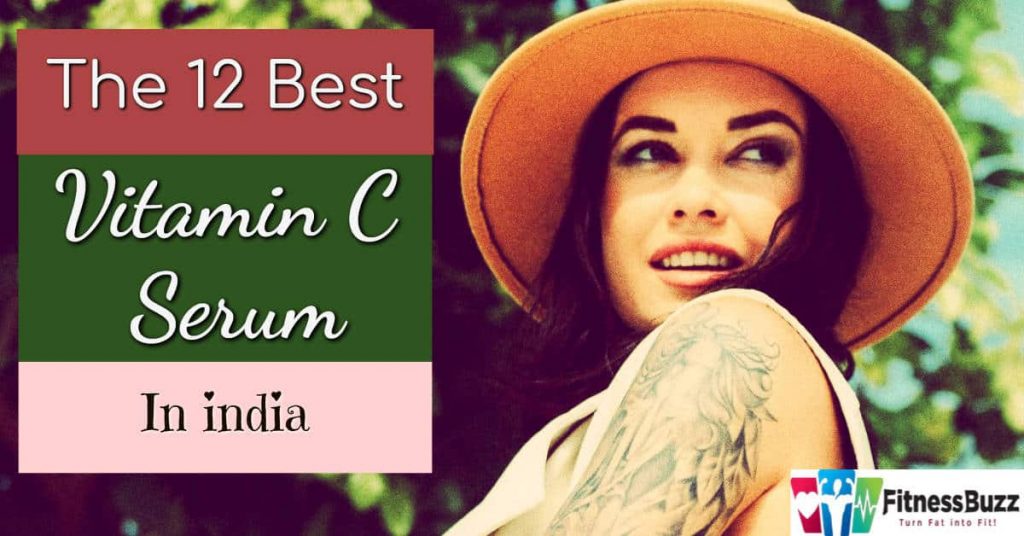 You might be wondering how Vitamin C is related to it? Vitamin C is a unique and essential ingredient for the skin as it helps brighten the skin tone and reconstruct the skin. It removes the acne marks, balances the uneven skin tone, pigmentation, and aging spots. For making it more convenient for the skin to absorb quickly, it is best to be used in a serum form.
There is a massive number of options available that confuses the person to choose a single best product. No worries, we will help you select what's best for you. Here is the list of the 12 best vitamin C serums in India to have a look at!
The Mama Earth Vitamin C Serum for the face is helpful as it recures and helps in reducing hyperpigmentation, acne spots, dark spots, and fine lines. It makes the layer of your skin firmer and smoother by activating the fibroblasts; it's the cells that make new collagen. This serum also includes turmeric, antioxidant and anti-inflammatory properties, and a long-lasting and instant glow to the skin.
It contains an ingredient that is squalane, a potent detoxifier, and a plant-derived component. It's naturally healthy for your skin that protects and hydrates the skin boosts collagen production obtained from the plant. It also contains an extract called nymphaea that has highly moisturizing, nourishing, and regenerating properties. It increases the strength of capillaries, brightens the complexion, and soothes the infected skin's an irritated and red part. This serum is non-greasy and lightweight that gets quickly absorbed by the skin, and is suitable for all skin types.
It only contains pros without any cons
Contains bioactive
Sulfate-free
Petroleum-free
Paraben-free
Silicone-free
Dermatologically tested
---
The Irem Vitamin C serum is non-sticky, antioxidant-rich, and is deeply moisturizing overall good for the skin. It contains ferulic acid, hyaluronic acid, vitamin C, aloe vera, and grape seed extract with vitamin C. This water-based formula is specially designed to fight aging signs such as wrinkles, fine lines, and dark spots. It also removes the sunspots, skin redness, and sunburns.
The regular use of this vitamin C serum makes the skin brighter, firmer and also increases its elasticity. The serums consist of hyaluronic acid that hydrates the skin profoundly and increases the production of collagen.
The aloe vera extract keeps the skin hydrated and soothes the skin, and the grapeseed extract offers a sunscreen effect. As it is the skin-lightening serum, it also prevents blackheads, breakouts, and oiliness. It is marked as the best Vitamin C serum for controlling the damage caused by environmental aggressors like air pollution or sun exposure. It is dermatologically tested and is suitable for all skin types.
It consists of 6 pros and just one con, and they are as follows.
PROS
Lightweight
Sulfate-free
Paraben-free
Silicone-free
Vegan
Cruelty-free
CONS
---
This Recast Vitamin C serum is an ultralightweight product that is easily absorbed by the skin. It is balanced with the stable form of vitamin C, hyaluronic acid, aloe vera, glutathione, azelaic acid, and grape seed extract, which helps retain its youthfulness and radiance. The vitamin c in this product is highly concentrated and effective, which boosts collagen production in the skin, making it glowing and dewy.
It is easy to apply and convenient for use, and regular use of this serum removes acne spots, fine lines, scars, and wrinkles. This serum helps in repairing the sun damage and brightens the complexion and reduces inflammation. It is paraben-free and non-comedogenic. It is suggested to be used at night. And if used in the daytime, it is recommended to be used with sunscreen.
PROS
Lightweight
Non-comedogenic
Non-sticky
Paraben-free
Sulfate-free
CONS
Not suitable for all skin types
---
This Vitamin C serum is infused with just 20% Vitamin C that works as a free radical scavenger and is an excellent product to reduce the appearance of fine lines and wrinkles. It also helps in various ways such as shrinking of pores, preventing breakouts, clearance of acne, fading the sun and age spots, and minimizing acne scars' appearance. The regular usage of this serum helps brightens, hydrate, and soothe the skin.
The unique blend in the serum contains the vitamins extracted from the plants to stimulate skin collagen production. Hyaluronic acid plumps and hydrates the skin, and the mixed-up properties of vitamin C and E help protect the skin from the sun's harmful rays. This serum is suitable for all types and does not contain sulfate, parabens, mineral oil, or silicones.
PROS
Paraben-free
Toxin-free
Vegan
Silicone-free
SLS/SLES-free
Mineral oil-free
No animal testing
CONS
---
If you are looking for a serum to remove the signs of aging from your face, this skin-brightening vitamin c serum is actually for you. It consists of natural antioxidant protection through its proprietary skincare "synergy blend." This serum plumps, hydrates, and smoothes your skin
This formulation contains 20% vitamin c, ferulic acid, natural hyaluronic acid, glutathione, and vitamin C. Vitamin C acts as a shield to our skin from the UV rays and boosts collagen production. The aloe vera extract helps keep the skin hydrated, the daisy flower extract, the ferulic acid helps tone and tighten the skin. This serum's pH level is an average pH of 5.5, which's the right pH for the skin and makes it suitable for all skin types.
PROS
Paraben-free
Organic
Easily absorbed
CONS
It contains phenoxyethanol and fragrance
May cause irritation and breakouts
---
This vitamin C serum from the body avenue makes you look younger than you by stimulating collagen production. The vitamin c in this serum helps out to even your skin tone, smoothen fine lines and wrinkles, and brightens your complexion. This serum also contains vitamin e, hyaluronic acid, basil extract, glycerin, witch hazel extract, ginger oil, mandarin oil, and allantoin.
It protects the skin from UVA and UVB rays and contains potent antioxidants that fight against skin-damaging free radicals. With regular use of this serum, it can lighten dark circles, sunspots, acne marks, brown spots, and age spots. It fights the overproduction of melanin, reduces discoloration, and increases skin elasticity, makes the skin more supple, soft, and glowing.
PROS
Lightweight
Great fragrance
Absorbed easily
Suitable for all skin types
CONS
---
This vitamin c serum is considered one of India's best serums as it contains 20% Vitamin C that neutralizes the free radicals of skin-damaging. It consists of witch hazel and Hyaluronic acid that minimize pigmentation, fight the signs of aging, and brighten and nourishes the skin. The plant-derived hyaluronic acid hydrates the user's skin, restores the skin barrier, and keeps it supple. Witch hazel has properties that clarify and tones the skin making it appear smoother.
Reviving dull and tired skin and improving its textures is this serum's primary objective. It makes the skin appear fresh and radiant by rejuvenating the skin. It helps to diminish age spots and fine lines by its anti-aging properties, and it even outs the complexion. As this serum is 100% vegan, it does not contain parabens, gluten, mineral oil, or silicone.
PROS
Vegan
Gluten-free
Silicone-free
Mineral oil-free
Paraben-free
CONS
---
Garnier's vitamin C serum uses the power of vitamin C to fade dark spots and acne marks. The Japanese Yuzu lemon extracts that brighten are included in it that brightens the skin and radiates. The citric fruit's properties are mostly known for boosting collagen production; this helps make the skin firm and reduces aging signs, such as fine lines and wrinkles.
This serum gives an instant glow to the user's face and reduces the acne spots in just three days. It is suitable for all types of skin, and this lightweight and non-oily serum gets quickly absorbed. Using this serum twice a day is recommended for better results.
PROS
Dermatologically tested
Non-oily
lightweight
CONS
---
This Himalayan organic serum helps even out the skin tone, stimulates collagen production, and brightens the complexion. It contains the antioxidant-rich vitamin c and helps reduce the signs of aging and vitamin e that minimizes the appearance of scars. It also consists of botanical Hyaluronic acid and moisturizes and nourishes the user's skin, and reduces wrinkles.
This serum helps in deeply nourishing the skin, and it hydrates the user's skin and gives a radiant complexion. It's suitable for all skin types and fades brown spots, sunspots, acne marks, and age spots. It controls the overproduction of melanin and repairs skin damage caused by the harmful sun rays.
PROS
Preservative-free
No artificial fragrance
Paraben-free
Sulfate-free
CONS
Not suitable for dry and sensitive skin
---
This Matra Vitamin C serum is excellent for improving skin health and lightens the skin tone. It hydrates the user's skin profoundly and helps prevent the premature appearance of the signs of aging, protecting the skin from sun damage, reducing pigmentation, fading dark spots, and treats the dark undereye circles.
Consisting of vitamin e and Hyaluronic acid, this serum reduces scars, fine lines, spots, and wrinkles and moisturizes the skin. It fights the most common signs such as fine lines and wrinkles and helps maintain the skin's natural youthfulness. This serum acts as a healing agent for sunburns and protects the skin from UVA and UVB rays.
PROS
Lightweight
Absorbed easily
Non-sticky
Mild-fragrance
CONS
May cause redness
May worsen acne
---
This serum is known for brightening the complexion and retexturizes the skin. The non-greasy formula fights aging and removes fine lines, uneven skin tone, wrinkles, and age spots. It is also rich in antioxidants that repair sun damage and protect the skin from UV sun rays.
The intense amount of hydration is provided to the skin by the hyaluronic acid, and it regenerates dull and tired skin. Agents like retinol are also included that cleanses the skin pores and makes them appear smaller.
It corrects dark spots and protects the face from the toxic impact of pollution, smoke, and heavy makeup. It helps fight blackheads, breakouts, and acne. Regular use of this serum helps in removing sunspots, hyperpigmentation, redness, and dark spots.
PROS
No harsh additives
Lightweight
Non-sticky
Odorless
Absorbs easily
CONS
---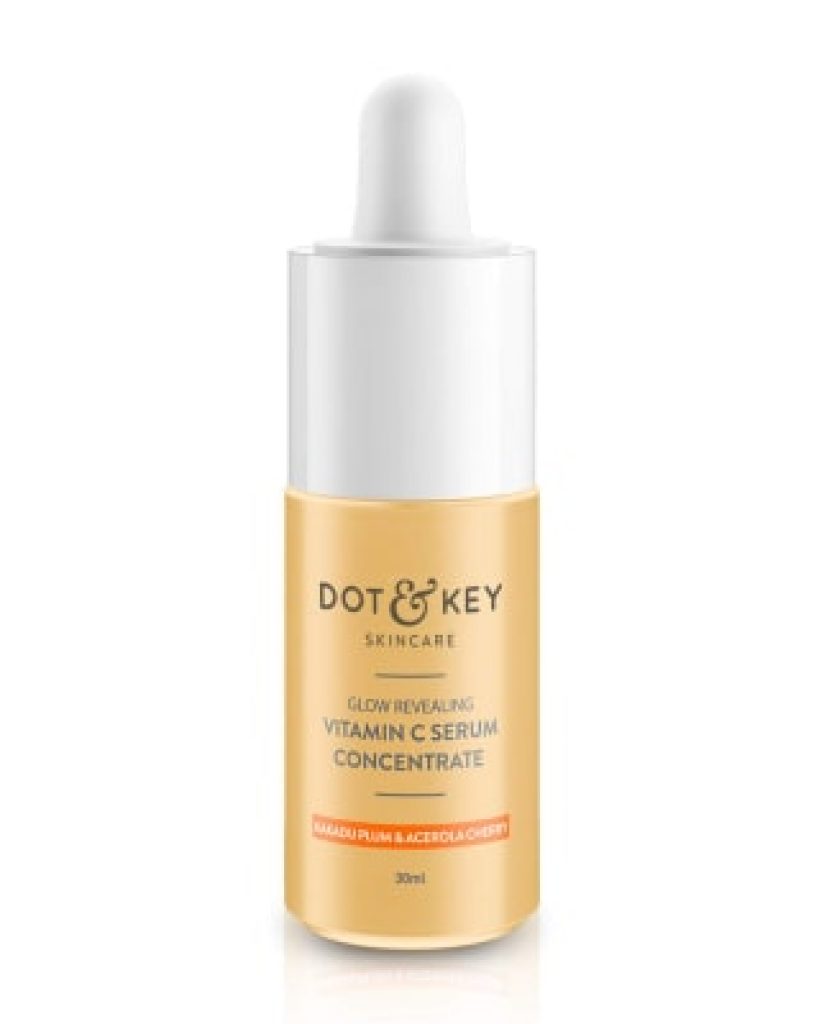 The Dot & Key essential Vitamin C Serum boosts collagen production, accelerates skin repairs, and corrects uneven skin tone. It gets quickly absorbed by the skin because it's a water-based formula and illuminates from within. It neutralizes dark spots by fighting skin damage and also aging and photodamage.
The content which profoundly hydrates the skin is hyaluronic acid, and it helps in restoring the plumpness. This serum includes superfruits such as Kakadu plum and acerola cherry, which enhance the radiance of the skin and boosts skin elasticity and youthfulness. It also consists of bearberry leaf and peony root extracts. It corrects uneven skin tone and brights up the skin. this serum helps in rejuvenating the skin, making it more glowing and luminous.
PROS
Sulfate-free
Paraben-free
Phthalate-free
Alcohol-free
Lightweight
Gentle
Cruelty-free
Dermatologically tested
CONS
Not suitable for combination and acne-prone skin types
---
Benefits of Vitamin C Serum
A Vitamin C Serum can provide the following benefits:
Brightens and smoothens the skin reducing the dullness
Evens out the skin tone and lightness dark patches and dark circles
Controls acne, pimples and fades scars and hyperpigmentation
Boosts collagen production
Naturally hydrates the skin
Improves the skin texture and increase its elasticity
Minimizes the appearance of wrinkles, age spots, fine lines, and signs of sun damage
---
Bottom Line
Did you like our detailed 12 Best Vitamin C Serums review? If this article was in any manner useful to you, we will be happy. Have you tried any of the above Vitamin C Serums yet? If no, please do and let us know about your experience in the comment sections down below.

12 Best Vitamin C serums available in India for Flawless skin [Updated 2023]