Multivitamins present new pathways to your nutritional requirements. Fortunately, multivitamins for men and women have come to the forefront that satisfies gender-specific needs. If you do not get significant nutrition from the diet, adding multivitamins to your regime can be worth considering. They are convenient and come as capsules to ease your job.
Of course, none of us have the peculiar choice while choosing multivitamins. They are easy to purchase over-the-counter; however, one has to be specific about the ingredients, nutritional value, side effects, and dosages.
The final word before taking a multivitamin should come from the doctor. However, if you are looking for a supplement that provides the goodness of multivitamins and caters to gender-specific needs, Performance Lab NutriGenesis Multi can be your product. It is the ultramodern multivitamin for overall health.
Let us see how this Performance Lab NutriGenesis Multi review helps your requirements without any further ado.
Detailed Performance Lab NutriGenesis Multi Review

-10%
$49.00
Made with ultramodern nutrition technology
Performance Lab NutriGenesis Multi comes in two formulas – one for men and one for women. Both formulas are packed with essential vitamins and minerals, but the women's formula includes a bit more iron to support optimal health.
Performance Lab states to be the world's most sophisticated nutritional supplement system for optimizing daily performance and long-range health. It features industry-leading ingredients formulated with advanced nutritional technologies. The NutriGenesis Multi uses advanced nutrition technology to produce effective multivitamins for superior health. In the product range of NutriGenesis Multi, there are two products based on gender-specific needs, one for men and another for women.
Both are capsules and contain more than 17 essential vitamins and minerals. They also have the whole food cofactors for optimal absorption. They are specially customized for gender-specific dosages and hormonal support.
Furthermore, they provide foundational nutritional support for healthy whole-body biological performance. The supplements support healthy cell performance across all body systems. They possess an ultramodern design to allow you to pack maximum nutritional value in the smallest capsule.
Performance Lab NutriGenesis Multi Ingredients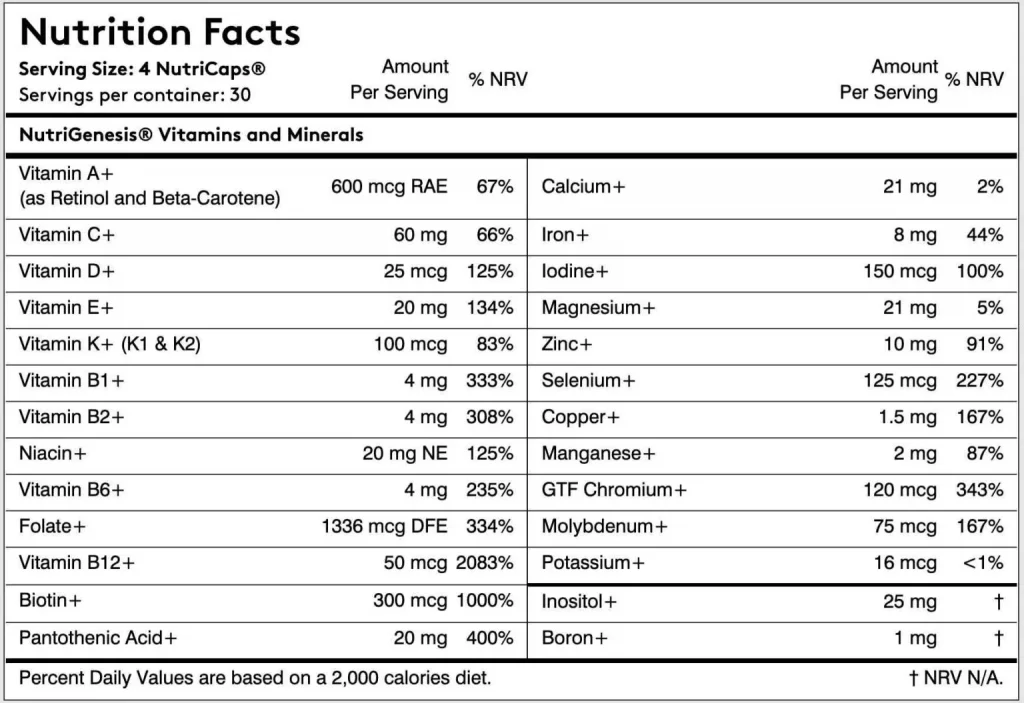 NutriGenesis Multi men and women are packed with the essential vitamins and minerals your body needs. However, there are slight differences in the formula's ingredient concentration for men and women. It contains essential vitamins (A, C, D, E, K). It also contains essential B vitamins B1, B2, B6, B12, niacin, folate, biotin, and pantothenic acid.
The calcium, iron, iodine, magnesium, zinc, selenium, copper, manganese, GTF chromium, molybdenum, potassium, inositol, boron, and vanadium are appealing. However, vitamin B1, zinc, and potassium concentration in men's formula are higher. In women's formula, folate, calcium, iron, and magnesium content is different. Rest all the ingredients are the same.
Benefits of Performance Lab NutriGenesis Multi
Tailored for men and women: Of course, the male and female system is different and requires different nutrients in variable proportions. Thus, NutriGenesis Multi comes in blue (for men) and pink (for women) packaging instead of following a generic approach. It provides a customized way of taking significant nutrition.
Supports the peak human performance: Often, factors like aging and other environmental factors hinder performance. In this regard, NutriGenesis Multi delivers the essential nutrients with whole-food cofactors for optimal absorption. It helps restore the nutrition that may be missing in your diet.
Is Performance Lab NutriGenesis Multi Safe?
The product delivers nutrition to support your performance. It does not state you will not be tired after its use. Thus, you can expect the basic benefits from the supplement. Furthermore, some people are often allergic to a few ingredients; therefore, they should consult a doctor before using NutriGenesis Multi.
People should ensure having no allergies to the ingredients in the multivitamin. Th product is vegan-friendly and can be used by healthy people. The capsules are free from major allergens, making them feasible for most people.
The capsules are also convenient and can be swallowed easily. The 100% plant-based capsules help get superior nutrient absorption to maximize the benefit. Moreover, taking multivitamins is safe if you take them per the recommended dosage.
Is Performance Lab NutriGenesis Multi Worth Your Money?
It has gained many happy customer reviews for the men's and women's formula. Thus, it has worked the most. Considering advanced nutrition with essential vitamins and minerals, NutriGenesis Multi seems worth it. However, the cost-saving option is buying the three-month supply.
Moreover, the product is viable for immune health, bones and joints, muscle growth and function, hormone balance, digestive health, skin, hair, nails, and other aspects. They are a nutrition technology breakthrough and stack seamlessly with other Performance Lab products.
You will not find synthetic or isolated nutrients, and the product is healthy for daily use. The product is fully customized and supports daily vitality. It is feasible for whole-body biological performance with easy-to-take capsules.
Performance Lab NutriGenesis Multi Review: What makes it unique?
First and foremost, the supplement is tailored per the men's and women's requirements. It comprises absorption-enhancing cofactors. The formula is useful to fill the nutritional gaps for specific requirements of men and women. The nature-identical ingredients and non-GMO formula make the product safe.
The supplement does not contain allergens and is precisely formulated per your needs. With the ultramodern design, it is worth trying. The vitamins and minerals are also bioengineered and supply the clean performance every man and woman needs. You get at least 100% daily value of more than 17 essential minerals and vitamins.
Where Should You Buy NutriGenesis Multi?
You can directly purchase NutriGenesis Multi from its official website. The one-month supply comes with a box for $49 with fast shipping. Likewise, the 2-month supply provides two boxes for $98. The three-month supply provides a box for free.
It is the best value and most popular pack which costs $147. It implies that you can make the most out of your purchase with the three-month supply. Interestingly, you also get a 30-day performance promise.
Performance Lab NutriGenesis Multi for Men supplement provides essential nutrients that may be missing in your diet, helping you to maintain daily vitality and long-term health.
Free Worldwide Shipping on orders over $250
The proper nutrient replenishment in Performance Lab NutriGenesis Multi for Women helps keep cells throughout your body healthy and functioning properly for maximum benefits.
Free Worldwide Shipping on orders over $250
Who can Use Performance Lab NutriGenesis Multi?
Those who want to fill the nutritional gaps with a healthy multivitamin supplement can avail themselves of Performance Lab NutriGenesis Multi. However, the results may vary from person to person as everyone is unique. The best thing is that Performance Lab is transparent about its ingredients, product safety, and dosage.
Everything is well-written on its official website. People should not exceed the recommended dosage. Pregnant and breastfeeding women and people with ailments and injuries should always ask a doctor.
Why Try NutriGenesis Multi?
The product contains all the useful vitamins and minerals that people often lack in their diets. The formulas are tailored per the requirements of men and women, meaning you get significant nutrition. We often use canned and overprocessed food in this digitization phase and do not emphasize nutrition.
In light of this, Performance Lab NutriGenesis Multi may be a feasible approach to overcoming the nutritional gaps to some extent. The product caters to many health aspects. The ease of use and great customization helps take the supplement without much hassle. The ultramodern nutrition technology also helps you get advanced nutrition. The product also facilitates maximum absorption for better utilization of the essential vitamins and minerals.
Performance Lab NutriGenesis Multi FAQs
Why should I go for Performance Lab supplements?
The user can optimize their human performance at every level by taking Performance Lab supplements. One can easily start with Performance Lab NutriGenesis Multi formulas which are for both men and women. For healthy biological function, this supplement boosts the NutriGenesis vitamins and minerals.
Why does Performance Lab use plant-based ingredients?
The mission of Performance Lab is to produce clean, pure and safest nutritional supplements. The plant-based supplements of Performance Lab are suitable for everyone, whether the person is vegan, vegetarian or one who is following a clean lifestyle.
How are Performance Lab supplements different from other supplements?
The supplements of Performance Lab are designed to take human performance to the next level. After researching and testing, Performance Lab formulates advanced nutritional supplements that help you boost your overall health. As compared to the other supplements available in the market, Performance Lab's supplements contain nutrient combinations.
Are Performance Lab supplements safe to take?
In each phase of supplement creation, Performance Lab makes sure that its supplements can enhance your health. Performance Lab uses high-quality and premium ingredients in all its supplements. At the same time, the products of Performance Lab go through various quality control and quality assurance to ensure the product is completly safe.
Do I need to cycle Performance Lab supplements?
No, the user does not need to cycle Performance Lab supplements. All the supplements are safe for long-term daily use.
Conclusion: Performance Lab NutriGenesis Multi Review – Should you buy it?
Both the supplements are designed to satisfy men's and women's nutritional requirements. They have a clean formula and contain significant dosages of vitamins and minerals in adequate proportions. They are suitable for vegans and support cardiovascular health. You get nature-identical nutrients in balanced dosages designed for comfort. Above all, they support peak human performance.
That's all for now! Stay tuned.
Disclaimer: You should always consult a doctor before using the product. The article does not guarantee anything that you will experience the desired results. Before buying a product, you must check its official website for updated information about the cost, specifications, and other details. Some information in this article may update; hence checking with a product's official website is essential. The article information is for educational and informational purposes only. The use of any information provided by us in this article is solely at your own risk. We are not medical health practitioners.
Performance Lab NutriGenesis Multi Review
Performance Lab NutriGenesis is a top-quality multivitamin supplement that is definitely worth checking out. The nutrients used by Performance Lab are grown under conditions that replicate those found in nature. This is a very rare approach; most supplements on the market are synthesized or extracted.
Pros
Male and female multivitamins are available.
100% Clean, Vegan, Non-GMO, gluten, and caffeine-free.
Supports peak human performance.
Contains 17+ daily essential vitamins and minerals.
It is 3rd party test to confirm purity, potency &amp
bioactivity after encapsulation.
No proprietary blends.
No side effects.
Excellent customer service and money-back guarantee.
Cons
Its a premium-priced option and is only available from the official website.
Not suitable if you are pregnant, nursing or under the age of 18.
Lots of tablets to take daily.