Finding essential nutrients and multivitamins is challenging as in a plant-based diet. Love Complement brings you a solution that offers plant-based multivitamins and essential science-packed multivitamins for plant-based eaters.
Contributing towards health goals and healthy living on a daily basis. Love complement offers complement essentials, plant-based diets including hydrates, daily greens, organic protein, plant protein bites, essential liquids, omega complex and plant bites.
Is Love Complement worth the use? How are the product reviews? What benefits does Complement provide? What is the price of a Love Complement? Let us move forward with the article and review of the Love Complement.
Love Complement Review – Plant-Based Diet Supplements
Love Complement designed itself to fill you with what a plant-based diet passes over. Complement has a collection of multivitamins and supplements created to complement a plant-based diet.
The plant-based diet is being elevated by the Complement. Complement provides you with clean and robust nutrient solutions ensuring health empowerment. Vitamin D and Vitamin B12 from plant-based sources are not bio-available.
Their animal equivalents, with omega-3 fatty acids like EPA and DHA, are almost impossible to acquire in sufficient amounts from a usual plant-based diet. Founded by Matt and Matt with the thought, Don't Supplement, Complement.
The two founders of Complement decided to make a plant-based diet, incorporating all the nutrients, vitamins and essentials that are being backed by a scientific approach. Commenced with the making of the essential nutrients, including DHA/EPA Omega 3s, B12 and Vitamin D3. These three blends were later expanded for many of the products.
Matt and Matt specifically indulged deficient people who were not indulged in a plant-based diet, i.e., Vegan. Let us see a few of Love Complement's product descriptions. Love Complement essential vegan nutrients review.
Top-Rated Love Complement Products – Love Complement Reviews
1. Love Complement Essential Vegan Multivitamins
Complement is manufacturing vegan supplements to enhance your health and to pack you up with all the essentials and nutrients the body requires. The vitamins and nutrients which have an effect on your mood, body and overall health will now be available in this Love Complement's vegan supplements. Priced at $89, but with the subscription, you can save and get it at $75.
Dosage – 3 Capsules of Essential Vegan Multivitamins for the day with food and water.
Ingredients – B12, D3, K2, Long chain omega-3s DHA and EPA, iodine, Zinc, Magnesium, Selenium and Zinc. Contains zero sugars and fillers with 20 calories. They have a key role in all the ingredients used in Complement Essential Vegan Multivitamins. Zinc aids the nails and skin with a boost in the immune system.
Supporting the red blood cell formation with DNA synthesis and supporting all the neurological functions. Omega 3s have an impact on the nervous system. It aids in regulating the nervous system and supports cholesterol and brain fitness. Vitamin D3, as we know, it has a great impact on bone health and immunity.
$75.65
Love Complement Discount Offer
Improving heart health and energy levels and brain function extend health span.
2. Love Complement Protein Powder
Complement's protein powder contains 15 g of protein, 0 sugar, 1 g of carbs, and 85 calories. It contains no artificial flavors and fillers, with easy digestion. With 30 servings.
Dosage – At breakfasts, drinks or baked products daily, mix three tbsp of Love Complement Protein Powder. 
Ingredients – Almond, Chia Seeds, Pumpkin Seeds, Yellow Pea and Sunflower Seeds. Complement protein powder incorporates the essential amino acids which have not been produced by our body independently.
They are leucine and lysine, with other protein riched sources making an ideal blend of proteins for all plant-based eaters. This Love Complement Protein Powder is composed of just 5 foods with real protein and contains no added sweeteners and flavoring. It will cost you $59 and $50 with the subscription.
$50.15
Love Complement Coupon
A plant-based protein made with five natural food proteins and nothing else. Flavorless, sweetener-free formula means you can blend, bake, or mix a boost of complete protein into just about anything.
3. Love Complement Essential Liquid Nutrients
With 60 days of supply, incorporating Iodine, Magnesium, Selenium and Zinc. Love Complement Essential Liquid Nutrient features eight vital vitamins, Omega-3s and minerals that are absent in the regular plant-based diet.
To meet the health goals for the body, and best for the whole family, keeping in mind both long-term and short-term health. With zero calories and 60 servings per container, it has to be 2 ml per serving. Costs at $75, with $64 a subscription.
Dosage – 2 ml with 4 pumps.
$63.75
Exclusive Love Complement Discount
The liquid formula provides flexible dosing for both kids and adults.
Some Useful Ingredients in Love Complement Product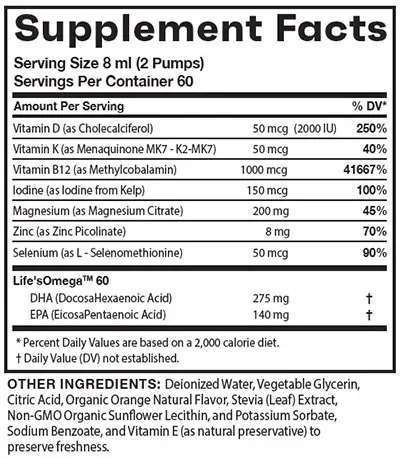 DHA+EPA Omega-3s, Vitamins B12, D3, and K2 and the mineral constituents like zinc, iodine, magnesium and selenium. The ingredients have a lot of benefits, from blood regulations to nails and skin. Love Complement Essential Liquid Nutrients is a flexible option for both adults and children.
What are the Benefits of the Love Complement?
With a lot of benefits, Complement Vegan Protein Supplement is beneficial for the whole body.
Promotes heart health
Helps regulate normal metabolism
Support immune defenses
Aids-brain function
Regulates Metabolism
Advances the Sleep
Boosts Long-term Immunity
Expands health-span
Repairs Tissues
Aids Muscle Building
Enhancement in Energy Levels, with improvisation in heart health and brain functions. 
Potential Side Effects of Love Complement
Based on the plant diet, Love Complement has some possible side effects. Since the product is a non-toxic and safe supplement, it can be combined with whole-food and vegan diets. There are no such side effects if the supplements are taken as recommended.
Side effects can be seen if intake is exceeded or if you have an allergy to specific components in the Complement. Stomach pain, weight loss, nausea, appetite Loss and may have digestive and stomach-related issues.
Why Love Complement?
Love Complement is 100% vegan, with carbon offsets and 100% biodegradable. Love Complement is the essence of Peppermint. It is a plant-based multivitamin with sustainable packaging.
Complements are traceable nutrients, which are third-party tested and with subscribe and save options. They have various vegan vitamins and supplements which are optimized for a plant-based diet.
Love Complement has a lot of rewards and exclusive perks. They provide you with a "Take a Quiz" option, where you can easily choose between your needs. On orders above $35, Complement provides you with free shipping.
The ingredients used in the Love Complement are all transparent, clean and third-party tested with Eco -friendly packing. Love Complement covers all the bases, nutritional and with all Vitamins. The food consumed is not always sufficient to provide enough nutrients.
That food is being affected by the soil it has been cultivated on. The soil has a lot of influence. Poor soil impacts the nutrition in the food, sustainability and production negatively. The food which is being consumed daily does not provide the body with enough.
A review by Molecular Metabolism disclosed that 75% of the world's food is sourced from seven animal species and twelve plant species. Assuring optimal nutrition is not enough for the body. Love Complement has Eco-friendly packing for every product.
Love Complement contributes a portion of their every sale to feeding the rescued animals. Love Complement also contributes to the afforestation projects for the minimization of environmental impacts.
Who Can Take the Love Complement?
Those who are in the habit of taking real food plant-based protein snacks and the vegan who just consume plant-based diets. Plant-based diets always do not contain what the body needs. Love Complement is blended with vital components that are not incorporated into our daily diets and the ones which our body needs but cannot produce on its own.
Where to Buy a Love Complement?
You can buy Love Complement from the official website of the Love Complement Here. You can get 10% off by signing in with an email address on the first purchase. Love Complement costs you $75.65. On orders above $35, you will get free Shipping.
Are there any Promotions, Rewards and Discounts Offered by Love Complement?
You can subscribe and save 15% Off and free access to 1:1 Nutrition Coaching and meal plans. Love Complement gives a 100% money-back guarantee. If you become a member by joining the Love Complement, you will unlock exciting perks and exclusive rewards.
Empowered Points
You can earn empowered benefits with Complement. The empowered points you will earn can be used for awesome rewards provided.
For this, you will have to sign up, and you will earn 200 empowered points
Once you follow Love Complement on Instagram, it will give you 200 empowered points.
By Writing a product review, you will receive 500 empowered points
Celebrating a Birthday will allow you 1000 empowered points.
Once you earn the points, you can redeem them.
Starting with 100 empowered points, with a $1 order discount.
With 500 empowered points, you will get $5 off the next subscription order.
With 1000 empowered points, $10 off for the next subscription order and $15 off with 1500 empowered points for the next order's subscription.
Same with 2000 empowered points will give you $20 off for the next subscription order.
With 1600 empowered points, you will get Free Plant Bites- Bulk (26 servings) Fig+Triple Berry Coupon.
Referrals
Once your referral, maybe a friend, or anyone makes a purchase and claims a reward, you will be getting a $30 off subscription coupon, and they will be getting a $15 off subscription coupon.
VIP
All your access passes to the exclusive rewards. Keep reaching a higher tier for more exclusive perks.
Novice – Earn zero empowered points. You will place an order and get 5 empowered points on every dollar spent.
Pro – Earn 900 empowered points. You will get 7 empowered points on every order for every dollar spent.
Elite – Earn 1800 empowered points. Five hundred empowered points, place an order and get 10 empowered points on every dollar spent.
What do Consumers Say about the Love Complement? Reviews by Consumers
Keep in mind that Love Complement's customer reviews can be fake reviews, maybe negative reviews and positive reviews. Here is what we found. On the site, there were almost positive reviews with happy consumers. We have visited the social media channels and have reviewed them.
The consumers of Love Complement were happy and satisfied with the product. They said the product was beneficial and worked well. The Love Complement's specific supplements they tried were quite effective and with the brand transparency of high quality.Users found many supplements delicious.
Many of them said they found the product really effective with improved energy and moods. Incorporating Complement with daily smoothies really helped regulate hormones. The kids found the product yummy, and there were a lot of notable changes found.
The product Complement had excellent texture and flavor. The product rating is so good at various sites. On Judge me, 5/5 starts are being earned by the Love Complement, with more than 1000 reviews. 4.6/5 stars on GoWellness, with beneficial ingredients and for the specific needs of the individuals.
Top FAQ related to Love Complement
Who is the founder of Complement? 
Where are complement vitamins made?
Love Complement is made in the USA.
Is Love Complement third-party tested? 
Yes, Love Complement is third-party tested for heavy metals.
Is there any refund policy for Love Complement? 
Yes, if you are not happy with the product, Love Complement has a 30-days return policy, with a 100% refund. 
Is Love Complement vegan? 
Yes, Love Complement is a vegan and plant-based protein supplement. 
Is Love Complement FDA approved? 
No, Love complement has not been approved by the FDA. The statements on the official website of Complement have not been evaluated by the Food and Drug Administration.
What is the shipping policy of Love Complement? 
The product will be delivered within 5-7 business days, with a processing time of around 3 business days. With free Shipping on orders above $35.
Bottom Line: Love Complement Review 2023 – What do we conclude?
A lot of research and science has been at the end of the composition of the Love Complement. The essentials which are deficient, not filling up with your regular diet, are covered in the Love Complement. Love Complement is a plant-based diet, vegan protein supplements meant and designed for healthy living and for the whole body's essential supply.
The article was based on the information from the official site. The consumers found the reviews on various sites and social media channels. Hope you found the article as a review of the product.
Love Complement Review
Love Complement brings you a solution that offers plant-based multivitamins and essential science-packed multivitamins for plant-based eaters. Contributing towards health goals and healthy living on a daily basis.
Pros
100% Money-back guarantee.
Boosts long-term Immunity.
It may help to boost energy.
Third-party tested with Eco-friendly packing.
Promotes heart health.
Vegan supplements.
Helps regulate normal metabolism.
Cons
It is a little expensive.