Most of us take our vision and eyes for granted. It's only when something goes wrong with them that we give it a thought. Good eyesight is required for driving, watching TV, reading on a tablet, working on a laptop, and participating in sports. Even the simplest things like finding stuff in the fridge to make lunch. Or getting ready to go to the workplace or just looking up a phone number requires healthy eyes.
We spend hours of time and energy optimizing our brains. But to reap the benefits of an optimized brain we need healthy eyes. What if you are suffering from eye fatigue or constantly worry about developing age-related macular degeneration, cataracts, or glaucoma? Or if you are looking for that competitive edge at work, sports, or gaming but a screen-induced eye strain or eye fatigue prevents you from excelling at work.
Perhaps you're struggling with weak night vision, slow hand-eye coordination, or less than high-res vision… if so, one of the ways you take care of your eyes is with a supplement called Performance Lab® Vision. It could possibly be the solution for all your eye-related problems.
Performance Lab® Vision is a vision supplement designed to help athletes and gamers, but it also claims to help several eye-related issues and look after your eyes. Is it too good to be true? Let's find out
Detailed Performance Lab Vision Review – What Is Performance Lab Vision?

-10%
$49.00
Free Worldwide Shipping
Performance Lab Vision is a dietary supplement that supports macular health and enhances eyesight. It is made with natural ingredients and is legal for use in competitions.
Performance Lab Vision is an all-natural all-around eyesight enhancement supplement, designed to safely support macular health.It also claims to help with night vision, movement detection, contrast sensitivity, and dark adaptation (allowing your eyes to become compatible with the dark quicker). It may even improve reaction time and hand-eye coordination – one reason why the product is much loved by gamers.
Finally, it is also advertised to help reduce eye fatigue and screen-induced eye strain, as well as age-related eyesight damage. Thus we see that it is quite a comprehensive list for any supplement.
The product is designed and formulated by Opti-Nutra Ltd, a UK-based company. However, the manufacturing of the product takes place in New Jersey, USA, in an FDA-registered, GMP-certified facility.
Read below the full review to see if Performance Lab Vision is as effective as it claims.
Performance Lab Vision Ingredients – Performance Lab Vision Review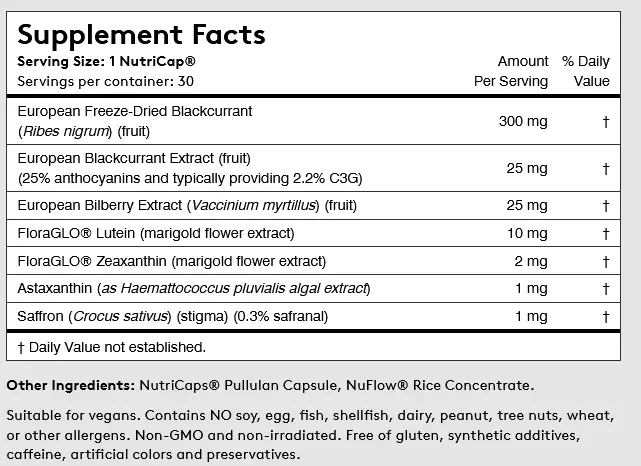 Lutein, 10 mg + Zeaxanthin 2 mg (FloraGLO)
The two main active ingredients in Performance Lab Vision are Lutein and Zeaxanthin, two comprehensively researched-backed nutrients regarded best to optimize eyesight and function. They are strong carotenoid antioxidants that are found in the 'macula', that tiny part of the retina that provides clear vision.
Lutein and Zeaxanthin are known to improve visual performance and support eye health by negating the harmful effects of blue light, known as HEV (High Energy Visible Radiation) – the type of light emitted by tablets, computers, laptops, and mobile phones. When blue light penetrates the eye through the lens to the retina, it gives rise to toxic 'free radicals that can damage the macula and the retina. This type of macular damage is said to cause visual strain, eye fatigue, glare, and long-term eye issues.
Performance Lab Vision claims that the Lutein and Zeaxanthin in their product form a protective yellow coating that absorbs and neutralize the blue light, sifting blue light rays before they reach the macula. Lutein and Zeaxanthin also nourish and enhance the eyes' functions in the following ways:
Visual Acuity: resulting in high-resolution vision, offering clarity of minute detail sight at a distance.
Glare Recovery: providing quick vision re-gain after flash blindness from headlights, sun, and screens.
Contrast Sensitivity: Low light detection of subtle shades of light and dark, especially detecting motion against tough backdrops of low light and fog.
Age-Related Vision Problems: Clinical research shows that Lutein and Zeaxanthin's macular pigment support may protect the eyes against macular degeneration caused due to aging.
European Blackcurrant, 25 mg
Another important component in Performance Lab's Vision supplement is black currant. Black currants contain powerful antioxidants known as 'anthocyanins'. One of these anthocyanins contains a purple plant pigment called C3G (Cyanidin-3-glucoside), which enables the retina to regenerate rhodopsin, a compound that improves night vision. anthocyanins, and the C3G, work together to increase vision and support healthy blood flow to the eyes. Also, they help with performance-oriented eyesight in the following ways:
Darkness Adaptation: improving night vision with a quick low light adaptation.
Eye Signaling Speed: speeding up retina-to-brain signaling for superfast vision and split-second reaction time.
Alleviating symptoms of visual fatigue.
European Bilberry Extract, 25mg
Bilberries support the black currant antioxidants with a strong matrix of more than 15 dark purple anthocyanosides, including more C3G for enhanced rhodopsin support. Bilberries contain nutrients that are known to offer flexibility to the eye capillaries and support the blood flow to the retina for maximum visual performance and eye health. Performance Lab only uses bilberry extract, which offers a supply of a minimum of 25% anthocyanosides, from wild-grown bilberries, processed quickly to preserve their nutritional benefits.
Saffron, 1mg
You might know saffron as a golden–red spice which is one of the costliest spices in the world, in terms of weight. It is obtained from crocus flowers and its yellow plant pigments Safranal and Crocin have a rich antioxidant profile. These antioxidants protect the macula and maintain the macular pigment, improving blood flow to the eyes. Saffron improves eye health and hones vision performance with the following functions:
Movement Detection: Saffron assists in the precise, quick detection of fine motion.
Glare Reduction: Saffron nourishes the macula, lessening the flash and glare effects of blue light rays.
Astaxanthin, 1 mg
Astaxanthin is a rich antioxidant found in algae and in animals that consume algae. It is a pink-red xanthophyll antioxidant that has been proven to improve blood flow, oxygen delivery, and eye-supportive nutrients. It is believed that Astaxanthin supports active, energized vision in addition to soothing eye fatigue. Performance Lab derives Astaxanthin from natural Haematococcus Pluvialis Algae, organically grown in harshly controlled settings, to supply a pure and eco-friendly supplement.
Other Ingredients: NutriCaps® Pullulan Capsule, NuFlow® Rice Concentrate.
How does Performance Lab Vision Work
Performance Lab Vision is designed to boost human-eye performance. It is formulated after extensive research and tests, using proven ingredients and the latest science to create clean and effective supplements. Performance Lab formulas contain nutrient combinations that are not featured in any other market product. Performance Lab Vision is suitable for vegans and is free from GMOs, allergens, soy, gluten, and artificial additives.
How to Use Performance Lab Vision?
Take 1 capsule with breakfast, usually with food containing a source of fat.For best results use daily and consistently. For more usage guidelines visit www.performancelab.com/Advanced. You can safely double this dose to two capsules for added protection and vision enhancement.
One capsule in the morning and another mid-day. It is recommended to use Performance Lab® Vision with a multivitamin/mineral supplement, to experience the best result. And keep in mind that both lutein and zeaxanthin are fat-soluble ingredients in this product. So for best results Vision should be taken with a healthy fat such as a tablespoon of unrefined coconut oil, extra virgin olive oil, or the new organic, non-GMO Performance Lab® MCT Oil.
Performance Lab Vision Side Effects
Performance Lab Vision uses only natural ingredients in research-backed dosages and hence there should be no noticeable side effects when using this product.It has been formulated to be safe for long-term daily usage.
Is Performance Lab Vision a Scam?
The ingredients within Performance Lab Vision are proven and backed by scientific research, so no it's not a scam. The manufacturer Opti-Nutra is also a well-known and trusted supplement manufacturer.
Performance Lab Vision Review: Packages, Prices & Where to Buy It?
If you are interested in trying Performance Lab Vision, log on to the official Performance Lab website: www.performancelab.com. The bottle has 30 capsules, which is 30 days or 15 days' supply depending on whether you take 1 or 2 capsules per day (recommended dosage)
How much does it cost?
1 bottle: $50.00 (+shipping and handling)
2 bottles: $76.00 (5% saving)
3 bottles: $108.00 (10% saving)
Free worldwide shipping is available on orders above $200.
Refund Policy & Money Back Guarantee
Performance Lab gives a 60-day guarantee on your first order of Performance Lab Vision. If you are not happy with your results at that time you can simply get in touch with a member of our Customer Care team or email the company, return any used/unused product and they will give you an immediate refund (minus shipping costs).
Shipping: Performance Lab claims that all orders are shipped on the same or the next day, with destinations and rates mentioned on their website shipping page.
Customer Reviews of Performance Lab® Vision
The company does not market Performance Lab Vision via Amazon (or even brick-and-mortar stores) and hence obtaining unbiased reviews is difficult. However, the product has been reviewed by several top-level specialist supplement sites who have all been happy with the Performance Lab Vision based on their usage, its clean ingredient profile plus its research-backed formula composition. A user stated that she used the Performance Lab® Vision for a couple of years and was amazed at the difference it brought to her vision. The difference was noticeable in the evening of the first day of using this supplement.
Another user said, "I have not experienced any eye fatigue or strain since I started using this supplement."
Another one pitched in "I've noticed my tolerance to sudden bright lights and glare has markedly improved since supplementing with Performance Lab® Vision."
Performance Lab Vision FAQ
Who should take Performance Lab Vision?
Performance Lab Vision can be taken by anybody who wants to enhance their eyesight. People who are in sports, computer users, photographers, drivers, etc., can use Performance Lab Vision to enhance their vision.
How do I take Performance Lab Vision?
The user need to take 1 capsule of Performance Lab Vision with food. For best results, take Performance Lab Vision daily and consistently.
Is Performance Lab Vision safe?
Just like other Performance Lab supplements, Vision is also designed for daily use, and it is completely safe. Performance Lab Vision has all the clinically researched and potent ingredients that help users to improve their eyesight.
Is Performance Lab Vision legal?
Performance Lab Vision is a safe and 100% legal supplement that anyone can take to improve their eyesight.
How long does Performance Lab Vision take to work?
You can notice the benefits of Performance Lab Vision within two weeks.
Conclusion: Performance Lab Vision Review 2023 – Should you buy this supplement?
Performance Lab uses the best quality ingredients with evidence-backed research to back them up and there's no denying that there's a lot of hard work behind this supplement. From potentially helping to combat age-related macular degeneration to improving your night vision, and reaction times and possibly reducing the screen-related eye strain that concerns many of us, there's no wonder it's fast becoming a rage among gamers and athletes looking for an extra competitive edge. Performance Lab® Vision boosts eye health and vision performance for everybody – improving focus speed, motion detection, night vision, and more.
With FloraGLO® lutein and zeaxanthin plus purified extracts of bilberry, blackcurrant, and saffron, Vision offers support to dynamic eyesight and long-term eye health. The astaxanthin used in Performance Lab Vision is the most powerful antioxidant found in nature.
The pricing of Performance Lab® Vision is competitive for what you are offered. Buying these supplements separately can prove more expensive. And honestly, it makes no sense to purchase individually.What gives this vision formula an edge is a way it's put together with top-quality ingredients.
This vision supplement performs all duties of a vision supplement – improves glare tolerance, boosts focusing speed, and reduces coordinated reaction time. This is by far the best eye and vision supplement available in the market today.Not only is this vision supplement well-thought-out, but the company only uses premium ingredients. So if you want to give your vision a boost – we recommend giving Performance Lab® Vision a try.It surely is Good Value!
Performance Lab Vision Review
This product contains all the right ingredients to enhance the performance of any athlete or gamer. The protection it offers is especially beneficial to those who heavily rely on their eyes, such as gamers.
Pros
Safe, natural, and legal.
No stimulants.
Popular research-backed ingredients.
One of the cleanest supplements on the market today.
Targets a wide variety of eye health issues in one capsule.
Offers competitive eyesight for gamers and athletes, a rarely focussed eye issue.
Complete disclosure on the amount of each ingredient
Easy to swallow
Plant-based
Highest quality patented ingredients like FloraGLO®
No added ingredients
Suitable for vegans. Contains NO soy, egg, fish, shellfish, dairy, peanut, tree nuts, wheat, or other allergens. Non-GMO and non-irradiated. Free of gluten, synthetic additives, caffeine, artificial colors, and preservatives.
Prebiotic-infused vegan-friendly NutriCaps® capsules
Does not contain any World Anti-Doping Agency (WADA) banned substances
Vegan-friendly ingredients
 Before encapsulation, it is tested for allergens, GMOs, microbes, pesticides, herbicides, and other contaminants
Vision comes in convenient, easy-to-swallow 00-sized NutriCaps®. 100% plant-based capsules made from pullulan (fermented tapioca), providing comfortable digestion and high nutrient absorption into your body.
Re-tested to confirm potency, purity, and activity after encapsulation
Ships in recyclable cardboard boxes filled with biodegradable packing peanuts
Competitively priced
Empty bottle, money-back guarantee ( excluding shipping)
24/7 customer support
Cons
Only available via the official website, meaning very few reviews are available. You will not find it on Amazon or other online retailers.