In recent years, we have heard a lot about superfoods. There are many things that you can find in the superfood list, and of them is beets. Beetroot has varied benefits. Its fibrous content and presence of nitrates, betaine, magnesium folates and other antioxidants help lower blood pressure and boost energy.
One study shows that beetroot juice may enhance exercise performance and provide healthy blood circulation. Superbeets is one supplemental product that we will review here. Keep reading our updated SuperBeets Review and improve your overall immune system.

-45%
$34.95 $39.95
90 Day Satisfaction Guarantee
Use our exclusive SuperBeets discount coupon that enables you to save some money.

Buy 2 Get 1 FREE
Buy 4 Get 2 FREE
---
Detailed SuperBeets Review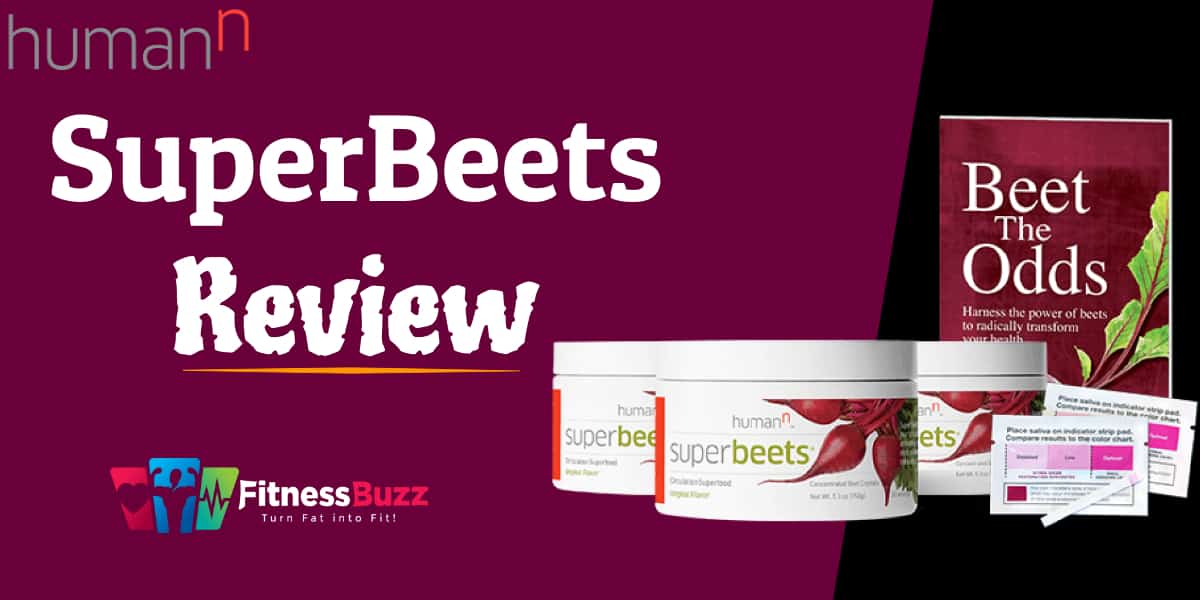 HumanN, which was earlier known as Neogenesis, is the manufacturer of several products, SuperBeets. The company was established in 2009 and claimed to have rich expertise and experience in nutrition, supplements, dietary and functional food, and Nitric Oxide research. Their products focus on the production of Nitric Oxide in the body.
SuperBeet is a powdered supplement made from beet crystals in two flavors, black cherry and original, which improves circulation, boosts energy and stamina, lowers blood pressure, and provides the body with optimum levels of Nitric Oxide. A low heat process dehydrates the beet crystals, keeping intact all the nutrients.
---
SuperBeets Ingredients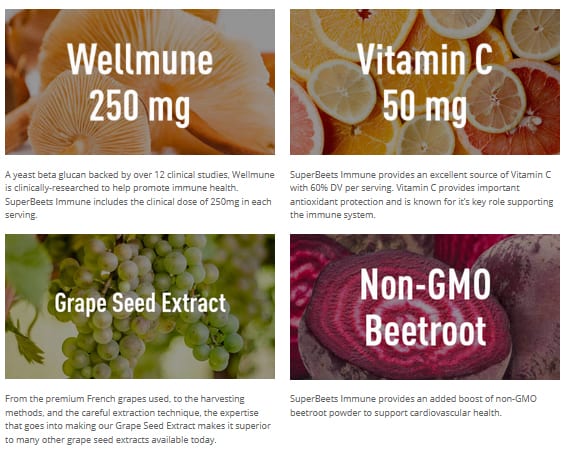 SuperBeets comprises non-organic beetroot powder. Non-organic beets are used because organically grown vegetables can differ a lot in their nitrate content. Currently, two flavors are available. The original flavour includes:
Non-GMO beetroot powder + Non-GMO fermented beetroot powder.
Natural apple flavor
Malic acid
Magnesium ascorbate
Stevia leaf extract
A black cherry flavor uses the original black cherry flavor and not the natural apple flavor.
One serving is said to possess 15 calories and a good amount of vitamin C, approximately 83% of the daily value). There is also a SuperBeets Energy Plus product that contains green tea extract.
Here are the complete details of the ingredients:
Beetroot powder is made from dried beets. Like several other fruits and vegetables, raw beets comprise water and carbohydrates (from sugar and fiber). 87% of the weight of a raw beet is due to water.
HumanN's beet powder, therefore, bears noticeable similarities to other fruit and vegetable juices that are produced from concentrate. However, here in SuperBeets, the canister contains just powder, with water mixed at the serving time.
Fermented beetroot powder is got by fermenting and then powdering raw beets. During this process, harmful bacteria are killed with brine (solution of salt and water). Lacto-fermentation occurs with the help of the Probiotic bacteria Lactobacillus, where these "good" bacteria transform sugars into lactic acid. Fermented foods are gaining popularity because of their potential of being able to support a healthy gut microbiome.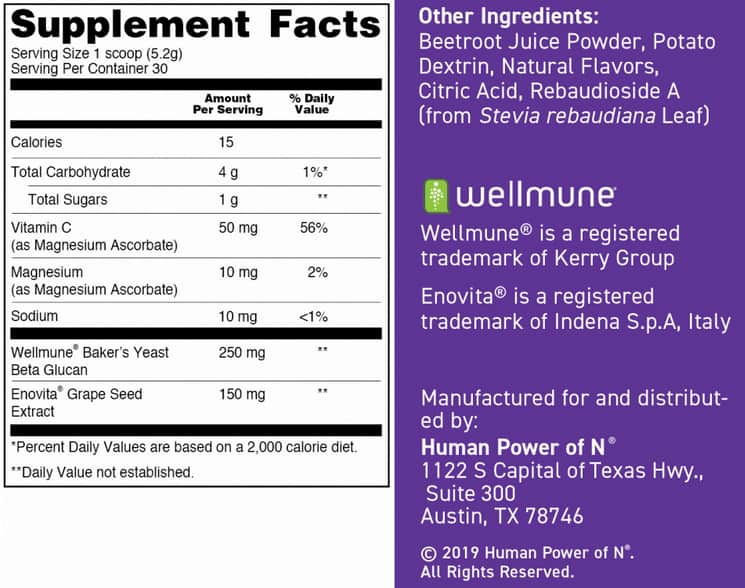 Natural black cherry/apple flavor is used to remove the so-called "earthy" flavor usually associated with beets. They commonly add malic acid to give the product a certain tartness (or sourness). Again, this may be done to mask the not-so-good earthy flavors present in beets. Magnesium ascorbate is a type of vitamin C that is non-acidic. Stevia leaf extract is a well-known sweetener that imparts sweetness and improves the overall taste of SuperBeets without the need for added sugar.
---
How SuperBeets Work?
This supplement primarily focuses on the production of nitric oxide and its benefits on our health. However, we are not told how much nitric acid we get from the recommended daily intake. Nitric oxide helps dilate blood vessels and improve circulation. Consequently, Nitrates in pills/capsules may be recommended to treat angina and coronary heart disease. Improved circulation helps reduce blood pressure.
---
SuperBeets Side Effects
SuperBeets is generally safe for healthy people if the recommended dosage is taken the way it is prescribed. However, it is important to seek your doctor's guidance before starting a new supplement, especially if you plan to discontinue taking one or more medications.
Some side effects related to beets and their supplements are:
It can reduce calcium levels and cause kidney damage.
It is unknown whether it is secure to consume during pregnancy or when lactating.
May cause the formation of kidney stones or worsen existing kidney disease.
If you are suffering from low blood pressure(BP), SuperBeets is not advisable for you due to its claims of lowering blood pressure.
Beets can also cause Beeturia, in which urine or stool is released with a distinctive reddish-pink color. However, this is a normal reaction that comes along with eating beets and is not a cause of worry as it is harmless.

Finally, consuming beets may aggravate the problem of gout in those who suffer from it. This is because of the high levels of oxalate content of the vegetable. Oxalates disrupt the absorption of certain nutrients like calcium. Beets also contain FODMAPs, so if you are on a low-FODMAP diet, you may want to avoid taking SuperBeets.
---
Where to Buy SuperBeets? | SuperBeets Pricing
You can avail SuperBeets from the HumanN website, Amazon. For a one-month supply, SuperBeets costs $34.95 and handling charges. The website offers discounts on bulk orders and also provides a 90-day money-back guarantee. When buying such supplements, it is important to shop around to get the best possible price. Use our SuperBeets coupon code if you want to buy SuperBeets at the best price. The company also runs promotions like the "Buy 2, Get 1 Free" offer and free shipping.
Buy 1: 1 Month Supply (12% OFF)
Buy 2 Get 1 FREE: 3 Month Supply (41% OFF)
Buy 4 Get 2 FREE: 6 Month Supply (45% OFF)
---
Refunds & Returns Policy
HumanN offers a 90-day money-back guarantee (minus shipping charges) from the date we have placed the order. However, you can call their customer services to get a return to manufacturer authorization number (RMA). If the outside of the returns packaging does not have this number, you won't get the refund. The item must be returned, used, or unused, in good condition in the box/bottle/canister.
---
How to take SuperBeets?
It's very simple to prepare SuperBeets; mix one teaspoon of the powder with approximately 4oz (120ml) of water. You need to keep the canister in a cool and dry place and use it within 45 days. Although most people dislike beets for their "earthy" taste, SuperBeets contains natural flavorings and stevia, which gives the product a good taste, unlike raw beet juice.

-45%
$129.90 $149.90
Get FREE Shipping
Looking for the best SuperBeets coupon code? Use our special SuperBeets promo code that enables you to enjoy a flat 45% off. Hurry! Limited time offer.
---
Is SuperBeets a Scam?
SuperBeets is a beetroot powder supplement that is pretty expensive. We don't know of any considerable differences between SuperBeet and another beetroot-based supplement that comes at a much lower price.
SuperBeets by HumanN Review
While the company state that one serving is the equivalent of three beets, there is no evidence to support this claim. We do not know the exact amount of nitrates—the principal component necessary to increase nitric oxide levels present in this product.
Overall, consuming beets is very good for your health as it helps reduce blood pressure, increase blood circulation, and improves exercise and athletic performance. With this in mind, SuperBeets does offer all these above health benefits.
However, it's not worth spending $39.95 (plus $8.95 for shipping) for a 30-day supply. The company also strongly suggests you take it every day with no breaks. This means if you stop taking it, you will not benefit from it at all.
---
Pros & Cons
Pros
The company is reputed for its specialization in Nitric Oxide research.
Non-GMO product with a patented drying process.
It's been proved that active ingredients have clinical benefits.
The company offers a 90-day money-back guarantee.
Many customers have offered very good reviews.
Convenient consumption method
Natural flavors and stevia improve the otherwise earthly flavor of raw beets.
Beets are beneficial to health in many ways.
Easy return policy
Cons
While HumanN claims SuperBeets is a clinically proven product, there is no evidence of independent clinical testing.
Amount of nitrates and betalains in SuperBeets is unknown
The product is costly. Rival companies sell other such products at a much cheaper rate.
Some customers have given negative feedback.
Taste not so good
Daily consumption is required if the effect is to be sustained.
Almost all research on beets' health benefits has been done using raw beets, not dried up powder as found in SuperBeets.
---
🌟 Superbeets FAQ
---
Conclusion: SuperBeets Review 2023 | Should you try this health drink?
There have been mixed reviews on Superbeets. While some have found it too good, others have expressed their disappointment at it. To sum up the SuperBeets reviews, SuperBeets may not work for everyone. Although there is firm proof that beets and dietary nitrates offer many health benefits, the decision to use or not to use SuperBeets is personal. If you intend to use it, do so only after consulting your doctor. We hope you had a great time reading our Superbeets review.

SuperBeets Review 2023: Is this Beet Powder Worth Buying?