Are you looking to put on muscle mass? You are in the right place then! It does not matter a lot whether you are a professional bodybuilder or a beginner. This Transparent Labs Mass Gainer review can certainly help you.
If you need to bulk up more, you will need a mass gainer supplement. Several young fitness enthusiasts wish to add muscle and gain weight. Mass gainer supplements have become increasingly popular. Its main focus is to provide people with protein, carbs, and fats and to help them to gain weight. They provide high calories in liquid form to help build muscle and gain weight. The supplement market is inundated with protein powders that promise to reach out in this aspect.
It's a mammoth task to finalize a product that is safe and effective. Today We will review an interesting mass gaining supplement manufactured by the reputed Transparent Labs. Read our honest Transparent Labs Mass Gainer review to get a quick insight into the product and determine if this is the ideal mass gainer for you.
Transparent Labs – #1 Brand in Nutritional Supplements

-20%
$76.99
Exclusive Transparent Labs Discount Coupon
Use our 100% verified Transparent Labs Mass Gainer coupon code that enables you to save some money. Grab the offer now.
Transparent Labs is a Utah-based supplement company that has earned a name for its quality products. They provide 100% disclosure of all their ingredients and their exact quantities. So there are no reserved ingredients, and you get exactly what is written on the supplement label. The unique feature about their products is that they use zero additives, flavors, sweeteners, or dyes, are gluten-free, non-GMO, and contain n proprietary blends, something which is found very rarely in the supplement business.
Transparent Labs gives most importance to the health and wellbeing of its customers, and that is why they shun using ingredients that are not backed by research. They also test their products to ensure safety.
They also have a 'certificate of composition' to prove the dosages are in line with the research, clinically safe, and effective. Not only do they give complete detail about their ingredients, but their products are also tested for purity by a third party.
They also provide certificates of analysis and authenticity on their website. They spend hours in research to offer you the best quality dietary and sports supplements to help you achieve your fitness goals.
In-Depth Transparent Labs Mass Gainer Review
It contains quality ingredients and high-quality protein that will fuel your body with what it takes to support your training efforts.
The protein source in Transparent Labs Mass Gainer is obtained from grass-fed whey concentrate, which is a common form of fast-digesting protein. There is plenty of research to show that whey protein has for promoting muscle protein synthesis, which can result in muscle hypertrophy.
This whey is obtained from grass-fed cows from New Zealand, which contains some added MCT fats which have some additional health benefits. It also does not contain any artificial ingredients or artificial sweeteners, and you won't find sucralose or acesulfame potassium, and there is no added soy or added sugars as well. All these facts also make it a friendly product for all those people who have to follow a restrictive diet.
Transparent Labs Mass Gainer Ingredients
1. Grass-Fed Whey Protein Concentrate
The major difference between Whey protein concentrate and whey protein isolate is that the former undergoes less of a filtering process. As a result of the filtering process, Whey isolate tends to lose carbs and fat, while whey concentrate gives us a healthy dose of protein, carbs, and fat.
Whey concentrate will reduce your cravings and keep you satiated for a longer time. Whey concentrate also consists of glutathione, a strong antioxidant in the body that can lower stress as well as strengthen your immune system. This protein source helps promote muscle growth and overall strength.
2. Creatine Monohydrate
Creatine is a chemical found mainly in the muscles and also in the brain. It is usually used for enhancing athletic performance, supporting muscle mass, and improving cognitive function. Creatine is good for transforming leftover energy back into productive and more powerful energy.
Adenosine triphosphate (ATP) provides energy to your body cells, but once that is depleted from exercise or physical exertion, it changes into adenosine diphosphate (ADP), the by-product of phosphate. Creatine helps change ADP back into ATP for power and recovery, improving your overall athletic performance to keep your workouts going.
3. Medium-Chain Triglycerides (MCT)
Medium-Chain Triglycerides, or MCT, is seen commonly in coconuts or palm kernel oil and is beneficial for people who have problems taking in fat or nutrients, those wanting to achieve weight loss, or have appetite control and providing a little more energy during exercise. MCT lets your body make ketones, a carb-free energy source for your brain and can keep you satiated while storing less fat.
4. Stevia & Monkfruit
These are natural alternatives to sugar, having a great flavor and hardly consisting of calories. Transparent Labs refrains from using artificial ingredients by making use of stevia and monk fruit in their Mass Gainer. Other Ingredients: Organic tapioca maltodextrin, natural cookies, Hydrox cookie meal, and cream flavor, VitaFiber, sweet potato, coconut milk powder, oat flour, and sodium chloride.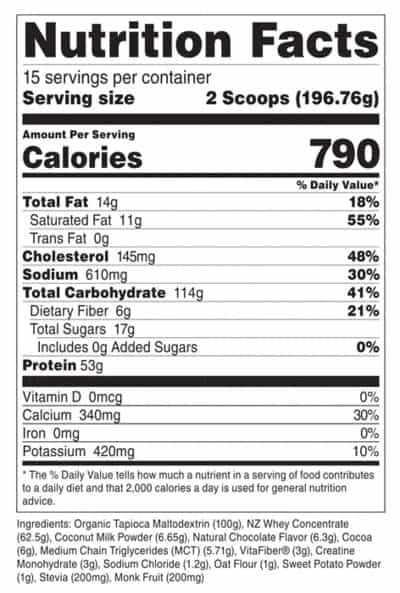 The other ingredients include:
Coconut milk powder (6.65g).
Natural chocolate flavor.
Cocoa
Medium-chain triglycerides (MCT) (5.71g).
All these are certain types of fat that are partially artificial and are quickly metabolized and absorbed by the body. It also contains Vitafiber (3g), which can promote better digestion, along with sweet potato powder (1g) for complex carb sources.
Transparent Labs Mass Gainer Nutritional Info
With each serving of Transparent Labs, Nutritional Mass Gainer is two big scoops (197.76 grams each), and it contains 740 Calories:
53 Grams of Protein
109 Grams of Carbohydrates
12 Grams of Fat (6 grams of saturated fat)
8 Grams of Fiber
15 Grams of Sugar with no added sugar
Cholesterol is 48% which is 37% of the recommended daily intake. It also contains 15 % of the recommended daily intake of calcium and iron, along with 24 % of the sodium RDI.
Benefits of Transparent Labs Mass Gainer
So how does this mass gainer differ from other mass gainers? For 740 calories, this is quite less in sugar (15 grams in 109 grams of carbs) and fat. The 37 percent of cholesterol could be a matter of concern for some people, but it may be beneficial to those who are looking to build muscle. The fiber content is good, and a large portion of it is prebiotic, which may provide some digestive benefits as well.
Other ingredients also offer several benefits. For beginners, tapioca maltodextrin is often considered to be important by athletes because it's naturally gluten-free, and it's not got from wheat or corn, like other common sources of carbohydrates in mass gainers.
The grass-fed whey is from New Zealand, and there are some added MCT fats, which offer extra health benefits. Plus, there are no artificial ingredients used, no sucralose or acesulfame potassium, no soy or added sugars. This makes the ingredients list suitable for folks with restrictive diets.
And with the inclusion of creatine, the effect is even more noticeable. In fact, research proves that taking multi-ingredient supplements containing whey, carbs, and creatine together brings out a greater benefit than only consuming whey. Creatine is necessary for gaining lean muscle mass, and also for muscle recovery, while MCTs assist in nutrition absorption, reducing body fats, and gaining proper muscle mass. Apart from the beneficial properties of grass-fed whey protein, this Transparent Labs supplement also offers other benefits: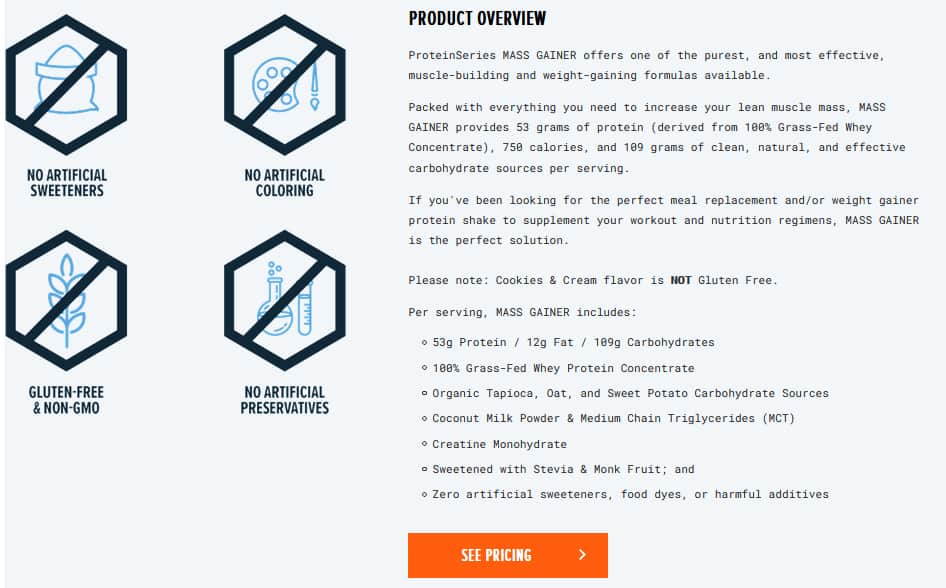 The optimum level of carbohydrates
Any weight gain supplement needs a significant amount of carbohydrates in it for providing the perfect caloric uptake. In Mass Gainer, the carbohydrates are procured from completely organic sources, promising an unmixed and natural product with no harmful pesticides or chemicals.
Minimal and healthy fat proportion
All whey protein concentrates contain some percentage of fat. In this particular mass gainer, the fat concentration is kept to the lowest possible level. And since the fats, in this case, are derived from grass-fed whey, it is the healthiest kind of fats you could ever get.
Transparent Labs don't compromise in maintaining high standards. Grass-fed whey, to organic carbohydrates, from sweeteners like stevia and monk fruit, are evidence to this. Overall, this mass gainer formula aids in supporting muscle growth, power, and performance.
Recommended Transparent Labs Mass Gainer Dosage – How to Take Transparent Labs Mass Gainer?
The best time to take this supplement is:
Immediately after working out.
Before going to sleep or after waking up (helps to compensate for the lack of nutrition during sleep hours)
Before working out (to provide required fuel for high-intensity workouts)
Ideally, mix 2 scoops of mass gainer with milk during any of the above timings. Milk will provide extra proteins and calories required for gaining mass. You can also use water as an alternative to milk.
Transparent Labs Mass Gainer Warnings – Few Things to Look at!
Lactose-intolerant people may develop allergies to whey protein, although it does not contain the most serious allergen (casein). It's best to take the advice of a physician before consuming if you are lactose intolerant.
Though mass gainer is an excellent meal replacement, it alone cannot provide all your daily dietary requirements. You must not depend on it as the only source of nutrition. Also, it is not recommended to use it as a replacement for two meals consecutively. You can prepare mass gainer beforehand, but you must store it properly to avoid spoilage. Once prepared, it is important to keep it in the refrigerator and consumed within 48 hours.
Transparent Labs Mass Gainer Pricing – Where to Buy Transparent Labs Mass Gainer?
Transparent Labs Mass Gainer, though, can be found on various e-commerce platforms, but we would recommend you to buy it from its official website. Buying it from its official website gives you two advantages. First is that you get the genuine product which instills a sense of confidence that you are buying a genuine product. The second is that you get various offers from Transparent Labs, which you never would like to miss out on. Transparent Labs appears to be available only through the company's official website. It is not available through online retailers.
Currently, a pack of 15 servings costs you between $70-$80, although the price can change anytime. That means the price per serving hovers between $4.25 and $4.50 per 100 calories. Note that it costs you less if you buy several bags.
Currently, when we are writing this Transparent Labs Mass Gainer Review, its pricing is $76.00.
This mass gainer is comparatively expensive since most other ass gainers cost approximately 40 cents per 100 calories. But then we must not forget that this supplement contains imported grass-fed whey and more protein than other mass gainers out there, so the price is worth it.
Transparent Labs Mass Gainer Taste
This mass gainer is available in cookies & cream flavor as well as milk chocolate. Naturally, flavored chocolate powders usually taste bitter because of cocoa, but this flavor has a milk chocolate flavor but does not mix too well, though it mixes well in a blender.
We'd usually expect a 200-gram serving to have an overpowering flavor, but here the maltodextrin is mild, and the drink is overall pretty easy to consume. The cookies and cream flavor taste good, but since stevia is added for sweetness, it may not satisfy some people. There is no unpleasant aftertaste either. It is recommended to use it with milk for maximum effect. You can also mix it with juices or other energy drinks, but mixing it with a protein source like milk will yield the best results.

-20%
$76.99
Special Transparent Labs Coupon
Activate our special Transparent Labs Mass Gainer discount coupon that helps you save some money.
Potential Side Effects of Transparent Labs Mass Gainer
Transparent Labs is a brand that is known for making a quality line of products, and over the years, they have addressed some of the potential side effects of the ingredients in their products, such as those associated with caffeine. But it is really essential to know about the seriousness of those side effects, at least for certain people.
So to look into the side effects of this mass gainer, we did have a close look at its ingredients.
The common side effects include:
Stomach irritation
Flushing
A runny nose
Sweating
All of which are common and go away as your body gets used to them. But if any of these symptoms get prolonged and don't quickly go away, we recommend you consult a health physician who will address this issue. Although it is always best to consult a doctor before taking any supplement. Stomach irritation
What is the Transparent Labs Mass Gainer Shipping Policy?
Orders of Transparent Labs usually have standard shipping within the United States, and it takes around 5-7 business days. At the same time, international shipping is estimated to be anywhere between 14-21 days. As soon as your payment is processed, your order will be booked, and you will receive an email with your tracking number as soon as your product ships.
Plus, with Transparent Labs Mass Gainer, you do get free shipping all across the US, which is excellent!
We also found in our Transparent Labs Mass Gainer review that the brand also ships to the US, UK, Canada, and Australia; there are a few countries that can't order Transparent products. You can find the list of the countries to which the brand does not ship. That info you can find on their Shipping Info website page.
Transparent Labs Mass Gainer Refund Policy
Transparent Labs is a brand that honors refunds on returned products purchased from the company's official website. Also, you should know that any products which are not purchased from the company's official websites are not subjected to any refund request.
In order to initiate a refund request, you got to contact their customer support at [email protected] and notify them about your intent to make a return.
You get a 30-day money-back guarantee with all the products of Transparent Labs which are not opened. If the products are opened, then the company gives you. If the products are opened, then the brand would only offer an exchange or online store credit for the cost of the item. Also, the refunds would only be made to the credit card used for the original purchase. Also, it can take two billing cycles to get your refund reflected in your bank statement.
FAQ related to Transparent Labs Mass Gainer
What is Transparent Labs Mass Gainer?
Transparent Labs Mass Gainer is a muscle-building and weight-gaining supplement that is made with effective ingredients.
Who manufactured Transparent Labs Mass Gainer?
Transparent Labs Mass Gainer is manufactured by Transparent Labs, which is a supplement company located in Utah.
Can I get a discount on Transparent Labs Mass Gainer?
If you want to buy Transparent Labs Mass Gainer at the lowest price, activate the above-mentioned Transparent Labs coupon code that allows you to save some bucks.
What are the healthiest mass gainer supplements in 2022?
Check the following lists if you are looking for the best mass gainer supplements in 2022.
1. BSN TRUE-MASS Weight Gainer
2. Optimum Nutrition Mass Weight Gainer
3. Dymatize Super Mass Gainer Protein Powder
4. Rivalus Clean Gainer
5. Naked Vegan Mass Gainer Protein Powder
6. MuscleMeds Carnivor Mass Diet Supplement
Does Transparent Labs Mass Gainer ship to my country?
Transparent Labs is a brand that offers shipping Worldwide barring a few countries. Because of the highly fraudulent activities, countries like Albania, Algeria, India, Lithuania, Macedonia, Romania, Russia, Tunisia, & Ukraine are not offered this product.
Does Transparent Labs Mass Gainer contain nuts?
All the products of Transparent Labs are processed in their facility that has nuts. But they have an allergen control program by which they sanitize and cleanse out all their equipment between allergen and non-allergen runs!
Conclusion: Transparent Labs Mass Gainer Review 2023 | Should you really buy?
Overall, what we found in our Transparent Labs Mass Gainer review is that this product is decently good. With no artificial ingredients, whey from New Zealand, a good quantity of fiber, and little sugar, this will, in most cases, suit most athletes. The price may be a matter of concern, but if that's not a problem, then this is an excellent supplement for easy calories.
Transparent Labs Protein Series Mass Gainer contains all that you need to gain muscle mass safely and efficiently. Loaded with top-grade protein, carbs, and fat, this product is the finest solution to add to a daily exercise or act as a meal replacement. The pure formulas incorporated in this supplement offer fantastic benefits for not only muscle growth but your overall health and wellbeing. Moreover, Transparent Labs boasts about transparency and well-researched ingredients, so you can trust the product blindly.
For all the fitness freaks whose top priority is their wellbeing and are worried about what actually goes in the king of these supplements that they take, buying Transparent Labs Mass Gainer requires almost no thinking. The product delivers what it promises and is value for money.
Transparent Labs Mass Gainer Review
Transparent Labs Mass Gainer is a great supplement if looking for the safest way to build muscle and gain weight. It is the perfect solution with no additives and fillers for muscle growth.
Pros
It has a great amount of fiber.
It does not have artificial ingredients.
It used advanced formula.
Available in good taste.
Contains added MCT fats.
Cons
Not many vitamins and minerals.
A bit expensive.
It may contain different types of allergens like eggs, soybeans, wheat, shellfish, fish oil, peanut oil, so if you are prone to allergies, you may not want to try this supplement.
The extra creatine might prove advantageous or disadvantageous depending on your goals. For example, you won't be pleased with the extra creatinine if you are looking to avoid bloat before a workout session.
Maltodextrin not ideal for people with blood sugar issues


Transparent Labs Mass Gainer Review 2023: Is It Worth Buying?