The market is inundated with pre-workout supplements. This makes it incredibly difficult to choose the best product that will help you boost your training and take you to a higher and better level. Today we will be discussing the ✅Transparent Labs LEAN Review, which is the best pre-workout supplement for fat loss.

-20%
$49.00
Exclusive Transparent Labs LEAN Offer
Use our 100% active Transparent Labs LEAN coupon code that helps you to buy Transparent Labs LEAN at the lowest price.
---
Transparent Labs LEAN Review – Overview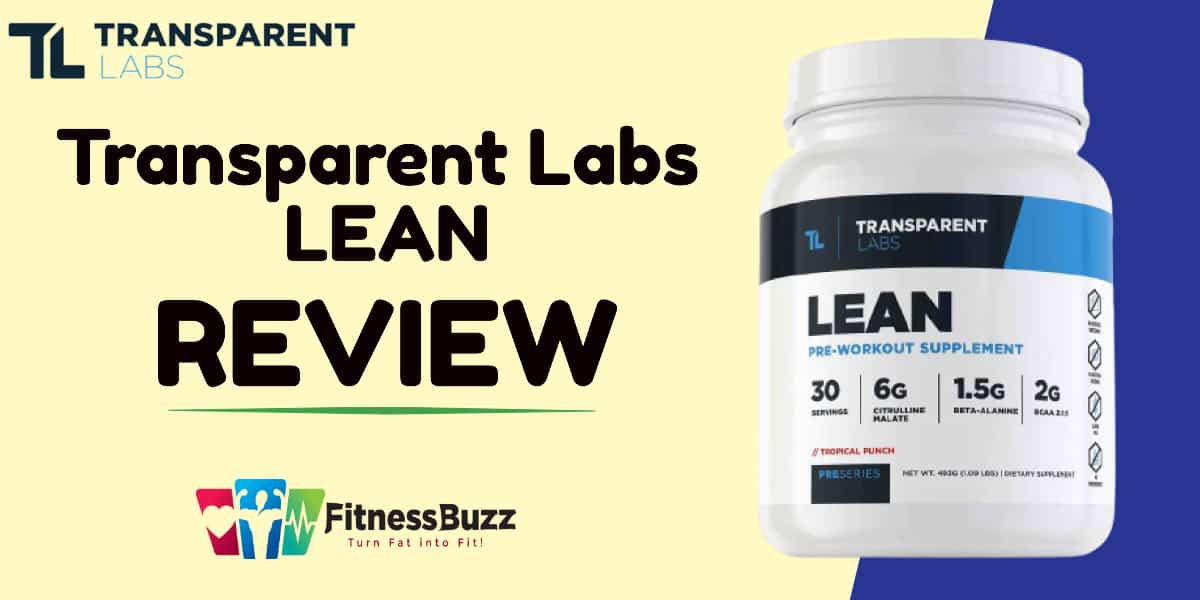 LEAN pre-workout is manufactured by Transparent Labs, which is a supplement company based in Utah. Their products are fast-selling because they disclose the exact amount of ingredients used and because their products contain no artificial colors, sweeteners, and dangerous additives.
Also, while many companies get their supplements tested by third parties, Transparent Labs provides analysis and composition certificates on their website. They have two pre-workout supplements, "Lean" and "Bulk," Lean focuses on fat loss, while BULK focuses on gaining mass. LEAN is created for losing that stubborn belly fat and also helps to prevent the loss of lean muscle.
---
Bulk Pre Workout vs. Lean Pre Workout
To begin with both supplements are created by transparent labs. Bulk is designed for those who want to put on some extra weight and lean is exactly the opposite i.e for those who want to cut fat. Both pre workouts contain some contents which either support testosterone production for people who want to bulk up or for people who want to get lean it enhances the thyroid function. Many would suggest that one can take any of the pre workouts for beginers as it would get there deficiency to disappear.
---
Transparent Labs LEAN Pre-Workout Ingredients
This product contains many ingredients. The company recommends using only half a serving at the start to check its suitability. Nutrition-wise, one serving of lean gives you a day's worth of zinc, iodine, and chromium. The other ingredients present are: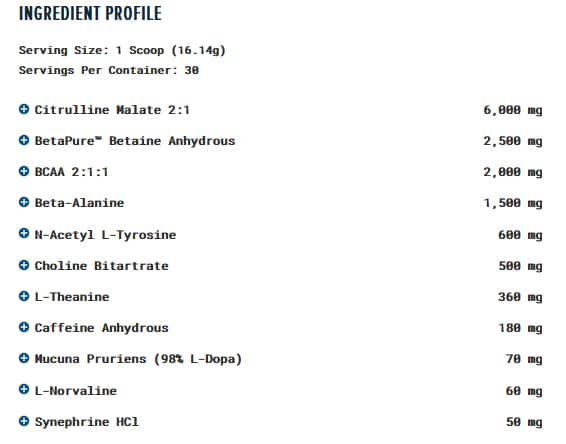 Selenium
Copper
Citrulline malate (6 grams)
Hordenine (25mg)
Betaine (2.5 grams)
Caffeine (180mg)
Branched-chain amino acids (2 grams)
Beta-alanine (1.5 grams)
Tyrosine (600mg)
Choline bitartrate (500mg)
Theanine (360mg)
L-norvaline (60mg)
Guggulsterones (75mg)
Mucuna pruriens, a.k.a. velvet bean extract (70mg)
Synephrine HCl, (50mg)
Bioperine, or black pepper extract (5mg)
The product comes in different flavors like Strawberry Lemonade, Orange, Tropical Punch, Blue Raspberry, Sour Grape, and Green Apple.
Let's look at the ingredients in detail.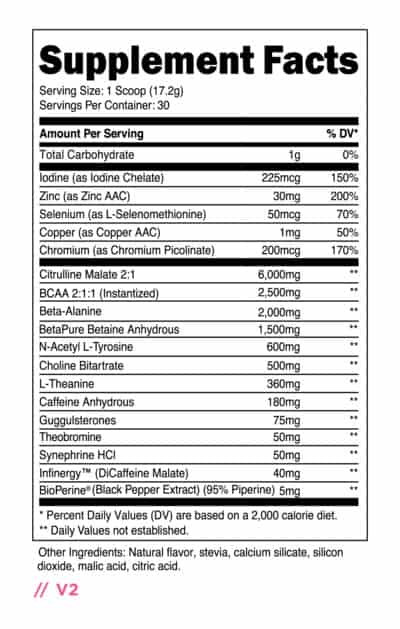 Citrulline Malate
Citrulline Malate is the powerful ingredient in this product and is a dominant part of pre-workout supplements. It helps improve strength and muscle endurance. Preferred over L-arginine due to better efficacy, it can improve leucine use during exercise, allowing for a better workout. It improves the athlete's overall performance because of its ability to assist in fatigue and performance during high-interval training.
According to one scientific publication, Citrulline has cardiometabolic health benefits and was found to increase growth hormone post-exercise. There is also scientific evidence showing that Citrulline increases anaerobic activities such as weightlifting and reducing post-workout pain.
Betaine
Betaine can set going muscle growth in the absence of testosterone, resulting in greater power and reducing tiredness to interrupt an athlete's continuance during a workout. Due to this, the athlete sees an increase in the total number of reps and weight lifted, which works well for muscle growth.
BCAA
BCAAs (branched-chain amino acids) constitute three of the nine essential amino acids that our bodies require to make proteins. Without an adequate quantity of all nine essential amino acids, you won't be able to make the best use of protein synthesis, which leads to muscle growth.
That also means just supplementing with BCAAs alone with not help much. But it's important to know that leucine is the most important BCAA for protein synthesis. Leucine activates mTOR, the gene that carries out protein synthesis, and has been found to boost strength and performance and prevent lean muscle decay.
Isoleucine and valine also promote muscle growth and increases metabolism. Apart from the muscle-building benefits, BCCA's have also shown to provide positive effects on the workout, fatigue, pain, and muscle recovery.
Beta-Alanine
Beta-alanine is a non-essential amino acid that makes carnosine, reducing the amount of lactic acid in the muscles. High levels of lactic acid accumulate in the muscles during exercise, resulting in pain, discomfort, and the burning that you experience while performing intense workouts.
Carnosine acts as causes a barrier against lactic acid build-up and reduces soreness and fatigue, which improves workout capacity. Many pre-workout supplements do not incorporate Beta-Alanine, but LEAN does due to its ability to increase carnosine levels which can go down considerably during workouts.
N-Acetyl L-Tyrosine
L-tyrosine aims more on your energy and awareness to ensure a better workout all the time. It helps provide relief from stress and offers a good mental focus and sharpens memory, and improves performance, giving you overall good mental health.
Choline Bitartrate
Choline bitrate is a focus ingredient, although when compared with Alpha GPC, it may not be as effective as a nootropic. Nevertheless, the 500 mg of choline bitartrate is good enough to improve focus.
L-Theanine
Theanine is a stimulant whose effects are like caffeine but are most effective when used alongside caffeine. The synergistic effect of these two bits of help lessens some side effects like jitters which result because of the consumption of high dosage caffeine products.
Caffeine Anhydrous
Honestly, 180 mg of caffeine is a low dosage as compared to most pre-workout supplements. However, it does not matter much in this case as it is combined with the other stimulants. But if you're searching for a high-stimulation pre-workout, LEAN is not for you. If you need a solid pre-workout that can support daily or regular usage, then LEAN is good for you.
Mucuna Pruriens
Mucuna pruriens helps reduce cortisol (the stress hormone) and boost mental health.
However, the 70 mg here is considerably lower than the generally recommended dosages. The recommended dosages can range from 300 mg to 1,000 mg per day. However, the fact is that there is very little research around this ingredient in the context of a pre-workout supplement, so it's difficult to assess whether 70 mg is a sufficient dosage or not.
Chromium Picolinate
Chromium is an effective mineral that plays a very vital role in regulating the metabolism of glucose. It also regulates insulin sensitivity. It has been shown to create a minor reduction in blood glucose in diabetics, but this effect is not observed in people without diabetes. 200 mcg is enough to be an effective dosage, but again, only for individuals with diabetes.
Thyroid Support
Lean pre-workout also has ingredients for thyroid support. It's important to keep the thyroid healthy as it plays a vital role in the body's metabolism. Other important Transparent Labs LEAN Pre-Workout Ingredients
The ingredients listed above make up the major portion of LEAN. However, other ingredients are present, such as L-norvaline, BioPerine, hordenine, synephrine, zinc, and guggulsterone. These are beneficial to help in muscle growth and increase metabolism, energy, and cognitive function.
---
Benefits and effectiveness of Transparent lap LEAN pre-workout supplement
After learning about all the ingredients present, most of the users would like to ask about the presence of caffeine intake in the product. And surprisingly, the amount of caffeine in this pre- workout supplement is 180 milligrams per scoop, which is just little more in what you would get in a small Starbucks coffee.
So Following are the benefits of using Transparent Labs LEAN Pre – Workout
The theanine and tyrosine are natural chemicals that may have an effect in reducing the jitteriness associated with a big hit of caffeine. The theanine in particular can be useful when consumed before hitting a caffeine high, because it can mitigate the effects of caffeine and keep you from feeling overstimulated.
The common thing in most of the pre-workouts is the presence of beta-alanine. Sometimes this thing can give some small harmless tingling sensation in the body. So the presence of citrulline and norvaline could certainly help mitigate this. Also the branched chain amino acids could also help improve endurance.
Citrulline has shown improvement in power specially in cyclist and tennis players. Betaine, compound found in few plants and in beets, also said to improve power.
Black pepper extract helps other ingredients within the medication absorb more effectively, which leads to a faster absorption process and increased effectiveness.
The biggest USP of the product is this. Well a study conducted on 40 subjects interestingly found that 50 milligrams of the product did improve metabolism rate by over 65 Calories that to without increasing the hunger. This product when combined with food can certainly increase the amount of calories in accordance to the food we eat.
Improved Thyroid activity
The presence of guggulsterones actually improves and conduces the thyroid activity. It is harder to lose fat if your thyroid is not working optimally.
Transparent Labs LEAN Pre-Workout Review
Quite a few of these additional ingredients like choline bitartrate, mucuna pruriens, synephrine, hordenine, and chromium help in physical growth, promote healthy testosterone levels, increase the rate of metabolism and energy, and reduce food cravings and keep you full for a longer time so that you can work out for more time and efficiently. Ingredients like L-theanine and caffeine increase performance and help you get a longer-lasting workout.

-20%
$49.00
Exclusive Transparent Labs LEAN Offer
Click on the above button to activate our special Transparent Labs LEAN discount coupon. Hurry! Limited time offer.
---
How to Use Transparent Labs LEAN Pre-Workout Supplement?
You should take LEAN at least 20-30 minutes before your workout. The company suggests you start with 1/2 scoop and 6-8 fl. oz of water to check its suitability. If using a full scoop, mix it in 12-16 oz of water to reduce its typical sour taste.
Mixability
As you'd probably expect with a pricey workout like LEAN mixes pretty well. You can mix it by shaking or use a spoon to dissolve all the powder.
---
Transparent Labs LEAN Pre-Workout Pricing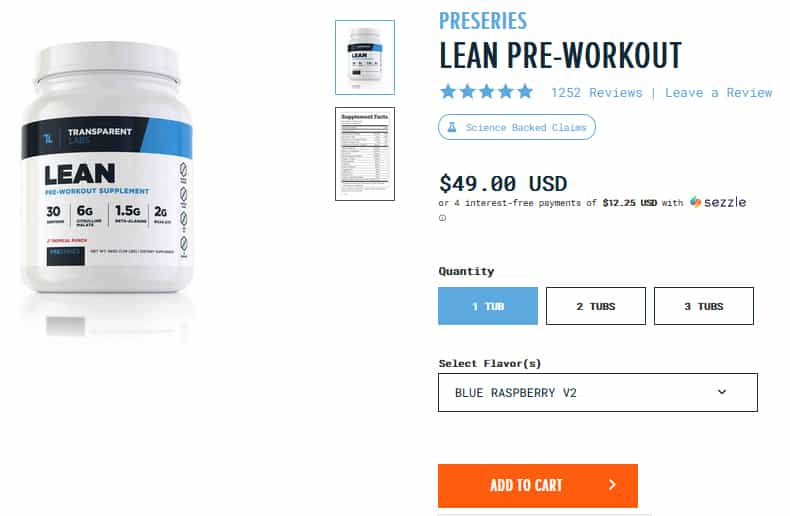 You can buy 30 servings (that's a little over 1 lb.) for $49. That means one scoop costs $1.63, which is expensive as compared to most other pre-workout supplements. That said, nearly every LEAN ingredient is dosed reasonably higher than most of its competitors, so the high price is justified
---
Taste of Transparent Labs LEAN Pre-Workout
The taste of Green Apple is more like sour apple candy, which is quite obvious as one of its ingredients includes citric acid, which is pretty tart. Transparent Lab suggests you mix one whole scoop with 1.2 cups of water (10 fluid ounces), but the drink turns out to be pretty sour. So if sour is not what you like, try mixing it with two cups of water.
---
Pros & Cons
Pros
Offers excellent energy and focus for beginners.
Well-dosed
Low-carb, just 1g per serving
No negative side effects
The clean, see-through ingredient label.
No preservatives used
No artificial ingredients
3rd party tested
No proprietary blends
Naturally sweetened
No sugar
Non-GMO
Gluten-free
Lab-tested
Vegan-friendly
Cons
Expensive
Caffeine dosage is less, so not the strongest pre-workout.
Hard-core users may be dissatisfied with the 180 mg caffeine quantity.
The amount of beta-alanine is measly only 15 grams.
Ingredients that support thyroid is beneficial to only those people who are deficient.
Not all ingredients are completely proven.
---
🌟FAQ related Transparent Labs LEAN
✅What is Transparent Labs LEAN?
Transparent Labs LEAN is the cutting pre-workout supplement that both men and women can use. It uses all the effective ingredients that reduce stubborn fat, boost energy, building muscle, etc.
✅What is the difference between PreSeries LEAN and PreSeries BULK?
PreSeries LEAN is an effective supplement that supports fat loss. It also includes a thyroid support complex. On the other hand, PreSeries BULK is also a pre-workout supplement that promotes lean muscle growth.
✅Is there any working Transparent Labs LEAN coupon code?
If you are looking to purchase LEAN pre-workout supplements, check the above-mentioned Transparent Labs LEAN coupon code that allows you to buy this energy-boosting supplement at the best price.
✅What is the best pre-workout supplement in 2022?
If you are looking to purchase the best pre-workout supplement, then check the following list:
1. BPI Sports 1.M.R Vortex
2. GAT Sport Nitraflex
3. Jacked Factory Nitrosurge
4. BSN N.O-Xplode
5. ENGN Pre-Workout by Evlution Nutrition
6. Kaged Muscle PRE-Kaged
7. Cellucor C4 Extreme Energy
---
Conclusion: Transparent Labs LEAN Review 2023 | Should you buy it?
LEAN is an impressive product with a vast range of ingredients that help enhance power, endurance, focus, and alertness. Transparent Labs is a reputable company that prides itself in offering the best quality products. We are assured of having a pre-workout supplement with premium ingredients that have no added sweeteners, preservatives, or artificial components with LEAN.
What you are buying is a supplement that will offer you a high-intensity workout. With great flavors, LEAN is a fantastic pre-workout that will take your workouts to the next level. While it is not pricey, it's worth trying.
---
Transparent Labs LEAN Review
Transparent Labs LEAN is the lab-tested pre-workout supplement that promotes fat loss. Activate the Transparent Labs LEAN coupon today to get an attractive discount.
Positive
It does not contain artificial ingredients.
The supplement is 3rd party tested.
It is Non-GMO, vegan, gluten-free.
Do not have proprietary blends.

Transparent Labs LEAN Review 2023: Best Pre-Workout Product