Regardless of whether you're vegan, gaining weight can be difficult. Some people just have a body type (and a metabolism) that does not help in gaining weight, so going to the gym and putting on some weight and muscle can take too much time, especially if you're only eating 2-3 times a day on a busy schedule. Forcing one's self to eat 2500+ calories is a dreadful task and may even seem impossible.
So complementing your diet with a weight gainer can help you achieve weight gain and muscle more easily and in a shorter amount of time. If you're vegan and you're having a tough time adding a few kilos at the gym, we have found one good option that may finally help you see some gains. This is the Vanilla Vegan naked Mass!
Vegan Naked Mass Review – Plant-Based Weight Gainer Supplement

-20%
$64.99
Free Shipping Over $99
This lactose-free weight gainer helps you gain weight the right way, which promotes muscle gain and not just body fat growth.
Vanilla Vegan Naked Mass is the ideal plant-based weight gainer supplement. This supplement is a high-quality weight gainer which is formulated from only three clean ingredients. It s cold-pressed, which results in a good-tasting powder that effectively promotes muscle growth and weight gain. Each of its servings contains 1,250 calories from 50 grams of protein, 2.5 grams of fat, and 252 grams of complex carbohydrates.
It does not contain artificial additives or sweeteners. It helps you gain weight the right way with this lactose-free weight gainer. With all of this in mind, let's dive into its detailed nutrient profile breakdown, benefits, and FAQ.
Features of a Vegan Naked Mass
Quality ingredients
Dairy Free
GMO-Free
Soy Free
Vegan
Diet Type- Paleo
Protein Source- Pea, Rice
Free Shipping over $99
Nutrition Info of Vegan Naked Mass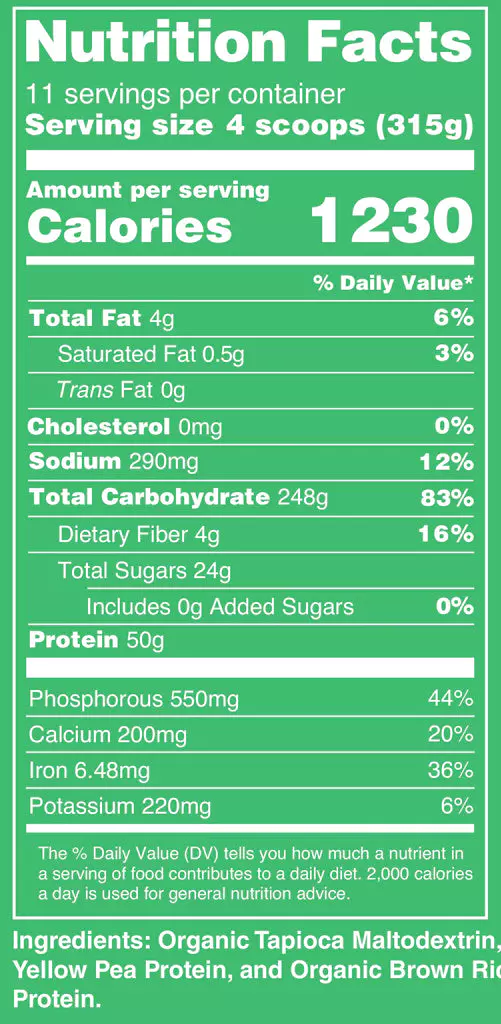 Serving Size
4 Scoops (315g)
Number of Servings- Approx. 11
Amount
%DV
Calories: 1230 – –
Protein: 50g 100%
Phosphorous: 550mg 44%
Calcium: 216mg 22%
Iron: 6.5mg
36%
Potassium: 471mg 13%
Total Fat: 4g
6%
Saturated Fat: 0.5g 3%
Trans Fat: 0g
Cholesterol: 0mg 0%
Sodium: 470mg
20%
Total Carbohydrates: 245g 82%
Dietary Fiber: 4g 16%
Sugars: 56g
Note-% Daily Values are based on a 2,000-calorie diet.
Benefits of Vegan Naked Mass – Vegan Naked Mass Review
Charge Your Workouts: With each serving of this premium weight-gaining supplement, you get 252 grams of complex carbohydrates, which can raise your calories and energy, which can help you to get through your strenuous workout. Organic maltodextrin, one ingredient in Vegan Naked Mass, has been proven to help regulate anaerobic power to improve stamina and exercise performance.
Refund Policy Vegan Naked Mass
Unopened and unused items may be returned within 14 days for a complete refund or exchange, minus any shipping charges. If your order suffered damage in Shipping, please take a picture and email it.
Please contact their customer service team at [email protected], or call them at 855-964-0970, Monday to Friday, 9 a.m. – 5 p.m. EST, or using the e-chat feature.
Is Naked Nutrition Promising?
Naked Nutrition has got bigger and offers more than 50 products, with most having three or less than three ingredients. As they grow, the target remains the same–give people the best products for their health, diet, and fitness journey by using pure ingredients that are easy to understand and as few as possible.
Difference Between Vegan Naked Mass and Regular Vegan Mass Gainers
| | | |
| --- | --- | --- |
| | Vegan Naked Mass | Regular Vegan Mass Gainers |
| INGREDIENTS | Only 3 ingredients which are: Rice protein Pea protein Organic maltodextrin | More than 10 unnatural additives to aid mixing, color, and artificial sweeteners |
| AMINO ACIDS PROFILE | 9 essential Amino Acids with complete protei | Lacking essential amino acids for muscle growth |
| MACRONUTRIENTS | Perfect mix of carbs and protein to boost growth | Not optimized for muscle growth- |
| CARBOHYDRATES | Natural and complex carbohydrates | Unhealthy processed carbohydrates |
| FARMING PRACTICES | Sustainable | Unsustainable |
Consumer Review Vegan Naked Mass
Let's look into a few reviews posted on their website by verified users.
One user stated, "I've been drinking this in my vegan smoothie daily for the past few months or so – this is an amazing product, along with everything else I've tried on this site so far!"
Another user said, "A MUST BUY FOR ME! I am so pleased with the quality and taste of this mass gainer. I get stomach issues from whey protein-based products, so that eliminates most of the market. I thought I would give this one a try, and I was not disappointed. It mixes better than any product I've ever tried. The vanilla flavor is pleasant but subtle. I typically only mix up two scoops (1/2 serving) at a time, so it's not too thick. While taking this to boost my calorie intake, I was able to gain 10 pounds of lean muscle in 8 weeks!"
"GOOD FLAVOR posted Wilfredo on Aug 28, 2023
"Good product, it is healthy, and I like everything about it," remarked another customer.
One happy customer pointed "Great flavor works well to help gain weight. Love that it is vegan."
"EXCELLENT WEIGHT GAINER" described a certain user. "My husband is 6'4 and has a very fast metabolism, mixed with a few food sensitivity issues that can make it difficult to eat and put on weight. This was the first supplement I found that has been a lifesaver! He does two 4-scoop shakes a day and has been able to put on 2 pounds a week. It's a great breakfast meal replacement since he does not like to eat breakfast at all. We do the Vegan Vanilla mixed with almond milk and Nutella. This combo is perfect for anyone who is lactose intolerant. 5-star product!"
"I bought this for my mom, who needed to sneak in more calories, so I started adding this to her smoothies, and she doesn't mind the flavor, which was the important thing! I don't give her the full recommended daily dose; instead, I just add about 1/2 a scoop to every smoothie she drinks. This has stabilized her weight, and she has a bit more energy, so it's doing its job. As she gains a bigger appetite, I will add more to her daily intake. I suggest giving this a try!" exclaimed a user.
How Long is Standard and Expedied Shipping?
Standard: Free Shipping On All Orders Over $99. Expect to receive your order in 5-7 business days.
Expedited: You should receive your order in 2-3 business days. Business days are Monday – Friday and thus do not include Saturday or Sunday as well as holidays.
Where is My Order?
Once you place your order, you will be notified via an "Order Confirmation" email from them. This email will contain complete order details, including the order number, shipping address, billing address, and an itemized list of all ordered products.
Once your order has shipped out, you will then receive a "Shipping Confirmation" email from them. If you forget which shipping method you selected, you can find this information in your Order Confirmation email, which is sent as soon as you place the order.
Where is the Product Shipped?
They currently ship all products within the U.S. and select products in the U.K. and Canada. To know which products are available outside the U.S., make sure you are shopping from the correct version of their site, which can be selected at the top right adjacent to the cart icon.
Vegan Naked Mass FAQ
How to use Vegan Naked Mass?
You can add the vanilla vegan mass gainer to protein shakes and smoothies. It's best to have it between meals, after a workout, or before going to bed.
Blend: If you wish to blend it, you can mix four scoops into 24 oz of non-dairy milk or with your preferred beverage.
What is Maltodextrin, and is it safe?
Maltodextrin helps thicken the product and combine the ingredients. Most manufacturers use wheat-derived Maltodextrin, which may create health concerns due to the presence of gluten. Vanilla Vegan Naked Mass only uses Organic Tapioca Maltodextrin, which is gluten-free and does not pose the same botheration. They also make sure that their ingredients are never treated with pesticides.
Is Vegan Naked Mass any good?
Vanilla Vegan Naked Mass contains two extra ingredients; organic coconut sugar and natural vanilla flavor. Malto dextrin and vanilla contain a small amount of sugar, but the added sugars in this product are mainly because of the added coconut sugar.
Where is it sourced from?
Vanilla Vegan Naked Mass contains only five ingredients; Naked Pea, Naked Rice, organic tapioca maltodextrin, organic coconut sugar, and natural vanilla. The natural vanilla flavor is obtained from a plant source.
Is Vanilla Vegan Naked Mass a complete protein?
Vanilla Vegan Naked Mass includes both Naked Pea and Naked Rice. Individually, these products have incomplete amino acid profiles because it's very rare that a single plant protein is a complete protein. By blending these two complementary proteins, Vanilla Vegan Naked Mass does contain all the essential amino acids and is a complete protein.
Can you take Vanilla Vegan Naked Mass if you don't have an exercise routine?
Vanilla Vegan Naked Mass is a perfect vegan weight gainer for people who are looking to gain weight. Also, the ones who need assistance in maintaining their weight or don't follow an exercise routine can also take it.
Who is Vegan Naked Mass recommended for?
Vanilla Vegan Naked Mass is recommended for those who either follow a plant-based diet or are dairy-sensitive and are looking to gain or maintain weight. It has all the ingredients to provide you with loads of protein along with a full amino acid profile which can promote healthy weight gain and improve your overall health.
Aren't there any smaller sizes so we can try them before investing in something that we may not like?
Unfortunately, the Naked Mass is not available in sample sizes. Check their website for more information.
What does the brand "Naked Nutrition" stand for?
They've been in business since 2014. The company was created due to all the false information and unnecessary ingredients in the nutritional supplement industry. They do not adhere to all the marketing and gimmicks that most companies use today. The company has managed to use the purest ingredients and aims to help meet the nutrition and fitness goals.
Who/What company third party tests their poducts?
They use a third-party lab located in the United States to test their products.
Are their facilities GMP Certified? Who does the GMP Audit? Do they do stability testing?
Their processing and packaging facilities are all GMP-certified. Silliker is the 3rd party auditor for this certification. Coming to stability studies, since they only sell powders and nothing in a solution, stability studies are not mandatory.
Are their products FDA-approved?
The facilities where all the ingredients are processed and packaged are FDA-approved.
Are their containers BPA-free?
All of their containers are made of PET plastic, which is BPA-free.
Final Verdict: Vegan Naked Mass Review 2023 – Should you really buy this supplement?
Naked Nutrition's vegan mass ingredient label and nutrient profile are thoroughly impressive. Whenever a health-focused company decides to include more information about its product, it means they are transparent in its approach and have nothing to hide from its users. This is the case with Naked Vegan Mass Gainer.
This supplement is a complete protein, which is pretty uncommon for something plant-based. The texture is the finest one can get in a protein powder ever, and it mixes well into whatever liquid you add to it. It can be used in a variety of smoothie mixes as well as on its own, and either way, we bet it'll be one of the best products you'll ever try.
It's ideal for use by men or women that seek a non-dairy weight gainer. You can boost calories and give your body optimum Nutrition by adding Vegan Naked Mass to protein bars, smoothies, cookies, and more. If you're vegan, getting all of those amino acids is additionally important, and you can rest assured that this Naked Nutrition vegan mass gainer will serve you in all the right ways.
You will be glad that such products exist! You should try this product from Naked Nutrition. The company is a shining example of what a supplement company could be. Several companies are carrying on with secrets and additives, but this company refuses to do that.
Their products work great, and the ingredients far exceed our high standards. Unlike other supplements, it doesn't have a plethora of weird additives that negatively impact your health in the long term, making it a very clean supplement. It also has a balanced 2:1 pea-to-rice protein ratio, which makes sure the supplement has a complete amino acid profile. So, you must try Naked Nutrition's Vegan Mass gainer without any hesitation. We highly recommend using this as your protein supplement–whether you're vegan or not!
Vegan Naked Mass Review
Vanilla Vegan Naked Mass is the ideal plant-based weight gainer supplement. To support muscle growth and weight gain.
Pros
100% Vegan poduct.
Subscription service can give you good savings.
Dairy Free , GMO-Free ,Soy Free.
Free Shipping over $99
Best for weight gainer and musuls growth.
Many Positive online reviews and good results.
Cons
Shipping only to limited countries.