Essential oils have gained wide popularity in recent days. They offer a huge range of benefits, both internal and external. Essential oils are most commonly used for aromatherapy. Just a few drops of the right oil mixed in a diffuser can help relieve stress and offer other benefits. Essential oils are used both internally and externally. When taken orally, essential oils can improve digestion, relieve, relieve headaches, and fight aging. According to one belief, essential oils can also help fight cancer!
For centuries People have used plants as medicine. Several plants produce compounds that fight off insects, and infections, and keep the plant healthy. Plant compounds can play a similar role for humans when we harvest plants and use tissues.
Essential oils are designed by extracting these compounds from plants. Essential oil products like Skin Envy give you all the benefits of the plant in a relatively smaller package. Essential oils provide a great healing effect when you inhale them, ingest them, or put them on your skin.
Today we're going to dig into the external use of essential oils. The right combination of essential oils can do wonders for your skin. Skin Envy from Vitality Extracts is an essential oil blend that claims to tighten your skin and also reduce dark spots and scars. Let's see if the claims are really true!
Vitality Skin Envy Review – What Is Vitality Skin Envy?
Skin Envy is a mix of essential oils and a carrier oil formulated for skin health. It is designed to apply to your skin and is made with a roll-on applicator for neat application. The Skin Envy blend has especially been designed to promote healthy, younger, and beautiful skin. Each blend of essential oils in Skin Envy works in a slightly different way and is known to help your skin look younger and healthier. Vitality's blend makes the best use of the benefits of each oil and helps them work together to give amazing results.

-47%
$21.00 $39.99
Free Shipping in US/CA over $75
The Skin Envy blend of essential oils and carrier oil is designed to promote healthy skin & give it a natural glow.
Who Makes Vitality Skin Envy?
Skin Envy is manufactured by Vitality Extracts. Vitality, born in 2016, initially made aromatherapy products and equipment but gradually started formulating different essential oil products like skin and hair care. Vitality has a large customer base in 50+ countries. Repeat buyers indicate that their products give effective results.
Vitality procures essential oils from around the world. They put in great effort to ensure that all their oils are sustainably harvested and that their farmers are treated well. Their artisans and farmers work diligently to provide the best quality of products while not compromising on ethical and just practices. Buying Vitality products helps support countless farm communities from around the world and you are also contributing to preserving and protecting generational farmlands.
Vitality Extracts strongly believe in the health benefits of pure plant derivatives and pure, authentic stones from around the world. Their message to the international community is simple-'Live with vitality'.
Vitality Skin Envy Ingredients – Vitality Skin Envy Review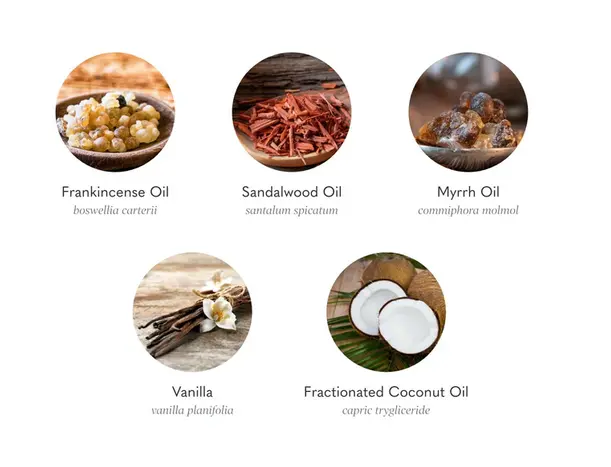 The key ingredients in Skin Envy are three essential oils: frankincense oil, myrrh oil, and sandalwood oil. It uses fractionated coconut oil as a base. It also contains a tiny amount of vanilla for a pleasant odor. Each essential oil has benefits for your skin, and the combined benefits of the mixed oils are more pronounced than the benefits of a lone essential oil.
Vitality oils are GC/MS (Gas Chromatography / Mass Spectrometry) tested and are 100% pure and free of contaminants. Just to enlighten you all-GC/MS are verified tests that ensure the quality and purity of oils so you can be sure the product you are using is of the best quality.
Frankincense Oil
Improve the activity of white blood cells, tightens pores and reduces swelling, lessens scars, supports regeneration of healthy cells, combats aging, and destroys germs. Vitality Skin uses 100% Pure Therapeutic Grade Frankincense essential oil which is well-known for its potential to reduce the noticeable signs of aging by working as an astringent (tightening the skin and giving a soft, smooth, and youthful appearance).
Frankincense oil also helps Fight bacteria, strengthen the immune system, reduce stress, balance hormones & boost fertility. It also helps improve mood and concentration. This oil is extracted via steam distillation which gives it a fresh, spicy, and fruity aroma.
Myrrh Oil
Myrrh essential oil is extracted from the sweet-scented resin of the tree in the Commiphora family and has long been used as fragrances/perfumes/scents and medicinally in countless cultures ranging from China, India, the Middle East, and Africa. Myrrh, when diluted, is beneficial to the skin. This oil is derived via steam distillation from the gum resin of the plant. It is known to exude a warm, woody, musty, and earthy smell. The color of this oil is usually pale yellow or amber.
The Myrrh oil in Skin Envy helps kills germs, provides antioxidants to fight aging, soothes chapped and dry skin, offers healing, and helps you be at ease. It is 100% Pure Therapeutic Grade and imparts a gleaming glow and serves to tighten the pores. It also helps reduce pain, Improve mood, Promote relaxation, reduce hair loss, and promote and maintain healthy skin.
Sandalwood Oil
Steam-distilled from the sandalwood tree itself, Sandalwood Essential Oil has a rich, earthy fragrance. Well-known in Ayurveda for its many healing benefits, Sandalwood is extensively used in skincare and as a remedy for inflammation, muscle spasms, and cold & cough. Moreover, it is also a powerful aphrodisiac and its antibacterial & antioxidant properties help to balance and enhance skin complexion.
Its antiseptic, anti-inflammatory and astringent properties also help reduce scarring, assist in Healing Wounds, soothe irritated skin, and decrease inflammation. Sandalwood oil used in Vitality Skin Envy is 100% Pure Therapeutic Grade and helps promote mental Activity & wellbeing.
How to Use Vitality Skin Envy?
These three oils together provide the primary benefit of Skin Envy. Since the composition of these three oils is different, each one works a little differently. The essential oil mix produces a synergistic effect that gives you better results than a solitary oil would. The fractionated coconut oil help fetch the essential oils to your skin and also acts as a moisturizer.
How does Skin Envy Work?
Apply the Skin Envy oil mixture to your face, neck, hands, or other areas of skin. Gently massage it and let the oils do their work. Once it has been applied to your skin, the essential oils play their roles -fighting germs, promoting healthy cells, and restoring your skin to its healthy natural state.
Safety and Side Effects of Vitality Skin Envy
All the ingredients of Vitality Skin Envy – Coconut oil, frankincense, sandalwood, and vanilla except for Myrrh have no dangerous side effects. You can use these freely without worries. Myrrh may be risk-free to most people, but there are a few special instances where one must be careful and alert. If you are pregnant, myrrh may increase uterine contractions. Myrrh can also meddle with diabetes treatment and is not effective when used alongside blood thinners.
So, if you are pregnant, getting treated for diabetes, or taking blood thinners, myrrh can be risky. It is recommended to seek medical advice before using Skin Envy. You are also prone to risk if you use undiluted essential oils on your skin. That risk doesn't affect this case since Vitality has already blended the oils with a carrier. You can ensure that the combination is correct and harmless.
Where to Buy Vitality Skin Envy?
You can buy Skin Envy directly from Vitality Extracts for $10 for a 10ml bottle. It's also available on Amazon for $26.99 for the same-sized bottle.
FAQ related to Vitality Skin Envy
How long will it take for shipping Skin Envy?
Your product will be processed within 24 hours from your order date through standard shipping through UPS.
Note: Shipping times may differ during large quantity order periods (i.e. holidays, sales promotions, etc…) Business days are Monday to Friday, excluding federal holidays within the United States.
How much does shipping cost?
Vitality Extracts offers free shipping (USA/Canada only) for all orders at and above $75.00. Your total shipping charges and day will be as follows.
United States:
Standard Shipping (5-7 business days) – $9.95
Free Shipping (5-7 business days) on orders $75.00 & up
Canada:
Standard Shipping (6-8 business days) – $14.95
Free Shipping (6-8 business days) on orders $75.00 and above
International:
International Shipping (7-12 business days) – $14.95
Note– International shipments do not take in delays due to customs.
How to check the delivery status of my order?
If you have created an account at Vitality Extracts,just simply log into your account and select the order you want to track. If your order has shipped you can access your tracking number. If you do not have a Vitality Extracts account, please reach out to customer service using their contact form.
What are customs fees, duties, and taxes?
Duties and taxes are charges that are determined by Customs using complete information of the products in your shipment. The duties and taxes are collected when you get back your package to your destination country.
How are customs fees handled?
The customer will pay for Customs charges before delivery. Vitality Extracts will not be charging you this payment. The payment you make with Vitality Extracts is not related to the tax you pay to your country. Thus custom fees will be calculated based on your country's conditions concerning imported goods.
What is your return policy?
If you are not satisfied with your Vitality Skin Envy purchase, you may return items within 14 days from delivery for a store credit. All goods purchased through a promotion, for example, discounts and rewards points, will be store credited at the purchase price.
Can I change or cancel my order?
You cannot change or cancel orders online. Contact customer care immediately after placing your order, and they will do their best to accommodate your request. It is recommended to call them first at (844) 429-6580 M-F 9 am-6 pm (PST) or submit a request. Their automated processes fill orders within 24 hours, so there is a very short time frame for changes or cancellations.
What is the best way to contact Vitality?
The best way to contact Vitality is by submitting a contact form or calling them at (844) 429-6580 M-F 9 am-6 pm (PST)
What are Vitality Vibes?
Vitality Vibes is our very special loyalty rewards program that allows you to earn 'Vibes' (points) on Vitality Extracts purchases. As a way to show their acknowledgment and respect for choosing their store, they reward you for every dollar you spend. When your account gets to 500 vibes, you can redeem your first reward! For more details, please visit their loyalty rewards page
Conclusion: Vitality Skin Envy Review – Is it Worth it?
People have used frankincense, sandalwood, myrrh, and coconut oil for centuries to treat skin disorders. While there is a lack of scientific evidence to support its effectiveness, the many years of results cannot go unnoticed. Vitality Extracts goes through a great deal to ensure the quality of its products. Skin Envy is made with good and powerful ingredients and should be able to help you have soft, smooth, radiant, and younger-looking skin.
Some users report that the smell is just too much to tolerate while others like it. If you are sensitive to aromas or know that you dislike the fragrance of any of the ingredients, you might not want to try it. If everything is suitable, check it out and see how it works for you.
Most Vitality Skin Envy users have expressed their 100% Happiness quotient. The company Guarantees that the essential oil blend will satisfy you. They source the best oils from different parts of the world and every order is backed by their 100% happiness guarantee so you can shop anywhere in the world, without having any doubts.
So peeps, if you are really looking for people to envy your skin (as the name of the product suggests), get one of these soon. You can now flaunt your smooth, clear, and glowing skin with confidence and pride!
Vitality Skin Envy Review
By combining these oils, Skin Envy produces even better results. Each essential oil works in a slightly different way, but when combined, they create a synergistic effect that maximizes the benefits of each one.
Pros
Contains essential oils that fight blemishes and dark spots
Coconut oil base acts as a skin moisturizer and fights dryness
Easy to apply to skin
Affordable price
Cons
Premix doesn't allow you to customize your oil blend
A small package restricts your ability for daily use
The smell could be intolerable to some people