A popular health food named Apple Cider Vinegar(ACV). As the name says, apple cider vinegar is derived from apples with the help of the fermentation process. The fermentation process enriches it with live minerals and acids. The ACV benefits us in a large number of ways, such as it solves skin-related problems, deals with your hair, and also with your health. Apple Cider Vinegar should be a permanent staple in every household because of the number of benefits it gives us.
Apple Cider Vinegar for Natural Hair is the perfect conditioning agent that you can use to remedy dandruff and other scalp problems and solve tangles and other issues that cause the hair to break.

-16%
$16.84 $19.95
Clean Scalp & Boost Gloss
Click on the above button to get this Sulfate-Free Apple Cider Vinegar Shampoo.
---
Benefits of Apple Cider Vinegar for Natural Hair
An Apple Cider Vinegar provides us with many benefits; if used properly, it can play an important role in solving your skin problems, health problems, and hair problems. There are claims that ACV, if used in the scalp, boosts your hair growth and stimulates blood flow.
Natural products always have great benefits and provide us a lot, without any side effects.
Why use ACV For Hair Care? Several reasons make using ACV beneficial for us. As it is naturally processed, the nutrients in it help our hair in a large number of ways. Some of them are mentioned below.
The several minerals and vitamins enriched in the ACV make it good as it provides nourishment to your hair, puts the shine in them, and fills them back with life and making them look healthy.
Works against itchiness and scalp infections
The apple cider vinegar is enriched with antimicrobial qualities. These anti-microbial qualities make it effective against fungi and bacteria that make your scalp itchy and infected. The daily use of apple cider vinegar to wash your hair can make it free from itching and heals your damaged scalp.
Reduces the frizziness in hair
The acetic acid content in the apple cider vinegar helps to restore the lost shine of hair and also reduces the dryness, which results in making your hair less frizzy. The acidity of vinegar naturally balances the high alkalinity content in your hair, and as a result, it reduces frizziness and brittleness.
The alpha-hydroxy acid is also a content in the ACV that helps to reduce dandruff and cleans your scalp.
Balances pH level of your hai
The hair products we use disturb the pH balance of our hair and lead to damage to our hair. A healthy pH lies between 4.5 to 5.5. Because of the acetic acid present in the ACL, it has a low pH level, and the already present alkalinity of the hair is of high pH. Thus using ACL can balance the disturbed pH level of your hair.
---
How to Use ACV for Hair Care?
We always opt for organic ACV for natural hair and ensure it is unfiltered because the raw ACV always has a cloudy appearance and includes all the natural ingredients. After that, dilute it with water as the acetic acid makes it acidic, and the use of undiluted ACV makes our scalp itchy and makes us feel irritated.
Procedure:
We dilute the double quantity of water as compared to the ACV in it. This means one part of ACV should be diluted with two parts of water which makes it properly usable, and then spray over hair.
After applying the ACV to the hair shaft, gently massage the scalp. This gave some shine to hair.
Then soak hair wet in the diluted ACV.
Later, use a shower cap to cover hair, wait for 5 minutes, and then wash it with lukewarm water.
After that, follow a normal hair wash routine.
---
How ACV differs from Clarifying Shampoo?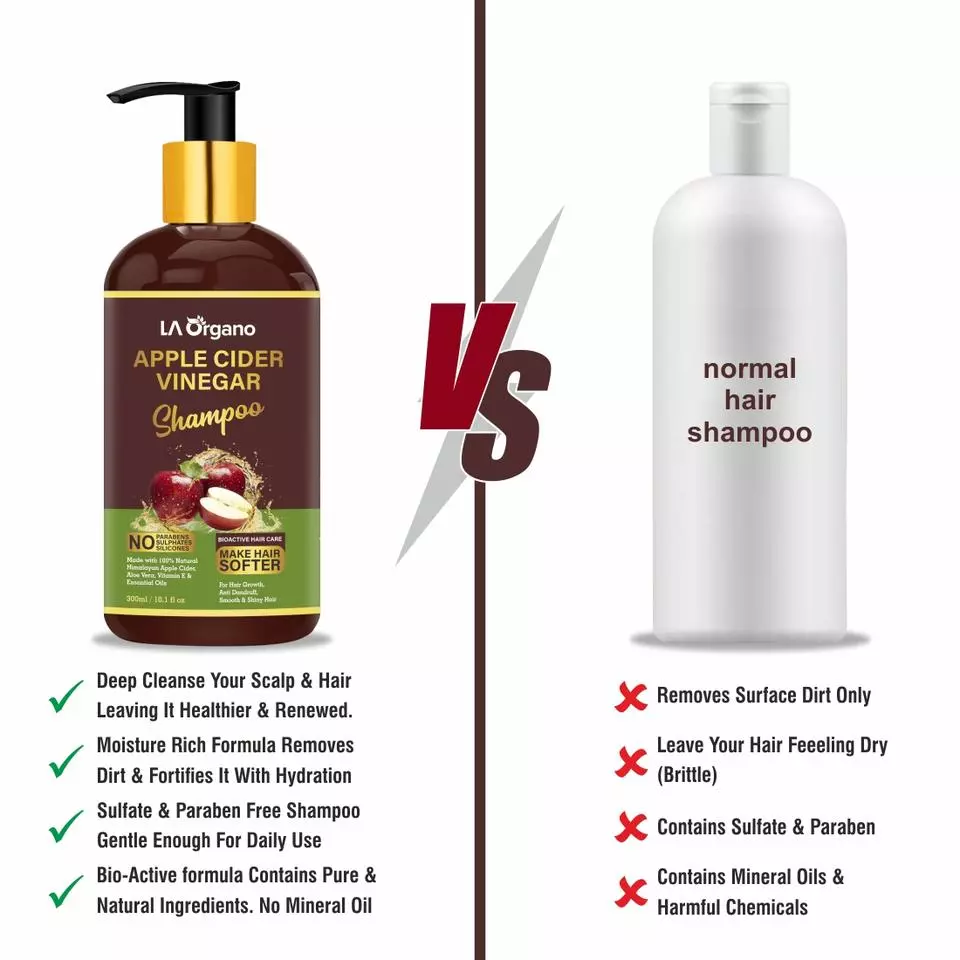 An apple cider vinegar and a clarifying shampoo are two different products and cannot be compared, as both of them work great in their specific way. Clarifying shampoo removes the product buildup from the scalp and deeply cleanses your scalp. While the ACV helps to melt the buildup, it rebalances the disturbed pH of your scalp and closes the hair cuticles. The use of ACV will help boosts the shine of your hair, and it is rich in vitamin C and B.
---
How to Use ACV at Home?
Apple Cider Vinegar(ACV) at home can be used by preparing a rinse for your natural hair. To prepare it, you just need two simple ingredients. We will always suggest you go for a freshly prepared ACV rinse for your hair. You do not need to moisturize your hair before applying the ACV because the ACV itself will provide enough moisturization to your hair and condition them well.
You need:
1 cup water.
2-4 tbsp of raw apple cider vinegar.
A spray bottle.
Process:
Take the raw apple cider vinegar in the spray bottle.
Mix the required quantity of water in it.
Shake the mixture well.
Prepare and use the ACV as per your requirement and need to condition your hair and scalp.
---
🌟 Apple Cider Vinegar FAQ
✅Is apple cider vinegar good for natural hair?
Apple cider vinegar has excellent benefits for your hair. It acts as a natural cleanser, removes build-up, and leaves your hair shiny and soft. But make sure not to use it daily. Only use it every 2-3 days.
✅Is apple cider vinegar good for 4C hair?
For 4c hair, it is recommended to be used in moderation because too much may dry out hair to the point where it loses its curl pattern, and the hair becomes brittle.
✅Can vinegar damage your hair?
In most cases, vinegar does not damage your hair. It is suitable for your hair. But you have to be cautious using it because different kinds of vinegar have different compositions.
✅Is apple cider vinegar good for your scalp?
Apple cider vinegar is an effective treatment for dandruff and itchy scalp, and oily hair.
---
Conclusion: Apple Cider Vinegar for Natural Hair
The Apple Cider Vinegar is popularly used in cosmetics for its properties. From balancing the hair's pH to boosting the shine of your natural hair, from cleaning the scalp to boosting the hair growth and also boosting the blood flow. It provides us with a large number of benefits and also conditions our hair. Get your natural hair shiny and transform into healthy tresses, so try using the ACV and see the difference for yourself.