A large number of people suffer from joint pain and stiffness due to aging or other reasons like accidents, injury, etc. If you are one of them, you probably must be searching for a way to get relief, even if it's temporary, for some time.
The market is inundated with products that claim to treat joint pain, but sadly most of them are ineffective. One joint pain reliever that has created quite a buzz and gaining fast popularity is Arthrozene.
We were just wondering if this was genuinely effective or just another scam, so we decided to review this medicine. So let's have a look at our detailed ✅Arthrozene Review to check if this joint supplement effectively handles joint pain, enhances flexibility, and improves overall joint health.
Rollover! To read our Arthrozene Review!!

$44.95
3 Bottles – Special Arthrozene Offer
Click on the above "Shop Now" button to activate the Arthrozene coupon code that enables you to enjoy some discounts.
---
In-Depth Arthrozene Review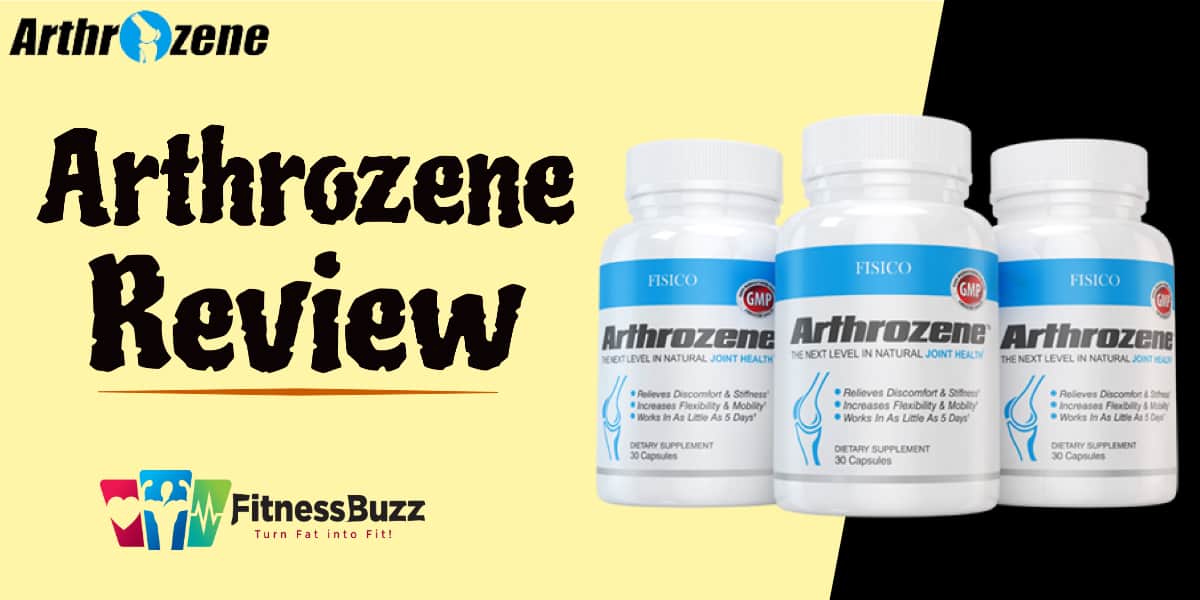 Arthrozene is a natural joint pain-relieving product that vows to give you "powerful joint relief" in just five days. This is a strikingly short time, considering that the ingredients take time to assemble and get used to in the body before they start showing effect.
Arthrozene is thus a supplement that helps reduce inflammation in the body to alleviate muscle and joint pain. Arthrozene is made and marketed by Fisico Inc, a supplement manufacturer that owns quite a few brands. There are just three key ingredients in this dietary supplement, all of which are obtained from natural sources.
These ingredients claim to be able to:
Reduce swelling
Prevent cartilage deterioration
Improves joint lubrication
Enhances mobility and flexibility
Lessens joint soreness and discomfort
---
Arthrozene Ingredients

Let's check out the main ingredients of Arthrozene, which claims to relieve joint pain faster than any other medicine.
ApresFlex Boswellia Serrata Extract: 100 mg
Mobilee Natural Chicken Comb Extract: 80 mg
B-2Cool Native Collage type II (chicken sternum): 40 mg
As you can notice from the Arthrozene ingredients, this joint supplement formula is definitely not vegan. Below, we'll discuss in detail the main ingredients in this product and how it can or cannot help you.
ApresFlex Boswellia Serrata Extract: 100mg
Boswellia Serrata is a herb that is used as an aromatic and comes from a tree that is indigenous to parts of Asia, North Africa, and the Middle East. It is also occasionally used in the preparation of Ayurvedic and Chinese traditional medicines, albeit for varied purposes. Boswellia is a powerful anti-inflammatory, and the type used in Arthrozene is way more powerful than the usual anti-inflammatory herbal compounds.
Each serving of Arthrozene contains 100 mg of Boswellia Serrata, which, even though considered less, is still effective in treating of pain and motility. A point to note is that all three ingredients are supplied in a registered trademark form which refines the core ingredient to improve its effectiveness.
New researches reveal that compounds in Boswellia Serrata – boswellic acids – can curb an enzyme called 5-Lipoxygenase. This enzyme catalyzes the biosynthesis of a collection of inflammatory mediators. This enzyme is inflammatory, and boswellic acids might hold back this enzyme.
One study showed that people suffering from osteoarthritis taking a very strong Boswellia Serrata extract felt significant improvement in pain and mobility.
Mobilee Natural Chicken Comb Extract: 80mg
The reason Chicken Comb Extract is used in Arthrozene is the compounds it contains, namely, hyaluronic acid, collagen type II, and glucosaminoglycans. Let's study each one in detail.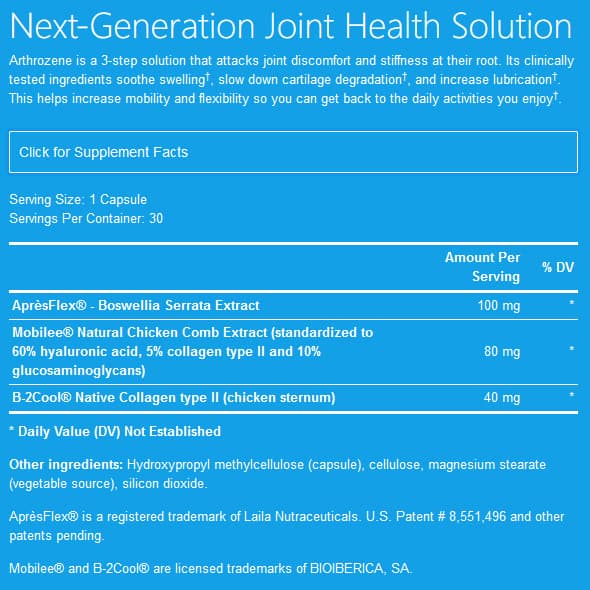 Hyaluronic acid is the important protein that is found in synovial fluid, which lubricates our joints. This acid is naturally found in your body in your connective tissues, eyes, and skin. It is a good joint supplement when taken in correct dosages.
It keeps your joints hydrated and lubricated, thereby reducing stiffness, discomfort and even give relief from joint pain. For the best results, Doses of 200mg per day are effective in alleviating joint pain. However, we don't know how much of it is present in Arthrozene, so there's no way to know the exact quantity you're getting. But we are sure it definitely isn't 200 mg.
Supplementation with this protein has earlier failed to provide the same benefits as injections. Several people take injections of hyaluronic acid into the joint. However, this is not convenient inconvenient and is expensive.
Arthrozene, however, contains a patented compound called Mobilee, which makes orally ingested hyaluronic acid as effective as injections. Hyaluronic acid is blended with collagen type II and glucosaminoglycans. Each serving offers you 80 mg of this blend.
Collagen is common to be seen in a lot of joint supplements. Primarily because it is a vital component of cartilage that protects your joints. It may be the best idea to consume collagen to strengthen the cartilage and improve overall joint health, but there is no conclusive evidence to prove that collagen supplementation alleviates joint pain. At the most, it offers only mild relief from joint pain in osteoarthritis patients.
Glucosaminoglycans are generally a combination of Herparan Sulfate and Hyaluronic Acid. It has been beneficial in some cases to help with cell density and cell growth in your bones and joints. Glucosaminoglycans in Arthrozene may do good, but without knowing its actual dosage, we cannot determine its efficacy in this joint supplement. Also, as 200 mg of Hyaluronic acid per day is considered effective in relieving joint pain, it's highly improbable there's enough of it in this 80 mg dose of the chicken comb.
Type II Collagen
Type II collagen is the primary protein type from which cartilage is formed. It is used here to reconstruct damaged tissue so that it can act as a shock absorber. Studies revealed that supplementation with Type II collagen would inhibit cartilage breakdown.
People who took Type II collagen exhibited reduced stiffness and overall improved joint function, and a better quality of life. Each Arthrozene serving provides you with 40 mg of Type II collagen.
---
How does Arthrozene Work?

Arthrozene helps give relief from joint pain in the following 3 steps:
It is reducing inflammation.
Slowing down cartilage degeneration.
Increasing joint lubrication.
The main ingredients in Arthrozene attain these three results as their assemblage increases in the body. The first step involves inhibiting cartilage breakdown with the help of Type II collagen. Then, hyaluronic acid increases synovial fluid, which improves joint lubrication and mobility. Finally, Boswellia Serrata helps reduce stiffness and prevent pain. It will take a minimum of five days for the ingredient concentrations to start showing their efficacy.
---
Where to Buy Arthrozene? | Arthrozene Pricing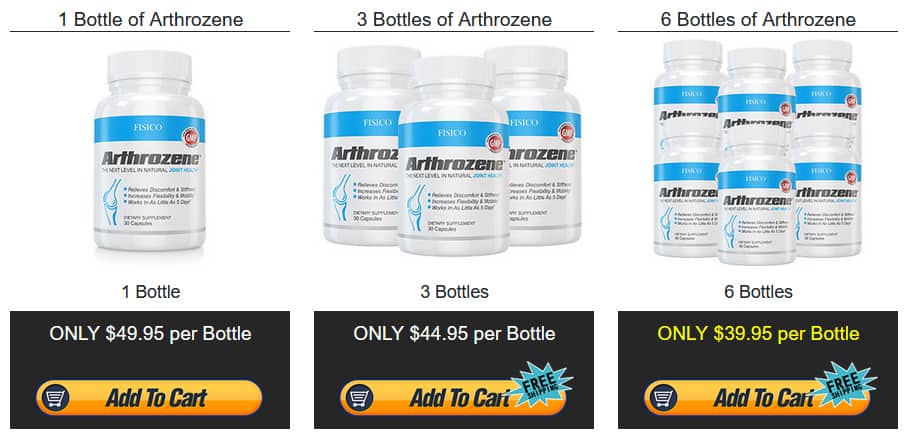 Arthrozene can be purchased from the official website: www.arthrozene.com.
The cost of 1 Bottle is $49.95
Cost of 3 Bottles is $134.85 | TOTAL SAVINGS: $15.00
Cost of 6 Bottles is $239.70 | TOTAL SAVINGS: $60.00
Fisico Inc. provides a 3-month money-back guarantee on your Athrozene purchase.
However, handling charges and shipping charges will not be refunded. It also gives free shipping if you buy 3 or 6 bottles together.
---
How to Use Arthrozene?

Take one Arthrozene capsule a day with a glass of water on an empty stomach at any time of the day. Time doesn't matter as the ingredients take time to build up in the body.

$44.95
3 Bottles – Special Arthrozene Offer
Use our best Arthrozene promo code to purchase Arthrozene at the lowest price. Limited time offer.
---
Side Effects of Arthrozene
Arthrozene is 99% safe for most users as all of the ingredients are completely natural. On the other hand, it has been listed that the collagen type II in this supplement has caused side effects in some users, such as:
Stomach problems
Headache
Lack of sleep
Dizziness
Swelling
Liver problems for those people who are using collagen supplements for a long period.
Boswellia may result in stomach upset, gas, or bloating in some people. Apart from this, there are very rare chances of you facing any issues with Arthrozene. Joint supplements generally are relatively safe and cause no side effects, especially if you're using a good quality one with pure ingredients and if used correctly.
The very crucial thing to remember here is that we do not know the exact dosage of the ingredients like hyaluronic acid found in Arthrozene, which is a concern as you may be underdosed or overdosed. Overall, Arthrozene looks like a safe supplement. Read the instructions of the manufacturer carefully and follow them. If you experience any reaction or side effects, immediately stop using it.
It is recommended that people who are suffering from joint pain and inflammation consult a doctor before taking Arthrozene. Also, those who are already under prescription medication treatment should show their doctor Arthrozene before consuming this product. This product should not be taken by pregnant women and those who are planning to become pregnant.
---
Is Arthrozene Approved by the FDA?
Arthrozene is not approved by the Food and Drug Administration (FDA) as it does not evaluate any natural supplement. Since it's not a medicine and is a natural joint supplement, it does not have approval from FDA.
My Arthrozene Review | Scam Or Really Works?
Arthrozene is not planned to diagnose, treat, cure, or prevent any disease, nor is it a substitute for any medical treatment. You should consider the advice of a doctor for your specific health concerns.
---
Arthrozene Alternatives
---
Pros & Cons
Pros
Gives relief from pain, inflammation, and stiffness.
Boosts the production of synovial fluid in the joint.
Minimizes cartilage breakdown.
Cons
Boswellia serrata may give rise to stomach upset, gas, or bloating.
Collagen is not completely effective as a supplement and may have potential side effects.
No glucosamine – we are using another derivative instead.
Exact dosage of many ingredients not known, so we may be overdosed or underdosed.
No curcumin
No mineral support
Not Vegetarian / Vegan
---
🌟 Arthrozene FAQ
✅What is Arthrozene?
Arthrozene is a type of dietary supplement that supports overall joint health. Arthrozene uses all the natural and tested ingredients that immediately attack the source of pain. This supplement is used to reduce tendon, muscle, and joint pain.
✅Does Arthrozene really work?
Yes, Arthrozene is effective in offering relief from joint pains, inflammation, and stiffness in the body. It really works, and that is why it has become a very popular product. It is a legitimate joint supplement,
✅Is Arthrozene safe to use?
Athrozene is a safe supplement that supports joint pain. The majority of people use Athrozene for swelling, cartilage degradation, joint pain, etc.
✅Is there any verified Arthrozene coupon code?
If you are looking to buy Arthrozene at the best price, check the above-mentioned Arthrozene coupon code that helps you enjoy attractive discounts.
✅What is the most effective joint supplement?
There are many people who are suffering from severe pain in their joints, knees, elbow, hands, etc. In such cases, it is very important to use effective joint supplements. Following is the best list of joint supplements that one should consider to treat joint pain.
#1. Arthrozene
#2. Arthrazex
#3. Relief Factor
#4. ProJoint Plus
#5. Omega XL
#6. Flexitrinol
---
Conclusion: Arthrozene Review 2023 | Should you try it?
Arthrozene contains some well-tested ingredients that help to fight the problem of joint and inflammation from its roots. By decreasing inflammation, preventing cartilage breakdown, and increasing synovial lubrication, it works to provide pain relief for a long time and restore mobility. The verified ingredient formulation and testimonials back the claim made Arthrozene's official website of being an effective joint pain relieving supplement.
Moreover, Fisico Inc that manufactures Arthrozene, is a well-known company that has several other products to its name. However, several areas could be improved, such as adding some curcumin, chondroitin sulfate, glucosamine, strontium, and Methylsulfonylmethane would make a big difference and make this a much powerful anti-inflammatory.
Overall, ingredient-wise, it's more the Boswellia that is most effective. The rest of the ingredients, which come from the chicken comb and sternum, may not make any noticeable difference.
We have helped you get the Arthrozene facts. Buying it or not is solely your discretion. We'd recommend you give it a try as it has proved to be a good joint pain reliever to many users.????

Arthrozene Review 2023: Does This Joint Supplement Work?