The CBD capsules from Bright Brain have won the hearts (and awards) of many. No wonder they have been a market leader and provide an easy and quick solution to people who want to enhance their cognitive power.
This easy-to-take pill is strong and effective for customers who take it daily or as needed. It's formulated with Curcumin which adds to its effectiveness while preventing drowsiness and offering all the nootropic benefits of both CBD and curcumin.
Detailed Bright Brain CBD Curcumin Review

$41.95
Pain & Soreness Relief
Bright Brain CBD Curcumin is a natural product works your brain to improve neurogenesis and neurotransmitter function.
The award-winning CBD soft-gel capsules from Bright Brain, combined with the proven nootropic Curcumin, are guaranteed to be more effective than its competitors. While the market is inundated with several CBD oil products, they're not all worth buying.
Not all brands use top-quality CBD or have accurate labels. Even among the best CBD capsules, there's a difference in strength and secondary ingredients. Bright Brain CBD provides you with a lab-tested product that is guaranteed to be excellent!
Benefits of Bright Brain CBD Capsules
Certified organic
Non-GMO
No pesticides, herbicides, solvents, or chemical fertilizers
Non-psychoactive
Verified
Legal
Green Certified Business
Laboratory tested to ensure safety and effectiveness
Easy to use
Nootropics CBD Made in the USA
Made in the U.S. A, headquartered in Chicago, Illinois
International Footprint
Multiple Shipping Facilities
Kosher and Halal certified CBD
Broad spectrum CBD
Full Terpenes
Full Cannabinoids
0% THC
What is So Unique about Bright Brain CBD with Curcumin?
The CBD Soft Gels with Curcumin are made with the brand's very own Broad-spectrum water-soluble hemp oil. Each soft gel contains 25 mg of phytocannabinoids and 10 mg of curcumin.
The patent-pending water-soluble formulation inside these tablets comprises a nanoemulsion-based delivery system with cannabinoid and curcumin emulsion droplets whose larger surface area heightens in-vivo absorption than their natural greasy forms. In short, this means it is effective and gets absorbed into your body real quick. If you are looking for an organically grown, high-concentrate CBD, nothing is better than Bright Brain CBD. It's tested, pocket-friendly, reliable, legal, and easy to use.
Why Should You Take Bright Brain CBD with Curcumin?
Relief from Pain & Soreness
Relief from Arthritis
Nausea Relief
Anxiety and Depression
Relaxation, relief from stress and anxiety
Neuroprotection
Heart Health
Muscles and Joint Relief
Improves appetite
Relief from Homeostasis,
Mood Enhancement
Improves Sleep Quality and Socializing
offers Vitality
What's Bright Brain CBD Curcumin includes?
1 Jar of Bright Brain CBD Curcumin includes:
30 Soft Gel Capsules
25mg CBD/Capsule
10mg Curcumin/Capsule
750 mg Total CBD
Amount per Capsule-60 mg
Broad Spectrum Hemp Oil- 25 mg
Triglycerides (MCT from coconut) Oil
Beta-Caryophyllene, Gelatin Shell
Glycerin, Sorbitol, Water, 0.0% THC
Broad Spectrum (Full Plant Benefits)
CBD With Curcumin Ingredients – Bright Brain CBD Curcumin Review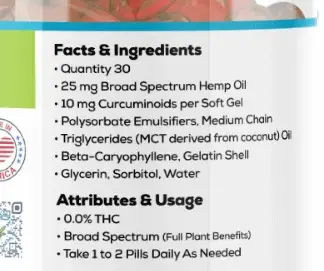 According to FDA requirements, Bright Brain does not claim to make any health or medical statements regarding its products. FDA does not approve Nootropic supplements and are not intended to diagnose, treat, cure, or prevent any disease and should not be used by those who have heart problems or other health risks without consulting a physician.
Curcumin
Curcumin (Turmeric) is one of the well-researched herbs for treating and has phenomenal nootropic properties. It works on a molecular level to improve neurogenesis and augments the neurotransmitters serotonin and dopamine. Combined with CBD, it improves anti-inflammatory properties, prevents sleepiness, and offers you the best CBD experience.
It is a strong antioxidant that protects your brain from lifelong, excess inflammation and is often used to treat digestive disorders, skin disorders, cancer, diabetes, heart disease, obesity, liver function, protect from DNA damage, and treat chest and abdominal pain.
Recommended Usage of Bright Brain CBD Curcumin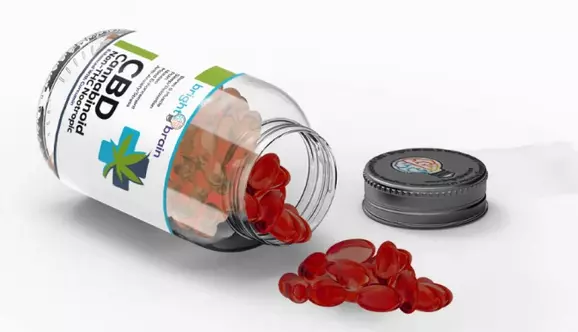 Take one pill in the morning and one in the afternoon as needed. Do not take this supplement on an empty stomach. It is very important to drink lots of water, probably more than what you drink regularly, to keep hydrated and prevent headaches that often result from most nootropics. Some ingredients in the pills, although rare, can cause drowsiness.
With any nootropics, it is suggested that any long-term use has frequent randomization or intake reduction to ensure no tolerance or similar issues happen during usage. Do not drive or operate vehicles or machinery after taking the soft gels.
Contraindications
If you experience any side effects when taking CBD with curcumin, you should immediately stop taking it and consult your doctor. Prohibit the use of alcohol or recreational drugs if you have taken nootropics. There can be side effects of CBD, such as dry mouth, diarrhea, reduced appetite, drowsiness, and fatigue. CBD can also interact with other medicines you're consuming, such as blood thinners. It is recommended to contact your physician or medical specialist before taking nootropic supplements.
Are there any side effects of Bright Brain CBD Curcumin?
All nootropic supplements, including Bright Brain products, will carry risks and should only be used by those who have no health issues. It is recommended to take the pills under a doctor's supervision.
Safety Information
The product may induce drowsiness. Restrict yourself from driving a motor vehicle or operating heavy and dangerous machinery. Consult with a qualified healthcare professional before using this product if you are under 18 years of age or have any pre-existing medical condition or if you are under any prescription medications. KEEP OUT OF REACH OF CHILDREN. STORE IN A COOL, DRY PLACE.
Certificates of Testing, Purity, and/or CoA
All of Bright Brain's products have the best quality ingredients available. Every manufacturing batch is purity-tested and has certificates of analysis. Wholesalers, retailers, & Distributors may directly demand from them a certificate or more information.
Warning and Disclaimer: These statements have not been approved by the FDA. This product is not intended to diagnose, treat, cure, or prevent any disease. Keep away from children & pets. Consult your doctor before any use, including if pregnant, planning to get pregnant, breastfeeding, have a medical condition, or are taking any prescribed medications or other supplements.
Learn about the CBD with Curcumin nootropic from Bright Brain.
Is Bright Brain CBD Curcumin tested for purity by a 3rd party?
The quality of the ingredient is one of the pivotal factors to ensure success while using the nootropics of any brand. Bright Brain has created a powerful and reliable supply chain with its parent company as a manufacturer in the 2000s.Every single ingredient is tested for purity and given certificates of analysis (COA). This means that the product has been checked and double-checked to ensure you are getting the finest quality product available.
Wholesalers, Retailers, & Distributors may catch a glimpse of all certificates, batch information, and testing in the wholesale section of the website after logging in. The product is lab tested for purity and quality by a third party.
Does Bright Brain CBD Curcumin supplement contain Soy?
Bright Brain sells the best quality nootropic supplements and they are always mindful and transparent about what their customers are putting in their bodies. No matter what type of supplement, vitamin, or nootropic you are consuming, Bright Brain is aware that many people could be allergic, especially to soy, and thus Bright Brain's CBD Curcumin contains no soy or soy byproducts.
Moreover, the gelatin-based capsules are:
1. Kosher and Halal certified.
2. GMO-free.
3. Ethylene oxides are free.
4. Hypoallergenic: No corn, soy, gluten, etc.
5. BSE (Bovine Spongiform Encephalopathy) free and TSE (Transmissible spongiform Encephalopathies) free.
6. Fast-dissolving in the stomach and easily digestible.
What is CBD?
CBD is a non-psychoactive compound present in marijuana and hemp plants. CBD is the abbreviated form for cannabidiol, which starts as the cannabinoid acid known as CBDA. After going through the process known as decarboxylation, CBDA is transformed into the phytocannabinoid known as CBD. The endocannabinoid system is mainly made up of two main types of receptors; CB1 and CB2.
According to Fundacion Canna, CB1 receptors are mostly present in the central nervous system, in areas related to cognitive functions, memory, anxiety, pain, sensory and visceral perception, motor coordination, and areas related to a few endocrine functions.
They can also be found in some regions of the peripheral nervous system, such as the testicles, heart, small intestine, prostate, uterus, bone marrow, and vascular endothelium. CB2 receptors are primarily found in immune system-related structures. Some researchers believe that CBD and cannabinoids generally function with our endo cannabinoid system through a lock and key system. The CB1 and CB2 receptors play the role of locks, while the cannabinoids along with phytocannabinoids (such as CBD) act as the keys to unlock them.
Most other advantages of CBD are related to cognitive performance, making CBD an amazing nootropic compound. CBD helps to boost cognitive function by helping to alleviate symptoms associated with health issues, such as anxiety, depression, insomnia, and others.
Bright Brain CBD Curcumin FAQ
Who should take CBD with curcumin and why?
Anyone who wants to improve their health and wellness can take CBD with curcumin. It provides relief from pain, anxiety, inflammation, and arthritis and improves mood. Both CBD and Curcumin offer health-promoting benefits.
Why is Bright Brain CBD better than everything else on the market?
Bright Brain's CBD Soft Gels with Curcumin are created with their proprietary Broad-spectrum water-soluble hemp oil. Each gel contains 25 mg of phytocannabinoids and 10 mg of curcumin. The patent-pending water-soluble formulation inside these pills comprises a nanoemulsion-based delivery system with cannabinoid and curcumin emulsion droplets whose extensive surface area augments in-vivo absorption more than their natural oily forms. In short, this means it results in quicker absorption into the body and is highly effective. Bright Brain is the best source for organically grown, high-concentrate CBD. It's tested, affordable, reliable, legal, and convenient.
Is there THC like regular marijuana in Bright Brain's CBD?
No. The CBD is 100% guaranteed THC free.
Are nootropics from Bright Brain offered in powder form?
Presently, Bright Brain's nootropics are not available in powder form. While using and handling nootropics in powder form certainly has its benefits, capsules offer ease of use, convenience, and user-friendliness that cannot be got when using scoops and scales.
What nootropic dosage should we use?
One of the biggest misconceptions new nootropics users have is thinking that taking more of a product will give them faster and better results. The truth is that when you take high doses, you are at a high risk of side effects. However, the effect it has differs from person to person, and at too low a dose, the supplement might prove ineffective.
What is the shelf life of CBD Curcumin and how should I store them?
The shelf life of the products differs from one nootropic to another. You must check the individual product pages for specific information. CBD Curcumin Products should be stored in a cool and dry place, away from direct sunlight. The product has the potential for getting damaged if exposed to air, humidity, and light. Keep it out of children's reach.
How do I submit a review for Bright Brain Nootropics and Nootropic Products?
Bright Brain demands that all submitted reviews are only from people who have purchased and used the product. Bright Brain does not pay for a positive review and does not allow paid feedback. You can share your thoughts with other customers by submitting a customer review. You can submit feedback on the product by selecting a star rating for things like value, effectiveness, price, and more. You can add text, photos, or videos to your review at any time. The important point to keep in mind is that before you can post a review, you must be logged in to the account in which you purchased the product.
When Does the Product Expire?
Unlike prescription drugs and over-the-counter (OTC) medications, the U.S. Food and Drug Administration (FDA) doesn't require manufacturers of vitamins, nootropics, and dietary supplements to mention an expiration date on the packaging. Bright Brain CBD Curcumin provides a "best before" or "use by" date that is 1 year from the date of sale.
According to research scientists, the usual shelf life for vitamins is one to two years. But this can differ, depending on the vitamin type and the conditions it's exposed to. Bright Brain CBD Curcumin, if stored correctly, will retain its potency and is recommended for use for 1 year from the date of sale.
About Bright Brain
Bright Brain Inc. is one of the leading and most trusted suppliers of nootropics and cognitive-enhancing supplements. They offer specific solutions with lab-tested purity for your specific needs.
Why Bright Brain CBD Curcumin?
1. Uncomplicated solutions and easy-to-understand products to get exactly what you need.
2. Lab-tested ingredients that ensure the best quality according to industry standards and performance.
3. Specific ingredients and formulas that are customer tested and proven effective.
4. A reliable and trustworthy company that prioritizes customer satisfaction.
Customer Reviews
We list below a few customers reviews
1. Works well helps with inflammation and helps to relax. Will definitely buy more.
2. Helped with overall inflammation. My only complaint is that it's a bit expensive.
3. This CBD works amazing when sore after working out and for my arthritis.
Conclusion: Bright Brain CBD Curcumin Review – Is it safe?
So here we are with a detailed Bright Brain CBD Curcumin review. We hope all your worries will now be gone and that you will not think twice before purchasing the product. We assure you will see a marked improvement not only in your cognitive health but also in your overall physical, mental, emotional, and psychological state. So what are you waiting for? Quickly visit the website and place your first order for a happy and healthy mind and body.
Bright Brain CBD Curcumin Review
Bright Brain CBD Curcumin is the award-winning capsule to be a market leader in cannabinoids that offers an easy solution to the customer who takes CBD in an easy-to-take pill that is a strong and proven effect.
Pros
Relaxation, relief from stress and anxiety.
Relief from Pain and Soreness.
Relief from Arthritis.
Relief from Homeostasis.
Improves Sleep Quality and Socializing.
Nausea Relief.
Mood Enhancement.
Anxiety and Depression.
Cons
Free trials not available for potential buyers.