‍Brainpower is something we all need more of. The ability to think faster and better has become even more crucial than it already is. With the AI world rising to its peak, we need to prove our worth to stay in the game. And for us to cope with this advanced world, Nootropics are one of the most effective ways of improving your brainpower and boosting your memory, attention, and performance levels.
A nootropic is any substance that can improve your cognitive abilities like concentration, memory, and problem-solving. They are generally referred to as smart drugs. Most of them are safe and natural supplements that help with memory and brain health.
Qualia Mind is an April 2016 launched nootropic that has been gaining popularity around the world due to its unique set of ingredients and noticeable effects on users' cognitive performance. It is a brain-boosting formula to help unlock your true potential and lead a productive life. In this article, we'll take a closer look at the Qualia Mind Nootropics review and see if it is a real brain booster or not?
$69.50 $139.00
Exclusive Neurohacker Discount Coupon
Give your brain the nourishment with Qualia Mind Nootropics; it craves so you can perform at your peak. Activate the Neurohacker discount coupon for maximum savings. (Fast Shipping)
---
Detailed Qualia Mind Nootropics Review | The Ultimate Nootropic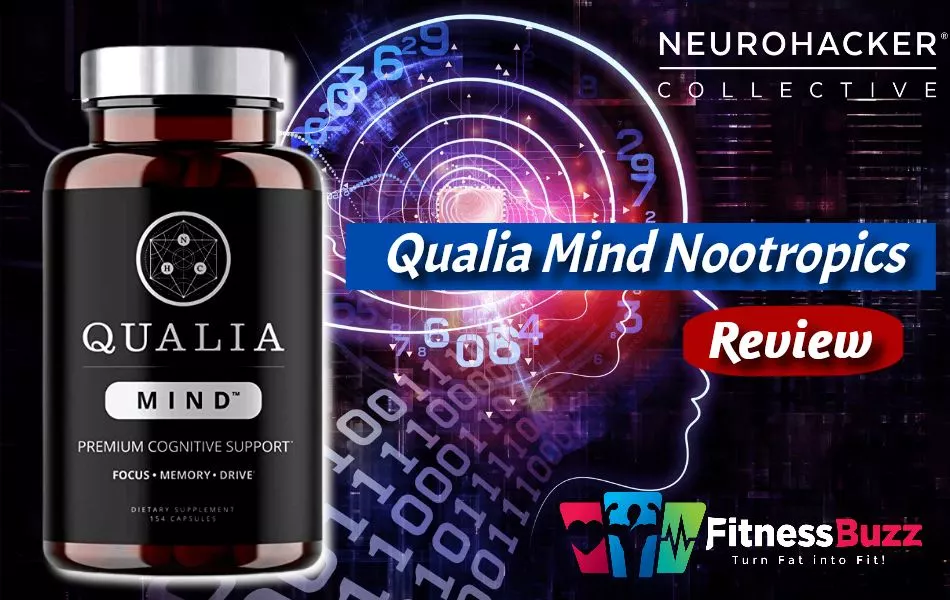 The word "Qualia" refers to the experience of being conscious. They say, "It is the experiential quality of what it is like to be you. We chose it because we are interested in supporting the entire spectrum of meaningful subjective human experiences." Qualia Mind is a nootropic supplement made to improve your cognitive abilities, helping you to achieve a state of complete awareness. The main motive behind its production was to allow the users to support their body's own ability to upregulate the production of key neurotransmitters, BDNF, and other pathways that are essential for optimal brain function.
As their official site says, "It is a result of thousands of hours of research and development", by highly qualified scientists in fields such as complex-systems modeling, neurobiology, organic chemistry, and such. It is a combination of multiple quality ingredients loaded with synergistic properties that help significantly enhance your mental health. The supplement is also safe, and its benefits are long-term.
The Qualia Mind formula is a nootropic combo and is classified as a dietary supplement, designed to boost cognitive performance. Supporting Neuron Synaptic Formation, Acetylcholine Signaling, and Brain Mitochondrial Function are a few other benefits of this brain supplement. These vegetarian capsules can also help suppress appetite and boost productivity. It even works as a powerful mood supporter without delivering jitters or crashes.
---
Qualia Mind Nootropics Ingredients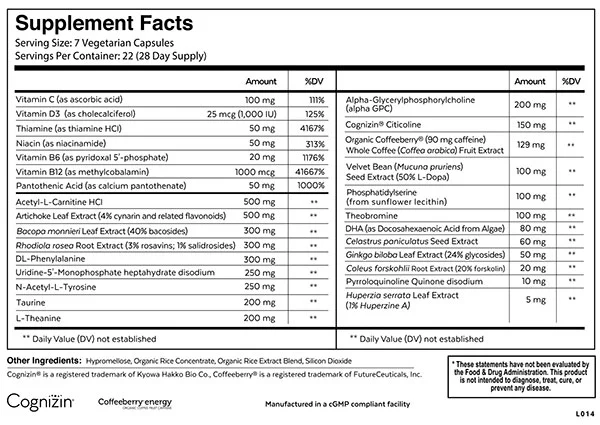 Qualia Mind is a blend of ingredients that includes effective nootropics, vitamins, minerals, and amino acids that are known to be very beneficial in improving mental performance. Each ingredient in the Qualia Mind formula has a specific role to play. Here is the complete list of the ingredients found in this product:
Huperzia Serrata Leaf extract (1% Huperzine A): Research has stated how the ingredient benefits brain health. It is regarded as a potent natural synaptic enzyme modulator.
Celastrus Paniculatus Seed Extract: A herb from Ayurveda that is known to have charming nootropic effects. It supports brain health by improving learning skills and memory.
Theobromine: A methylxanthine that can be related to caffeine extracted from cocoa beans. Increased mental alertness and attention are some of their benefits.
Bacopa Monnieri Leaf Extract: This herb has been used in Ayurvedic medicine for thousands of years. It has also been shown to enhance cognitive function and improve memory retention. It is claimed to have neuroprotective, nootropic and adaptogenic effects.
Ginkgo Biloba Leaf Extract (24% glycosides): This plant extract also possesses nootropic and adaptogenic effects. Not just that, studies show that it can improve mental clarity and support healthy aging.
Mucuna Pruriens Seed: It is a bean that is bestowed with adaptogenic and neuroprotective effects.
Alpha GPC: This compound has neuroprotective effects and acts as a 'precursor to acetylcholine.'
Cognizin Citicoline: This is another powerful nootropic ingredient that helps the brain by maintaining the sharpness and increasing energy levels.
Uridine Monophosphate: It is a nucleic acid that occurs naturally and helps in various neuroregulatory processes. It is known to support memory and executive function.
Coffeeberry: It is a powerful superfruit with higher amounts of fiber, protein and polyphenols when compared to other whole fruits.
Vitamin D3: Cholecalciferol(Vit D3) is a form of vitamin D that is rich in antioxidants and neuroprotective effects.
Vitamin C: Also known as Ascorbic Acid, it is again an essential vitamin with great benefits.
Vitamin B1 (Thiamine): It is a part of the Vitamin B complex, which are water-soluble vitamins. They are essential because they play critical roles in cellular metabolism and energy production.
Vitamin B6 (Pyridoxal-5-Phosphate): P5P is another active part of the Vitamin B complex that supports brain function and energy metabolism. It helps to boost cognitive function, improve mood, and reduce feelings of anxiety.
Vitamin B12 (Methylcobalamin): Cobalamin has a metal ion, cobalt, and that is where it gets its name from. It has connections with metabolism, and a lack of B12 in the body can lead to a deterioration of cognitive abilities.
Vitamin B5 (Calcium Pantothenate): Pantothenic acid is also an essential part of the Vitamin B complex. It is credited for its role in energy production and cellular metabolism.
Niacinamide (Vitamin B3): It is naturally synthesized in the body and has nootropic effects.
Pyrroloquinoline Quinone: PQQ, as their official site states, plays a vital role in "promoting healthy gut microbiome, immune system function, antioxidant defenses, and cognitive function." It becomes vital for brain health as well as it can support healthy memory and cognition with aging.
Rhodiola Rosea Root: It is an extract of a flowering plant with nootropic properties. It also has active compounds that can support memory and focus.
N-Acetyl-L-Tyrosine: This is another brain-boosting Qualia Mind ingredient, which is an acetylated form of the amino acid L-Tyrosine.
Acetyl-L-Carnitine: It is an acetylated form of L-carnitine. It is known to have nootropic effects and may even promote anti-aging functions.
Taurine: Their official site mentions it as an 'organic amino sulfonic acid' that can have neuroprotective effects.
L-Theanine: L-Theanine is an amino acid that is often found in green tea. It helps reduce anxiety and improve focus by reducing the amount of caffeine needed to reach a state of focus.
DL-Phenylalanine: It is a blend of essential amino acid phenylalanine; it can improve mood and cognitive function.
Artichoke Stem and Leaf Extract: Cynarin is known to have nootropic effects and can be found in Artichoke plants. It is even known to support memory and executive function.
Coleus Forskohlii Root Extract: Forskolin is a labdane diterpene known to have adaptogenic properties. It is the main bioactive compound in Coleus Forskohlii, which can enhance mental stamina and memory.
Phosphatidylserine: It is a naturally occurring aminophospholipid that can be found in high concentrations in the human brain. Support mental health by increasing speed, accuracy and memory.
DHA: It is defined as a structural omega-3 fatty acid that is blessed with Neuroprotective effects. Docosahexenoic Acid from Algae is known to support learning and memory along with executive function.
---
How does Qualia Mind Work?
As we've discussed above, the ingredients in Qualia Mind work in synergy to provide a potent brain booster. The ingredient list consists of nootropics, adaptogens, brain tonic herbs, brain-essential nutrients, and vitamins. They all work significantly to deliver you results. They support various brain functions, which enables your brain to function faster and better. The increase in focus, memory, mood and alertness is worth every penny that one will pay for. Not just that, the ingredients included are also potent for stress management.
Qualia mind being a nootropic supplement is maid to:
Supporting prefrontal cortex activity
Supporting neurotransmitter signaling
Enhancing stress resilience
Enhancing Brain-Derived Neurotrophic Factor
All of the ingredients in Qualia Mind can penetrate the blood-brain barrier, making them more bioavailable and effectively getting them out of the bloodstream after ingestion and into the brain, so nothing you take is wasted.
---
What makes Qualia Different from the Rest?
The uniqueness comes from their over-the-top approach, as they use complex systems science for their formulations. That means they keep in mind the entire body ecosystem while developing their supplements. And gives out a super-effective product that boosts not only cognitive skills but also promotes overall well-being.
Notably, Qualia Mind is enriched with the help of 28 vegan and non-GMO ingredients. Which, if broken, can be specified as Nootropic compounds, vitamins, antioxidants, adaptogen extracts, amino acids and choline donors, and all this goodness without any proprietary blends. The best part about Neurohacker is that it provides complete transparency to its customers. The company provides the ultimate nootropics, which are backed by scientific research. The dosage is pure and meaningful, assuring us they won't add harmful additives.
In its cognitive series, it delivers 2 other products, apart from Qualia Mind:
1. Qualia Mind Caffeine Free
It is a nootropic supplement that improves brain function and is specifically designed for individuals sensitive to caffeine. It is carefully formulated with the same benefits as Qualia Mind, but the twist is that it does not contain caffeine and theobromine. Beating brain fog, increased willpower, more creativity, high energy, better focus and concentration and enhanced mental clarity are some of its mentioned benefits. This premium cognitive supplement is available for $69.50 with a 100-day money-back guarantee.
$69.50 $139.00
Verified Neurohacker Discount Coupon
Qualia Mind Caffeine Free is a premium supplement that supports mental performance and brain health and is specifically designed for people who suffer from.
2. Qualia Focus
They aimed to address mental energy comprehensively, so they came up with a scientifically formulated Qualia Focus. It contains nootropic ingredients that will support the production of Brain-Derived Neurotropic factors and key neurotransmitters. Consistent use of this supplement may attain better mental clarity, focus, clean energy and drive. It is a combination of both rare and common ingredients that help it perform fruitfully. The first shipment will only cost you $19.75, and if the product does not work as expected, you can make use of their money-back policy.
Their supplements don't just focus on mental health; you can even use them for beauty(Qualia Skin), Vision(Qualia Vision), longevity(Qualia Life), energy(Qualia Nootropic Energy), and sleep(Qualia Night). You can also order bundles of performance and cognitive supplements. You can also visit their official site for more detailed information, ingredients and reviews.
$19.75 $39.50
Verified Neurohacker Discount Coupon
Qualia Focus is a powerful brain booster that promotes a variety of brain and nervous system functions required for attention, mental energy, motivation, and memory.
---
Benefits of using Qualia Mind
Better Focus: Another great thing about the Qualia Mind nootropic is that it helps improve focus. No matter what profession you're in, you need to be able to focus and concentrate on the task at hand. Otherwise, you risk damaging your career and missing out on meaningful opportunities.
More Energy: Although the Qualia Mind contains ingredients like whole coffee fruit extract, it doesn't rely solely on caffeine as the primary ingredient. It will not produce the same "crash" that other primarily caffeine-based products can cause. It also contains various other nootropic ingredients known to help with concentration, mood, and energy levels.
More Drive & Concentration: The supplement contains 28 active ingredients, and the blend of their benefits and synergistic properties makes it all the more potent. They all work together to deliver enhanced concentration and mental clarity to multiple neurological systems.
Stress Relief & Mood Enhancement: One of the most significant benefits of using Qualia Mind is that it helps to deal with stress. Anxiety, depression, and stress are the three most common ailments of the modern age. The most effective way to deal with these conditions is to use a combination of herbal extracts and amino acids. It is also regarded as a powerful mood supporter, making it all the more worthy.
It may even be beneficial for students, as we all know that the concentration needed at that point in life is much higher. It may help you cope with the exams that demand a lot of your attention and mental energy. It even becomes a better choice because it is natural, and it doesn't have the same side effects as other, more potent nootropics. But one should note that it is not for children under the age of 18.
---
Qualia Mind Side Effects
The benefits of using the Qualia Mind nootropic supplement are immense, but there are some limitations to it as well. First, it is not for everyone. If you are under 18 years old, pregnant, breastfeeding, or have a severe medical condition, then this is not at all for you. Moreover, this should not be used as a substitute for medical care. It is recommended that you speak with a medical professional before consuming the nootropic supplement.
Though the customer reviews were majorly positive, some did state a few flaws. While for some, it helped improve cognitive health, it was not that effective for a few. Even if side effects occur, they should be mild, a common one being restlessness. But if they are severe, consult your doctor immediately.
Unlike caffeine or modafinil, most of the nootropics contain all-natural ingredients and don't lead to any side effects. Nootropics are safe and helpful when taken as directed. Even for Qualia Mind, ensure you are well versed with the ingredients, and there are none that you might be allergic to. You are also advised to ignore the supplement if you have any serious medical conditions such as heart problems, kidney problems, high blood pressure, etc.
Also, note that their official site states taking 7 capsules in the morning before eating anything. This can be considered as a matter of concern. As 7 is a huge number and that too additionally on an empty stomach. Not all of us have the capacity to digest and process such a heavy dose, so even this should be approved by your doctor.
Who should avoid taking Qualia Mind?
Neuroscience Hacker provides a surprising list of conditions alongside some medications that don't mix well with Qualia Mind. Following are few conditions:
People who have Psychiatric and neurological disorders, medicated or not
High Blood Pressure
Endocrine Disorders like thyroid problems, diabetes etc
People with any psychiatric or neurological medications (especially MAO inhibitors or SSRIs)
Heart Conditions
Cancer
Muscular dystrophy
Phenylketonuria (PKU)
Alcohol and other recreational substances
Children under the age of 18
Pregnant women
Nursing parents
Drinking alcohol in high quantities when paired with Qualia Mind may result in poor cognitive performance. However, drinking in small amounts does not alter one's overall concentration ability. For example, taking one glass of red wine with your meal. Also, because of its caffeine content, you should not take Qualia Mind 12 hours before bedtime. Caffeine-sensitive people should take it with their breakfast or snack so that the impact of caffeine is limited on their digestive system.
---
Qualia Mind Nootropic Pricing
The Qualia Mind nootropic supplement is a brain-boosting formula designed to help you unlock your potential and lead a more productive life. The supplement is safe as well as effective. It helps enhance cognition, improve focus, and increase productivity. It does stand among one of the best supplements for brain health.
So it is reasonable to expect a hike in the price, and this time it is not wrong to think so. Compared to its other competitors, the price does stand in a chamber of doubts.
This Premium Nootropic for the first shipment will cost you only $69.50, which seems normal. But thereafter, the price will be raised to $119.00. This is the benefit of buying the subscription; you can save somewhere around 50%. But if you go for a one-time purchase, the price of a bottle that is one month's supply, the cost is $139. That makes it one of the most expensive nootropic supplements. The company also offers fast shipping and a good-money back guarantee at this price.
Shipping Policy of Qualia Mind
After successfully placing your order with Qualia Mind, its fulfillment center will process your transaction within 24-24 hours, and you will receive your tracking number once your order ships.
Currently, Qualia Mind ships to directly to following countries:
| | |
| --- | --- |
| United States | Canada |
| United Kingdom | Ireland |
| Australia | New Zealand |
With Qualia Mind you get two different shipping speeds
Standard Shipping: 3 to 5 business days – $7.98
Priority Shipping: 2 to 3 business days – $12.98
Also, the brand offers a flat rate of $12.98 per order for International shipping, and it can take about 15 to 22 days on average to get the international order delivered. If you are someone who is residing in some different countries, other than the mentioned ones, you can get Qualia Mind from its reseller partners.
Return Policy of Qualia Mind
Neurohacker is very confident about its product which is also among the prominent reasons that it offers a flexible 100-day money-back guarantee on Qualia Mind. So in case you are not satisfied with the product, you can easily return the product. For this, you can reach out to the Neurohacker's customer support team via phone or email. And you will automatically get a full refund. But the company has stated that this policy is just limited to your first order and can only be used once per household.
---
🌟 Qualia Mind Nootropics FAQs
Does Qualia Mind work?
Qualia Mind contains many active ingredients which support its efficacy. Also, it is a product that is backed by various studies and research. One such open-label study, done on a healthy population that consumed Qualia Mind for 5 days assessed its effects using the Cambridge Brain Science Test. This test found that the people who took Qualia Mind reported significantly improved concentration, memory, and reasoning skills compared to the other population.
Can you take Qualia Mind daily?
Qualia Mind is something that should not be taken daily but should be taken only during the time when you need it. You must also follow the "cycle" as per Neurohacker Collective's recommendation. It is designed to be taken for 5 days and 2 days off each week. By doing so, you would certainly maximize its benefits and also prevent desensitization.
Does Qualia Mind work immediately?
As you would have read in our Qualia Mind review, it is a product with a plethora of ingredients that improve your cognitive performance. You can certainly feel its effects about 20 minutes after taking it, and it would last at least an hour.
How many capsules of Qualia Mind can you take?
Though its dosage can vary based on body weight and sensitivity, we recommend you to take 7 capsules. Neurohacker recommends you to take it with a meal as it contains many fat-soluble vitamins which would get easily absorbed when their is an adequate amount of fat or oil. You can also take Qualia Mind empty stomach. If in case you get an upset stomach, we would recommend you to take it after your breakfast.
What are the side effects of Qualia Mind?
Qualia Mind is a safe product, but the most common side effect that one can notice is restlessness; therefore, Neurohacker recommends that you don't take it within 12 hours of bedtime. Also, people with Heart problems, High blood pressure, Endocrine disorders, Cancer, Endocrine disorders and other problems mentioned in our review should refrain from taking Qualia Mind.
Is there any refund policy for Qualia Mind?
Neurohacker, who are also the makers of Qualia Mind, are confident about their product. That is also one of the reasons they offer a 100-day money-back guarantee on Qualia Mind. So if you are unsatisfied with the product, you can apply for a full refund.
Do you get free-shipping with Qualia Mind?
Well, as discussed in our review, if you subscribe to Qualia Mind you can save on your orders and also get free shipping. In case you are a one time purchaser of the product, the company does not offer free-shipping.
How do nootropics work in the brain?
Nootropics are also called "smart drugs" and are also well-known compounds or supplements that enhance cognitive performance by raising brain function throughout different cognitive domains. Many are also used to improve memory, learning, mood, and decision-making.
Can you drink caffeine along with Qualia Mind?
If you are someone who is taking bulletproof coffee in the morning, you can take it as that would give you enough fat so that your body can easily absorb the fat-soluble vitamins.
Can you take Qualia Mind empty stomach?
Dr. Greg, who is the Neurohacker Collective Director of Product Development, says that there are lots of people who take Qualia Mind in the morning without food. And the reason behind this is that few ingredients are fat-soluble, and the others are not. So you can take them empty stomach. But if you get an upset stomach by doing so, we would recommend you to take it after your meal.
Which is the best time to take Qualia Mind?
The official website of Qualia Mind suggests taking it in the morning rather than taking it with dinner. Because they say that Qualia Mind can impact sleep; in contrast, if you take it in the morning, it can seem more forgiving, and it would not disrupt your sleep. In fact, improve it.
Are Nootropics approved by the FDA?
Nootropics are dietary supplements that offer a variety of benefits. But they are not the drugs approved by the FDA, so we cannot assess their full potential in increasing cognitive function.
Can Nootropics affect your hormones?
It can be said that Nootropics are something that probably acts by altering the levels of neurotransmitters, enzymes and hormones that are available in the brain. This is done by improving the brain's oxygen supply or stimulating nerve growth.
---
Conclusion: Qualia Mind Nootropics Review | Should you buy the Qualia Mind Nootropics?
Overall, in our review we found that the Qualia Mind Nootropic looks like a very promising product. It contains all-natural ingredients and has a potent formula that promises to improve your cognitive functions. However, like with any other supplement, it's important to know your individual needs before buying the product. It provides nourishment to your brain and supports long-term cognitive function. It is crafted with the finest quality ingredients and has been formulated with the help of science by various professionals.
It has proven helpful in enhancing focus, concentration and mood. The supplement does have excellent benefits, but on the other hand, the product is not very affordable and also the daily dosage is something one needs to be careful about. The official site of NeuroHacker is very informative; that definitely is a plus point. You can visit them for a complete and precise view of their supplements.
We hope that you like our Qualia Mind review, but before you decide to buy the supplement, it's essential to remember that nootropics are not a magical cure-all.. They are just supplements that help you to maximize your mental potential. Make sure you take care of your health while you work your way to success and glory.
Qualia Mind Nootropics Review
Qualia Mind's unique and potent ingredients promote clear-headed cognition and a happy mood all day long without jittery bursts or crashes.
Pros
It is a safe and natural supplement that helps with memory and brain health.
Contains natural ingredients supported by clinical trials.
All ingredients are usable by the body in doses that actually make a difference.
Safe to consume.
It is a brain-boosting formula to help unlock your true potential and lead a productive life.
These vegetarian capsules can also help suppress appetite and boost productivity.
It even works as a powerful mood supporter without delivering jitters or crashes.
Free shipping, 100-days money-back guarantee.
Cons
It can be expensive.
Requires seven capsules a day for a full dose.

Qualia Mind
Qualia Mind is designed to replenish essential elements required for optimal cognition.
Premium Nootropic for Mental Performance

Qualia Mind Nootropics Review 2023: How Does this Nootropic Compare?