Electrolytes and nutrients are delivered directly to your bloodstream with Liquid IV's unique Cellular Transport Technology. The drink mix hydrates cells faster and more effectively than water with sodium, potassium, glucose, and other nutrients. All of the ingredients in Liquid IV are non-GMO, gluten-free, soy-free, and dairy-free.
The brand has been featured in Forbes, USA Today, OK Magazine, and numerous other business magazines that have covered the company's recent sales to Unilever.
Liquid IV has over 212k Instagram followers, and the brand made the final cut for the investing show Shark Tank. This Liquid IV review will look at the brand, what items they sell, user reviews and ratings, how the goods perform, and more to help you determine if Liquid IV is suitable for you.

-10%
$24.47
Electrolyte Drink Mix | Non-GMO
Try this Hydration Multiplier that delivers hydration to your bloodstream faster & more efficiently than water alone.
---
Detailed Liquid IV Review
Liquid IV was founded in 2015 by Brandin Cohen and Ryan Wheeler to make it easier for people to live better lives. They knew that hydration was essential for good health.
What are these hydration-related health benefits and issues?
To begin with, water makes up to 60% of the human body, and it's not a joke. Water controls body temperature, distributes nutrients and oxygen to cells, protects organs and tissues, and does more molecular.
Hydration is also an essential aspect of cognitive performance. What happens when people are very dehydrated in the desert? They begin to get visions of an oasis. While the body is closing down, their brain fantasizes about flowing waterfalls in a tropical paradise.
You're unlikely to find yourself trapped in the desert, but we wanted to leave you with that vivid yet extremely unpleasant image in your mind. To cut a long tale short, remember all that talk in grade school about mitochondria being the cell's powerhouse? Its cellular matrix is water-filled.

The founders of Liquid IV are aware of all of this and that 844 million people worldwide lack access to safe drinking water.
Liquid IV's first game-changing donation was 500 meals of Liquid IV to a Mission Homeless Shelter in Los Angeles. This small deed may not appear significant, but it was the spark that ignited large-scale charitable contributions. Liquid IV has already supplied over 5 million donations globally.
With each purchase of Liquid IV, the company contributes one serving to those in need worldwide. Disaster zones, hospitals, impoverished neighborhoods, and emergency living quarters are all included.
---
How does Liquid IV work?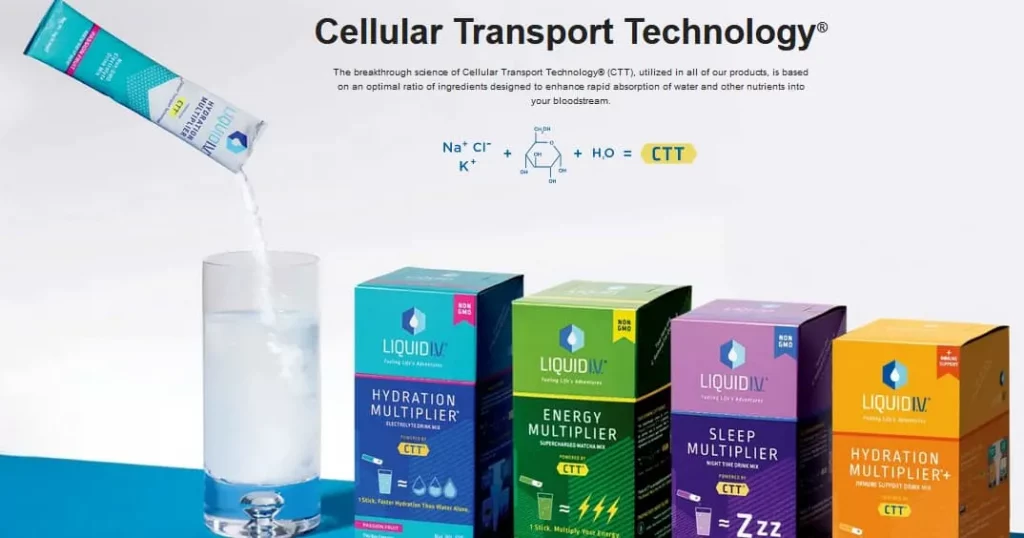 👉 Advantages easy on your digestive system
Excessive fluid consumption is not necessarily beneficial to your digestive system. Your body has a maximum amount of liquids it can absorb at one time.
When you consume more fluids than your body can handle, your digestive system works overtime to eliminate the excess volume. Your digestive system might also filter out certain vital nutrients during this process.
Furthermore, persons who consume fluids containing supplements frequently complain of digestive system irritation. Because IV therapy does not use the digestive system to transfer nutrients and fluids to your body, it produces less waste, allowing you to keep the majority of the nutrients.
👉 Reduction in recovery time
The recovery process must drink enough water, relieving muscle soreness and stiffness after a strenuous training session. After a long, tiring day at the office, hydration might help you regain your vitality. It can also aid in your sobriety.
It can also help you recover from a hangover quickly after a night of overindulgence. An IV therapy cocktail of vitamins, nutrients, and fluids will have you feeling fantastic and back on your feet in no time.
👉 Designed to fit your body
Our bodies are not identical. A one-size-fits-all strategy is not always realistic because our needs vary depending on our level of physical activity, general health, and lifestyle. To stay in peak condition, you must give your body precisely what it requires.
What works for someone else may not work for you. Because IV hydration is personalized to your body, it supplies you with the optimal combination of vitamins, nutrients, and electrolytes, allowing you to live an entire life.
---
Health Benefits of Liquid IV
Because the digestive system metabolizes supplements taken orally, the amount of minerals, vitamins, and medication that reach the bloodstream is reduced. Aside from accelerating treatment effectiveness, IV therapy ensures 100% absorption for optimal use and minimal waste.
Because IV therapy delivers drugs and vitamins directly to the cells that require them, it has the potential to improve and influence a wide range of physiological functions.
Here are a few of the health advantages of IV therapy:
Wellness has improved
Many people believe that well-being is solely concerned with their health. However, wellness is a broad phrase that encompasses a variety of factors that contribute to your total wellbeing, including all parts of your life, from your emotions to your surroundings.
IV treatment enhances your physical wellness and some aspects of your emotional wellness by giving your body the tools it needs to function at its optimum level.
It can aid in the treatment of several mental illnesses, such as anxiety and depression. The optimal combination of vitamins and nutrients delivered by IV therapy makes you feel better, increases your immunity, and improves mental clarity.
Athletic Performance Enhancement
Providing adequate and timely hydration
Maintaining muscle and tissue health
Reducing recuperation time
Muscle recovery assistance
Acting as part of a post-competition or workout recovery plan Acting as a pre-exercise endurance boost
Flushing out free radicals produced by strenuous activity
Can Aid in Addiction Treatment Recovery
Reducing withdrawal symptoms
Restoring neurotransmitters in your brain that have been harmed by addiction
Boosting energy levels and restoring metabolic function
Detoxifying your body from free radicals generated by long-term drug use
Increasing cognitive function and clarity
Enhanced Beauty
Slow down the aging process.
Improve blemishes by brightening the skin
Quick Hangover Relief
You may feel dehydrated after drinking alcohol due to its diuretic properties, especially after a night of bingeing.
When you drink a lot of alcohol, the tissues in your mind and other regions of your body shrink. This shrinking causes headaches and muscle aches. Furthermore, your liver creates toxins that might cause discomfort in many places of your body.
When you overindulge and do not refill your fluids and minerals, you may develop the unpleasant symptoms of a hangover. These are some examples:
Headaches
Vomiting and nausea
stomach ache
Heart rate has increased.
Light and sound sensitivity
Mood swings Fatigue
Dizziness
Muscle pain
Rapid Relieve
An awful hangover might linger for up to 24 hours. Hangovers are often taxing on the body, leaving you feeling ill.
However, you should not be sorry for having an excellent time. An IV hangover therapy includes vitamins, anti-nausea, anti-inflammatory drugs, electrolytes, and a saline solution. This formula not only replaces electrolytes and nutrients in your body but also moisturizes and detoxifies it. It is so effective that you can feel better after only an hour of treatment.
---
Liquid IV Pricing
The price of Liquid IV varies according to where you buy it and the product itself. It appears that ordering directly from the brand's website is the most expensive, despite providing the most things.
When ordering from the Liquid IV website, you can combine numerous products as well as subscribe and save, which can save you money:
The price of a 16-count Hydration Multiplier is $24.47 ($1.53/stick).
If you buy the 96-count pack, the price drops to $1.25 per stick.
Subscribing and saving reduces the price to $1.25 per stick.
The Hydration Multiplier is cheaper at Walmart and Costco, costing $.94/stick and $.73/stick, respectively. The Energy Multiplier is also less expensive at Costco, where it costs $29.99 for a 24 pack against $46.99 for a 28 crew on the Liquid IV website.
Costco also has a lower price for the Immune product, which costs $21.99 for 24 packets. The most expensive of the four products is the Sleep Multiplier. The price on the brand's website is $23.99 for ten sticks or $2.40 per stick. This product is not available in other stores. I believe the price of Liquid IV is a little high for a beverage. In most cases, plain water is just as hydrating. Because of this, I use the product rarely.
---
Dosage & Side Effects of Liquid IV
One packet combined with 16 ounces of water is the recommended dosage for all Liquid IV products. Allow the package to dissolve before drinking. Because it tends to separate with time, storing it in a bottle that can be shaken as needed is preferable.
The sodium and sugar content are the most significant safety concerns for the Hydration Multiplier. As a result, those with diabetes or high blood pressure should use this product with caution.
It meets around a quarter of most people's daily salt requirements. Because many of us currently take far too much sodium, I would not recommend consuming more than one of these packets each day.
Caffeine is present in 100 mg of the Energy Multiplier, and the highest safe daily intake is 400 mg. As a result, if you are going to drink this as a source of energy, you must consider it in conjunction with the other caffeine you are ingesting.

-10%
$21.99
Energy Drink Mix
Get this Energy Multiplier for sustained energy throughout the day.
---
Where can I buy Liquid IV?
To begin with, you can always order the drink supplements from Liquid-IV.com. The brand is now available in health and wellness stores like GNC and Fred Meyer.
Their products are available at Walmart, the Liquid IV Amazon page, Bed Bath & Beyond, Liquid IV Target, and Liquid IV Costco, as well as a Liquid IV Walgreens run.
---
Other Best Liquid IV Alternatives
There are numerous different electrolyte and hydration supplements available on the market. Drip Drop is a competitor to Liquid IV, which incorporates ORT in its products as well. However, their packets are significantly more expensive, at more than $2 per stick, and contain more sugar and sodium.
Drip Drop sells packets mixed with hot water but does not sell health-related products like Liquid IV. Nuun offers a wide range of hydration and electrolyte supplements for athletes. They have a comparable packet-based product containing electrolytes and vitamins, but it is slightly more expensive, costing more than $2 for each packet.
Liquid IV can also be compared to other electrolyte beverages such as Gatorade or Powerade. These have a higher calorie and sugar content but a lower salt content. These beverages are much less expensive. A 12-pack of Gatorade can be purchased for around $6 at Walmart.
Based on my research of various hydration solutions, Liquid IV appears to be equivalent and slightly less expensive than many others, mainly if purchased at Costco or Walmart. If you're searching for a hydration product after a sweaty workout or a night of drinking, Liquid IV is a terrific option.
---
🌟 Liquid IV FAQ
✅What is Liquid IV?
Liquid IV is a brand of electrolyte powders that can be mixed with water to improve hydration and address specific health concerns.
✅Are Liquid IV legit?
Liquid I.V. powdered drink mixes have excellent online reviews and are an effective way to stay hydrated while also helping your body digest more nutrients per serving.
✅Can you drink Liquid IV every day?
There is no limit to how many Energy Multipliers you can drink in a day, but we recommend that you pay attention to your body's needs and responses when consuming them. The Energy Multiplier is equivalent to 1-2 cups of coffee.
✅What is Liquid IV good for?
Liquid IV is a line of electrolyte powders that can be mixed with water to improve hydration and address specific health issues like sleep and energy.
✅Is Liquid IV safe for seniors?
Liquid I.V. can also help seniors who struggle to drink enough water because it not only tastes great but hydrates 2-3 times faster than water alone. Keep some on hand in case you or a loved one needs it!
✅Does Liquid IV help when sick?
Liquid I.V. hydrates the bloodstream faster and more efficiently than water alone, assisting in rebalancing electrolytes and blood volume—the two most important factors in recovering from a cold, the flu, and other similar illnesses.
✅Can kids drink Liquid IV?
It is completely safe for pregnant & nursing women. as well as children! * Liquid I.V. is non-GMO, vegan, gluten-free, soy-free, and dairy-free.
---
Conclusion: Liquid IV Review 2023 | Should you go for this drink mix?
Based on over 40 years of study on oral rehydration therapy, Liquid IV is a solid choice for hydration.
While I couldn't find evidence to support the claim that it is 2–3x more hydrating than water, I believe it will help you re-hydrate or stay hydrated properly.
The Liquid IV product range is also supported by reliable research to support improved sleep, energy, and immunity claims.
Overall, Liquid IV is a safe option for most people searching for a way to stay or re-hydrate.
The only drawback is the high sugar and sodium content. If you are concerned, I will consult with your doctor before using Liquid IV.
Liquid IV Review
Liquid IV is the best & safe choice for most people, looking for a way to stay hydrated or re-hydrate. Try it now!!
Positive
Non-GMO, vegan, &amp
gluten-free
Soy-free, and dairy-free
Encourages people to drink more water
The company is involved in many humanitarian projects
Negatives
High in sodium
Expensive when purchased from the brand's website


Liquid IV Review 2023: Boost Your Hydration Rapidly (Read)