Weather you do exercise at home or you follow a regular gym routine; i guess all of you would be well aware of Pre – Workout supplements. They definitely are a subject of debate in many of the gyms as Pre – Workout supplements come with different features are benefits. Many experts do claim that these supplements do improve your fitness and give you the requisite amount of energy which you would need when you power through challenging workout. Experts believe that Pre-Workout do come with multiple ingredients and dietary formulas which are specifically designed to boost your energy and athletic performance. Also they are typically infused with substances which get easily mix into water, so that you can easily consume them before your exercise routine.
While the ingredients into any Pre-workout supplement can be a subject of debate, majority of them do consist of Amino acids, caffeine, creatine, beta-alanine along with artificial sweeteners. But their quantity is different in different supplements depending upon the brand. We do know that finding the best Pre-Workout supplement can be difficult at times, so we decided to give you an All-in-One package; we have brought for you 4 Gauge Pre- Workout Supplement. 4 Gauge is among the best pre-workout supplements which would really help you boost your performance at the gym and just give the best results without any of the nasty side effects. So we have decided to give you a detailed 4 Gauge Pre-Workout Review with its features, benefits, ingredients, pricing, etc.
---
What Is 4 Gauge Pre Workout?
4 Gauge is a pre-workout supplement which is made by Roar Ambition Brand. This brand has developed and manufactures various products for different types of athletes. Also it is quite a popular brand when it comes to body building and people who are actually looking for intense muscle pumps and who do follow a demanding workout. Also this product is cGMP certified and it is in regulation with the FDA. It has been designed to tone the body, improve focus, and help to train harder and longer
The bottle comes in a vibrant red packaging which actually looks like a shotgun shell. Also it has a distinctive slogan written on it which goes as "Load Up Your Guns" which actually justifies the size of the bottle as well. You would certainly find the packaging more enticing and then you would be determined to look onto the package just to check how important this pre-workout actually is. Also it contains only Natural Ingredient which can easily set in your regular body routine.
Coming the supplement, it would really assist you in improving your focus and would also will provide you to gain greater muscle strength. It is a supplement which would certainly make your training session feel more exciting and you would feel like you can perform more better in that session.

-30%
$45.00
Exclusive 4 Gauge Coupon Code
Click on above button to get this pre-workout supplement.
---
Detailed 4 Gauge Pre-Workout Review
4 Gauge Pre-Workout is a supplement you use before working out that's deemed to enhance your workout – giving you more energy to get it done and better results when you do it compared to training done without any pre-workout supplement. 4 Gauge is a pre-workout supplement that has only five guilt-free calories per serving. It's made with natural and great-tasting ingredients. It delivers explosive energy and focuses on helping you get through your workouts. When you use 4 Gauge, it would really notice an increase your endurance level, improving muscle building, strength when lifting, and help to boost your energy and concentration through long-term pumping sessions.
Also the makers of this supplement do claim that 4 Gauge would really improve your physique and would also help you to progress faster. This supplement would also give you an amazing workout experience along with added muscle pump. Well you can easily take this pre-workout without any jittery feeling or energy crashes.
This supplement is generally safe for healthy adults and its formula is completely natural and free from soy and artificial flavors and sweeteners. It is also free from gluten and wheat which makes it an even more healthy choice. For people having concerns with high caffeine intake, well for them I must tell you that it does have caffeine but in low levels compared to the other products in the market.
---
How does 4 Gauge Pre-Workout Work?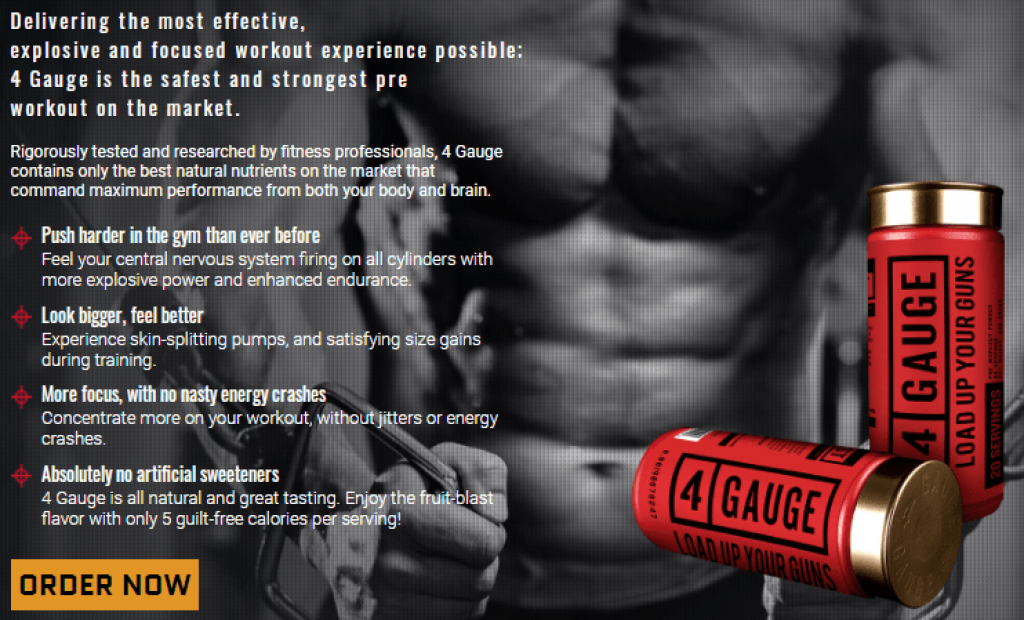 Drinking the supplement before the workout provides time for the vital ingredients to be incorporated into the body. The active ingredients then work collectively to bolster the body's capacity to achieve maximum performance. Also it tends to improve your brain and body so that it can achieve maximum fulfilment by enhancing your strength, stamina and vitality. It also does assist in improving your focus and help you to attain greater muscle strength. Some constituents reduce stress on the body during workouts while supporting the body to produce or retain chemicals to improve muscle support. Overall, 4 Gauge is directed at improving the body's stay while reducing fatigue and stress throughout and after workouts.
---
4 Gauge Pre-Workout Ingredients | 4 Gauge Review
As you know, the constituents are the most vital factor in any supplementation, and the best supplements have the best ingredients. 4 Gauge Pre-Workout does have many ingredients but their at five key active ingredients which does distinguish it from other Pre-Workout supplements such as Rhodiola Rosa, Coconut Water, Creatine Monohydrate, Acetyl-L-Carnitine, Red Beet, and Citrulline Malate.
L-Citrulline DL-Malate – Each serving of 4 Gauge contains six grams of L-Citrulline DL-Malate extracted from watermelon. It is a common ingredient in many of thepre-workout supplement. This ingredient is known to improve physical performance especially if you undergo a high performance workout. Also it does increases the blood flow by widening the blood vessels which could also improve muscular efficacy.
Red Beetroot Extract – Sourced from the beet plant, another popular constituent is detected in pre-workout supplements. Each portion of 4 Gauge includes 300 mg of Red Beet Extract.
RhodiolaRosea – It is actually an adaptogen plant which has been show to promote the utilization of fatty acids. It is also proven to improve antioxidant functions and bodies resistance.
Creatine Monohydrate – You need no introduction to this one. Creatine is a top-rated supplement among gym-goers and bodybuilders alike. Its benefits are just not limited to boosting muscle growth. It's also somewhat familiar in pre-workout supplements, although some products don't contain it. Each serving of 4 Gauge includes one gram of Creatine Monohydrate.
Acetyl L-Carnitine – An amino acid synthesis that is another common constituent in many starting pre-workout supplements. 4 Gauge uses 500mg of Acetyl L-Carnitine per serving.
Caffeine – It is commonly used in pre-workouts to enhance performance and give fast recovery. It also passes the blood-brain barrier and binds to the adenosine receptors which prevent adenosine activity. Along with this it also improves mental performance and motivation. 4 Gauge is a seeming dose of 150 mg of Caffeine Anhydrous per serving. To put that number into context, you'd require to find approximately 100 mg of caffeine in one cup of coffee.
L-Theanine – This an amino acid that is seen in tea leaves. L-Theanine is paired with Caffeine in the same supplement – and that's precisely the case with 4 Gauge. Each portion of 4 Gauge utilizes 200 mg of L-Theanine. And the combination of caffeine and L-Theanine together are called as "Smart Caffeine".
Coconut Water Powder – Coconut Water is marketed in supermarkets to commercially available energy drinks. Each portion of 4 Gauge utilizes 300 mg of Coconut Water Powder per meal.
Potassium – Each meal uses 10 mg of Potassium. Potassium is an imperative mineral that provides to the nervous system's normal functioning and natural muscle function.
Calcium – It also includes 30 mg of the critical mineral Calcium. Calcium contributes to regular energy relief and muscle function.
You can study more about 4 Gauge and its constituents on the official website.

-30%
$45.00
Exclusive 4 Gauge Coupon Code
Click on above button to get this pre-workout supplement. Show Now & Save!!
---
Side Effects of 4 Gauge Pre-Workout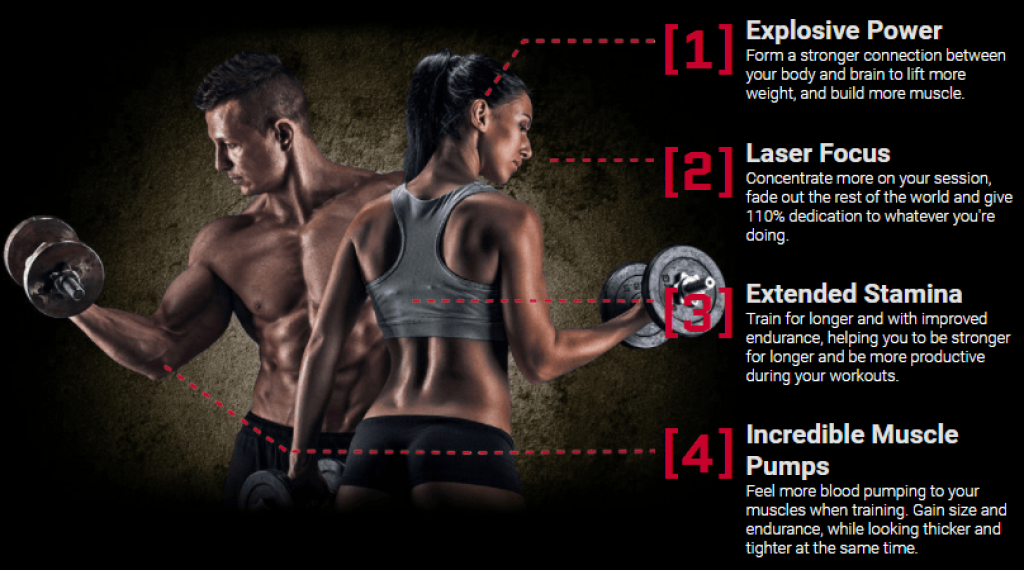 Like any other supplement, the user of 4 Gauge can encounter some unintended results. Nevertheless, most side results were described by users who either didn't utilize the supplement or used the incorrect dosage. There is minimal to zero evidence of users who encountered side results after seeing the practice instructions. Nevertheless, some side effects such as difficulties jitters, common in most supplements, or upset stomach, can be exacted.
An upset stomach is naturally more likely if you are not accustomed to take supplements or using a dosage suitable to your body. One way to fight an upset stomach or headaches is to gradually build up the number of supplements you utilize before every workout. This way, you can gauge the body's reaction to the supplement and calculate a dosage that works well with your body while adjusting to the supplement itself.
---
Usage & Dosage of 4 Gauge Pre-Workout
Mix two Scoops into one glassful of water and sip it down. The time you are deemed to set before working out can alter from person to person. It's safe to test to see how it operates for you and then adhere to that routine. The standard rule is that you should take 4 Gauge about 30 minutes before you head to the gym, and you'll need to explore a little.
You can also take it, anywhere between 15 and 30 minutes before you start your warm-up routine is probably recommended. You can double scoop it. You can take two servings simultaneously because it is designed for those who feel that they want more of the products to do so safely. However, it is best to try the standard two scoops Irving and assess your tolerance before taking it to the next level.
---
4 Gauge Pre-Workout Pricing | Exclusive 4 Gauge Coupon Codes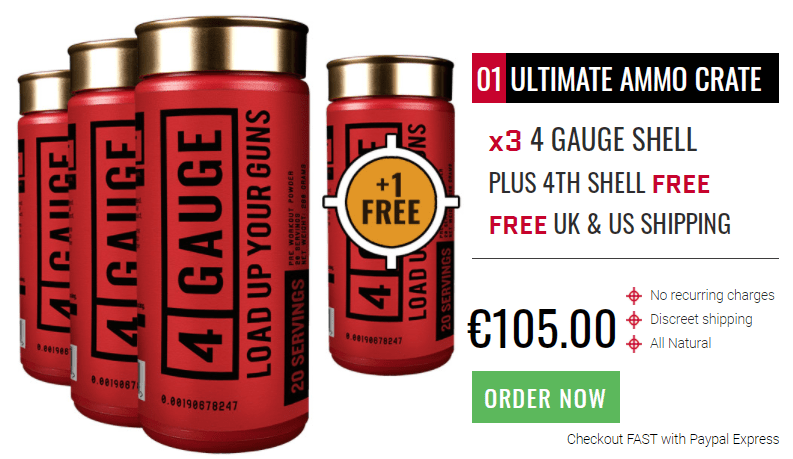 There is no getting encompassing the fact that 4 Gauge is a premium-priced supplement. It may not fit into everyone's resources, and there are cheaper alternatives out there. At the time of writing, one container (which contains 20 servings) costs £25 / $45 / €35. If you are looking to cut a few dollars off the price, the manufacturers offer discounts if you're buying more than one bottle at a time from the official website.
---
🌟 FAQ related to 4 Gauge Pre Workout
✅ What flavor is 4 gauge pre-workout?
4 Gauge contains no artificial sweeteners; our delicious fruit punch flavour was created using only natural ingredients. 
✅Does 4 Gauge Pre-Workout Work?
Some users believe that using this supplement improved their workouts, therefore it appears to work for some people.
✅How should I take 4 Gauge Pre-Workout?
Mix 2 leveled scoops of 4 Gauge pre-workout powder into around 300-350 ml of drink and let 4 Gauge work.
To mix the powder, you can use either water or juice. This drink should be consumed 20-30 minutes prior to an exercise session, as this allows the mixture to "kick in" before your workout begins.
✅Is 4 Guage Safe?
4 Gauge pre-workout has proven to be useful and safe.
---
Conclusion: 4 Gauge Pre-Workout Review
After reviewing the product, we must confess that we are pretty impress with the product. It has many potent list of ingredients which are really beneficial for our body and can really give you that extra boost of energy before you begin your workout. By taking this supplement, you could attain all your fitness goals and cam also develop lean muscle mass. Many of the users of this supplement have reported increase in muscle pumps and enhance muscle gains.
It's also evident that this is one of the more costly pre-workout supplements in the store. That all being stated, we believe that 4 Gauge is a comprehensive pre-workout choice if you are seeking a supplement to take before your training.
4 Gauge Pre-Workout Review
4 Gauge Pre-Workout is all natural and GMP certified supplement. It has a very cool bottle design. Activate our exclusive 4 Gauge Pre-Workout Coupon Code & enjoy attractive discount.
Pros
Natural ingredients
Minimal to no side effects
Enhanced focused
Higher energy levels
Agreeable fruity flavor
Easily mixed in other drinks
No history of legal issues or lawsuits
Cons
More expensive than other options
Less Creatine per dosage than other supplements
You can buy from their official website and producer
Shipping can take more significant than wanted or required

4 Gauge Pre-Workout Review 2023: Is it Worth Buying? (Read)