Are you a busy parent? Is your child a picky eater? Do you have a difficult time preparing portion-size meals for your toddler? Do you want your child to eat healthy finger food? Then you are at the right place! Nurture Life is a company that makes meals for babies and balanced meals for kids! Don't worry, even if you have picky eaters at home, Nurture Life meals will be your lifesaver! This article will dive a little deeper into the company, their meal plans, prices, pros, cons, and if their food is safe for kids or not!
Do you ever feel like you are not doing enough for your kids even when you are? Do you want to make nutritious meals for them but don't know where to start? Are you worried about packaged foods and their side effects? Nurture Life meals are for you if you say yes! Presenting the Nurture Life review! Perfect healthy meal delivery service focuses exclusively on preprepared meal delivery for children.

-50%
$7.99/item
100% Tested Nurture Life Coupon
Nurture Life is a meal delivery service for your kids that offer delicious & nutritious meals. Activate our latest Nurture Life discount coupon and get 50% off on your first order.
---
Nurture Life – No More Mom Guilt!!
In-Depth Nurture Life Review
Nurture Life is a company that focuses on the busy schedules of working parents, parents with toddlers, and many such cases where it becomes impossible to juggle between tasks! They offer doorstep delivery of your kid's favorite meals with proper follow-ups with the food safety standards; isn't that delightful? Nurture Life also offers family meals, heat-and-eat meals, along with a range of finger food for your toddler.
Nurture Life offers an easy way for busy parents to feed their families healthy meals without worrying about cooking them!
Every meal takes less than one minute to prepare!
"We're here for you when you need us most—when your child starts eating solid foods. We're here for your child's journey into new tastes and textures. Our mission is to help kids eat well by providing them with nutritious foods they like. We're here for any meal of the day. We're here for breakfast, lunch, dinner, snacks, and everything else!" Flavorful, flexible, and uncompromising when it comes to nutritional quality. That's Nurture Life.
How does Nurture Life Work?
In 2015, Steve Mininisi and Jennifer Chow founded Nurture Life to help busy parents feed their kid's nutritious foods without spending countless hours cooking. So they made a flexible, weekly meal subscription service that delivers delicious healthy meals, snacks, and smoothies to your door every week. They have a wide variety of recipes to choose from and can easily cater to the dietary needs of babies, toddlers, and kids. Nurture Life's meal delivery service differentiates itself from its competitors by offering registered dieticians nutritious meals designed specifically for children of all ages. Each meal comes packaged in an appropriate size for each age group. You can reheat them quickly and easily.
Each meal includes vegetables and is cooked using whole, healthy food items. Your meals arrive at room temperature and are always freshly made for each customer with high-quality ingredients! You can easily pause, skip and cancel your meals at any time. You can create your first order by choosing a plan and selecting items from their menu. They start with a 6-item plan which is upgradeable to 9, 12 or 15 meal plans. You get free shipping and discount benefits on all of them.
After ordering your food, Nurture Life would prepare and deliver it fresh right at your door, in refrigerated packaging. All their meals do stay fresh when kept in the refrigerator for a week. Their smoothies also stay fresh for a minimum of two weeks. All their snacks and smoothies can also be enjoyed straight from the fridge and also are perfect for any on-the-go situation.
---
Check meals for your kids offered by Nurture Life.
Variety of Meals | Nurture Life Reviews
Nurture Life provides a variety of nutritious snacks for babies up to 10 months old and toddlers between 12–24 months old. With each meal offering smaller portions than its predecessor, Nurture Life has created kid's meals specifically designed for toddlers and young adults.
You can choose which meals you want to eat every day from among these choices:
Gluten-Free
Vegetarian
Egg-Free
Soy-Free
Fish-Free
Sesame-Free
Pork-Free
Milk-Free
Coconut-Free
You may want to consider using the "Picky Eater Favs" feature if your child has been eating poorly for some time now.
1. Finger Food Meals
They offer a top rated Finger Food section where they include their top-rated finger foods for people who haven't tried them yet. It's cool! There are usually at least twelve different types of finger foods available. Unlike most prepackaged finger foods, these family-style meals freeze well, so they're ready whenever you need them! Finger foods are best for babies and toddlers who cannot eat with their hands and enjoy smaller portions. The brand recommends these meals for babies who are 10 months and older and under two years of age.
They serve up some tasty treats, including:
Spaghetti Bites
Ham & Egg Bites
Chicken Meatballs
Mini White Mac
Roosted Chicken
Mini Shell Bolognese
Beef Meatballs
Chicken & Egg
Beef Meatloaf
Shepherd's pie
Egg bites
Fiesta chicken
Salmon cakes
Turkey Meatloaf
Mac n Cheese
2. Kids Foods Meals
Kid's meals are considered appropriate for children between one and 12 years old. However, they note tha Kids Foods meals work best for kids aged four through eight. As mentioned above, Nurture Life offers kids who don't eat everything an option for their meal plan. They call these "Picky Eater Approved" options. They provide both cold and hot options allowing for flexibility and on-demand eating.
Some of the items found on kids menus include:
Italian Meatballs
Chicken & Mac
Chicken Meatballs
French Toast Sticks
Hams & Peas
Cheese and Veggie Box
Cheesy Ravioli
Chicken Dumplings
BBQ Pulled Pork
Eggs & Maple Sausages
White Mac & Cheese
Tortellini Bolognese
Chicken Katsu Bites
Beef Taco Pockets
Cheeseburger Mac
Turkey Meatballs
Chicken Bites
Chicken & Tortellini
Beef & Broccoli
Chicken Parm Bites
Penne Bolognese
Pesto & Cheesy Ravioli
Butter Chicken
Beef Meatballs
Homestyle Pot Roast
Scrambled Eggs
Teriyaki Salmon
3. Snacks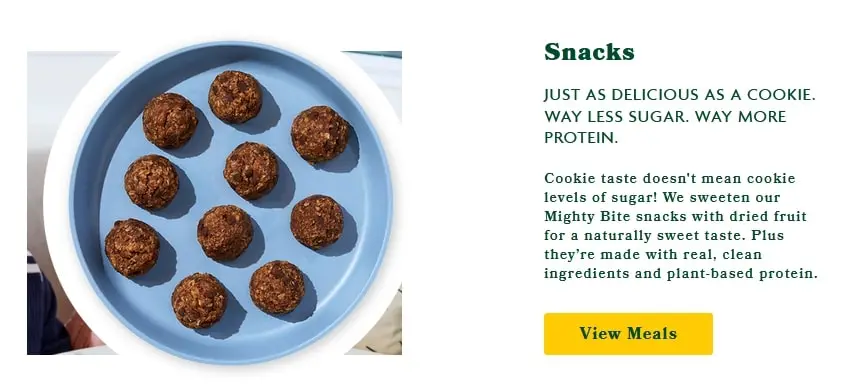 Kids who choose Mighty Bites instead of junk foods like chips and cookies eat healthier than their peers who prefer unhealthy snack options. Nurture Life Snacks are suitable for children, teens, and adults. Each product looks identical, but they contain slight variations in their composition and flavor (e.g., one may be sweeter than another). They're made from scratch using natural ingredients like whole grains, nuts, seeds, beans, and fruits. Following are the snacking options offered:
Chocolate Chip Mighty Bites
Oatmeal Raisin Mighty Bites
Snickerdoodle Mighty Bites
Double Chocolate Mighty Bites
Chocolate Duo Variety Pack Mighty Bites
4. Superfood Smoothies
These smoothies are made with whole fruits and veggies and contain no added sugars. Also, the best part is that they only taste like naturally sweet and delicious fruit.
Mango-Go! 8 oz. smoothies (2 bottles/pack)
Straw-Nana! 8 oz. smoothies (2 bottles/pack)
Blue Blast! 8 oz. smoothies (2 bottles/pack)
Berry-Full! 8 oz. smoothies (2 bottles/pack)
Super Smoothie Pack 8 oz. smoothies (4 bottles/pack)
👉 Want to order fresh & delicious meals for your kids? Click here to order meals from Nurture Life and save 50% off on your order.
---
What are the meal plans offered by Nurture Life?
Pricing of Nurture Life Meals
Nurture Life allows you to order any number of meals from six to fifteen times each week. You can increase your discount by ordering multiple items from the menu. It's great for parents because they get to pick their meals. Your kids will eat better if you let them choose their foods instead of forcing them to eat whatever they decide tastes good at any given time. They provide allergen-free meals for people who can't eat gluten, dairy products, eggs, soy, nuts, etc. And have a vegetarian option as well!
It costs about $7 for each finger food.
Kid's meals usually cost between $5-$10 per meal. They offer excellent meals at an additional cost.
A snack costs $7.99 and contains 5 servings.
You'll receive free shipping if you place an order for 9 or more items. You'll be able to save up to 30% when ordering 15 meals at once.
You may find it difficult to afford these meals when they first become available. If you're a family that often orders takeout, their prices can sometimes be similar to restaurants. In addition, they offer some excellent deals when you order in large quantities. Your meals for each day after the first week are selected automatically by your meal planner. You can modify, pause, skip or cancel any time up until the end of each week.
---
Check some merits & demerits of Nurture Life.
Benefits of Nurture Life
Meals are made from organic ingredients and delivered prepped, so they're easy for your toddler to eat. They minimize meal prep time and cooking stress. Parents can now focus on caring for their families without worrying about feeding their kids well.
Nurture Life contains ingredients healthful ingredients like butternut squash which is very beneficial for your children.
Each meal includes a protein, whole grains, and a variety of fruits and vegetables.
Some people might find that they enjoy having different types of foods available for them each week.
Nurture Life does not include meat from animals raised with antibiotics.
Prepared meals can help reduce hunger pangs for kids who often get fed up waiting for food when they're hungry.
Each recipe has nutritional stats listed on the company's website.
---
Do we really recommend Nurture Life?
Is Nurture Life Worth it?
Nutrition is essential for a busy family and their young kids. You can rest assured knowing that if you decide to enroll your baby into our program, they'll receive a nutritious meal plan designed for them. They look perfect! You don't need to eat anything unless you want to; choose from their menu! And they're rated highly by their customers.
When you overeat at one time, it may take longer for your stomach to tell your brain that you're satisfied. It turns out that eating lots of snacks makes you hungrier sooner than usual. Eating smaller portions at mealtime will result in fewer snack purchases. You will spend less money overall by purchasing our food than buying processed foods from the store, even though it costs more upfront. Preparing and packaging food can be cheaper than buying prepared food from restaurants if you have the time available.
Nurture Life is entirely safe for kids and toddlers. The company's weekly meals are made with high-quality ingredients and contain no artificial colors, flavors, or preservatives. If you're looking for a healthy way to feed your child, Nurture Life is worth checking out. Their delicious meals are packed with nutrients and taste great. It's also very convenient since you don't need to cook or grocery shop. Just sit back and relax while your kid eats.
---
Nurture Life Meals – Shipping and Delivery
Shipping and Delivery of Nurture Life Meals
Nurture Life currently delivers to only the contiguous United States, but they hope to serve Alaska and Hawaii soon.
The company has reputable shipping partners like United Parcel Service (UPS) and United Delivery Service (UDS). All their meals are not frozen, but they are made to stay at or below refrigerated temperatures for at least 48 hours unless they are delivered to you. We would also recommend you refrigerate their meals in order to maintain their freshness. If you're not going to eat them after one week, they can be frozen for up to 3 months. For orders under $59, you can incur a shipping cost of $8.
What do we like about Nurture Life?
Nurture Life has a lot to offer to its little customers, but we as adults will always have our doubts. Here is a list of what we liked about the company and its products:
Clean ingredients
Organic produce
Weekly meals
Their menu options
Antibiotic-free proteins
Food trays for a quick-serve
Ingredient lists of their website
Vegetarian options
Flexible subscriptions
Meal Packaging
---
They're an excellent option for families with nut allergies because all of their meals are prepared in a facility free of peanuts and tree nuts (excluding coconut). They have a variety of finger foods, kid's meals, and snacks free of common food allergens such as egg, milk, wheat, seafood, soy, and sesame. Their kitchen processes milk, eggs, coconut, fish, wheat, soy and sesame. So you should closely review their ingredients list and the "contains" statement associated with each of our meals if you have a family member with a food allergy.
How can you order meals from Nurture Life?
It is pretty simple to order meals from Nurture Life. You can easily browse through the meals, snacks, and smoothies you want to try from their menu, select them, and finally checkout. After placing the order, they would prepare your food. Meals would arrive within a week to a week and a half depending on the day you signed up and your delivery location. As soon as your food is on its way, you will be sent an email with the tracking information.
How many calories are in the typical Nurture Life meal?
The meal plan determines the number of calories in each meal:
➤Baby Menu – 100-200 calories
➤Toddler Menu – 100-400 calories
➤Kids Menu – 200-500 calories
How long does it take to cook a Nurture Life meal?
Both heat-and-eat meals and cold lunches are available at Nurture Life. heat-and-eat meals take less than three minutes to prepare, while lunches are ready to eat.
How frequently does Nurture Life menu change? 
Nurture Life offers a core set of customer favorite meals that never change. But they keep things fresh and unique by offering new flavors which your kids would love. They also launch new exciting meals every 3 months. They also ensure that they have 25 Kids Meals, 12 Finger Foods, and a selection of deliciously cookie-inspired Mighty Bites and vitamin-packed Superfood Smoothies on the menu. Nurture Life has a wide variety of nutritious meals and snacks that contain a diverse range of organic vegetables and antibiotic- and hormone-free proteins that will meet your kid's dietary needs while also giving them a variety in their food choices. They also value their customers and invite their feedback's seriously and they would consider changes in their menu. You can send in your feedback's [email protected].
How can you change your meal subscription?
You can customize the number of items in your order each week, and Nurture Life will fill your order with all the recommended items based on your selection. You can also change your recommendations and also customize your account to get the best recommendations. They request you to follow the cutoff deadline for each order so that they can maintain their promise of fresh, not frozen.
How are Nurture Life Supperfood smoothies different?
Nurture Life Superfood smoothies have three servings of fruit and veggies and contain no added sugar. Also, they come in kid-friendly flavors, which little children adore, and they can't even differentiate the taste of the veggies. They are also perfect on the go or even perfect for your mealtime, where you get a wholesome treat that tastes amazing.
How long do Nurture Life meals last?
Depending on the day of your delivery, Nurture Life meals will last 6–7 days in your refrigerator. On the package of all of our meals are use by dates.
Which elements are believed by scientists to be necessary to Nurture Life?
According to scientists, about 25 of the known elements are thought to be essential to life. Only four of these elements make up nearly all of the human body: carbon (C), oxygen (O), hydrogen (H), and nitrogen (N).
What separates Nurture Life from others?
Nurture Life understands that feeding your kids is hard. They understand that parents find it challenging to feed nutritious food with lots of ingredients. Also, they find it difficult to feed kids the same meal 14 times a month. So to help you out of such problems, Nurture Life is there. Nurture Life is an exclusive baby and children's meal delivery service that helps with every aspect of your mealtime needs. It provides fantastic meals that are all made with care, has a wide variety of options, and provides the convenience of delivering to your door. They offer a variety of foods which include veggie meals. Protein-packed snacks and fresh superfood smoothies. They prioritize balanced nutrition and want that your babies learn to self-feed. They offer a variety of flavors that your babies would like, and your toddlers actually want to eat.
How much does Nurture Life cost?
Nurture Life offers a super flexible menu that can accommodate almost all your family choices. All their meals are optimized individually. Finger Foods start at $6.89; Kids Meals start at $7.99; Mighty Bites at $7.99 and Superfood Smoothies at $3.99. You can also choose a plan based on the number of meals you are interested in, where your total cost of the menu would be based on the mix of products you order. They start their 6 meal plan and offer free shipping on 9+ meal plans and discounts of up to $15 off your entire order. 
– 9 Item Plan = free shipping
– 12 Item Plan = $10 off your entire order + free shipping
– 15 Item Plan = $15 off your entire order + free shipping
Is Nurture Life Organic?
You would have noted from our Nurture Life Review that most of their food is organic. They use organic products wherever possible and confer with their farmers and purveyors to ensure that they get the best quality ingredients. At the same time, most of their whole grains and veggies are organic. Also, they use antibiotic-free protein sources.
Who should go for Nurture Life Meals?
As you can infer from our Nurture Life Review, if you are busy parents or family on the go and find it difficult to prepare nutritious meals at home, Nurture Life is a very good option. Their meals are all healthy, including antibiotic-free proteins, and they're all heat and eat meals. So you really can't go wrong when it comes to feeding your busy family. But if you are someone who has a true gluten allergy or any other severe food allergies, then a Nurture Life subscription may not be the best option for you.
Can you skip a week of Nurture Life meals?
Yes, you can skip a week of your Nurture Life meals. To do so, you will have to log in to your Nurture Life account and go to the option of My Meals. There you can select the week of all upcoming meals which you want to skip and click on "Skip This Week."
How can you cancel Nurture Life subscription?
If you wish to cancel your Nurture Life Subscription, you will have to contact customer experience at [email protected] or by calling 877.988.8851.
---
Should you really buy meals from Nurture Life for your kids?
Bottom Line: Nurture Life Review
If you have a busy week ahead of you and your child is good at picky eating, then Nurture Life is a good option for you to consider! Their wide variety of delicious frozen toddler meals offers a weekly delivery to your doorstep, which makes it convenient for you to have a fuss-free routine with your kids. They use healthy ingredients on your dinner table every week, and the price per meal is also reasonable.
Kids meal delivery service are becoming very easy to access, and that's the best part about this new age! Nurture Life helps the most when fussy eaters of different ages! Proper nutrition is required in the developmental stage of any child. It is best to introduce new foods to young kids slowly. If you have any dietary preferences for your kid or need them to try something new, try switching one dish per day or meal. We hope you like our Nurture Life Review, and if you give it a try to this meal service, do let us know in our comments section!
Nurture Life Review
Nurture Life provides parents with a new approach to feed their families—fresh, delicious, nutritionally balanced meals that never compromise on taste and consistently deliver convenience.
Pros
Offers meals for all ages from 10 months up
Gluten-free, vegetarian, and allergen-free options are available
Free shipping and discounts with large orders
Organic and all-natural ingredients
Moderate prices
Flexible subscriptions
Cons
More expensive than comparable alternatives
Does not deliver nationwide
---

Nurture Life
Use our special Nurture Life discount coupon and save 50% off on your first order. Limited time offer.
Delicious & Nutritious Meals

Nurture Life Review 2023: How Long do Nurture Life Meals Last?