Byte Review 2023: Benefits, Pricing, Usage and More!
Perfectly aligned, straighter teeth are what make a perfect smile. Not only the frosted but white teeth impressions also need to be lined. Going to dental professionals and investing in treatment plans and treatment time seems much more. Yes, they do provide person care and have some average treatment time. Metal braces and additional costs got a solution, i.e., "Aligners" that could be tried at home. It is a safe, affordable and convenient alternative to the long-established orthodontic treatment.
Byte, a trusted teledentistry company, brings you their transparent Byte Aligners caring for your perfect smile. No more visiting dentists, Orthodontists and counting on the average treatment time. Byte brings home aligner kits as an option over traditional orthodontic treatment. In this Byte Review, we will cover if Byte is right for you, what it is, are there any pros and cons, how much does Bytes cost, do they provide in-person care and more.

$14.95
100% Risk-Free Guarantee
Byte aligners are designed to correct minor to moderate alignment issues, including spacing and crowding between teeth, rotation and some minor bite correction.
Detailed Byte Review| What are Byte Aligners?
Byte is a company offering you at-home programs and products that are designed for you to straighten teeth quickly and at an affordable price. It offers a fast at-home dental alignment program that seems affordable. With at-home aligners and invisible braces, you get an option to overcome the concerns you had with traditional braces.
Byte Review found, Byte stating that they only accept individuals who are suitable for teledentistry. Byte has over 200 licensed orthodontists and dentists. They have these dental professionals from all around the U.S. According to Byte, the professionals and dental experts contributing to Byte System have got an average of twelve years of skills and expertise with these transparent aligners.
Who is Byte For?
Byte's dental aligners are designed for individuals with minor bite issues. People with fewer dental concerns who do not have severe issues like malocclusion, i.e, improper positioning of the teeth, are the right candidates for Byte. Byte has a remote dental team and dental professionals who monitor the progress remotely. Individuals who are comfortable with this remote treatment and at-home impressions are ideal for Byte. Byte has a short treatment time i.e., of a couple of months and doesn't include any extra costs. It is more affordable than the competing aligners on the market and, of course, than the traditional braces.
People who are not looking for in-person care and are ready to go without in-person care can choose to go ahead with Byte. Byte does not offer its solution to individuals with severe dental alignment issues. This can include malocclusion, overjet, open bites, active tooth decay, and problems that require surgical corrections.
Do Byte aligners really work? Legit Byte Review
Byte was established in 2017, and it has many products and plans, including an all-day aligner system, Byte-at-Night system, BrightByte Teeth Whitener, Byte Impression Kit, HyperByte, Byte Protection Plan and Byte Retainers. Byte's at-night aligner system has to be worn just for 10 hours and the all-day-aligner system for 22 hours. You would find the at-night-aligner system as an alternative over the all-day system as it has less wearing time, but takes a few more months than all-day aligners. Each of the aligner kits includes a HyperByte technology device. This HyperByte is to be used in conjunction with the overnight or the daytime aligner system. You have to use it just for five minutes a day.
Byte's proprietary high-frequency vibration (HFV) therapy, which is HyperByte technology, aims to attain precise and faster results effortlessly. The transmitting of gentle micropulse is tasked by HyperByte. This transmitting work is carried out through the surrounding bone and roots of the teeth. HyperByte has only to be used for five minutes a day, not to be exceeded. This HFV therapy by Byte is cleared by FDA as a class II medical device. Byte Review found, the average treatment time it takes with an all-day aligner Byte system is of three to four months. For the at-night-system aligner Byte system, it is of five to six months. Both of them assure a straighter smile in a few months' time.
Byte Aligners Procedure- How does Byte work? Usage and Benefits
Byte delivers the impression kit straight to your home, and it contains instructions. Once you receive the Kit, you will find it with your impressions designed as per your teeth. This impression includes the current state of your smile with a 3D visualization and how it will look further, after Byte's treatment. You will receive your aligners within 4 to 6 months of time. The orthodontists review your impression and then plan a 3D visualization of your bite. After this, you will receive your aligner kit. In time, you can log in to your Byte Account Center Online and check for the visuals of your teeth with before and after progress.
The HyperByte technology device is the one that will benefit you by decreasing your treatment time. This technology offers you a straighter smile in less than four months.
You get an option of either using a daytime, all-day aligner system or overnight. i.e., at-night aligner system. You can go for any at your convenience. The time period of both night and daytime systems varies. The treatment period for Byte's Night aligner system is of 5-6 months with a 10 hours of daily wear time. For the Day aligner Byte system, it is of 3-4 months and has to be worn for 22 hours a day.
You will receive your customized-fit aligners via mail. This aligner would be the one progressed under the monitoring and guidance of the dental professionals. It would proceed at a frequency of a new aligner per week. In the account center online, you will have to upload the photos of your progress. You will be in communication with a dental professional. If Byte discovers you are not a suitable candidate for their aligner system, Byte refunds the full amount you spend on the kit.
Once the treatment comes to an end, the Byte retainer is to be worn for full time. This has to be done for the first two weeks. After this, you can wear the retainers at night, and they can be replaced once a year. During the treatment, it all would be monitored by a licensed orthodontist. This orthodontist will be a member of the Byte team. The Byte team works with licensed orthodontists instead of dentists who are not with a complete orthodontic residency.
What is the price of Byte? Byte Discount Coupon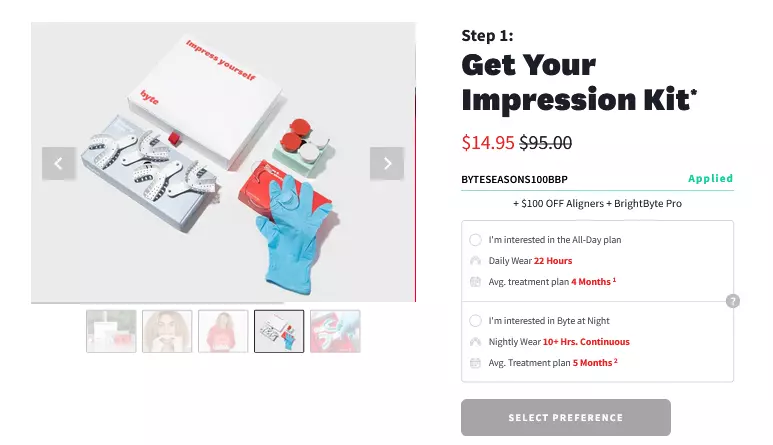 Bite Impression Kit starts at $95. Currently, they have a coupon that, after being applied, the price of the Bite Impression Kit reduces to $14.95. It can be purchased from the official website of Byte. Byte refunds the full amount you spent on the kit purchase if they determine you are not the right candidate for the Bytes' aligner system. Once you get qualified for the treatment, Byte aligners can be purchased. The one-time cost for,
All-Day Aligners System starts at $1895. (doesn't include the Byte Protection Plan)
Per month, it costs $82, inclusive of the Byte Protection Plan.
At-Night Aligners System starts at $2295. (doesn't include the Byte Protection Plan)
Per month it costs $99, inclusive of the Byte Protection Plan.
BrightByte and HyperByte are included in the treatment plan but exclusive of the impression kit and protection plan. These products could be purchased from Byte's official website. If you choose Byte's monthly payment, which is BytePay, the cost of the All-Day Aligners System will be $2860 and for At-Night Aligners System at $3467. Byte orders free shipping on orders of 29.95 and above.
Byte cost for other products and services
More dental care products and accessories are being offered by Byte, including:
BrightByte Teeth Whitener – $20
BrightByte Teeth Whitener offers a 3-in-1 solution that works on whitening your teeth with gentle care. It helps in cleaning your aligners, giving you fresh breath with more bright teeth.
Byte Impression Kit – $95
Byte Aligners are designed for your minor to moderate dental alignment problems. They provide aid in correcting, spacing and crowding between teets, rotation and to minor bite issues.
HyperByte is an exclusive product by Byte. It is a dental movement acceleration device that will help in straightening your smile with speed.
Byte Protection Plan – $649
Cover your smile more with Byte Protection Plan. This plan will provide you 5 years of retainers and coverage for your lost or stolen aligners.
Byte retainers are only available with Byte aligners. These nighttime retainers will help you keeping your teeth in place. A smart way to protect your investment.
Accessories include,
Keep your aligners in Byte Aligner Case or in your mouth.
HyperByte replacement mouthpiece at $20
Be on track with HypeByte mouthpiece replacement. You may lose, or your HyperByte mouthpiece may get damaged, use a HyperByte replacement mouthpiece. It helps make your aligners fit better. HyperByte replacement mouthpiece is a proven product that is tested and safe.
Byte Extraction tool fits perfectly with your slinger case and helps you pull out your aligners that cling.
Byte brings you a super soft, true-to-size Byte Logo Tee that is printed on the next level. It is unisex apparel with a crew neck.
Are Byte clear aligners good to use?
Byte Review found 2,845 google reviews for Byte., Byte's website advertises a 4.8/5-star ranking. Many dental professionals consider the effects of the at-home alignment products to be more disturbing than their affordability and the fast treatment time.
What do dentists say about Byte?
Byte's dental aligners are designed for individuals with minor bite issues. People with fewer dental concerns who do not have severe malocclusion, which is improper positioning of the teeth, are the right candidates for Byte. Byte has licensed orthodontists and dental professionals for
monitoring treatment
remotely.
Top FAQs on Byte Review
Which one is better, Byte or Invisalign?
Byte aligners are the best option for people with mild to moderate smile concerns rather than severe. Invisalign is an excellent option for people who have more severe alignment complications.
Is Byte cheaper than Invisalign?
Yes, Byte is a little expensive than the other at-home aligners but less expensive than Invisalign. The aligner Kit of Byte for all-day costs 2860 and at night for $3476. Byte's kit also includes aftercare retainers, HyperByte technology device and free whitening treatment.
Do bytes hurt at Night?
Aligners are made to tug your teeth and set them in the proper position. Discomfort may be there if you are switching from normal teeth to tugged teeth. You may experience discomfort and maybe pain till you get habitual to it. It might last for a week. If it lasts for more than 10 days, you should contact your orthodontists.
Is Byte or Smile better?
Byte does not have a track record as extensive as SmileDirectClub and with a lot of experience like Invisalign. If you are looking for a perfect smile with straightening of a few of the teeth, Byte is the best option. Byte has a lower cost and HyperByte device that provides visible results in less time. However, if you have severe issues of teeth misalignment, a transparent brace might not help.
Which is better: Candid or Byte?
Byte provides quicker treatment, with fast treatment time and better speed. Candid has a lower speed for the treatment as compared to Byte. But Byte can aid you with minor bites and in minor care of misalignment. Candid can be considered as  best in treating mild to severe dental alignment cases. Both the aligners are discreet, clear and comfortable in consideration of the material of the aligner.
Conclusion: Byte Review | Does It really Work?
Byte Review found that teeth with Byte are achieved with a straighter smile. If you are in search of a fast, affordable option for your minor dental misalignments to get treated, Byte is an option. Your pearly white could get fixed with a brighter and straighter smile. Considering a teledentistry company like Byte is quite appealing. Byte is a remote option, offering fewer costs compared to the current established dental treatments. If you are an individual who prefers in-person care and prefers clinical guidance prior, you may seek an orthodontist.
Byte Review
The Byte-for-Life Guarantee promises that your smile will always be guaranteed and that lifetime treatment will be offered at no additional charge if your teeth ever move out of alignment. This includes any unwanted movement away from your smile after treatment.
Pros
Byte has a remote dental team that is efficient and safely rectifies dental misalignments. They correct most mild-to-moderate malocclusion, including spacing, minor bite issues and crowding.
After the purchase of an impression kit by Byte, after determining the impression, if Byte's orthodontists find you are not qualified for the treatment, your money will be refunded.
The monitoring is done by licensed orthodontists, and this helps the dental team and the dental professionals in keeping the track. Any issue can be solved and handled by them.
Once the photo check-ins are completed, Byte's team ensures your treatment is on track and you achieve the result you desire.
Patients can see visible results in periods of an average of two to six months, depending on the aligner system they opt out for.
Byte offers financial options and also with 100% money-back if they find you are not a suitable candidate.
Cons
Byte stated that the aligners begin to sell in 2018. They currently do not have an extensive, huge track record. But there are a lot of positive reviews by the customers.
Byte does not have a physical location for teeth scanning. For getting a Byte treatment, you need to order an Impression Kit, which may be a little inconvenient as compared to the teeth scan in-person care professionals.

Byte Impression Kit
Byte's dental aligners are designed for individuals with minor bite issues. Byte has a remote dental team and dental professionals who monitor progress remotely.
Doctor-prescribed treatment