We all know how important it is to have a balanced diet, be it for adults or children. A balanced diet ensures we get adequate vitamins and minerals needed to stay healthy. However, most children are fussy eaters. With processed food becoming the norm, children seldom like to eat real healthy foods like vegetables and fruits, which makes it difficult for them to receive proper nutrition.
To add to this, getting your child to take a liquid multivitamin or chewable vitamins can be a mammoth task! To make the task easier for parents and children, Goli Nutrition has created a new gummy product that kids will love. In this article, we'll discuss in detail this vitamin supplement, so you can decide whether it is worth the pinch in your pocket!
Detailed Goli Complete Kids Multi Gummies Review
Goli Nutrition is a reputed and trusted manufacturer of nutritional supplements. The company is famous more for its ashwagandha and apple cider vinegar gummies and is focused on helping people get to their health and wellness goals. Goli® complete kids multi gummies are made in California, with select ingredients carefully curated from various parts of the world. They are manufactured in a state-of-the-art, allergen-free, and cGMP and FDA-registered facility.

-15%
$19
Goli Discount Coupon + Free Shipping
Goli Complete Kids Multi Gummies are nutritional supplements developed to help your child get the vitamins and minerals they require to grow.
What are Goli Complete Kids Multi Gummies?
Goli Complete Kids Multi Gummies are nutritional supplements developed to help your child get the vitamins and minerals they require to grow. Most other dietary supplements for kids come in liquid form, but Goli has designed gummy children's vitamins in a way that your kids will love taking. Goli gummies are naturally sweetened, unlike most multivitamins that are sweetened with sweeteners such as organic stevia leaf extract or cane sugar. These gummies have a delicious fruity flavor.
Children will love taking these attractive candy-like gummies that are loaded with 18 nutrients! You can bid goodbye to the days of relentless begging your children to take their vitamins. With these yummy gummies, you become a hassle-free mom! It's packed with plenty of ingredients that help promote better health.
They contain 13 essential vitamins and key minerals, making up a total of 18 nutrients, to make them a complete nutritional supplement for your child. You will be assured of seeing your children transform into shining stars.
Do Kids really Need Multivitamin Supplements?
Parents are usually advised by most pediatricians not to give their kids multivitamins because they should get their daily dose from the foods they consume. However, a child's diet is hard to manage, and getting them to eat a nutritious and balanced meal or iron-rich foods isn't a simple job!
This is because children are choosy when it comes to food, making it difficult to ensure they get the essential nutrients they need to be healthy. Multivitamin supplements such as Goli complete kids' multi gummies help fill this void. Your child will not be deficient in vitamins and minerals and will have healthy growth and development after using these multivitamins.
Goli Complete Kids Multi Gummy Fruit Blend
Goli Complete Kids Multi Gummies contain a proprietary fruit blend that consists of:
Tart cherry
Apple
Acai berry
Strawberry
Banana
Pomegranate Goji Berry
Amla Berry
These ingredients are the reasons for the overall health benefits of this product.
Active Ingredients in Goli Complete Kids Multi Gummies

Goli Kids Multi Gummies are heavily loaded with essential nutrients kids need to stay healthy. Let us take a closer look at some of these key vitamins and minerals.
B Vitamins
B vitamins are very important for growing children. They help enable the conversion of food into energy, form new blood cells for normal bodily function, and play a vital role in supporting good brain health.
Vitamin C
Vitamin C plays a key role in boosting and strengthening immune health. It also supports blood, bone, and cell growth in tissues and management. Vitamin C is also known for its powerful antioxidant activity and its capability to support immune support.
Vitamin A
This is a fat-soluble nutrient that plays a pivotal role in supporting a healthy immune system and maintaining eye health.
Biotin
This nutrient plays a key role in cell signaling, making them essential nutrients for the normal development of cells.
Vitamin D
Vitamin D will offer support to bone health, which is vital for growing bodies. It helps in maintaining strong, healthy bones.
Vitamin E
This is one of the essential fat-soluble vitamins for children. Like vitamin C, it helps to boost and strengthen healthy immune function and is great for keeping the eyes healthy.
Chromium
Chromium's most important function is to regulate blood sugar levels and help to metabolize various nutrients.
Other Vitamins and Minerals
Other than the key nutrients listed above, Goli Complete Kids Gummies contain other minerals and vitamins that are essential for early development. Read below to learn about them.
Vitamin K: is an important nutrient that promotes healthy liver function. It plays a role in overall good health.
Zinc: Aids in wound healing, sense of smell and taste, and immune support
Selenium: Boosts immune function
Copper: Essential for several physiological functions
Manganese: Needed in several metabolic activities
Pectin: A completely natural ingredient that provides Goli gummies their jelly-like texture
Benefits of Goli Complete Kids Multi Gummies
As mentioned earlier, the benefits offered by these vitamin supplements are mainly due to their ingredients. Here are the benefits of Goli Complete Kids Multi Gummies. This gummy supports healthy growth and development, offers rich antioxidants, promotes healthy eyes, strengthens the immune system of the developing child, and supports healthy muscles, bones, and teeth.
They also support a healthy brain and nervous system. It helps your child grow into a healthy and strong individual.
Things to Consider When Administering Goli Multivitamin Gummies to Children
Vitamins, mostly the body's fat-soluble vitamins E, A, D, and K, when used in excess, can be harmful to children. Goli Multivitamin Gummies, with their candy-like appearance and flavor, could easily lure children into taking excess, so the parents must be aware of the dangers of excessive consumption of gummies.
You must read the recommended dosage on the back of the bottle before starting this nutritional supplement. For tiny children, it is best to keep these vitamins out of their reach and for the more mature ones, you can instruct them about the dosage.
Goli Complete Kids Multi Gummies Pricing
Goli kids' gummies are relatively pricier than other kid supplements. However, when you choose Goli Nutrition, you are assured that you're paying for a product designed to offer the maximum absorption of nutrients and is manufactured by a reputed supplement company. Complete Kids Multi Gummies is the same price if you buy one or three bottles, but if you buy a pack of five bottles, you get it at a very cheap price-$15.20 each.
Should I take Goli Gummies with food?
You can take Goli Gummies with or without food. However, for best absorption, we recommend taking it with food.
Are Goli Gummies gluten-free?
Yes! All Goli Gummies are gluten free. They contain a plant-based derivative called pectin.
Yes! The Goli Gummies are vegan as they do not contain any gelatin or animal-derived ingredients. Instead, Goli Gummies are made with pectin, an ingredient obtained from fruit peels.
Are Goli Gummies made in an allergen-free facility?
Yes! Goli gummies are made in an ultra-modern, allergen-free facility.
Where Can I Buy Goli Gummies?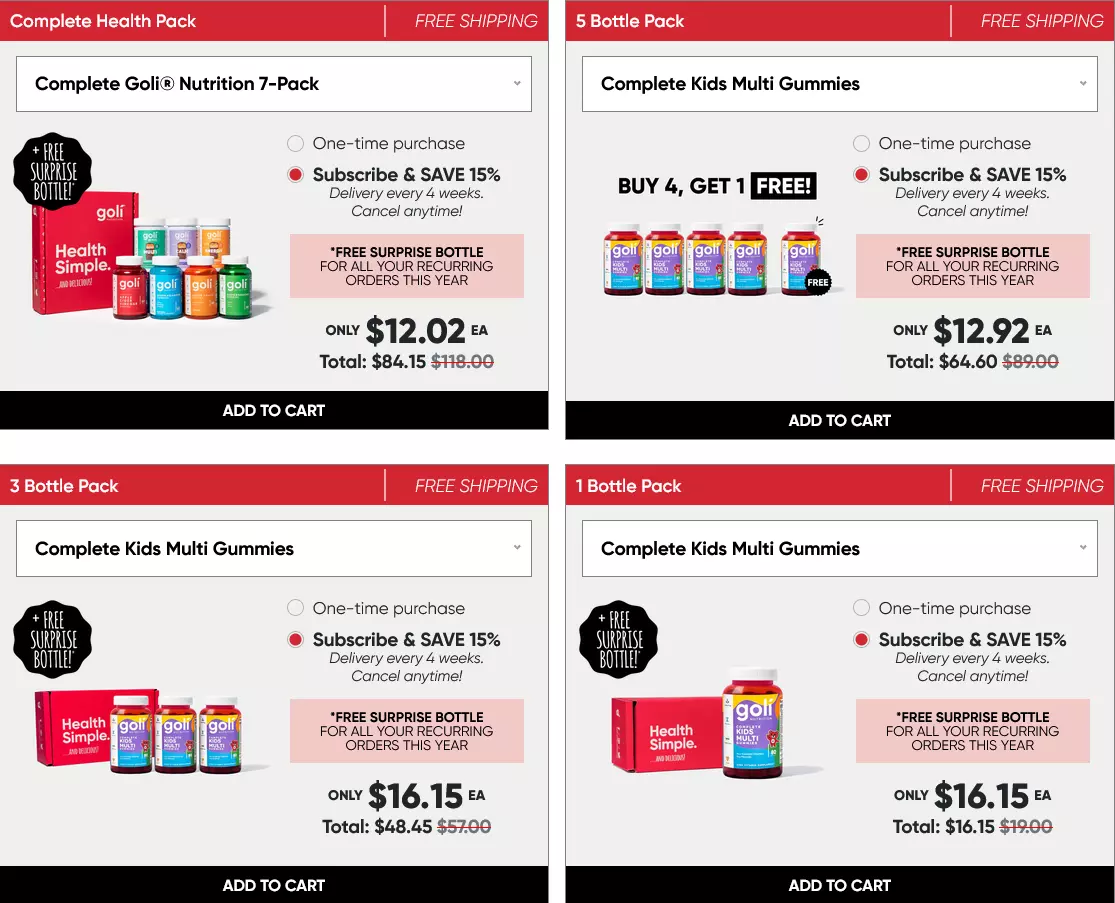 Goli® Gummies are sold on the company website-www.goli.com–click here to see the packages and prices. Goli products are also available at select retailers – please reach out at [email protected] for more information about our current retailers.
They are shipped worldwide! Also, to P.O. boxes.
The company provides free shipping on all orders worldwide.
You will receive a shipping confirmation email once your product is on its way, and it will include a tracking link to track your package.
Goli Complete Kids Multi Gummies Shipping Policy
Shipping is usually done within 1-3 business days. Once shipped, USA shipments can take 3-5 business days, and worldwide shipments can take up to 15-20 business days. If there is a delay, you will be notified about it.
Goli Complete Kids Multi Gummies Return Policy
In case you don't like the product, you can contact their support team at [email protected] within 30 days of your received order for instructions. The company offers a 30-day money-back guarantee on both opened and unopened bottles. However, the shipping cost will be borne by the customer.
Nutritional Info about each Gummy
Each Gummy Contains:
Total Carbohydrates- 2.5 g
Total Sugars- 2 g
Vitamin A (as Retinyl Palmitate) – 160 mcg RAE
Vitamin C (as Ascorbic Acid) – 9 mg
Vitamin D2 (as Ergocalciferol) – 3.5 mcg
Vitamin E (as dl-Alpha Tocopheryl Acetate) – 1.1 mg
Thiamin (as Thiamin Hydrochloride)- 0.15 mg
Riboflavin- 0.16 mg
Niacin (as Niacinamide) – 2 mg NE
Vitamin B6 (as Pyridoxine Hydrochloride) – 0.21 mg
Folate (as Folic Acid) – 40 mcg DFE
Vitamin B12 (as Cyanocobalamin) – 0.12 mcg
Biotin- 4.5 mcg
Pantothenic Acid (as d-Calcium Pantothenate) – 0.5 mg
Vitamin K1 (as Phytonadione) – 6 mcg
Zinc (as Zinc Citrate) – 1.1 mg
Selenium (as Sodium Selenite) – 3 mcg
Copper (as Copper Gluconate) – 0.05 mg
Manganese (as Manganese Sulfate) – 0.12 mg
Chromium (as Chromium Chloride) – 1.8 mcg
Sodium- 7.5 mg
Fruit Blend (Tart Cherry, Acai Berry, Apple, Banana, Strawberry, Amla Berry, Pomegranate, Goji Berry.)- 17.5 mg
Other Ingredients in Complete Kids Multi Gummies
Organic Tapioca Syrup, Organic Cane Sugar, Water, Pectin, Natural Flavors, Fruit and Vegetable Juice (for color), Sodium Citrate, Malic Acid, Citric Acid.
Suggested Use of Complete Kids Multi Gummies
Ages 2-3, take 1 gummy daily.
Ages 4+, take 2 gummies daily.
Inform children to chew thoroughly before swallowing.
Goli Gummies DO NOT Contain Yeast, wheat, milk, eggs, gluten, soy, gelatin, peanuts, shellfish, dairy, artificial sweeteners, synthetic colors, artificial flavors, agave, or salicylates.
Goli Complete Kids Multi Gummies Review FAQ
Should I take Goli Complete Kids Multi Gummies with food?
You can easily take Goli Complete Kids Multi Gummies with or without food. It is highly suggested to take Goli Complete Kids Multi Gummies with food for best absorption.
Are Goli Complete Kids Multi Gummies good for kids?
Goli Complete Kids Multi Gummies are completely safe for your children as these yummy gummies help your kid grow healthy and happy. Goli Complete Kids Multi Gummies are made with 13 crucial vitamins and minerals that support your child's healthy growth and development.
Is there any gelatin in Goli Complete Kids Multi Gummies?
As compared to the other gummies available on the market, Goli Complete Kids Multi Gummies does not contain gelatin or other animal product.
Do I get free shipping on the order of Goli Complete Kids Multi Gummies?
Absolutely on every order of Goli Complete Kids Multi Gummies, the user will get free shipping.
What method of payment does Goli accept?
If you want to purchase Goli Complete Kids Multi Gummies, then you can make payment through all the major credit cards, including Mastercard, Visa and Amex. Goli also accepts payment via PayPal.
Final Verdict: Are these the best multivitamins for kids?
Most of us think finding a multivitamin for our kids isn't a challenging task until we run the supplement aisle and have several hundred options. Online shopping might entail much more effort as there are enormous varieties and brands of nutritional supplements available. Moreover, all nutritional supplements are different in many ways- composition, benefits, ingredients, properties, pricing, and more.
When choosing one for your child, it is important to know and understand your child's dietary needs and restrictions. Overall, Goli Complete Kids Multi Gummies are very impressive. The company has earned a distinctive reputation for its effective nutritional supplements, and parents can be hopeful of expecting amazing benefits from these new gummy vitamins.
This supplement is sure to help your babies turn into strong and healthy adults. Is it recommended to start giving these gummies a try for your child? Yes! It's a super tasty, all-natural product that will help your child get the nutrients they need for healthy growth and development. It's just not your average kids' multivitamin gummy!
Goli serves a humanitarian purpose too. For every purchase made at goli.com, the company donates a 6-month supply of essential vitamins to a needy child through their partner Vitamin Angels. So every time you purchase one of Goli Nutrition's gummy supplements, you are helping a child in need.
Goli Complete Kids Multi Gummies Review
Goli Complete Kids Multi Gummies are nutritional supplements designed to help your child get the vitamins and minerals to support the kid's healthy growth and development.
Pros
They do not contain artificial flavors or high fructose corn syrup.
Suitable for kids who are vegetarian or follow a vegan diet since they are composed of pectin and not gelatin.
Free of all 8 major allergens!- Peanut-Free, Tree Nut-Free, Egg-Free, Dairy-Free, Gluten-Free, Fish-Free, Shellfish-Free, Soy-Free It is also Free from Sesame!
They work well for kids of all ages.
Gummies are Kosher and gluten-free.
They contain 18 key nutrients to fill nutritional deficiencies.
Made by Goli Nutrition, a reputable and trusted brand.
Every bottle you buy helps a needy child.
Offer a great taste, so kids will love taking their daily gummy multivitamins.
Vitamins bear a natural fruit flavor.
Cons
Gummies are not sugar-free.
They are costlier than other brands.