Goli began with a clear vision. The goal was to make eating healthily enjoyable. In keeping with that spirit, Goli has introduced the Goli Supergreens Gummies. We loved the SuperFruits Gummies and are very excited to try this new addition to the insanely popular Goli product line. The question here is not whether these vegan-friendly vitamin supplements are worth it, as they are said to contain more Vitamin A than 8 cups of broccoli. How easily can it be incorporated into your daily routine? In our comprehensive ✅Goli Supergreens Gummies Review, we will address this and much more.
Goli Nutrition Review: Introduction to Goli Nutrition
Goli is a company that believes that eating healthy can be enjoyable. From their Apple Cider Vinegar Gummy Vitamins to their most recent Goli Superfruits Gummies, their inventive line of products all carry the spirit of building a bridge between wellness and happiness. You can quickly meet your nutrition goals while enjoying your daily supplements with the gummies.
They put a particular emphasis on making all of their products gluten-free and vegan-friendly. It is a first for a wellness company to admit that staying healthy is a difficult task. They are, however, ready to take on that challenge and assist you in achieving your nutrition goals with their simple-to-take and simple-to-integrate products that compliment your hectic lifestyle. Only a board of certified nutritionists and dieticians at the company's helm can pave the simple path to wellness.
Their widespread social media popularity is not without reason, and the large number of influencers raving about their products, even without a paid partnership, speak for themselves.
The recently launched Supergreens have not been thoroughly reviewed anywhere; continue reading for an in-depth analysis of how cost-effective the Goli Supergreens Gummies are.
Detailed Goli Supergreens Gummies Review | What are Goli Supergreens Gummies?
Supergreens are all-natural supplements that can boost your immunity and lower your risk of chronic diseases. The ingredients play an essential role in their effectiveness, but Supergreens has not become a household term because of their high price. But that is no longer the case.
We are incredibly excited about the introduction of Goli Supergreens Gummies because Goli is known for producing high-quality products at a reasonable price. With the introduction of Supergreen gummies to the market, users now have an affordable option to begin reaping the benefits of these supplements. These supplements have been specially designed to assist you in incorporating a potent mix of Vitamins and Minerals into your routine so that you feel healthy from within.
These products are destined to become an everyday necessity for users because they are sugar-free, keto-friendly, and vegan-friendly, making them the only supplements supporting any lifestyle. And unlike other gummies which are sold in the market, these gummies do not contain gelatin, artificial flavors, or sweeteners. Along with this, the gummies are free from wheat, yeast, milk, eggs, gluten, dairy and also colors from artificial sources. These gummies have a unique blend of essential nutrient which are required by our body for overall health and being.
The inclusion of Artichoke Leaf Extract in the ingredients piqued our interest. Because it has a healing anti-oxidant effect on the liver, this ingredient can help maintain healthy liver function. Goli stated that their goal was to create an easy and delicious way for consumers to incorporate vitamins and minerals into their daily routine, and we think they succeeded!
Goli Supergreens Gummies: Another Healthy Hit?
Reviewing these gummies was a delicious task made even more enjoyable because these gummies are high in vitamins and minerals for your body. Goli Supergreens Gummies contain 11 super greens, making it one of the most nutrient-dense supplements on the market.

In addition to super greens, the gummies contain probiotics, essential vitamins, nutrients, and minerals, which provide various health benefits that we will discuss later. The Goli manufacturing process is plant-based, which means the nutrients you're incorporating into your daily routine come straight from nature.
Customers have left glowing reviews on the Goli website, and we couldn't agree more. If you are not a fan of greens or have tried all of the juice cleanses and healthy smoothies in an attempt to live a healthier life and failed, this is the product for you.
Every day, the moment you place your first order for Goli Supergreens, you are taking a step toward healthy smoothies.
How are Goli Supergreens Gummies made?
The brand has collaborated with the industry's top manufactures and also the suppliers so that they can source premium and also high quality ingredients for their gummies. Their products are developed by an experienced team which also ensures that gummies are non-GMO, vegan and gluten-free.
How Do Goli Supergreens Gummies Work?
Well each GoliSupergreens gummy has vitamins, minerals, nutrients and also probiotics. The formula of thee Golisupergreens gummy is plant=based, sugar-free and also keto-friendly. Just by taking Supergreen gummies, it will enhance the metabolism system of the body thereby improving its digestive health. It also improves the liver function and also has other health benefits which are mentioned below.
Health Benefits of Goli Supergreens Gummies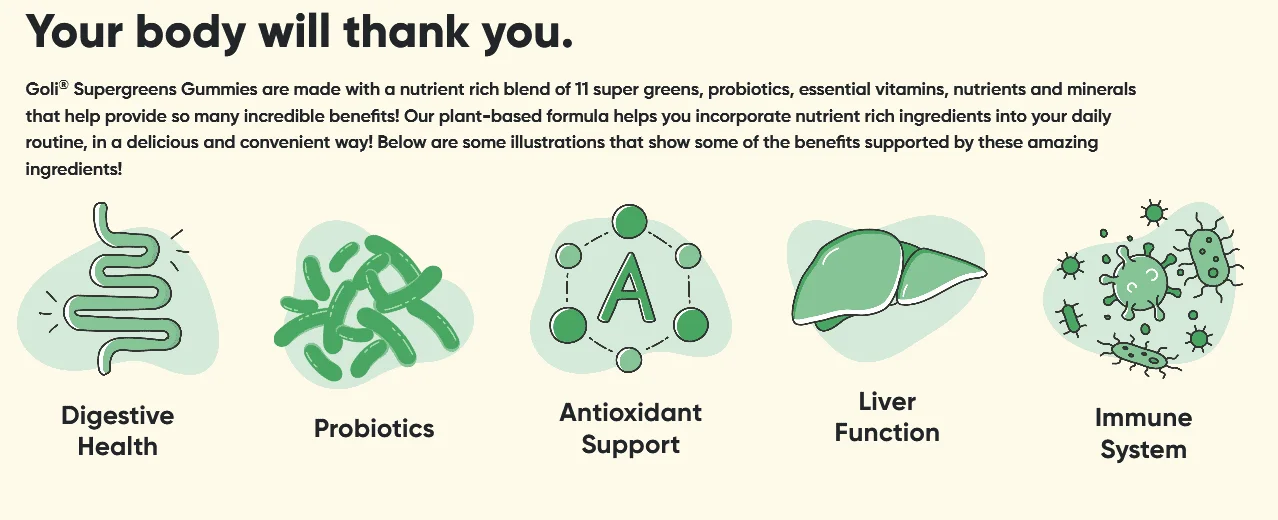 Healthy Energy Metabolism:
Who does not want to make their metabolism better? Well for this question GoliSupergreen Gummies does offer you a solution of improving your metabolism and making it healthy. These Gummies contain vitamin B12 and folic acid, two crucial B vitamins which your body needs to produce energy. Many people do complain at times that they regularly feel lethargic and tired. Well of that's the case with you, these Supergreen Gummies provide you with Vitamin B12 which is very popular ingredient when you enjoy vegan diet.
As your body cannot produce these plant-based vitamins on their own, these GoliSupergreen Gummies can easily give you and thereby support healthy metabolic energy.
Supports Digestive Health:
As GoliSupergreens Gummies contains unique super greens and probiotic blend, it does support digestive health. Benefits of probiotics are well known as it promotes beneficial bacteria into your digestive tract which would in return support your immunity and also help in breaking down the foods you eat. One thing has to be kept in mind, if your gut microbiome is imbalanced, then you may experience some other issues throughout the body.
These Supergreens Gummies do contain essential vitamins like B1, B6, and B12. All these vitamins are crucial for maintaining a healthy nervous system. Your body needs all these vitamins so that you can maintain a proper nerve system. Along with this, these vitamins are also important for energy production.
The brand claims that their Supergreen Gummies does support a healthy liver function; as the gummies do contain artichoke lead extract. Now this Artichoke leaf extract does exerts antioxidant effects on the liver. It also neutralizes the free radicals within the liver and thus supports a healthy liver function.
Antioxidants and Nutrients:
In addition to life-saving vitamins, these gummies were designed to provide as many anti-oxidants and nutrients as possible. Vitamin A and Zinc are particularly beneficial from the set for users concerned with their overall health and wellness.
Everyone wants to have a healthy immune system; and for this, GoliSupergreen Gummies could just be the deal! It has some ingredients like Vitamin A which really help in improving immune health. The presence of other vitamins also does add to the cause. According to a study, over 80% of the body's immunity is found in your gut and these gummies would just help you to maintain a healthy immunity.
Supports General Health and Wellbeing:
As these supergreen gummies are loaded with vitamins and a blend of other nutrients, invariably it will definitely help your overall well-being. It has added other ingredients as well which would definitely make you feel active and fresh thought the day. It also known to improve skin, hair, eyes and even liver health.
Should I take Goli Supergreens Gummies with my meals?
Goli Gummies are safe to take with or without food, but we recommend that you take them with your meals for the best results.
Are Goli Supergreens kosher?
All Goli Gummies (ACV, Ashwa, Superfruits, and Supergreens) are certifiably Kosher

-10%
$19.00
Exclusive Goli Gummies Coupon Code
Activate our special Goli Nutrition Coupon Code to enjoy a flat 10% OFF on the order of Goli Supergreens Gummies. Limited time offer.
Supplement Facts of Goli Supergreens Gummies?
The recommended daily dose of 2 gummies a day includes:
Calories – 4
Total Carbohydrate – 6g
Dietary Fiber – 2g
Soluble Fiber – 2g
Total Sugars – 0g
Vitamin A – 226mcg
Vitamin B1 – 0.6mg
Vitamin B3 – 1.61mg
Vitamin B6 – 0.17mg
Folic Acid – 40 mcg DFE
Vitamin B12 – 36mcg
Pantothenic Acid – 0.5mg
Iron – 2.82mg
Magnesium – 6.3mg
Zinc – 1.1mg
Supergreens & Probiotics Blend – 255mg
What Supergreens & Probiotics are included in the Goli Supergreens Gummies?
Broccoli: A well-known green vegetable flush with vitamins and minerals.
Kale: A dark, green, leafy vegetable who is a member of the cabbage family balances out the various other greens and probiotics in the supplement.
Opti-Biome MB40: A Bacillus probiotic strain its many benefits complement the rest of the super greens.
Spinach: A rich source of potassium, magnesium, and B-Vitamins the green spinach leaf extract is surprisingly also delicious.
Artichoke Leaf Extract: A traditional addition to the mix it supports liver function and digestion. Derived from globe Artichoke this is going to be one of the biggest selling points of Supergreens, at this price point.
Spirulina: Sourced from warm Alkaline lakes this is a blue-green algae that has a surprisingly refreshing effect on the Goli Gummies.
Aloe Vera: Added for its unique properties it has been extracted from actual aloe plants.
Moringa Leaf: A nutrient-rich leaf and includes several important vitamins and minerals.
Barley Grass: A leaf of the barley plant, high in fiber, vitamins, and minerals this was a stroke of brilliance to bring out the efficiency of this product.
Chlorella: Single-Celled Green Algae filled with nutrients.
Parsley: A leafy green herb filled with carotenoids and vitamins.
Celery: Part of the Parsley family complements the parsley to bring out the best of both.
Ingredients of Goli Supergreens Gummies | Goli Supergreens Gummies Review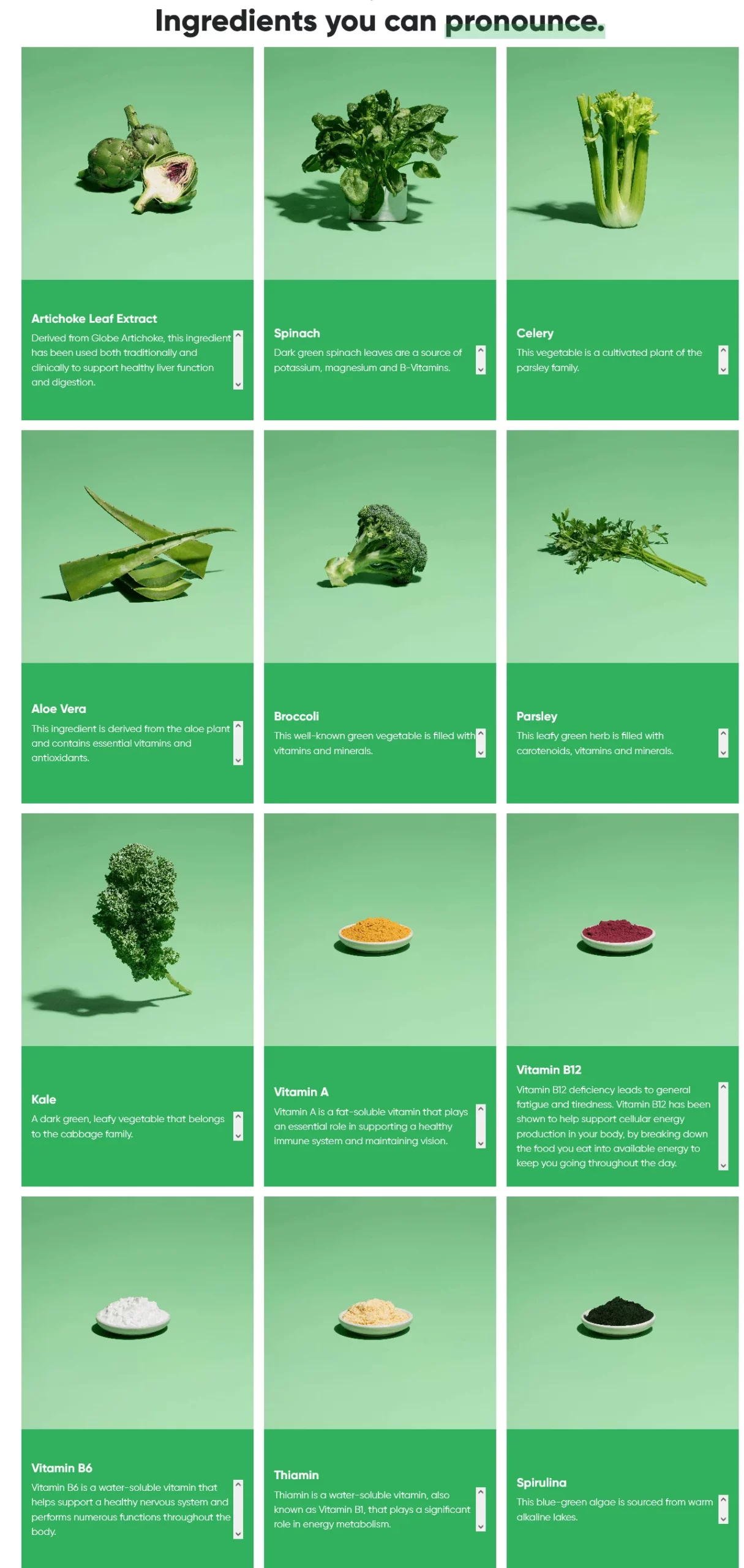 The benefits provided by these supplements are due to the numerous ingredients that are packed into them.
Goli has managed to include a wide range of healthy ingredients in their delicious supplements, much like the powerful superfruit formula we saw in the Goli Superfruits Gummies and their other flagship products, such as the ACV Gummies and the Ashwa Gummies.
Following are the Goli Supergreens Ingredients:
Vitamin A: A fat-soluble vitamin that plays a major role in nurturing a healthy immune function and digesting vitamins effectively.
Thiamin: A water-soluble protein vitamin (also referred to as Vitamin B1) ensures that the body's metabolism keeps working well.
Niacin: Niacin (also known as Vitamin B3) is another water-soluble protein that performs various functions concerning the well-being of the body.
Vitamin B6: Vitamin B6 is essential to any and all functions around maintaining proper health levels in the body. It is also a water-soluble protein.
Folate: Folate is a nutrient that helps run things smoothly around the body
Vitamin B12: A lot of the time you're experiencing a lot of tiredness or fatigue the doctors will tell you it has been caused by a Vitamin B12 deficiency. Vitamin B12 is engaged in cellular energy production and will keep you going throughout the day.
Pectin: A unique fiber found in fruits and vegetables all the Goli Gummies are made with pectin. This is what sets the entire Goli line of supplements apart from the rest of the market as all other gummies are made out of gelatin, a relatively unhealthy substance. This pectin is extracted from fruit peels which is what makes the gummies vegan friendly and suitable for all lifestyles.
Zinc: Collagen synthesis and Wound healing are both processes that require a significant amount of Zinc in the body in addition to supporting the immune system and maintaining general health.
Magnesium: Magnesium assists the body in protein synthesis along with aiding muscle and nerve function.
Pantothenic Acid: Also referred to as Vitamin B5, helps produce coenzyme A without which fatty acid's synthesis and degradation would be impossible.
Iron: A key part of hemoglobin is essential to maintaining long-term health.
Other Super Ingredients:
Along with the above mentioned ingredients, GoliSupergreens Gummies also contain other green superfoods which include moringa leaf, barley grass and also monk fruit extract which adds in a little bit of flavor and sweetness. After knowing about the ingredients, lets have a quick look at some features of GoliSupergreen Gummies.
Features of Goli Supergreens Gummies
Goli Supergreens Gummies will provide you with the following features: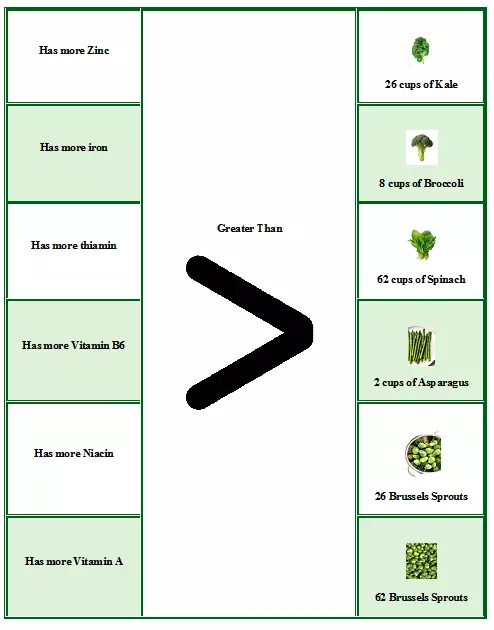 These GoliSupregreen Gummies does contain a blend of 11 green superfoods probiotics, vitamins and minerals which are really beneficial. It has formula which is completely plant based which would be also good at serving you the best nutrients which would really enhance your daily routine. Just by popping a gummie daily you will start experiencing its affects in your daily life.
Goli Supergreens Gummies Pricing | Exclusive Goli Supergreens Gummies Discount Coupons
A special and noteworthy initiative which Goli undertakes is that it is a part of the Vitamin Angels Program where it donates a 6-month supply of essential vitamins to a deserving child for the every order placed. This is a part of their 1 for 1 partnership with the organization which is involved in addressing childhood malnutrition. And also all the prices are subjected to a 100% money back guarantee if the user is not satisfied with the product.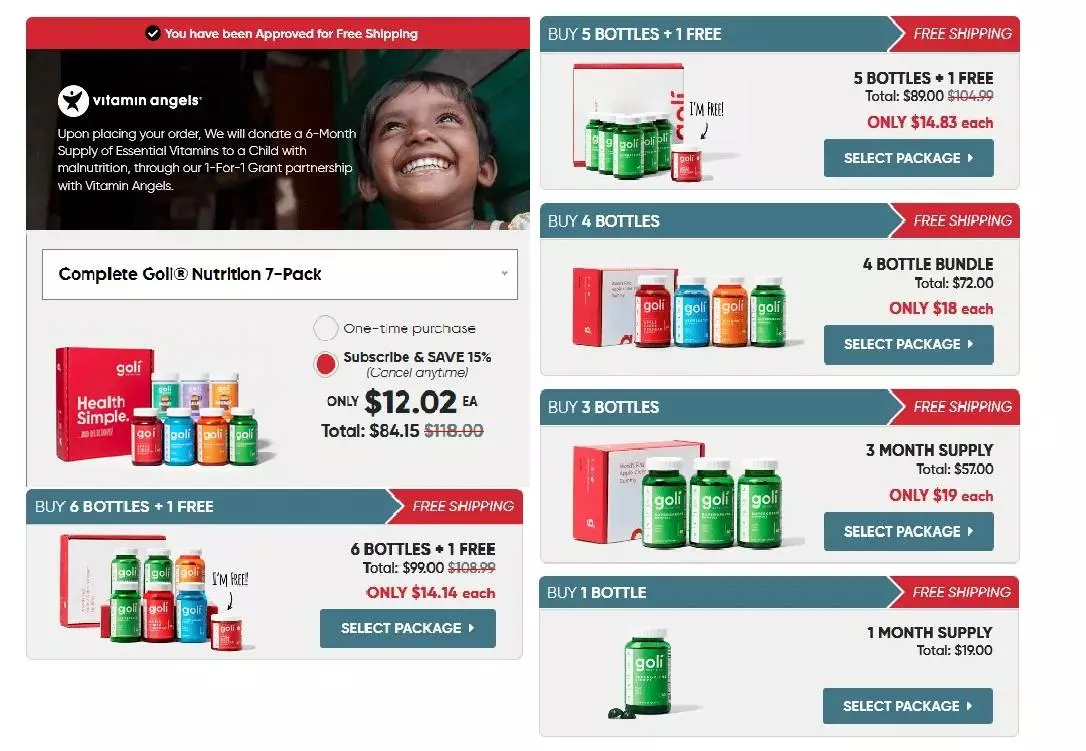 1 Bottle of Goli Supergreens Gummies: $19/ 1 month's supply
3 Bottles of Goli Supergreens Gummies: $57/  3 month's supply  ($19 each)
4 Bottles of Goli Supergreens Gummies: $72 ($18 each)
5 Bottles (+1 Free) of Goli Supergreens Gummies: $89 ($14.83 each)
6 Bottles (+1 Free) of Goli Supergreens Gummies:  $99 ($14.14 each)
Very competitively priced in classic Goli fashion these plant-based healthy supplements are definitely extremely cost-effective.
Where can you purchase Goli Supergreens Gummies?
If you wish to purchase them, you can just order it from the brand official website. And make sure with the availability of the product as it is super popular. Along from this website, you can also buy this product from other online pharmacies like the Walmart, Amazon and also many other health food stores.
Goli Supergreens Gummies Refund Policy
If the user is not satisfied with Goli'sSupergreens Gummies, then you can easily avail the 30-day money-back guarantee which will ensure your satisfaction. You can just contact Goli within 30 days to initiate the refund process.
Goli Nutrition as a Brand
The brand Goli Nutrition is a famous nutritional supplement company which does offer a wide range of supplements. The company is also known for its gummies which include the apple cider vinegar gummies. Along with Supergreen Gummies, they have other products which include the Apple Cider Vinegar Gummies, Superfruits Gummies and also Ashwagandha Gummies.
The company makes gummies which are gluten-free, non-GMO, vegan, gelatin-free, kosher and are free from colors and artificial flavors. Also they make their gummies in an FDA-registered facility. The company also has an advisory board which consist of certified nutritionist and dietitians. Goli is also a certified PTPA Winner ( Parent Tested, Parent Approved) company.
🌟FAQ related to Goli Supergreens Gummies
✅Should I take Goli Supergreens Gummies with food?
Goli Gummies can be taken with or without food, but for the best absorption, we recommend taking them with food.
✅When should I take Goli Supergreens Gummies?
You should take two Goli Supergreens Gummies every day to aid in your weight loss journey. Many people prefer to take these gummies in the morning to help kickstart the day with a healthy boost of energy and detoxifying properties.
✅How to take Goli Supergreens?
Goli's supplements are unique in that you can take them whenever and however you want. Goli recommends taking two Supergreens gummies twice a day, for a total of four gummies. The great news is that you get to feel like you're sneaking in a treat a couple of times per day. You are not required to take these with food, but you may do so if you wish!
✅What are the benefits of Goli Supergreens gummies?
The essential vitamins and Artichoke Leaf Extract in Goli Supergreens Gummies provide support for various benefits, including supporting a healthy immune system; supporting digestive health; supporting healthy liver function, and supporting overall health and wellness.
✅Is there sugar in Goli Supergreens Gummies?
Each gummy contains 0g of sugar! We wanted to make a gummy that provides a perfect balance of essential nutrients and a delicious taste without the use of added sugar.
Conclusion: Goli Supergreens Gummies Review 2023 | Should you try these Supergreen gummies?
Goli's previous products have all performed exceptionally well in a market that has not been kind to new entrants.
Their exceptional attention to detail and pure ingredients have been critical factors in the success of their previous products, and by flawlessly implementing that strategy again with the Goli Supergreens Gummies, they have created a killer product.
If you're trying to live a healthier lifestyle and make your routine a little more nutritious, you've probably realized that the problem is that you're constantly trying to fit your pattern around your fitness goals. With the Supergreens Gummies, this problem is solved in a single stroke. It is a product designed to mold around your routine and not the other way around. Pocket-friendly, extremely nutritious, and highly convenient, this product is designed to become a part of your lifestyle, and we're confident it will.
Goli Supergreens Gummies Review
Goli Supergreens are vitamin-rich gummies that contain essential vitamins, nutrients, and probiotics to help you live a healthier, more vibrant life. Shop Now
Pros
Improves overall skin health.
It provides necessary nutrition.
It is gluten &amp
gelatin-free.
100% Plant-based gummy.

Goli Supergreens Gummies Review 2023: Is it Worth Buying?