Until a few years back, percussion massagers were known to people belonging to the fitness industry and physical therapists, and chiropractic workers. They used bulky, costly, plug-into-the-wall massagers. Although these are still available and give good results, they're not realistic for typical users. Luckily, brands like Hypervolt appeared and made user-friendly massage tools that have got a lot of attention.
Before the percussion massagers made their way into the market, hard foam rollers and tennis or lacrosse balls were used for myofascial release. This entailed tremendous effort from the user to sitting on the roller (or ball) to apply pressure on the knot and then move back and forth to grind the tangle out of the muscle. Since you have to rest your entire weight on a ball or roller it can be painful as well
Percussion massagers have gained increasing popularity for the myofascial release of muscles. When you have twisted muscles due to stress, overwork, or injury, myofascial release is a great way to feel relaxed.
Use the massager on your knot, and the stress goes away, leaving you to feel much better. Deep percussion massagers are safe for treating sore muscles, knots from stress, overwork, and scarring. They should not be used to treat real injuries like torn muscles or joints as it requires medical help.
Deep percussion massagers may not be safe if you are pregnant or consuming blood thinners. Talk to a doctor before using it. Percussion massagers work deep into the muscle, then release the pressure very quickly. The deep vibrations loosen the tight muscles, improve blood flow, and help reduce swelling. They also expand the motion range by letting muscles extend to their maximum capacity.
Percussion massagers are not the same as the traditional vibrating massagers, too. Traditional massagers move at a great speed, but they don't cover a large distance. They don't work the muscle in a great way unless you dig them into the knot. With percussion massagers, the motion may not be as fast as the vibrating massagers but it is more prominent. These devices provide relief from soreness and tension while also promoting flexibility. One such tool is the Hypervolt percussion massager from Hyperice. Let's dig into its review!
Detailed Hypervolt Review – Is Hypervolt Massage Gun Good?

$208.35
Powerful Relief Gun
This portable percussion massager is the perfect solution for on-the-go muscle relief. Its small size and light weight make it easy to take to the gym, on the road, or anywhere else you need it.
The Hypervolt is from Hyperice, a company that specially designs deep massagers for myofascial release. Other than the percussion massage gun, they also make massagers in different shapes to help athletes recover. They also have an entire line of vibrating foam rollers, recovery tools, balls, ice compression wraps for most vital joints, and air compression boots. The Hypervolt is the first generation in the brand's line of percussive therapy (there are five such products).
Hyperice is committed to helping athletes recuperate from workouts and injuries. The Hypervolt – and all their other products – are designed to help your body get back to normal after intense workouts. Their website consists of an entire page of video tutorials that show you how to derive maximum benefits out of the massagers.
What is Hypervolt? – Hypervolt Review
The Hypervolt is a rechargeable, cordless percussion massager with an ergonomic design manufactured by Hyperice. The massager consists offive different heads which helps you target different muscles. This entry-level massager is an adjustable-speed device that has one of the quietest motors. Hypervolt Hyperice is one of the best massage guns available on the market today. We'll provide you with a detailed review of the portable Hyperice Hypervolt. So let's get started!
Where to Buy the Hypervolt?
Hypervolt massagers are available online directly from Hyperice. They are also available from brick-and-mortar retailers like REI and Best Buy.
Features of Hypervolt – Is Hypervolt Worth Your Money?
The latest addition of Hypervolt- Hypervolt 2 is lighter, more powerful, and has a newly designed ergonomic handle. They provide your muscles the daily relief they've been asking for. You can quickly warm up, stay flexible and improve recovery at home and beyond – so you're ready to face whatever comes next.
The Hypervolt has three speeds of powerful percussion that help you do what you do, even better.
Their patented Quiet Glide technology helps the machine run without making too much noise.
It is integrated with HyperSmart™, which makes it easy to find the warm Recovery, demand-up and recovery plans that will help you feel and move better with detailed expert guidance through the Bluetooth-connected Hyperice App.
Pill-shaped grip for a comfortable grasp
Bluetooth® connected to the Hyperice App
Weight– only 1.8 lbs
Battery life– 3 hours
Motor-Brushless high-torque 60W motor
Pressure sensor– Patented Pressure Sensor Technology™ highlights how much pressure is being applied
Head attachments– 5 (fork, ball, cushion, flat, bullet)
Size– 7.5 x 2.5 x 9.5 in
Speed– 3 speeds of percussion
Bluetooth– Connects via Bluetooth® to the Hyperice App (for automated speed control)
TSA Approved
Reasons You Need a Hypervolt Massage Gun
Bid goodbye to muscle fatigue
Get free from muscle knots and gain flexibility. It's surprising what you can do with your complete range of motion.
Get good and positive vibes every day
It's great for people seeking a massage gun with a good battery life
Portable and always ready at your service. Hypervolt acts like a massage therapist that removes all your stress and tension.
Optimize your workouts
It helps you rock and recovers. The Hypervolt speeds up your warmup and recovery time like a pro.
There's an app for that. Targetall the right muscles and learn the timing and intensity of your sessions with guided routines in the Hyperice App.
What's Included with Your Hypervolt 2
| | |
| --- | --- |
| Hypervolt 2 | The actual device |
| Power supply + adapters | to keep your device charged irrespective of where you are |
| Head attachments (5) | to target the device to the area you're focused on |
| Head attachment pouch | to keep all the attachments in a safe and organized way. |
Which Hypervolt is Right for You?
There are six products in the Hypervolt line-up: The OG Hypervolt, the Hypervolt 2, the Hypervolt 2 Pro, the Hypervolt Go, the Hypervolt Go 2, and the Hypervolt Plus.
As of now, only three are available for purchase on the Hyperice website:
The Hypervolt 2, Hypervolt 2 Pro, and Hypervolt Go 2. If you want any of the other three, you'll have to locate them on a third-party retailer site such as Amazon, Walmart, Best Buy, or REI.

Apart from the price, the major differences are in motor power and the number of attachments.
| | | | |
| --- | --- | --- | --- |
| | Hypervolt 2 Pro | Hypervolt 2 | Hypervolt GO |
| Weight | 2.6 lbs | 1.8 lbs | 1.5 lbs |
| Size | 8 x 27 x 10.4 in | 7.5 x 2.5 x 9.5 in | 7.3 x 5.5 x2 in |
| Battery Life | 3 hrs | 3 hrs | 2.5 hrs |
| Battery / Handle | Detachable | Fixed | Fixed |
| Speed Settings | 5 (speed dial) | 3 (button) | 3 (button) |
| Motor | Brushless 90 w | Brushless 60 w | Brushless 40 w |
| Bluetooth | Yes | Yes | No |
| Pressure Sensor | Yes | Yes | No |
| TSA Approved | Yes (Carry On) | Yes (Carry On) | Yes (Carry On) |
| Head Attachments | 5 | 5 | 2 |
Tips on Hyperice Hypervolt
The battery life is up to two hours, but using it at a very high speed could drain it faster.
If you want an even more travel-friendly massage gun, try the Hypervolt Go.
It can take up to six hours for the initial battery charge so be prepared.
Using the Hyperice Hypervolt
The Hypervolt looks like a professional device. Its smooth and glossy, black-and-silver build along with the size and function look no less than a Gen5 product. The models that came afterward, like the Hypervolt Go and Hypervolt Plus, are also attractive. After using Hypervolt we can say that Hyperice has done extremely well with Hypervolt.
One unique feature is that not only does it have multiple speed options, but it doesn't require you to hold a trigger. You simply have to press the power button on the back of the device and it's ready for use. If you want more power, you have to again press the button. It's that simple. To add to this, the Hyperice has an LED light system on the back of the tool to show exactly the speed you are at.
Using the Hyperice Hypervolt on the Neck – Hyperice Hypervolt Review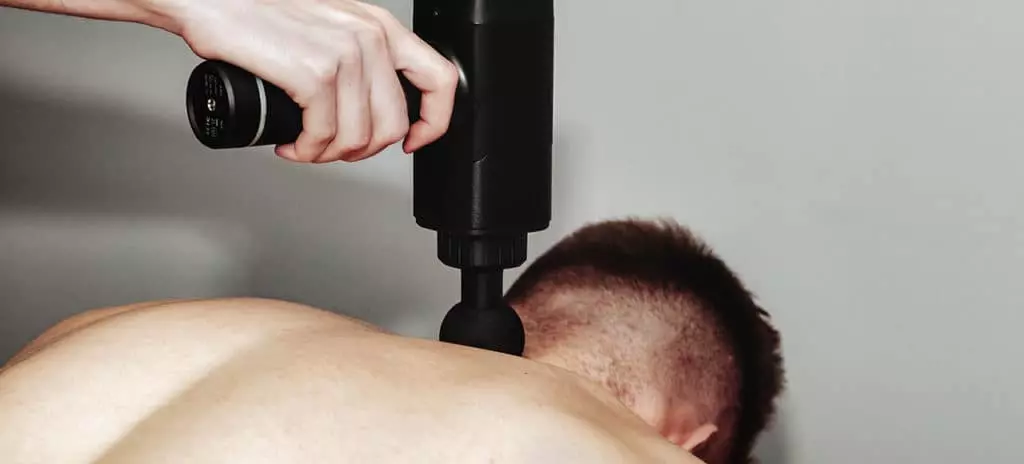 At its maximum speed, the Hyperice can offer up to 3,200 percussions per minute. It's more of a vibration than a hard percussion which most people who have used it have actually preferred. For reference, Hypervolts fiercest competitor the Theragun Pro produces 2,400 percussions per minute, quite less than the Hyperice, which is why the Hyperice feels more like a vibration than percussion
1. Attachments – Hypervolt Review
Every Hypervolt comes with multiple interchangeable attachments. At first, Hypervolthad only four attachments: a ball, a flathead, a bullet, and a fork-shaped head attachment. Hyperice has now introduced a fifth option, which they call "cushion," that looks like various flat-head options piled on top of each other.
These attachments are very easy to interchange. When using an attachment for the first time, simply push the attachment opening assigned for the different heads. If you want to change from the flat head to the ball attachment, simply pull out the flat head and push the ball in. This process is extremely easy and convenient.
The ball head is made of hard foam, whereas each of the other attachments is made of hard plastic.
2. Noise – Hypervolt Review
Although all of these features are great, the biggest benefit of using the Hypervolt is that it is incredibly quieter than its other competitors. Hyperice has the support of their "QuietGlide" technology for that, which literally allows you to listen to your favorite songs, watch a movie or carry on a conversation while massaging. That's not just a marketing gimmick, it really works that way.
3. Battery Life – Hypervolt Review
The battery used for the Hyperice is a rechargeable lithium-ion battery, similar but a little bigger than what is in your phone. The specific battery for the Hyperice allows a person up to two hours of use (the Hypervolt 2 can last up to three hours). You use the given adapter to charge the battery, which takes approximately six hours.
It's important to note that on the Hyperice website, the battery life is said to be just two hours.
One exciting feature of the Hypervolt line is the battery life display. Although it isn't as accurate as what your phone shows, the four LED lights are sufficient to decide when to put the device on the charger. The Hypervolt has four green lights and one red light.
Once the device switch is turned on, the battery lights on the back of the gun turn. There is also a light ring on the bottom of the grip that turns green when the device is put on. The green lights become dimmer as the battery power goes lower.
4. Traveling With the Hypervolt – Hypervolt Review
The original Hypervolt is comparatively light, weighing in at 2.5 pounds. Its light weight enables one to use on one's self with one hand, but substantial enough not to exert push against it with much force. The entire Hypervolt line is TSA-approved for carry-on. However, if you really want a small massage device that has the power and quietness of the Hypervolt, we recommend the Hypervolt Go best.
5. The Ergonomics – Hypervolt Review
From the point of view of ergonomics, the Hypervolt is built in pretty much the same manner as other cordless massage guns and it looks like a real gun or a drill. The grip part of the device has a rubber coating, which does help in keeping the Hypervolt tightly grasped into your hand. Also, it's good that it's such a lightweight product because you definitely wouldn't want another sore muscle in the process of treating one.
6. Technology Benefits and Conveniences – Hypervolt Review
In the autumn of 2020, Hyperice launched an app that features some pretty exciting tools in there, like guided warmups and recovery routines. It can also sync using Bluetooth, to most of the brand's devices–including the Hypervolt. Doing so gives provides you with a few benefits:
Automatic speed changes
Guided percussive routines
A "HyperSmart Score" to let you know if your usage is corresponding to your activity levels.
The original Hypervolt did not feature Bluetooth but now, every product in the line except for the Hypervolt Go can connect to the app.
7. Suggested Improvements – Hypervolt Review
Even though there is so much goodness in the Hyperice Hypervolt, there are some things that could serve as a great addition to the device. For example, it doesn't have a rotating head the way massaging devices as the Theragun Pro and TimTam have.
Also, the Hypervolt doesn't contain a carrying case for the entire unit. It only has a pouch for the attachments.
Finally, producing the Hyperice with multiple color options would give it a great upper edge over other devices. The classic gray-and-black look is lovely but it would be great if it had other color options.
Hypervolt Customer Experience
All the Hypervolt items come with a one-year warranty, which is quite normal for top-grade massage guns. The return policy for the Hypervolt (as well as other products from Hyperice) is typical: In case you do not like the product you can return it within 30 days of receiving the massage gun to get a refund. The user has to bear the shipping costs. Look up its website for more details about its shipping policy, charges, refund, etc.
Customer Reviews about Hyperice Hypervolt
The Hypervolt has an impressive 4.8/5 stars on Amazon reviews (there are no reviews on the Hypervolt website).
FAQs related to Hyperice Hypervolt
Is the Hyperice Hypervolt worth it?
Costing around $250, the Hypervolt does not pinch a big hole in your pocket as compared to other super high-end massage guns, but it certainly isn't very cheap. We do consider hypervolt as one of the best percussive massage devices on the market. Even after using it for several years, it continues to perform well. It has a super battery life, up to 3200 percussions per minute, and five interchangeable head attachments.
What is Hyperice good for?
Hyperice is reputed for making top-quality recovery tools of all kinds.The Hypervolt (one of the brand's massage guns) is used to target sore muscle groups in the body; glutes, hamstrings, quads, trigger points in the back, and more. This reduces muscle soreness and can also be used before workouts to loosen tight muscles.
Is the Hypervolt Plus better than Theragun?
This can be answered after knowing which Theragun you're looking at. The Hypervolt Plus costs around $300, which is the basic cost for the first version of Theragun. The Hypervolt line is great for its price point and performance, though the Theragun Prime is also one of the best massage guns on the market. Do your research and conclude after evaluating things like speed options, battery life, and price.
Final Verdict: Hyperice Hypervolt Review – Should you buy this massage gun?
Overall, the Hyperice by Hypervolt is one of the best massage guns when compared to several other massage guns available on the market today. When the Hypervolt came onto the market, there were hardly any other massage devices like it: light, quiet, effective. Now, there are a variety of options out there, though many do not have all three of those features.
Hypervolt works quite well for years. Therefore, it's believed to be one of the best options out there at this price. This massager, even though pricey it is worth it. If you are a pro athlete or a diehard workout person who performs intense workouts the Hypervolt probably is very useful. This deep percussion massager helps you recover from your workouts faster and get you ready for the next game.
It's also very useful to those who suffer from chronic muscle pain. Many people with continuous and severe pain in the muscle find relief from a massager like the Hypervolt. It is quicker, more comfortable, and more convenient than a foam roller. From the price perspective, the Hypervolt Hyperice is the best option for massage guns available on the market today. The device comes with multiple attachments that are easy to interchange, a long-lasting battery, three different speed options, and most importantly the quietest motor around. It is the best portable massage gun currently available
Finally, the Hypervolt is worth trying out if you suffer from chronic tension knots. It is the fastest, easiest way to get relief. If you have muscle pain or soreness just occasionally then the Hypervolt probably isn't right for you. It is an expensive solution to an occasional problem. To put it in brief whether you are at the office or working from home, at the gym, or in a park, Hypervolt helps you move better and do more of what you love doing. With its multiple speed options, five different head attachments, and great price point, we highly recommend the Hypervolt.
Hypervolt Review
If you're new to massage guns, you like a lighter device that's easy to use, or one that can be easily slipped into your gym bag or while traveling. The Hypervolt Go would be an ideal choice for you.
Pros
Five massage heads, including a two-pronged head and a bullet tip for precise targeting
Long battery life
Quiet operation – not commonly found in percussion massagers
Improved ergonomic design
The very quiet but powerful motor reaches up to 3,200 percussions per minute
Great price
Suitable for Beginners who want something easy to use
Reduced weight
Three speeds of powerful percussion make it suitable for those seeking multiple speed settings
Unique cross-shaped – gives you multiple ways to hold it to reach any muscle
Cons
Expensive – doubly priced as compared to similar models on Amazon
Carrying Case not provided
No rotating head
One color option