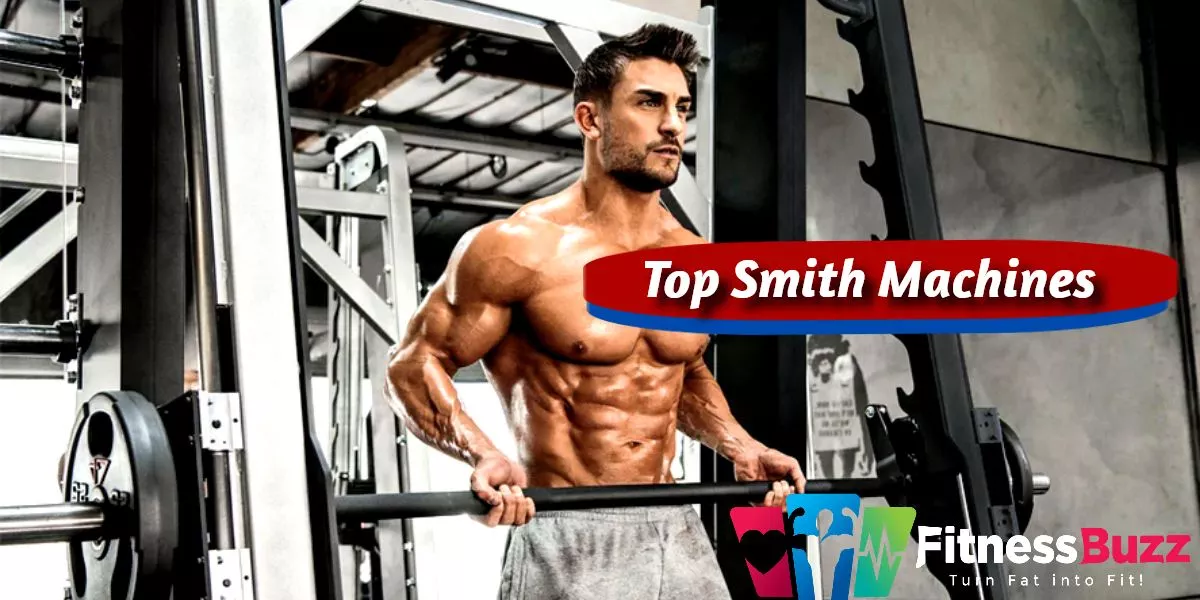 Gyms are not everybody's cup of tea; it requires consistency above all. But with the job and other things, you won't get time to spare for gyming. And of course, what is the use of buying the membership if you are not available for it. And to avoid that, it is always good to have fitness equipment that offers a variety of exercises and a complete workout. And one such piece of equipment that delivers all you need is a Smith machine. And today's article is loaded with information on the best machine that will drive you to the best version of yourself.
Smith Machines & Specialities – Are Smith Machines Good for Home Gym?
Smith machines are one of the most versatile training machines available in the market. They target a wide range of muscle groups and areas, making it extremely beneficial. They can be used by beginners as well as professionals due to their multi-functional nature. If you want to train hard and also want it to be on your own terms, there is no better way than a personalized smith machine.
It is easy to operate and a handsome one-time investment. It has multiple attachments that can be used for various purposes. It is generally safe to use, but it is recommended to keep a spotter by your side if you are a newbie.
What muscle groups do they target?
Whether you want to enjoy your back day or go for a mixed workout, the smith machine has always got your back. It lets you go for almost all major muscle groups with ease and train like a beast. Most of the smith machines are admired as they can target:
Hamstrings, Quadriceps
Gluteal Muscles and shoulder muscles
Pectorals, Triceps, and Biceps muscles
Core muscles
These are just a few of the many areas in that you can train with the help of these innovative machines. You can view a complete guide for the number of workouts available with smith machines.
What to Look for while Selecting Smith Machines?
The answer depends on what you are looking forward to gaining. What muscle groups do you want to target, and what is your ultimate fitness goal. Many smith machines include additional features, while some are simple and elegant. Let us look at the general features that every smith machine should have to provide you with the best.
The material from which the frame and other machine parts are built is significant as that is what decides the durability, sturdiness and your experience. It should have an ergonomic design and a weight capacity of 300-1000lbs. The steel quality should be splendid. Read the customer reviews and ensure how the product turned out for them.
This is a big issue with all the smith machines; they consume a large amount of space. So keep the dimensions in mind when you are selecting the fitness equipment. There are options available in sizes; measure your space and place the order accordingly. Also, the utility matters. Don't get extra professional cardio machines just because you think you can. The Smith machine comes with some attachments that need to find a roof under your shelter. So be very sure when you place the order.
Buying a smith machine is a smart investment for sure, but definitely an expensive one. The cost of these can be reasonable, but it is not the same case with everyone if you look properly. So it is better than the machine is durable and has a long-time warranty. The warranty is different for the frame, its functional parts and other things. Compare wisely and make your choice.
This particular term refers to a lot of additional items, and it differs for all brands and models. Some will provide you with specific attachments with the machine at no cost, and for some, you'll have to purchase them separately at your own expense. The available attachments include:
Lat pulldown
Preacher curl
Leg developer
Adjustable bench
Pull up bar
Along with these: Pec deck, Dip station, Weight stacks and other pieces of equipment.
Let's have a look at the best smith machines available:
8 Best Smith Machines for Home & Commercial Gym
1. Force USA G3 Trainer
One of the most popular names in the equipment world, this smith machine can combine all your workouts just in a single piece of equipment. The machine's compact design brings together a power rack, functional trainer, smith machine, chin-up station, and core trainer. It also brings along a long list of attachments that will be very useful in giving you a broader spectrum of exercises.
Multi-grip Chin-up Bar, J-Hooks, Cambered Bar, Functional Training + Lat Pull Down Bar and Close Grip Handle are just a few of them.
Dimensions:
Exterior: 80 in (W) x 55 in (D) x 87 in (H)
Interior: 43 in (W) x 34 in (D) x 85 in (H)
Machine weight: 772 lb 
6.2mm nylon coated mil-spec aircraft quality cable
The cost of this 5-in1 trainer is $1,999.99. And the reviews were all positive. It has been listed as the best Smith machine overall by BarBend and other fitness sites as well. Assembly is not that tough either; with the instructions, you can simply get the machine ready. This is the best for your home workouts and also has optional attachments. It is also good if space is an issue for you.
Negatives: It is not for people looking for simple fitness machines, as it provides you with much more than that. It can also be a little expensive, but looking at all the functions and features that Force USA G3 Trainer offers, it is worth it.
2. Body-Solid SCB1000 Pro
A commercial gym is only good if it can withstand extreme pressurize, perform multiple functions and still be able to work smoothly. Body-Solid SCB1000 Pro does precisely that, and that is the reason it has been called by many the best commercial smith machine. Smartly designed to provide all users, new or trained, with proper resistance.
The machine is versatile, easy to operate and hardly requires any maintenance. It is very durable, making every penny you spend worth it. It is a great choice for lifter and power training as it has good weight plate storage. A reverse pitch and vertical carriage ensure biomechanically correct movement. Case hardened rods, and club-quality bearings make your performance a cakewalk. You can efficiently perform exercises like bench press, chest press, military press, squats, lunges, curls, shoulder shrugs, etc.
Dimensions:
LxBxH- 50 x 86 x 84 inches
Machine weight- 300 Pounds
Weight capacity-1,000 lbs
Assembly is also not very hard if you follow the instructions carefully, but it may consume a chunk of your time. Instead, you can pay a little extra to get it professionally installed. The cost for this good piece is listed as $3,258.00 on Amazon. The reviews clearly stated that they had one of the best workout experiences with Body-Solid SCB1000 Pro. The machine has high-quality construction and is very reliable.
Negatives: It is not the best buy if you are looking for cables and multiple attachment slots. The price range is also relatively high if you compare it with its other competitors.
3. Impulse IT7 Smith Machine

$2,748.90
Robust steel construction
The Impulse IT7 Smith Machine is a critical element of this high-performance resistance and strength training system.
This is particularly one of the simplest designed machines loaded with functionality. It has high-performing resistance and is suitable for almost all workout environments. It has yellow adjustment levers that are clearly visible. Grey upholstery and silver frame are all you need to give your workout space a lavishing look. It becomes durable with high-quality manufacturing promise and robust steel construction. A heavy-duty 20kg or 40lb Olympic barbell bar comes along with the smith machine.
Dimension:
LxBxH: 89.6 x 53 x 94.8 in
Metal Gauge: 2.5mm
Machine weight: 400 lbs
Weight capacity: 330 lbs
They offer a lifetime warranty on its frame and a 1-year warranty on the rest of the parts. This particular smith machine is valued at £2,748.90. It has 10 different racking positions. They offer free delivery across the UK and have a 14-day return policy. Re-racking is easy, and maintenance is only required periodically; assembly should also not be challenging.
Negatives: The Impulse IT7 is not space-friendly as it has a larger footprint. So if you are short on space in the gym, this is not a good choice. It is also not a great pick for people who are tight on their budget as the price is too high.
4. Force USA G20 All-In-One Trainer

$5,999.99
Ultimate workout partner
The Force USA G20 All-In-One Trainer includes over 400 exercises and is equivalent to having eleven separate strength training systems in one little machine!
If you are looking for an advanced smith machine loaded with features and workout options, then this is the one. This exquisite workout monster is a combination of a power rack, functional trainer, smith machine, leg press, chin up, suspension trainer, core trainer, lat pulldown, low row, calf raise, and new VersaPad station. That allows you complete body training without having to switch places. The company also offers to customize the machine for you by adding or removing the attachments.
It is well-built and designed uniquely for commercial use. Dual Integrated 289 lb Weight Stacks, 1x front-mounted Multi-Grip and 2x side, mounted Globe Grip/Wide Grip, heavy-duty steel built, and many other such extraordinary qualities make it great workout equipment. World-class manufacturing is what enables it to have weight storage of 10x standard and Olympic weight plates.
Dimensions:
Exterior: 80 in (W) x 55 in (D) x 87 in (H)
Smith Machine: 772 lb
Weight capacity: 992 lbs
The machine will cost you $5,999.99 after calculating all the figures. This is a great pick for sure, only is money is not a barrier for you. If you are very stable financially only then, we would recommend going for this beast. Adjustable benches, an all-rounder bar, colored bumper plates, and professional assembly service is all that you can add to enhance your workout experience to the maximum. Lifetime warranty for the frame, warranty of 2 years for the pulleys/cables and 90 days for accessories.
Negatives: This machine is extremely good, no doubt about that, but it is horribly expensive. After all that you pay, you still are not provided with weights. It comes with multiple compulsory and optional attachments. Assembling is very tough and will require a professional. And looking t the price warranty period is also quite less.
5. Marcy Smith Cage Machine SM-4008
This super-affordable multi-functional smith machine is one of its kind. It is a blend of weight training, cable crossovers, and a push-up system. Legs, as well as thighs, can be trained and strengthened. All thanks to the bottom pulley and leg developer. This solid steel-built machine offers a broader range of motion, giving you a full-body workout.
There are four storage sections to stack your weight plates. The adjustable back pad and footplate provide maximum safety. The cage is constructed of 14-gauge square steel tubing. It also has a removable utility bench that is well padded and adjustable because comfort is a must. V bar, shiver bar, triceps rope, chain link, ankle strap, and two handles are the accessories that come with this commercial home gym equipment.
Dimensions:
Assembled cage: 65" x 79.25" x 84.5"
Assembled bench: 68.25" x 26" x 45.5"
Maximum weight limit: 300lb
The price range is reasonable and far less than its other competitors; Amazon makes this versatile piece available for you at just $799.98. SM-4008 also has bar catches and safety catches. The company also provides you with a return policy to get you a refund or exchange within 30 days of the product return.
Negatives: There are not many downsides to this machine. But it does require a larger area for storage, comparatively. It requires. Wide walk-in room for your safety, but keep that in mind as it may be trouble finding space for it.
6. Titan Fitness Smith Machine
An exceptionally well-built machine for weight lifting and body-building. It will provide a never-before efficient experience for strength training. It is an excellent pick for preventing bad posture and possible injuries. It includes 2 adjustable safety catches that allow you to have a safe, stress-free workout. A fixed barbell makes you self-dependent, and its convenient knurling gives you a firm grip.
This exercise cage is equipped with six 8-inch Olympic plate storage posts. Added resistance is allowed by Band pegs that are present on both sides. The workout machine also includes a counter-balance system. And the product has the brand assurance of titan fitness; what more do you need?
A Smith Machine specialized site posted its cons as "mostly out of stock, due to high demand," now that is a deal. Titan Fitness has been credited for the machine's ergonomic design and sturdiness. You can look into its 2 J-hooks plates with 8 drop positions.
Dimensions:
Machine weight: 261 LB
LxBxH: 66.5″x 54″x86"
Weight Capacity: 600 LB
The assembly is one of its best features as it is hassle-free; it also 4 rubber pads that will help guard your flooring. The durable machine is estimated at $1,499.99, which is a great deal for the top-notch quality. The warranty period was not mentioned on their official site, but the reviews stated the item is long-lasting.
Negatives: The spacing is not proper, as every post does not allow full-size 450-millimeter bumper plates to fit on it. As the height is good, it may require a high ceiling to fit in. But if you are looking for a cable machine, sorry for the disappointment.
7. Yanre HG-69 Smart Way Smith Machine

For complete user safety
It is secured with high tensile bolts with lock nuts for optimal strength and anti-slip rubber feet.
A compact design with a number of strength equipment and accessories is all you need to deliver an effective workout. Yanre HG-69 brings to you exactly that in a smart way. The machine is constructed with Q235A steel, which is a combination of flexibility and durability. The frame of this quality-filled equipment is 2.5mm thick, making it worthy of heavy-duty use.
The multi-handed pull-up bar is its first specialty that allows you to perform a wide variety of bodyweight exercises. It also has a detachable and adjustable bench. It is also equipped with chrome linear bearings for a better experience. For complete user safety, it becomes your mechanical spotter with 15 chrome bar catches on either rail side. These features are highly unique, and that is what makes Yanre HG-69 special.
Dimension:
Machine size: 66 x 88 x 88in
Frame Size: 50 x 70 x 2.5mm
Equipment Weight: 330 lb
It offers a lifetime warranty on its frame and 2 years for its functional parts. It is a brilliant choice if you are short on space. Assembly is also a cakewalk with its 'detailed Installation Instructions.' The product offers a mind-blowing deal if you look at all the displayed cards.
Negatives: It is not for gyms that want a standalone smith machine or one with a power cage. The design might not be very elegant and pleasing.
8. Commercial Home Gym
The beauty and the beast of the fitness arena has a compact design and is highly efficient. The Smith machine itself comes with 12 adjustable heights. High tension 2000 lb cross cables with a ratio of 1:1 have 16 adjustable heights. 176lbs weight stack is connected to the cables, and it also comes with a leg press attachment.
The machine is counter-balanced with sealed bearing pulleys. It is strongly built for heavy commercial use and provides various exercise alternatives. It also has a 2x safety spotter bar, so working out alone is safe. You are able to perform a wide range of exercises; let's inspire fitness.
Dimensions:
Size: 79″W x 49″D x 90″H
Rack-limit: 990 lbs
Bar-limit: 770 lbs
This is the only Smith machine in the lust that offers you a choice in colors- red, blue and black. The assembly can be a little challenging, but it can be smoothened with professional help. Amazon gives it a 4.4-star rating based on affirmative customer reviews. The cost for this multi-purpose machine is $3,799.99.
Negatives: Standard version does not include bench and plate weights, but the deluxe version does. It is a little expensive, and other brands offer extra benefits in this range. The warranty period is also slightly less, comparatively.
Top FAQ on Smith Machine
What is a smith machine?
Smith machines are designed to be used for controlled barbell training. It comprises primarily of vertical movements, allowing for some training variety. Because of the fixed movement, the barbell does not need to be balanced by only one person. It will only move up & down, not sideways or backward.
Does it matter which way you face on a smith machine?
If your smith machine is of the straight-up-and-down type, your orientation toward the bar is irrelevant. You can face either way in the machine, whether doing bench presses, squats, or overhead presses since you push the bar in a 180-degree vertical path. In other words, there is no "wrong" way to face it.
Is it safe to squat using a smith machine?
Yes. Squatting with a smith machine can be a great way to learn the movement because they allow you to squat without a spotter. You don't have to skip squats if you don't have a personal trainer or a training partner with you in the gym; you may do them on your own. However, it's essential to learn how to squat safely. That means squatting with proper form, using proper technique, and using the equipment properly.
Are smith machine squats beneficial to muscle growth?
Yes, Smith machine squats are beneficial for muscle growth. They can easily be added to any workout. It would help if you exercised regularly.
Smith machine exercises are great options for developing your lower body muscles, balance, and core stability while also emphasizing specific muscle groups (in this case, glutes, quads and hamstrings).
Can you do deadlifts on the smith machine?
The smith machine enables you to perform the deadlift safely while reaping the incredible benefits of this compound exercise. The smith machine deadlift, when performed correctly, can be one of the most effective exercises in your workout arsenal.
Why are the Smith Machines slanted?
An slanted smith machine is best, because it is better to simulates the natural bar path enables more natural movement during activities such as squats and presses.
Conclusion: Why Smith Machine is the Best?
Smith machine is precious fitness equipment, and if used carefully, it can benefit you immensely. Make sure that you take all necessary precautions and prioritize your health. There are many options available in the market, but you are recommended to buy according to your needs and budget. You should also consider the attachments that come along.
There are certain myths and facts that have been in the air for quite some time about the usage of Smith machines. But hopefully, we were able to quench the thirst of your doubtful mind. So now choose the best one and achieve all your fitness goals.