Most people can easily meet their daily protein requirement through food, while some consume more protein than they need daily. Protein powders can be helpful to individuals with higher protein needs—such as athletes, pregnant and breastfeeding people, and people suffering from certain medical conditions. It may also be beneficial for people who follow restricted diets, such as vegans or vegetarians, or those who dislike protein-rich foods.
Protein powders can also help increase the protein content of meals and snacks that may otherwise be lacking, such as smoothies or oatmeal.
There are a variety of protein powders on the market, but not all are created the same. You need to choose the protein powder that matches your dietary goals and priorities. It's also important to look into its additional ingredients like vitamins, minerals, added sweeteners, enzymes, probiotics, caffeine, and more. Today we are going to make an in-depth analysis of what is supposedly one of the best protein powders available in the market today; Naked Seed protein powder from Naked Nutrition.
Naked Seed Protein Powder Review – What is Naked Seed Protein?

-20%
$29.99
Free Shipping over $99
Naked Seed's antioxidant-rich seed protein powders promote heart health and boost immunity, making it an ideal way to boost your protein intake
Naked Seed Protein is made from four nutritional powerhouses: the seeds of watermelon, sunflower, pumpkin, and chia plants. Finely crushed and easy to digest, this seed-only protein powder has an exceptionally good amino acid profile that promotes muscle growth and workout recovery on a plant-based diet. This protein powder is dairy-free, GMO-free, gluten-free, soy-free, and vegan and contains no added flavors, artificial sweeteners, or colors.
About Naked Nutrition
Naked Nutrition, a leading nutritional supplement brand, was born in 2014. The company was created due to all the false information and unnecessary ingredients in the nutritional supplement industry. They do not use the marketing gimmicks that most companies use today. They sell products with only the purest ingredients.
At Naked Nutrition, their target is to help you meet your nutrition and fitness goals by being clear about what they sell. So you know exactly what's going into your body.
Benefits of Naked Seed Protein
This product comprises health -Boosting Antioxidants- Seeds from chia, watermelon, pumpkin, and sunflower are all loaded with antioxidants that fight free radicals within your body. Too many free radicals in your body can cause damage and they've been associated with several health disorders. Consuming plenty of antioxidants cingrean keep a check on your free radical levels and reduce the risk of diseases. Also, this antioxidant-rich seed protein powder can promote heart and bladder health, strengthen immunity, boost cardiovascular health, and regulate blood sugar levels.
Naked Seed is derived from nutrient-rich seeds, resulting in a seed protein powder that has a superior amino acid profile which helps to stimulate clean muscle growth and aid workout recovery. Also, their organic pumpkin seeds are full of nutrients that help support and strengthen your immune system. This is a natural protein powder that helps you reach your fitness goals and supports overall health.
You can create your ideal plant protein shakes by adding Naked Seed to your favorite beverage or adding your preferred fruits and superfoods to enhance its taste. You can mix it with pre and post-workout shakes, and smoothies for additional protein intake.
Who is Naked Seed Protein Powder Recommended for?
Naked Seed is a great protein powder option for vegans, vegetarians, or for those who just prefer plant-based proteins. Since Naked Seed also offers a superior amino acid profile, it's also ideal for those who are looking to gain muscle, lose weight, or support their overall health. Naked Seed is non-GMO, dairy-free, soy-free, and certified gluten-free. For alternative plant-based proteins, check out Naked Pea or Naked Rice.
Cost of the Naked Seed Protein Powder
The product is currently priced at $29.99, on its official website for a one-time purchase. You can also pay in 4 interest-free payments of $7.50 with Afterpay You can subscribe and save 20% on your first shipment and then 10% on all following shipments.
Free Shipping is provided on products over $99.
How and When to Use Naked Seed Protein Powder?
Add the seed protein to protein shakes, smoothies, and baking. It is best used in the morning, before or after a workout, or any time of the day. Mix two scoops into 6-10oz of water, non-dairy milk, or your favorite beverage.
Since Naked seed is unflavoured, you can mix it with fruits, vegetables, or superfoods for taste. You can pair naked Seed with Pair a scoop of Naked PB for extra flavor and additional nutrition to maintain muscle mass and promote workout recovery.
Nutrition Info of Naked Seed Protein Powder – Naked Seed Protein Powder Ingredients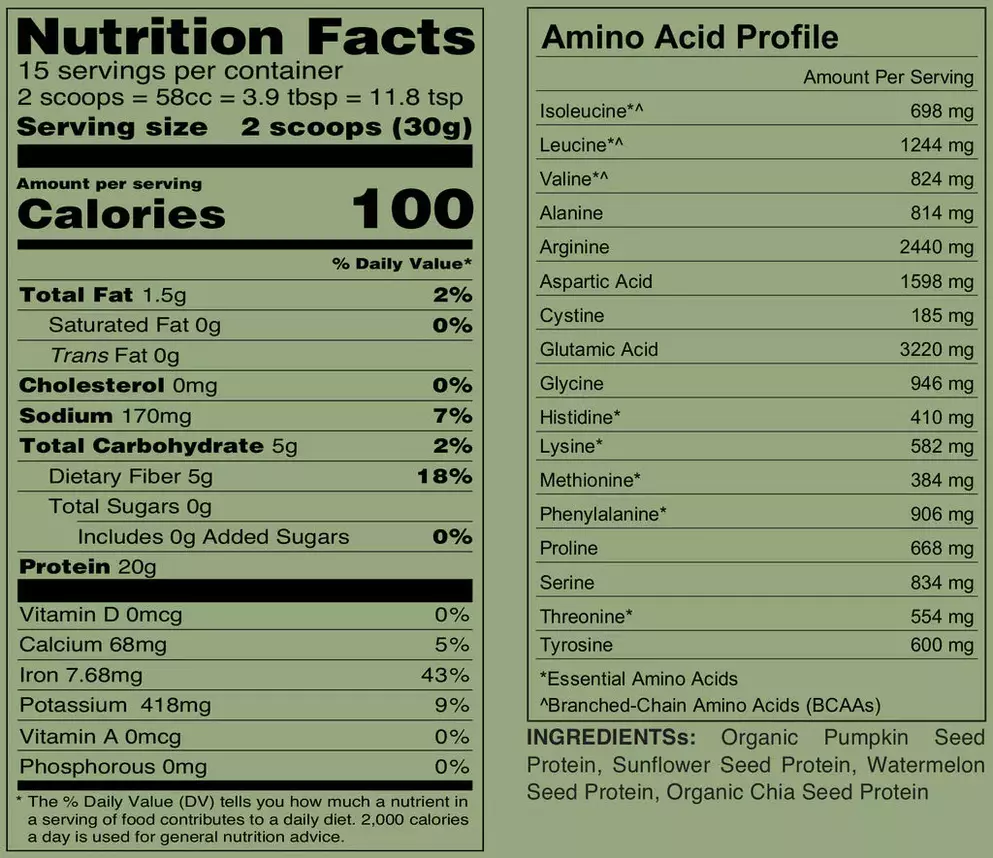 The Naked Difference: The Difference Between Naked Seed and Regular Seed Protein
| | |
| --- | --- |
| Naked Seed | Regular Seed Protein |
| Protein Source – 4 different protein sources for a superior amino acid profile | Only one or two seed protein sources |
| Ingredients – No additives or artificial sweeteners | filled with added sugars and additives for color and texture |
| Protein Content – 20g per serving | Usually around 10g per serving |
Where is the Naked Nutrition's Product Shipped?
They currently ship all products within the U.S. and select products in the UK and Canada. To know which products are available outside the US, make sure you are shopping from the correct version of their site, which can be selected at the top right adjacent to the cart icon.
Naked Nutrition Refund Policy
You can return unopened and unused items within 14 days for a complete refund or exchange, minus any shipping charges. If your order suffered damage in shipping, please take a picture and email it.
Please contact their customer service team at [email protected], or call them at 855-964-0970, Monday to Friday, 9 a.m. – 5 p.m. EST, or using the e-chat feature.
Is Naked Nutrition Promising?
Naked Nutrition has grown bigger and offers over 50 products, with most having three or less than three ingredients. As they continue to expand, their target remains the same–give people the best products for their health, diet, and fitness journey by using clean ingredients that are easy to understand and as few as possible.
Naked Seed Protein Powder Customer Reviews
Let us read a few reviews posted by verified users on its website
"Great quality product. This product is excellent. The flavor is neutral, as it has no additives. That is what I was going for. This is my second purchase of this brand. I like to mix it with meal replacement shakes to add more protein," posted Kristian Legcevic on Aug 28, 2022.
"THE BEST VEGAN PROTEIN POWDER I'VE EVER TRIED" stated Alexis Black on Apr 09, 2022. "I rarely take the time to write online reviews, but WOW. I'm genuinely impressed. I'm used to vegan protein powders having a grainy and sandy texture and basically ruining anything they touch,". This blends silky smooth and it barely has any taste at all. There's a slight pumpkin seed taste to it, but it's barely noticeable and it doesn't bother me at all. It's a little expensive, so I wasn't going to buy it again unless it was 5/5 stars and to my surprise, it is."
An inoffensive way to boost plant content, Dianna Patterson Williams posted on Mar 25, 2022. She added, "While almost no one would enjoy the raw (powder + water) taste of this, adding a serving of this to organic oatmeal with a serving of blueberries is a great way to boost one's daily consumption of high-quality plant-based nutrition."
A happy user named GG remarked, "BEST PROTEIN CHALK ON THE MARKET". Once upon a time, I wonder what it would be like to have protein powder in my chili. I didn't want chocolate flavor chili, so I hunted down this flavorless powder. Well, that was the worst chili I ever had. This stuff is like chalk powder – flavorless and powdery. That's exactly what I wanted. The good news is that it does mix well with other things. I mixed it with a rice stir fry and I couldn't even tell it was there. It makes for a nice protein boost when it mixes well. I recommend.
A customer described the product as "CLEAN, SIMPLE VEGAN PROTEIN." He added, "I appreciate that it is made with simple ingredients and doesn't have anything artificial added. Because of the clean ingredients, it doesn't have much-added flavor, so it's recommended to blend this with frozen fruit and almond/oat milk."
"GREAT PRODUCT", commented Pooja Reddy on Oct 11, 2021
Another user stated, "Great natural protein. It is one of the best protein supplements out there,"
Top FAQs related to Naked Seed Protein Powder
What are the benefits of a Naked Seed Protein Powder?
Raw seeds are highly nutritious and are commonly regarded as superfoods because of their impressive health benefits. The selection of seeds that make up Naked Seed (chia, watermelon, pumpkin, and sunflower) are rich in antioxidants that work to prevent damage caused by free radicals and oxidation. As a result, antioxidants help to reduce the risk of certain diseases, boost immunity, and improve blood sugar control. These four types of seeds are also rich in vitamins and minerals to support your overall health, also being rich in top-quality protein to promote muscle gain.
How are the seeds processed into a powder?
The different seeds are individually milled into a fine powder. All the seeds are then blended to create Naked Seed – a high-quality seed-only protein powder. No chemicals are used during the processing of Naked Nutrition's products.
How should I use Naked Seed Protein Powder? Can I use it for baking?
We recommend using Naked Seed to create highly nutritious protein shakes and smoothies. Since it is a plant-based protein, we suggest adding it to non-dairy milk, but the choice is yours! Additionally, Naked Seed is safe to use in baking or cooking recipes and works nicely as an extra nutrition boost.
Is Naked Nutrition an Eco-friendly enterprise?
Naked Nutrition aims to reduce waste as much as possible, and they avoid the use of harmful pesticides and farming practices. They ensure to keep the earth in a better state.
Are their products safe for those with a nut and gluten allergy?
Most of their products are processed in nut and soy-free facilities but are packaged on lines that also package soy and nuts. However, these lines are completely cleaned and sanitized between runs to avoid any cross-contamination. Their website contains images that include the most recent gluten testing. Coming to your question, they do not use ingredients that contain gluten, but they also test for its presence.
Is it ok to take protein powder while pregnant?
It is recommended you speak to your physician before trying out a protein powder during pregnancy.
Is Naked Shake a good protein?
Yes, the Naked shake is by far one of the best protein powders available. It helps boost your metabolism, preserves muscle mass, and aids muscle recovery post-workout. Naked Shake is the easiest and perfect way to increase your protein intake even on a busy day.
Is Vega Protein Powder good for weight loss?
Since vegan protein powders are usually low in calories and fat, they can be a great addition to a weight-loss diet. Just make sure to choose a powder that's high in protein and low in sugar, and try not to add unhealthy ingredients to your shake.
Is plant-based protein powder healthy?
Studies have shown that plant-based protein powders help reduce cholesterol levels and reduce signs of heart disease. Many plant-based protein powders contain micronutrients such as antioxidants, vitamins, fiber, and minerals that help your body in many ways.
Why does their testing show the presence of gluten?
The gluten test is only able to detect the presence of gluten to a certain level. This test notices the presence of gluten when it is more than 0.0005% of the sample. Since they found gluten, the result is that there is less than 0.15mg per 30 grams. In other words, no gluten was detected, but the test cannot confirm that there is 0% gluten. Instead, it can say there is less than 0.0005% gluten. The FDA standard for gluten-free is less than 20ppm, and their test shows there is less than 5ppm.
Why is my Naked Protein or supplement container not full?
All their proteins and supplements are sold by weight and not by the amount of space they occupy, i.e. volume. Some proteins are denser than others. For example, their Naked Pea is much denser than their whey protein, and this leads to the container not being entirely full. The weight of the product is checked multiple times to ensure it is the correct size. If they filled canisters up to the brim, some proteins would weigh 8 or 9 lbs!
Can you please send me a scoop? I can't find my scoop.
Sometimes the scoop may get deep inside the product during shipment. There is a scoop placed inside every container. They suggest taking a fork and sifting through the product to find the scoop.
Is the product okay if the inside seal has been broken? Has the product been tampered with?
As long as the outer seal is intact, you have no reason to worry. When the containers are opened, the second seal may come up because of the way the seal is placed in the lid before sealing. In other, it is normal if the seal breaks once you unscrew the lids.
What is the shelf life of their products?
Their products have a shelf life of two years, and the' best-to-consume before' date is printed on the bottom of each package. Additionally, they generally advise you to store Naked Nutrition products in a cool, dry place, like a pantry or a cupboard.
Can I bake with their protein powders?
Their protein powders can be easily used in baking. We can also use the powder as a substitute for flour. The blogs on their website have several shake and protein baking recipes.
Who/What company third party tests their products?
They use a third-party lab located in the United States to test their products.
Are their facilities GMP Certified? Who does the GMP audit? do they do stability testing?
Their processing and packaging facilities are all GMP-certified. Silliker is the 3rd party auditor for this certification. Coming to stability studies, since they only sell powders and nothing in a solution, stability studies are not mandatory.
Are their products FDA-approved?
The facilities where all the ingredients are processed and packaged are FDA-approved.
Are their containers BPA-free?
They make all of their containers in PET plastic, which is BPA-free.
How long is standard and expedited shipping?
Standard: Free Shipping On All Orders Over $99. Expect to receive your order in 5-7 business days.
Expedited: receive your order in 2-3 business days.
Business days are Monday – Friday and thus do not include Saturday or Sunday and holidays.
Where is my order?
1. Once you place your order, you will be notified via an "Order Confirmation" email from them. This email will contain complete order details, including the order number, shipping address, billing address, and an itemized list of all ordered products.
2. Once your order has shipped out, you will then receive a "Shipping Confirmation" email from them.
3. If you forget which shipping method you selected, you can find this information in your Order Confirmation email, which is sent as soon as you place the order.
Final Verdict: Naked Seed Protein Powder Review – Is it worth your money?
Naked seed protein powder is definitely a go-to product for those looking for completely natural options to fill their workouts with. This product is great to use before and after your workout, mixed with your normal protein shake.
This great nutritious supplement comes highly recommended, especially because it has nothing artificial in it and is made of a few simple ingredients. Go get your hands on one of these and live a healthy and happy life!
Naked Seed Protein Powder Review
Naked Seed is a premium seed protein powder blend rich in nutrients. The result is a vegan protein powder that provides quality nutrition to support general health, enhance muscle gain, and promote workout recovery.
Pros
It promotes muscle growth and workout recovery on a plant-based diet.
It helps support and strengthens your immune system.
Naked Seed is non-GMO, dairy-free, soy-free, and certified gluten-free.
Naked Seed is safe for baking or cooking recipes and works nicely as an extra nutrition boost.
It helps boost your metabolism, preserves muscle mass, and aids muscle recovery post-workout.
Naked Shake is the easiest and perfect way to increase your protein intake, even on a busy day.
They can be a great addition to a weight-loss diet.
It helps reduce cholesterol levels and reduce signs of heart disease.