These days there is a variety of Multivitamins and supplements available in different forms. Powdered supplements can be mixed into a smoothie or beverage for ease, whereas Capsules and tablets are easy to swallow. Gummy vitamins are a relatively newer product that has caught the attention (and taste) of many.
With a gummy vitamin, you feel like you're consuming a piece of candy when the reality is that you are eating your daily supplement dose. We all know the benefits offered by berries. But one berry that is not much known but slowly gaining popularity today is the Elderberry. Nowadays, you'll see all types of elderberry supplements, in the form of pills, capsules, and syrups, usually vouched for their immune support benefits.
Zuzili is a product brand that sells different supplements which help increase energy, improve cognition, and boost immunity. Zuzili Gummies are tasty and packed with nutrients. They're also really convenient, as you can have them any time of the day. In this review, we'll discuss in detail one specific product called Zuzili Elderberry Gummies.
These gummies claim to boost immunity, reduce inflammation, lessen stress, and more. Are these gummies worth buying? Continue reading this Zuzili Elderberry Gummies review if you want to know everything about this supplement's background, the ingredients used in its formula, and if it can truly provide benefits for the immune system and beyond.
Detailed Zuzili Elderberry Gummies Review
Zuzili Elderberry Gummies are good health in your pocket. Flavorful, chewy, Powerful, and portable, these gummies are packed with powerful antioxidants and trace minerals for immunity, stress reduction, and recovery. They are a convenient way to infuse superfoods into your body and keep diseases at bay. In addition to Elderberry, these gummies are loaded with vitamin C and zinc to support the immune system. Just 2 gummies a day does wonders for your body, keeping everyday health ailments at bay.
Fruity, tangy, and a tad bit sweet, these gummies give you all the nutrition and flavor with lesser calories and greater convenience. This Poppable nutrition is easily digested & absorbed by the body. This product contains 150 milligrams of Elderberry, 100 milligrams of vitamin C and 10 milligrams of zinc to improve and support the body's immune function. You'll be able to more effectively combat things like colds, the flu, and even allergies. Zuzili Elderberry Gummies also help reduce body inflammation and stress levels.

$35.00/Bottle
Free Shipping On All Orders Above $50!
It is a comprehensive product that has been formulated with ingredients that help improve your immune health, reduce anxiety and stress, decrease inflammation, and more.
Zuzili Elderberry Gummies Ingredients – Zuzili Elderberry Gummies Review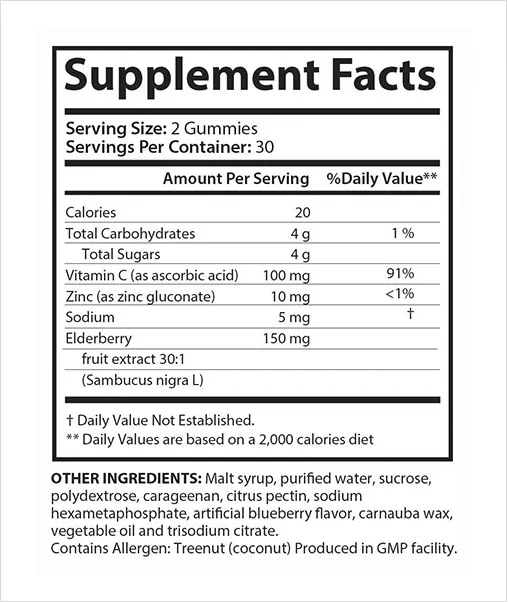 The three main potent ingredients in Zuzili Elderberry Gummies are Elderberry, vitamin C, and zinc. Pretty basic, but they are powerful immune boosters. Let us study the benefits offered by each.
Elderberry Extract
Elderberry is included in these gummies in a 30:1 fruit extract form at the dosage of 200 milligrams per serving. This extract is rich in antioxidants that can reduce inflammation, boost heart health, improve immune function and even improve your ability to manage stress more effectively. Also, it is loaded with vitamins, minerals, and other bioactive compounds. Elderberry can help shorten the duration of colds, cases of flu, and other infections. Additionally, some research shows Elderberry can prevent or reduce cardiovascular diseases and diabetes.
Vitamin C
Zuzili Elderberry Gummies contain Vitamin C at the dosage of 100 milligrams per serving. Vitamin C will strengthen your immune system, alleviate body pain and even reverse aging. Vitamin C is a potent antioxidant compound that can safeguard the body from free radical damage and oxidative stress. Also, vitamin C offers protection to the immune system, which in turn helps to make allergies, colds, and infections less severe. Additionally, vitamin C protects from stress on the brain, and it may aid in reducing anxiety, depression, and stress.
Zinc
Zinc helps speed up recovery times when you are unwell. Other than helping with illness, zinc has been proven to improve acne, allergies, ADHD, and osteoporosis. Only 10 milligrams are included per serving in Zuzili Elderberry Gummies, but this is sufficient to give you an improvement in your overall health. Zinc is also essential for immune system function. As it offers anti-inflammatory and antioxidant effects, which can help make allergies, infections, inflammation, colds, and flu less frequent and mild.
Below are the ingredients included in each serving (two gummies):
Calories (20)
Total Carbohydrates (4g)
Total Sugars (4g)
Vitamin C (100mg)
Zinc (10mg)
Elderberry (150mg)
Sodium (5mg)
As you can see, there are only 20 calories per serving and 4g of sugar.
Zuzili Elderberry Gummies Benefits
Strengthened Immunity: The trio of the powerful Elderberry, zinc, and vitamin c is designed to offer antioxidant support and enhance your body's immune system, helping to fight off colds, the flu, infections, allergies, and infections.
Reduced Pain and Inflammation: Zuzili Elderberry Gummies help reduce pain-related inflammation, thus giving you relief from chronic pain. These gummies can provide you the ability to recover faster from illnesses and speed up the healing and recovery process for joints and muscles after injuries. When you have too much inflammation present, this can cause you to feel fatigued, or you may even be in pain, and this is where these gummies come to the rescue.
Stress and Anxiety Reduction: Lastly, elderberry and vitamin C work together to reduce stress hormones in your body, so you can remain calm and experience blissful relaxation when you've had a stressful day that's left you tired and anxious. Not only are you getting the best flavor from Zuzili gummy supplements, but you're getting superior ingredients as well.
Regardless of which product you're interested in, you can trust that you're consuming a vegan-friendly, cruelty-free, organic, gluten-free, and gelatin-free product that won't cause nasty side effects. To put your mind at ease even more, each bottle of Zuzili product is packaged at a GMP-certified, FDA-regulated facility.
Where to Buy Zuzili Elderberry Gummies?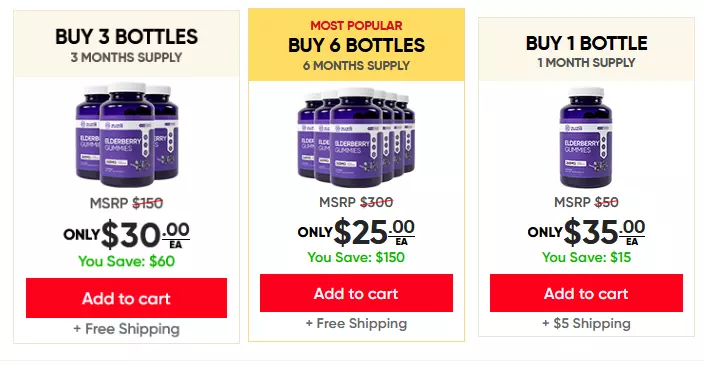 You can buy Zuzili Elderberry Gummies on the company's website, https://zuzili.com/. Each bottle offers 30 servings (60 gummies). On the Zuzili website, you can choose to purchase either 1, 3, or 6 bottles at a time, and they offer savings at each stage. Zuzili also provides a subscribe and save option, which includes monthly deliveries, the option to cancel any time, and an extra 20% off.
They also offer a 100% refund guarantee if you're not satisfied with this product. Discounts coupons are offered generously. Lastly, a part of your purchase is donated to the charity, Save the Children.
Steps to Take the Zuzili Elderberry Gummies
Open- Just unscrew the cap & put the delicious Elderberry gummies in your mouth.
Take 2 gummies (1 serving) any time of the day for daily health support. You can play with the dosage by taking up to three gummies, but not more than three.
Reap the health benefits every day, without the awkward taste & smell!
Do Zuzili Elderberry Gummies Work?
When we study in detail the Zuzili Elderberry Gummies, it's a case of rich ingredient quality but low dosages. That's why Zuzili Elderberry Gummies may provide several benefits, but these might not be as good in quantity. Elderberry, vitamin C, and zinc have all been backed scientifically to show their antioxidant, anti-inflammatory, and immune-supportive properties.
But only zinc is dosed at an optimum amount; Elderberry and vitamin C should have high dosages (although it's not like these doses are not effective, so they still should provide some benefits). To put it in brief, Zuzili Elderberry Gummies should be a reasonably good product, especially for general immune support, but they should've contained a bit higher dosages for vitamin C and Elderberry.
Claims Vs. Reality
So, you would expect that these Zuzili Elderberry Gummies should help to boost your immune system while also helping to manage inflammation. These gummies may not offer too big a help in soreness and pain, and they probably won't do much either for anxiety or stress since the dosage is inadequate.
But since everyone is different, they could reap different benefits in different areas, especially if you pop to three servings per day, which is permissible. Overall, the primary benefits you'll mostly get from Zuzili Elderberry Gummies are immune support. And you must not forget that this product will be better for shortening the duration and reducing the severity of various health issues rather than preventing them in the first place.
Who is Zuzili Elderberry Gummies Best for?
Zuzili Elderberry Gummies are best for individuals seeking general immune health support and for antioxidant and anti-inflammatory support.
Are Zuzili Elderberry Gummies Safe?
Zuzili Elderberry Gummies are generally be safe to consume, have almost no side effects, and well-tolerated. However, we list below some potential side effects:
Nausea, vomiting, diarrhea, upset stomach, and other digestive symptoms
Headache
Skin flushing
Fatigue and sleepiness; and sometimes insomnia
It is to be noted that Zuzili Elderberry Gummies are 3rd party lab tested and made in an FDA-registered and GMP-certified facility. Also, they're gluten-free, caffeine-free, and gelatin-free, and they consist of no artificial sweeteners.
How do Elderberry Gummies Benefits My Health?
Of the several types of elderberry plants and trees throughout the world, Zuzili Elderberry gummies are made from the Sambucus Nigra, the type with the heaviest concentration of the health properties associated with Elderberry. This plant has been used for centuries. Hippocrates, "the Father of Medicine," nicknamed the Elder tree his "medicine chest."
The berries and the flowers of the Sambucus Nigra are rich in vitamins and antioxidants that help you supercharge your immune system and offer protection against cold and flu. These compounds and extracts have also been used to give relief from joint and muscle pain, headaches, and stress.
Do Zuzili Elderberry Gummies Contain Sugar?
Each Zuzili Elderberry Superfood gummy contains 2 grams of pure cane sugar, equivalent to the amount in a single chewing gum stick. Zuzili does not contain synthetic chemical sweeteners.
Do Zuzili Elderberry Gummies Contain Caffeine?
All Zuzili superfood gummies are made without caffeine.
Should I take Elderberry Gummies at a certain time?
Zuzili superfood gummies can be taken any time of the day, as per your convenience. Zuzili gummies are known for complete absorption by the body and may be taken when it is most convenient for you.
Are Zuzili Elderberry Gluten Free?
All Zuzili superfood gummies are gluten-free.
Are Zuzili Elderberry Gummies Made with Gelatin?
No. the Zulzuli Elderberry gummies are made without gelatin.
How do I take Elderberry Gummies?
Take two Elderberry gummies per day whenever convenient – before a meal or between meals. Zuzili superfood gummies may be taken with or without food.
FAQ on Zuzili Elderberry Gummies
Is it safe to take Zuzili Elderberry Gummies?
Zuzili Elderberry Gummies do not contain caffeine, and it is completely gluten-free. Zuzili Elderberry Gummies are safe to take, but you will also find some potential side effects, such as vomiting, diarrhea, Headache, Nausea & more.
What is the recommended dosage of Zuzili Elderberry Gummies?
It is suggested that the person should take two Zuzili Elderberry Gummies at a time. One can take Zuzili Elderberry Gummies at their convenient time before or in between a meal. One can even take Zuzili Elderberry Gummies with or without food.
Who should take Zuzili Elderberry Gummies?
Zuzili Elderberry Gummies are suitable for everybody who wants to enhance their immune system, reduce their stress level, etc.
Who should not take Zuzili Elderberry Gummies?
A person who is suffering from any medical condition or children below the age of 12 years should avoid taking Zuzili Elderberry Gummies.
Does Zuzili Elderberry Gummies help me to reduce stress and anxiety?
The Elderberry present in this gummy works in conjunction with vitamin C, and thus it helps you to reduce the levels of stress hormones. Zuzili Elderberry Gummies help you to get relaxation after a stressful day at home or the workplace.
Final Verdict: Zuzili Elderberry Gummies Review – Do they really work?
Although the composition of the three powerful components- Elderberry, vitamin C, and zinc is a bit less in these Zuzili Elderberry Gummies, they are still worth buying. These chewy gummies greatly assist if you're looking for all-around immune and anti-inflammatory support, especially since you can improve the dosage (up to 3 servings per day) to find the best dose for your needs. These gummies will surely not disappoint you in your hope of having a strong immune system and overall good physical and mental health. So why not give it a try? Investing in your immune health is always a wise investment.
Because our immune support is co-related to several bodily and mental functions, .it's a good idea to invest in supplements like Zulzuli Elderberry gummies that can improve your immune health and signal what's happening in your immune system. If you know that your immune system needs support and a boost, we recommend considering the Zulzuli Elderberry gummies.
It is a comprehensive product that has been formulated with ingredients that help improve your immune health, reduce anxiety and stress, decrease inflammation, and more. It's got good tolerance and is easy to use, so why not take a chance with it?
Zuzili Elderberry Gummies Review
Zulzuli Elderberry gummies can improve your immune health and reduce inflammation in the body. And also reduce stress levels.
Pros
Made with organic ingredients.
Vegan-friendly and cruelty-free.
Superior absorption rate compared to similar products.
More nutrients per serving.
Simple to chew and tastes great.
Cons
The proportion of the main ingredients is less than enough to carry out the main functions.