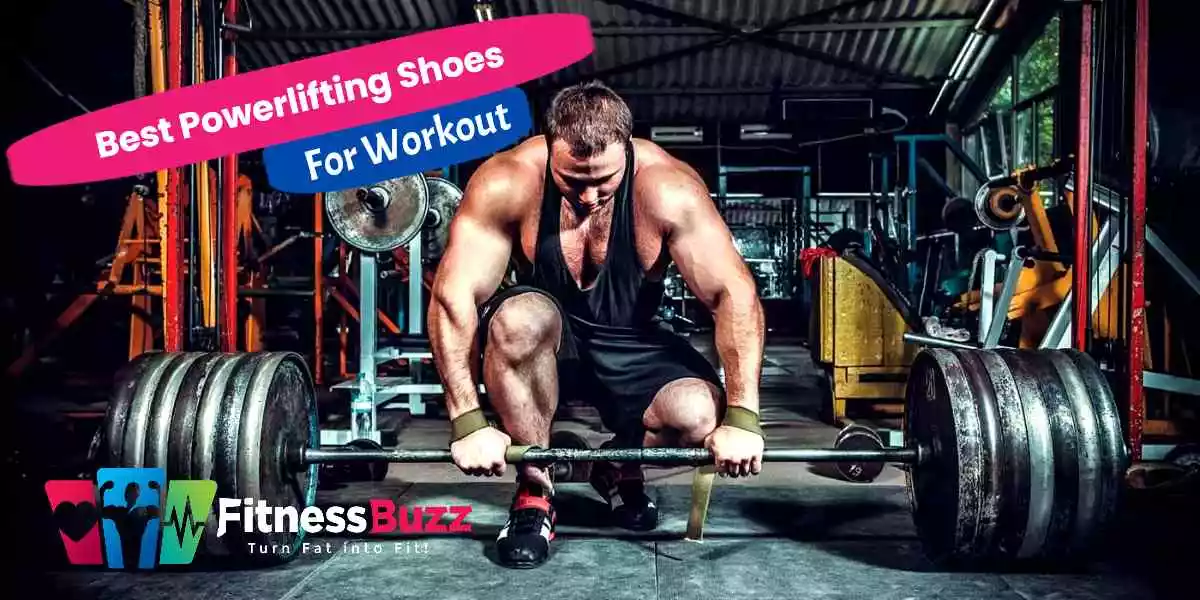 A regular problem with many of the Gym goers now a day is the difficulty in choosing the right shoe. This problem is actually more grievous when we talk about the powerlifters and also the weightlifters. Well whether you are a powerlifter or a weightlifter or your aim is just to build a proper physique, you do require specialized shoes which are going to solve various technical issues which come into your daily routine. With increased technology and improved shoes quality, powerlifting shoes also have come across a lot of changes. Now you get various improvements in shoes which are specifically made for Olympic lifting and heavy workouts. So we in our own way of research have put on a list of 10 best powerlifting shoes which are of really good brands and do solve almost all problems experienced by powerlifters.
Here are our top picks for the Best Powerlifting Shoes available today. These are the brands that we recommend to our clients. We hope that these recommendations help you choose the right pair of shoes for you.
---
Best Powerlifting Shoes for Workout
1. Nike Romaleos 4
The Nike Romaleo 4 Weightlifting Shoe is explicitly designed for Olympic-style weightlifting. These shoes feature a unique design that provides maximum support for your lower leg muscles. The Nike Romaleos 4 has been designed with strong and stable features, making it a shoe with the power transfer qualities that will provide the optimal power-to-ground reaction. It does have a solid 20 mm heel to toe drop which is in narrow shape and does have a strong grip. Its predecessor the Romaleos 3 XD has only one Mid – Foot strap, this next generation Romaleos 4 has two. Well with this feature you get a fine tuned shoe that fits in comfortably and makes you feel further secure while you do heavy lifts.
The Romaleos 4 is slightly weighs more heavier than the 3 XD but this extra weight will really cement you to the ground nicely which would also allow you to lift more heavier. Apart from being robust and highly functional shoe, it does look beautiful and it also comes in a variety of colors but some how the white color is among the most popular ones. Heel lifting shoes are used by strength athletes who lift heavy weights.
It will be light enough for even the most challenging powerlifters but strong enough to handle heavyweights. Also the wide base of this shoe gives you ample stability. They claim these shoes are suitable for people who suffer from flat feet, so if that describes you, then these might be a perfect fit! They're perfect for people just starting who want something comfortable yet durable. Without a doubt, will all these features and many more, It comes to no surprise that this shoe is also regarded as the Nike's premium (and only) Olympic weightlifting shoe of 2020.
Nike Romaleos 4
6 new from $169.00

as of September 24, 2023 12:40 am
---
2. Nordic Lifting Powerlifting Shoes
The brand Nordic is a fairly popular one when we talk about making pair of weightlifting shoes and they do make them premium. This shoes comes in with a heel height of 1.4 inches and the toe lift is 0.47 inches (1.2cm). It does come with a strong lacing and a sturdy velcro strap. You would certainly get optimal stability, posture, and foot support with this shoe which is durable and really long lasting. These shoes by Megin also feature a smooth and rigid anti-slip sole which will really give you the right stability while you do heavy lifting.
Some people might be thinking that this shoe might be too tight on feet but that's not the case with this one though! It actually comes with a padded cotton mesh on the forefoot. This would keep your feet breathable when you are even lifting heavy. Even though they're made for heavy-duty use, these shoes come with reinforced stitching so that you don't need to worry about them breaking down when you lift a considerable weight. It has a highly slippery surface which makes it easy for you to stay balanced when walking. With 1 year warranty, the price of these shoes is just right, and we think everybody would consider buying one for themselves!
---
3. Adidas Men's Powerlift 3.1
These Adidas Men's Powerlifting shoes have a unique design that allows you to focus more on your workout while still providing excellent support. They have a lightweight mesh upper that provides breathable ventilation. It means that you can wear these shoes during hot summer days without feeling uncomfortable. It comes with a padded collar and tongue for added comfort.
The laces are made from nylon and polyester blend material, and they are very flexible. It has a soft foam midsole that absorbs shock and gives you extra cushioning. It has a high traction outsole that helps you maintain balance when you walk or run. It also features a thick rubber outsole that provides excellent grip. You'll love how comfortable these shoes are because they provide a secure fit.
---
4. Adidas AdiPower II
These revolutionary shoes were originally designed for the London Olympics Games and from thereon it continues to evolve and Adidas has been updating its design and making performance improvements through simplicity. In the Adipower II you get an updated design which comes with a reinforced inner forefoot and heel. It has a heel of 20.1 mm lift. You also get an extra padding in the rear. Its laces are among the most durable ones when you compare them with other weightlifting shoes. In short you get a profile which Adidas claims that it is suited for almost any foot including the wider ones. It does use a TPU material to make the shoe which means that you don't have to worry about stability.
If you're looking for a shoe that will help you achieve your goals, then this is the one for you. It has a dual-density EVA midsole that provides stability and shock absorption. It has a supportive footbed that ensures proper alignment. The softness of this shoe makes is well suited for functional fitness training and also for classic Olympic lifts. This shoe also has a removable sock liner that lets you customize your shoe according to your needs. It has a lace-up closure system that keeps your foot secured. It also has a padded collar and tongue that provides additional comfort. Well, lifters who want a high heel and want extra stability around the mid foot area should definitely bet their money on this one.
---
5. Reebok Legacy Lifter – Men's
It is actually a flagship weightlifting shoe from Reebok is from the legacy of lifters has gained praises from various athletes. Some online reviews even suggested that these shoes do help lifters to increase their game to a whole new level. Also a huge difference in squat performance has also been reported by people who have transitioned themselves from being just a rookie. The Foot Wraps are made of a synthetic material that is akin to the Lifter series and offers excellent comfort. The Quarter and Vamp of the shoe are made of full grain leather, which provides good support and durability.
It has a cushioned insole that provides comfort and support. It has a smooth outer layer that prevents blisters and skin irritation. It has a breathable mesh upper that keeps your feet cool and dry. It also has a slip-resistant outsole that provides traction. It's available in black and white color options. Reeboks' Legacy Lifter is an excellent choice for anybody who wants to improve their performance and get stronger. Thanks to its built-in hard TPU heel, stability is guaranteed, so you can rely on it not slipping during those all-important lifts – whether it's a heavy squat or a technical snatch.
---
6. Converse Chuck Taylor All Star High Tops
Some weightlifters actually like to stay grounded while they lift heavy. For them these our Flat heel shoe which give them a perfect deadlifts. Also there are many powerlifters who actually like to train barefoot. So for them, this shoe by ALL start gives you that barefoot feeling. But this fact does not compromise on the stability factor as it has a rigid outsole. This shoe also has an ankle support which you get in all top-end version shoes. Also many powerlifters like to feel grounded so for them as well these shoes make them feel alike as it has a thin and flat midsole.
The upper of these shoes is made from a canvas fabric which is easy and breathable along being flexible. They have a full-length Phylon midsole that offers maximum comfort and protection. It has a leather lining that provides a snug fit. It also has a durable rubber outsole that grips the ground. You can easily adjust the fit by loosening or tightening the classic lace at the top. While for some it won't be the best choice as it does not have heels, but some powerlifters actually like to wear them while they perform deadlifts or bench press.
Converse Chuck Taylor
13 new from $84.00

as of September 24, 2023 12:40 am
---
7. Reebok Lifter PR II
This shoe is an upgraded version of the regular PR's series and they are quite a buzz in the cross fit scenario now a days. Cross fit does involve a variety of complex exercise from several disciplines. And this shoe from Reebok, is just known for its elevated heel which is just enough for Olympic lifts. The upper part of this article is breathable and lightweight. Also it comes along with metatarsal strap which really is eye catching. You get a soft looking midsole which is a firm heel riser. This is really beneficial for powerlifters who do squats and Olympic Lifts.
The EVA midsole and rubber outsoles are both very important features of the shoe, as they provide resilient cushioning and shock absorption. These materials also ensure that your feet stay firmly on the ground. You get a 15 mm heel which gives you that extra height. This shoe comes in with a hook and look strap which would keep your feet away from sliding around mid-lunge. With this shoe you get firm posture which would improve your lower-body workouts. Of course you can also do sprints and other dynamic workouts with this shoe as well.
---
8. Nobull Lifter Shoes
Well if you are someone who actually wants a minimalist pair of shoes for both aesthetics and functions, you just can go ahead with this Nobull Lifter shoes. You can use these shoes for multipurpose workouts right from maxing out to running a mile. In this shoe you get a heel of only 4 mm which might just not be enough for some. But even though it does not have those features which the ones on this list have, you can use them in the gym effectively. It actually has a slimmer profile and these shoes have priorities durability over everything.
You might find NOBULL Trainers slightly heavier that the others on the list but that indeed a characteristic which lends itself to lift well while lifting heavy. Also the flat midsole and outsole offers you a stable base. The shape of the toe box isn't that wide but gives enough space for your foot to spread out and also does gives you fine balance. They have a synthetic leather upper that provides durability and strength. It has a cushy foam midsole that absorbs impacts and shocks. It has a rubber outsole that provides traction and stability. It also has a lace-up and velcro closure system that secures your foot securely. People who want versatile shoes should go for this shoe.
---
9. Nike Metcon 7
The Nike Metcon 7 is a versatile, durable, and supportive training shoe designed specifically for strength athletes who need support during their workouts. In addition, since it features Nike's React Foam technology, the shoe can also help improve performance during intense workouts. Many power lifters like whose which have a wide flat outsole which can offer them enough stability while they do three-rep max squat and even look for shoes which can offer them enough flexibility to do box jump or barbell cycling.
The Metcon as a series of shoes is known for their ability to take on every type of gruelling workout. It is known for sustaining much load and distributing the weight of the body effectively. Also they are highly durable and offer enough stability. The shoe has a wide, flat heel, so you'll be able to move quickly from exercise to exercise without having to worry about slipping. Well because of this you can't use them as your squat shoes. It also comes with sturdy rubber soles for adequate grip when walking. Lightweight mesh upper keeps feet cool and comfortable.
---
10. Adidas Powerlift 4
Well of course knowing about other shoes of the same brand in our list, this one's is the latest of them all. This shoe is comfortable, cost-effective and also efficient in terms of powerlifting. The upper material of this shoe comes with canvas and the shoe does come in a range of beautiful colors. The canvas upper part of this shoe is lightweight and durable, giving your feet breathable comfort without compromising on performance. This balance makes it lightweight but stable enough for more intense workouts. With this shoe you get a 15.24 mm uncompressible heel which is made of high-density EVA foam.
It's no wonder that these shoes were designed specifically for powerlifters. They provide excellent support for many lifts, including squatting, snatch lifting, deadlifting, clean, and jerk movements. It's not too pricey for its features but may need replacing more frequently than pricier shoes. In addition, remember that since this shoe is made explicitly for powerlifting, it isn't ideal for cross-training. We recommend this shoe for low bar squats as they have a heel that is less than 0.75 inches. With a clean, simple design, a snug fit and a durable construction, the Adidas Powerlift 4 will take your training sessions to new heights.
---
Powerlifting Shoes: 10 Things You Need to Know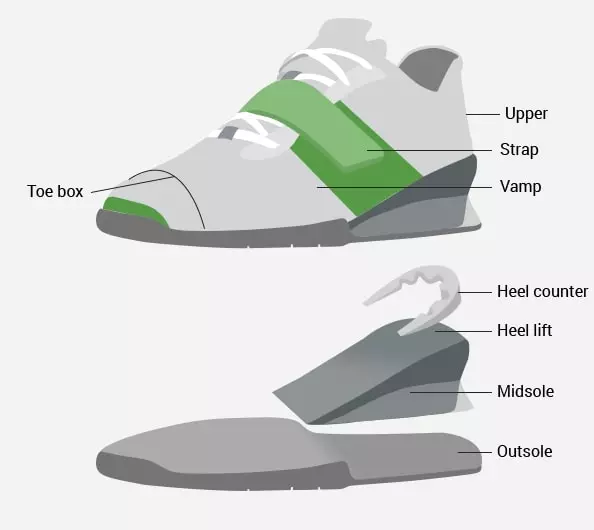 Grip Sizing: A good pair of lifting shoes should be able to fit comfortably on your foot with no pressure points or discomfort. Check that there are no gaps between the shoe and your foot. If it feels tight, then you need to go up in size.
Heel Height: Most people will find that they can get away with having a high heel as long as it doesn't cause any problems. However, if you feel like you're going to fall over every time you take a step, then you may want to consider a low-heeled shoe. Eventually it's the heel height which is going to define your range of motion.
Lace System: Some people prefer laces while others prefer Velcro straps. Whatever system works for you is fine but make sure that it allows enough room for movement.
Cushioning: If you're doing squats or deadlifts, then you'll need some cushioning built into the sole of your shoe. It's essential to keep the impact off your joints so that you don't end up injuring yourself.
Stability: When you do powerlifting movements such as squatting, deadlifting, bench pressing, etc., you need stability in your footwear. Otherwise, you could easily injure yourself by falling forward or backward.
Weight Distribution: Make sure that your body weight is evenly distributed across both sides of your foot. If you feel like one side of your foot is heavier than the other, this could lead to injury.
Fit: Your shoe should fit snugly on your foot without any space between the shoe and your skin. If it does not fit properly, then it won't help you at all.
Comfort: Don't forget about comfort. After spending hours upon hours training, you should also look after your feet. They deserve to be treated well.
Durability: You don't want your shoes to break down before you've even lifted a single pound.
Price: Do you want to spend $100+ on a pair of shoes to see them break down after a few months?
---
Powerlifting Tips & Tricks for Shoes
Powerlifting helps you build strength, endurance, and confidence. It's one of the most popular sports in the world today. People who love fitness train their bodies by doing different types of exercises. Among all those workouts, powerlifting is considered one of the best ways to gain strength.
Powerlifting has several benefits, such as improved posture, increased bone density, better balance, and overall health. You need to know how to perform various lifts correctly. To achieve great results, you must follow these basic guidelines.
It would help if you choose a pair of shoes that fits comfortably. If they don't feel like they'll be comfortable over time, then you might consider buying an extra pair.
Make sure you buy quality footwear!
Make sure that you buy shoes that will last. The best way to do this is to buy them online because you can return them if they aren't what you expected.
Buy a good pair of socks!
Socks can add up to 30% to your lift. So, make sure you get some high-quality ones.
If you want to increase your chances of injury, then avoid wearing flip-flops.
Wear proper weightlifting shoes!
When doing any workout, you should always wear proper weightlifting shoes. These shoes are specially designed to give you maximum comfort and protection.
Use the correct technique!
When using weights, you should use the correct techniques. It includes making sure that you keep your back straight and your knees bent.
Never wear cold-weather boots or sneakers in the gym. They offer very little support and can cause blisters.
Wear the correct type of shoes!
Don't wear running shoes when you're going to lift weights.
Sandals can be dangerous as they can slip off your feet. In addition, they can cause injuries to your ankles and knees.
Before every workout, make sure you stretch correctly. Stretching helps loosen tight muscles and reduces the risk of muscle pulls and tears.
---
🌟 FAQ related to Powerlifting Shoes
Are powerlifting shoes worth it?
Powerlifting shoes are worth the investment and provide multiple benefits. If you have knee issues, powerlifting shoes can be a huge benefit. They allow you to squat with a more upright posture and give you a real boost in strength and power.
What do powerlifting shoes do?
Powerlifting shoes help in improving your strength and performance in squats and bench presses. These shoes are made for powerlifting and will provide you with the support you need on each rep of each set. Powerlifting shoes are made with much thicker material in high wear areas like the toe box and heel. The soles are thick and flat for stability in the squat position.
Why should I buy powerlifting shoes?
If you are serious about getting results in powerlifting, you should buy these shoes. They're made for lifting weights. When you wear these, you can easily squat more weight.
What are the best weightlifting shoes for wide feet?
The Do-Win weightlifting shoe that performs best for wide-footed athletes. Even with large feet, the shoe is built to be wider and can allow complete toe splay very well.
What are the benefits of powerlifting shoes?
Powerlifting shoes are also known as weightlifting shoes, and they assist you in gaining support and pushing yourself to your limits in the gym. The shoes assist in muscle building and provide a more stable and solid stance in the gym.
---
Final Verdict:
Now that you have many options, go out there and explore which show fits perfectly and works well for you. Remember, it is about the comfort and feeling of safety. Your shoes will save your knees as you continue with your exclusive lifts. Our favorite picks are Adidas Adipower and Nordic Lifting. These shoes offer extra stability that regular trainers do not!

10 Best Powerlifting Shoes for Effective Workout (2023)