We are living in a world where we get all sorts of green powders. They could be healthy, they could be effective, and they could be costly as well. There is a chance that the green powder supplement will benefit your body. There is a whole another chance of it not working at all!
On a personal note, Vitamineral Green Powder is the most effective superfood supplement we have come across. So, we will be delivering our take on Vitamineral Green Powder review. But first, we will have to commence with its origin; Healthforce Superfoods Inc.
So, let us get started!!
An Overview: Healthforce Superfoods Inc
Unluckily, the About Us page is still under development. But there is more emphasis on the founders and their vision on the About the Founders' page. The organization is 'hardcore' about health and healing, the environment, compassion, and ethics. Founders look to have been on a long journey through studying various health interventions and modalities (Iridology, anyone?)
And we look at being customer advocates for other products before building and producing mass-market supplements with integrity. Notwithstanding that the look and feel are so outdated, we like the intentional vision. We think this company has absolute integrity and ethics, which is necessary for healthy foods and supplements.
Sustaining from health problems himself, Dr. Jameth devoted himself to optimal nutrition and sourcing products to improve his body and soul. Unfortunately, the founder passed away in 2016, and the company has been taken ahead by his wife, Kim. They vow to offer 'the most real, most potent, and deeply advantageous plant-based products possible,' which does appeal to us. So without further ado (and sarcasm), let's look at exactly what goes into their Vitamineral Green supplement.
---
What is Vitamineral Green Powder?
Detailed Vitamineral Green Powder Review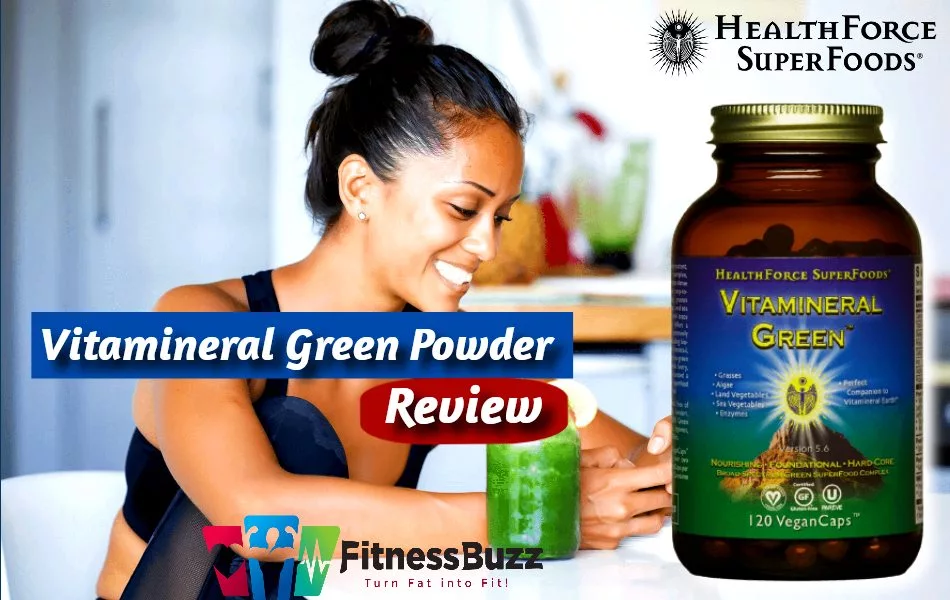 A good greens powder should be a one-stop shop for all your daily vitamin and mineral needs. One sip should give you feeling like you're bursting through your shirt seams like Popeye after he finally gets him his spinach. Vitamineral Green claims that their green powder is the most potent and is one of the "best superfoods on the planet."
The brand is a green superfood complex, hence the "vitamin-mineral green" name. It's a little hard to take them seriously looking at their website and the product's aesthetic.
It's a lot easier looking at the ingredients list. Measuring an improvement in your sense of wellbeing and overall health is delicate. And can best loosely translate into feeling more vibrant with energy. Lots of reviews make that same claim.
Subscribe & save up to 10% Off on Vitamineral Green Powder.
Free Shipping On Orders Over $75
Now get free shipping on all orders over $75. This special offer end soon. Grab today.
Free Shipping On Orders Over $75
---
What are the key benefits of Vitamineral Green Powder?
Vitamineral Green Powder Benefits
Vitamineral Green Powder is one of the most respected whole food powders in the natural health community. It works as a convenient and easily digested adjunct to a health-promoting diet that can help promote further benefits we will discuss below.
High in Chlorophyll & Protein Content
The high chlorophyll content of VG cleanses the body and bloodstream. It purifies and revitalizes the blood, liver, colon, and kidneys to improve overall health. It also comprises meaningful amounts of micro-algae like spirulina and chlorella, high in chlorophyll and protein. Vitamineral Green has all the necessary amino acids required for energizing and building muscle.
Green leafy veggies and green superfood powders, like Vitamineral Green, are excellent protein-rich foods. They can be added to protein shakes, homemade protein bars, and green smoothie recipes. They are some of the most highly recommended foods among raw vegan bodybuilders for building muscle mass. "When we take Vitamineral Green, we observe a subtle energy high and a grounding quality." We once had an energy healer hold a bottle of it and say, "I've never felt so much life force coming out of one pill."
Better for Bones & Bowel Movements
Vitamineral Green consists of a full array of easily digestible minerals and vitamins. They build healthy bones, joints, and skeletal structure and joints an enhanced vitality to the skin, hair, and nails. Also, it supports regular bowel movements with its extensive list of soil-based organisms and seaweeds.
Good Weight Loss & Depression
Many people have observed an uplifted mood and energy when consuming Vitamineral regularly, partly due to its cleansing yet nourishing effects on the body and brain. Vitamineral Green can be an excellent adjunct for those wanting to lose weight as it offers comprehensive nutritional components that help provide a feeling of most packed, which tends to prevent cravings for carbohydrate-type foods.
It Helps to Nourish Malnutrition
Vitamineral Green can be used in treating malnutrition and mineral depletion for weak, fragile individuals needing instant nourishment. There is no product better than this, in our opinion. The complete range of energizing components in this formulation can bring depleted cells back to life in a hurry. It would be excellent to see the powder is used in IV drips for specific medical conditions at some point in the not-so-distant future.
Vitamineral Green comprises naturally occurring, absorbable, non-toxic vitamins, minerals, and trace minerals. It also contains immune-building antioxidants, soluble and insoluble fiber, hundreds of carotenoids, and many other phytonutrients that feed undernourished cells.
Vitamineral Green Health Benefits:
Alkalizing effect on the body systems
Rich in chlorophyll content; cleansing of the colon
Comprises soil-based organisms; promotes healthy bowels
Cleansing of the blood; aids detoxifies the liver
It contains whole-food ingredients
Packed with enzymes and living energy
Includes "acid and shelf-stable" colonizing probiotics
Highly absorbable to the body
Promotes healthy bones and joints
Protected within a dark glass bottle to ensure longevity
All raw vegan organic and gluten-free ingredients
More practical, requiring fewer amounts than other brands
---
What are the major ingredients present in Vitamineral Green Powder?
Vitamineral Green Powder: The Ingredients List
Quoted as an 'extremely potent, hardcore, green superfood complex, bringing together 25 of the most nutrient-dense superfoods on the planet. That too, in an easy-to-use powder' Vitamineral Green powder. That contains some unusual ingredients we have not yet heard in our super greens research: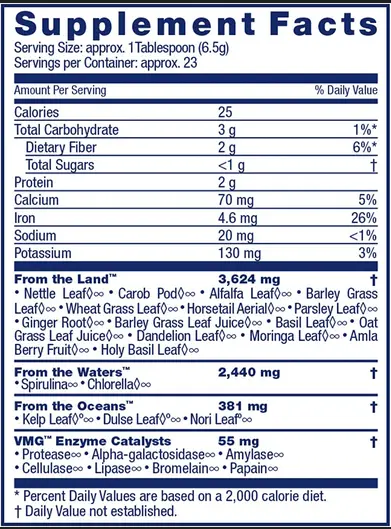 From the land (5'570mg): Nettle Leaf' Carob Pod' Alfalfa Leaf' Horsetail Leaf' Ginger Root' Barley Grass' Parsley Leaf' Wheat Grass' Basil Leaf' Barley Grass Juice' Oat Grass Juice' Chickweed Leaf' Dandelion Leaf' Holy Basil Leaf' Moringa Leaf' Yacon Leaf' Amla Berry' Shilajit.
From the waters (3'754mg): Spirulina' Chlorella
From the ocean (591mg): Kelp' Dulse' Bladderwrack' Alaria' Laver (Wild Atlantic Nori)
Enzyme Concentrate (85mg): Protease' Alpha-Galactosidase' Amylase' Cellulase' Lipase' Bromelain' Papain
---
How much does Vitamineral Green Powder cost?
Vitamineral Green Powder Pricing
As with most super greens blend, Vitamineral Green has a whole pack of nutritionally potent ingredients to wade through. So we will look a bit further on in this review at what some of them do. We will point out that, once again, this is a company that is choosing not to put the exact amounts of each ingredient on the label. There are no binders or fillers, so we are confident that you will take pure, nutritionally powered, all-natural ingredients.
At a 10g scoop per day, 300g (30-days' supply) would cost you USD 44.95. This isn't a hugely expensive product, but we would prefer to see more transparency about the ingredients. Using a proprietary blend leaves a little in the dark to like more information than this.
This product is at a cheap price end for super greens, and if the purity convinces you of the components in the product. We can't see any less value for the money than many other products on the market. They have seemingly changed their pricing and therefore upset some once-loyal customers. Apart from that, there isn't any reason not to buy Vitamineral Greens instead of a different product. At least their sourcing and organic certification is legit.
Shipping & Return Policy of Vitamineral Green Powder

The company offers domestic and international shipping and processes your orders from 9 am to 5 pm only from Monday-Friday. Also, if you are not satisfied with the product, the company offers a 90-day return policy on unexpired products. And the company does guarantee you a return, and for that, you need to contact the company's customer service department.
For whom is Vitamineral Green Powder best suited for ?

This green powder is just suited for anyone who has a busy lifestyle and is searching for a product that would give them a healthy dose of vitamins and minerals right into their morning smoothie or shaker. It's marketed toward people who care about their health and want to intake and the quality ingredients to improve it. You can even term this as an all-in-one tonic specially designed for better well-being and overall health.
Whats the best time to consume Vitamineral Green Powder?

Most people consume it as their first-morning drink. But you can take it any time of the day after a coffee or a meal as you would know that all green powders are water-soluble and can be easily digested, so you can easily mix it into any desired drink. In the case of this green powder, you can also increase the serving after two weeks which is also the suggested use of the powder.
---
How to take Vitamineral Green Powder? 
Vitamineral Green Powder Dosage
Well, its available both in a capsule and a powder form. We would recommend the powder form. Its actually a better option if you want to consume a larger dosage. Also, one tablespoon of powder is equivalent to 10 capsules, so the capsules might be difficult to swallow down. Also, many people do have hesitant to consume capsules. So the brand Healthforce sells this powder in a quantity of 500 grams. And if you follow the regulated dosage, this quantity would last for about two and a half months.
If you don't like the taste so much, you can shake it up with water in a small jar. You can nicely mix it and blend it with water for concentrated use by shaking it.
Using Powder with Recipes
Mixing it with raw juices
You can add one teaspoon or a tablespoon of powder to a green juice or any other juice if you blend it with coconut juice or apple juice, its very tasty. The savory herbal taste of the powder makes it a hit in recipes that call for soup stock. It also can be used for sauces and stews for that extra kick.
Adding it with smoothies and shakes
You can also add it to your smoothies which is also the most popular way to consume. It mixes well with the sweetness of fruits, nuts, seeds and other green leafy vegetables. You can also add it to your protein bar recipe mixed with hemp seeds and other superfoods.
Side-Effects of Vitamineral Green Powder 
Very little has been heard about any side effects of this green powder. That is the genuine part but contains a few ingredients that you might not find in other products. Ingredients like horsetail or even nettle leaf, considered weeds, are present in this powder. These are good in acceptable and small doses but would be potentially harmful in larger quantities.
The manufacturers recommend that they use this green powder initially with a smaller dose per day and later on increase the quantity gradually over the few weeks as per your tolerance level.
---
🌟 Top FAQ on Vitamineral Green Powder
Is Vitamineral Green a safe supplement?
By looking at the ingredients list, it is clear that Vitamineral Green is safe to consume. Everything is natural and organic, and there are few adverse effects. If you're anxious about how the nettle leaf or horsetail may affect you, start with a half dose and gradually increase it.
What are the benefits of Vitamineral Green?
It's full of superfood ingredients high in vitamins, minerals, and other necessary nutrients, as you can see from the ingredients list. This can significantly impact your life, such as improved cardiovascular health or enhanced vitality and energy. It's a simple approach to make sure you're getting the right amount of a variety of nutrients.
Is Vitamineral powder organic?
Vitamineral Green is 100% TruGanic™ and is not officially designated as an "organic" product. "TruGanic™ is a hard-core, purist quality standard for sourcing and production that goes far beyond organic. This is a company-created standard that ensures their ingredients are the highest quality. TruGanic™ products must pass tests to ensure they are pesticide, insecticide, herbicide, irradiation, and GMO-free."
Is Vitamineral Green Powder vegan?
Yes, the Vitamineral Green Powder product is 100% vegan, with no animal products used anywhere on the site.
When should you take Vitamineral Green?
Vitamineral Green Powder is taken first thing in the morning as part of a breakfast routine. It appears to be an excellent way to flood your body's nutrition and get a good start to the day. All green powders are water-soluble, so a teaspoon per day should easily mix in your favorite drink.
---
Should you really buy this Vitamineral Green?
Conclusion: Vitamineral Green Powder Review
So, did you see the number of benefits you are getting with Vitamineral Green Powder usage? We bet you did. In our Vitamineral Green Powder review, What impressed us most, is the effectiveness of the product. Primarily, it is essential to seek a source of obtaining enough minerals and nutrients during this pandemic. You do not want to get caught in the palms of low workability.
So, if you ask us, we highly recommend Vitamineral Green Powder to everyone in need. You do not need to need a choice before going for this product. With this, we will wrap out the take on Vitamineral Green Powder review. If you have any doubts or suggestions related to the post, you are welcome. Do not forget to mention them in the comments section below.
Until then, Sayonara
Vitamineral Green Powder Review
Vitamineral Green Powder is the most effective & plant-based superfood supplement. It provides you with vitamins & minerals daily.
Pros
All vegan and all-natural ingredients
Contains several kinds of probiotics and digestive enzymes
Affordable
High in iron
Has a good reputation and review from customers
The superfoods are juice extracts and many are organic
Cons
Grassy, gritty taste
A potentially low dosage of all ingredients hidden behind a proprietary blend

Vitamineral Green
Vitamineral Green formula is the ultimate superfood, combining 25 of the planet's most nutrient-dense superfoods in an easy-to-use powder that has been dried at low temperatures to preserve life force.
All Natural & Organic