9+ Best Blush Palettes to Buy in 2023: Get a Natural Glow
Imagine if you can't find Lipstick and Kajal and its getting super late! What if I tell you that you can use a single product and get a natural and youthful glow? Just few swipes of a Blush Palette could just give your complexion a whole new rosy glow. It actually adds a glow which bronzer or even a highlighter just can't mimic. Many people do add this product to their everyday makeup routine. Blush indeed adds just the perfect finish to any look you desire. You can just go for a bolder which is bright in color to highlight the cheekbones, you can also use a softer shades which would add more natural and go well with your everyday look.
However, looking at the dynamic roles played by Blush Palettes, it might become a confusing makeup product to use. Some might not agree to this thought of mine, but this article would certainly highlight the importance of how effectively you can use this product and also which are best among the very best Blush Palettes. We would also guide you, how you can choose the perfect shade of blush which would best suite your skin tone.
So let's begin!
---
What is Blush?
To describe blush simply, it is a cosmetic product which you can use for coloring your cheeks in a variety of shades. Blush can just make you look healthier and more vibrant. When varieties of shades are available in the market, it becomes important for you to choose the right brush for your skin. Well we can help with that! Always choose a blush which is just similar to the natural flush which appears on your skin. The easiest way to find the natural flush could be just to pinch your cheeks and see the color which turns out.
Well yes that's the exact color blush which you should choose. Blush is available in two forms viz powder and cream forms. Powder blush is available in a variety of shades which ranges right from matte to satin. You can also use this powder blush on your bare face or you can apply it over a foundation. Whereas Cream blush can also be used on bare skin but it does not blend over a foundation. It is good for those who want to use it on bare skin and also has good power for staying a longer time.
---
Basic difference between a Highlighter and Blush –
Well the basic difference is that Blush is used for coloring your cheeks while highlighter is used for highlighting a certain light points on the face which might be your cheekbones, nose, forehead or even your cupid's bow. Both products do add different dimensions to your face and gives you a healthy glow. You can even use a blush to apply foundation while highlighter should be used after you use a blush.
---
How to Find the Perfect Shade of Blush for Your Skin Tone
Well the plethora of options in shades and formulas can just make you feel tricky while you choose the best shade of blush. But hey, we would solve that problem as well.
To begin with first one should always keep undertone in mind. Be it any cosmetic product, skin tone has a huge role to play in uplifting your pretty face. Well few might be wondering what this undertone is. Just check your veins first. And then Flip your wrist and check if the veins are green? If yes, then you have a warm or yellow undertone. If they are blue, then you have a cool undertone. If the color is somewhere between the two, the most certainly you would have a neutral undertone.
Along with skin tone, skin type is equally important. People with dry skin should steer clear of powdered blush because it can crack your skin. There are few powdered formulas which are non-drying and prove effective. For people with oily skin, they should neglect using a cream based blush as that might clog your pores.
So just scroll down and check how you can choose the best blush for your skin tone.
Best Blush shade for Fair Skin
Ladies with a Fair complexion usually have a neutral or pink undertone. They can chose fresh pink, light peach and berry hues with a relatively cooler undertone. You just need to start off with a lightly build up shade until you reach the desired look.
Best Blush Shades for Medium Skin
Ladies with medium skin consider using a pink or a peach shade. By using these colors, you skin tone appears to be tanned and does give a glimpse of a warmer undertone. Along with this, rosy pink, subtle peach or a tinge of apricot or orange would just leave your cheeks glowing.
Best Blush Shades for Olive Skin.
Ladies with olive skin could just find a bit tricky to find the right shade as they have a green undertone. Many a time olive skin can just look a tad dull, but you can go with a deep-colored blush. Also bright corals, poppy pinks and lush brown shades will also suit.
Best Blush Shades for Dark Skin
Ladies with this skin should select out the dramatic and rich shades. Hot corals, deep berry, brick red are some shades which you would definitely go for as you have a warm undertone. Along with this Pigmented Blushes are also a shade which would really pop your skin.
Now when you have figured out the best blush shades, picking the right formula would just be easy. If you have oily or acne-prone skin, you can go ahead with a powder blush. If you want a bolder look, you can also go with this blush. But if you have dry and dull looking skin, you should go for powder blush. Now when we have understood the various dynamic associated with Blush Palette, Lets have a quick look at the Best Blush Palettes.
Here we have listed the 9 ✅ Best blush palettes, read the article and make your pick!
---
9+ Best Blush Palettes to Get Perfect Look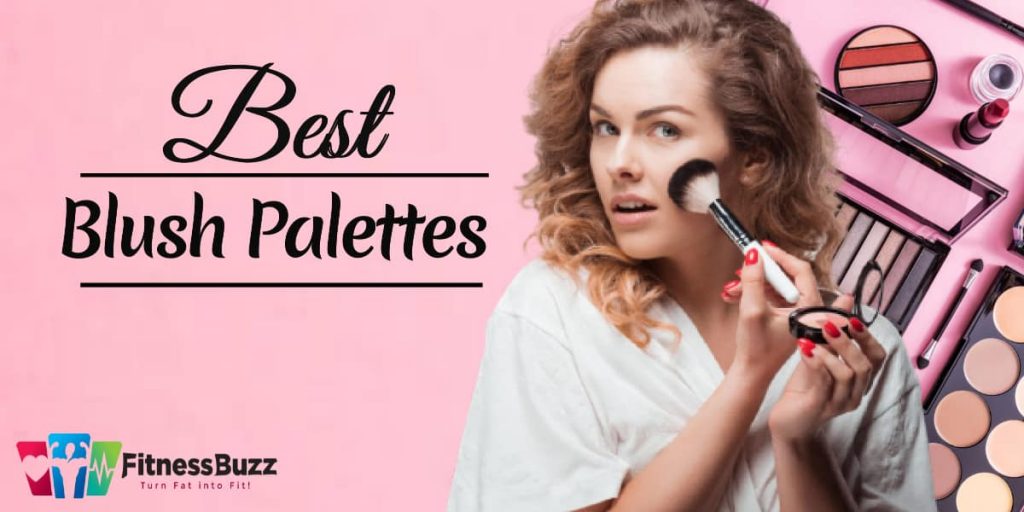 Let us get started with the list!
#1.
SIVANNA COLORS Ultra Blush Palette
The sivanna colors ultra blush palette makes a pretty choice giving eight different shades of ivory, pink, peach, and beige. It is known as a perfect palette as it never fails to provide us with a natural blush. You can use this for your everyday college look, or if you are an office professional, and even you can rock at a party after using this, as it is convenient to use and compact. It comes under one of the best blush palettes due to its sophisticated and versatile blush palettes for different makeup looks.
Pros
It gives you a matte finish.
Lasts longer.
Easily blends.
Pocket-friendly.
Travel-friendly.
Cons
No mirrors.
Contains paraben.
---
#2.
Makeup Revolution London Blush Palette
Makeup Revolution London Blush Palette
as of September 14, 2023 1:42 pm
This makeup revolution London blush palette is known to be the best blush palette for professional makeup applications. It can be used for highlighting every skin tone! It has eight shades, including matte blushers and shimmer, merged baked highlighter powder, merged baked blusher, which makes it useful for every occasion. All of these are highly pigmented, easy to blend and give you unique shades that you can use alone or combine to create a shade of your own choice.
Pros
Easy to blend
Gives you a matte finish.
Free from gluten.
Cruelty-free.
It is highly pigmented.
Vegan.
Contains mirror.
Versatile.
Travel-friendly.
Cons
Expensive.
Not water-resistant.
---
Definitely an excellent way to get perfect flawless makeup and a beautiful look at once! The soft powder comfortably suits perfectly on your skin. Being a lightweight product, it gives you a fresh, natural finish. It is a rich-pigmented and long-lasting formula that provides you with a smooth and flawless application.
Pros
Comes with a mirror.
Easily blends.
Long-lasting.
Gives you a sheer finish.
Weightless.
Buildable.
Comes in a sleek and compact design.
Cons
Becomes cakey after a few hours of application.

-34%
$4.41 $6.69
Lightweight + long-lasting
Click on the "Buy Now" button to buy SWISS BEAUTY Pro Blush & Highlight & Grab the 34% OFF Discount offer now.
---
The Chubs Ultra Blush Palette is a multipurpose palette. It contains eight extra-ordinary pastel colors; these different eight colors create fabulous and naturally flushed looks to make you look beautiful.
The shades are bold rouge, a bold berry, naturally dewy tint, subtle pink, and a cheek-sculpting neutral nude. It has a design of compact and transparent cover which makes it easy to carry in your bag; now, you can get quick touchups on the go.
Pros
Gives you a shimmery finish.
An ideal product for beginners
It suits every skin tone.
Compact design
Richly pigmented.
Versatile.
Cons
No mirror.
No applicator provided.

-50%
$2.64 $5.35
NATURAL GLOW
Click on the "Buy Now" button to buy CHUBS Ultra Blush & Highlighter & Grab a 50% OFF Discount now.
---
L'OREAL PARIS Infallible Paints/Blush
as of September 14, 2023 1:42 pm
A four-shade blush palette from the L'OREAL PARIS Infallible Paints Blush comes with an applicator brush. These are expertly curated colors that instantly give glamours to your complexion. It consists of highly saturated pigments that do last all day long. As the silky powder texture glides smoothly, it provides a flawless finish as it blends ideally on your skin.
Pros
It lasts long.
Versatile.
Suitable for every skin tone.
Compact.
It comes with an applicator brush.
Cons
It is hard to blend.
It has a patchy texture.
---
#6.
MAYBELLINE NEW YORK Master Blush By Face Studio
MAYBELLINE NEW YORK Master Blush By Face Studio
as of September 14, 2023 1:42 pm
Do you want to show your makeup skills? This blush palette from MAYBELLINE might help you to do so! It comes with a curated collection of blushes and highlighter. It contains three blushes and one highlighter palette, and the hues range from pink and nude to deep burnt pink. These blushes have a shimmer finish, create, and provide you with a chiseled and vibrant look.
This gel-based formula has a velvety smooth texture and its rich in pigmentation making it easier to blend and making an ombre effect. Each shade can be used separately or mixed with the other to get the desired color for your cheek.
Pros
It is weightless.
Easy to blend.
Gives a shimmer finish.
It has a compact design.
Goes with every skin type.
This product is travel-friendly.
Cons
Doesn't last long.
It can't be used at day.
Does not have a mirror.
---
Are you a beginner and trying to experiment with the trail looks? Well, this product is for you! Experiment with new looks with this product as it gives you a stunning matte finish. This easy-to-carry, affordable, and perfect for beginners blush palette has four smooth, rich, and bold shades.
This has a silky formula that blends easily, is buildable, and helps you glam up with a natural and flushed look instantly. Each shade can be used individually or mixed up with another to get the desired color for your cheeks.
Pros
Easy to blend.
Ideal product for beginners.
Gives a matte finish.
Smooth texture.
Pocket-friendly.
Compact design.
Versatile.
Travel-friendly.
Matte finish

-15%
$3.96 $4.68
Highly Pigmented
Click on the "Shop Now" button to buy MATT LOOK Beauty Blush Palette & Get a 15% OFF offer now.
---
#8.
Covergirl Instant Cheekbones Blush
Covergirl Instant Cheekbones Blush
as of September 14, 2023 1:42 pm
Are you looking for an effortless natural radiance? Give this blush a shot! It is a lightweight, blendable powder blush that can be used for giving your skin a perfect radiance at the end. The classic shade of this product sweeps on our skin evenly and cleanly. It is a beautiful mirrored compact for a bit of lift. It gives a natural glow, and you can easily carry this product anywhere with you.
---
#9.
Tarte Tarteist PRO Glow & Blush Palette
Tarte Tarteist PRO Glow & Blush Palette
as of September 14, 2023 1:42 pm
Do you want to turn the volume of your cheek up? Here, This product from Tarte helps turn up your cheek volume with its luminous powder. It comes with four blushes, one highlighter & one bronzer(HiFi, electric, solo, beat, amp, tempo) made to mix; try freestyle, or you can create one of your own custom shades. It comes with six full-size cheek shades. It is infused with amazonian clay, and this product is fade-free.
Pros
Paraben-free.
Mineral-oil free.
Phthalates-free.
Sodium lauryl sulfate-free.
Gluten-free.
Triclosan-free.
---
---
🌟 FAQ related to Blush Palettes
✅Is blush really necessary?
If you want to seem vibrant and youthful, this is the look for you. Blush is great for adding a natural pink blush to the cheeks. Seasonally, blush may provide a rosy glow in the fall and winter, and it can also look lovely in the spring. Bronzer is excellent for creating a sun-kissed hue.
✅At what age should you start wearing blush?
Most girls begin wearing makeup between the ages of 12 and 15, but you can start whenever you feel ready, provided your parents approve.
✅What kinds of blush are in a blush palette?
A blush palette has various forms, such as cream or powder.
✅How do you use a blush palette?
It depends on how many colors you have at your disposal. You'll need a large fluffy brush to mix and buff your favorite colors across your cheekbones, forehead, and nose.
✅Can you use eyeshadow as a blush?
Eyeshadows work well as blushes and highlighters. Because most eyeshadows are more pigmented than blushes, use caution when applying them and don't use too much product. If you're going to use eyeshadow as blush, make sure it has a matte or satin texture.
---
Final Verdict:
Every girl out there deserves to look pretty. Even after your makeup is done, you can enhance your look more with these blush palettes as they give your look a fantastic finishing touch-up. Get your cheeks a sweet color contrast and extra vibrancy for a perfect look.
You can use them individually or mix up one with another and get the desired color of your choice. They don't look like a burden, are lightweight, and easily fit your skin with makeup. Read the above article, know the ingredients and grab one of these blush palettes or two or more! Get ready to give your makeup an outstanding prettier finish.