Keeping one's head cool and calm always isn't a task mastered well by everyone. And then the COVID pandemic in the last couple of years had already played a big part in giving us stress and anxiety- to which no amount of positive vibes could calm our nerves.
However, the good news is that there are ways and supplements to help you get through the anxious mind. Ashwagandha has been a hot topic in recent times, with multiple studies proving its benefits, particularly, when it comes to relieving stress. If you're familiar with Goli Nutrition, then you might be knowing about their very famous Ashwagandha Gummies that have a large number of fans.
But Goli recently created a new gummy product coated in real chocolate with a deliciously creamy nougat filling. Surprised? I was too! So let's take a closer look at this product, Calm Bites, formulated for daily relaxation. We'll dig into its ingredients, how it works, the pros and cons, and then answer the big question of whether or not they are effective. So, keep calm and scroll down!
Goli Calm Bites Review Upfront
| | |
| --- | --- |
| Product Name | Calm Bites |
| Brand Name | Goli Nutrition |
| Official Website | Goli.com |
| Pricing | $14/bottle or $11/bottle if you subscribe |
| Benefits | Helping you stay relax and focus throughout the day |
| Money-Back Guarantee | 30 Days |
Detailed Goli Calm Bites Review – Does Goli Calm Bites Promotes Relaxation?
Goli Calm Bites are small vitamin supplements, coated in chocolate, that are composed of a potent adaptogenic blend of KSM-66 Ashwagandha and Reishi Mushrooms, which have many clinical studies to support their effectiveness. This holistic supplement helps you calm down, restore, and relax, all while tasting like a chocolate treat.
I think some of you might have already been impressed by all the proposed benefits of taking Goli's new Calm Bites, but if you're someone who likes to conduct extensive research before saying a 'Yes', then keep reading!

-15%
$16.15 $19.00
Special Goli Discount Coupon
Goli Calm Bites provide an easy and delicious way for people to get their daily dose of vitamins and minerals.
Goli Calm Bites Ingredients – Where are Goli Calm Bites Made?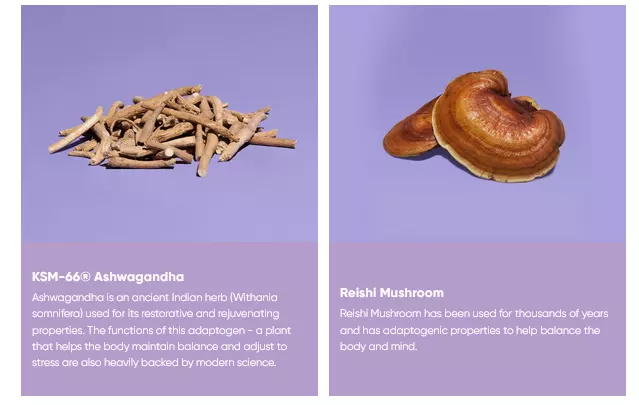 Goli Calm Bites are made in their ultra-modern, cGMP-certified facility in the US. Goli uses top-grade quality ingredients and maintains the highest quality standard for the manufacturing process as well. These premium quality ingredients have been sourced from the U.S and countries worldwide but are manufactured in the US.
Goli Calm Bites Ingredient Analysis – Are Goli Calm Bites Vegan?
There are two main ingredients inside Goli's Calm Bites; KSM-66 Ashwagandha and Reishi Mushroom. Let's break down these two key ingredients.
Ashwagandha
Goli doesn't use any random Ashwagandha in their supplements, they use KSM-66, which is the most concentrated and effective one. KSM-66 provides the largest concentration of full-spectrum extract, which means that you get the maximum benefits. When it comes to its benefits, Ashwagandha has been proven to majorly reduce stress levels in individuals.
This adaptogen and its benefits have been greatly supported by scientific research although Ashwagandha is an ancient herb that's been used for several thousands of years for its restorative and rejuvenation properties. KSM-66® Ashwagandha helps reduce stress & offers relaxation; lower cortisol levels, improve sleep quality; maintains the quality of life; supports memory and focus, strengthens physical performance & endurance in healthy athletic adults, and improves sexual function in women whose sex life needs a boost and changes.
Reishi Mushroom
Similar to Ashwagandha, Reishi mushrooms have been used for centuries to help balance the body and mind. Reishi Mushrooms are regarded as one of the best natural supplements for boosting health and longevity. Studies have shown that Reishi has the power to alleviate stress, improve sleep, and strengthen the immune system.
Goli Calm Bites Nutritional Info
| | |
| --- | --- |
| Calories | 25 g |
| Saturated Fat | 0.75 g |
| Total Fat | 1 g |
| Total Sugar | 2.5 g |
| Total Carbohydrates | 3 g |
| KSM-66® Ashwagandha | 150 g |
| Reishi Mushroom Extract | 25 mg |
| Sodium | 12.5 g |
Following are the other ingredients found in Goli Calm Bites:
Center (Sugar, Sustainable Palm Oil, Glucose Syrup, Milk Solids, Egg Whites, Natural Flavors (Acai-Blueberry-Pomegranate), Baking Soda, Cocoa Processed with alkali, Vegetable Monoglycerides, Inositol, Salt, Citric Acid, Soy Lecithin, Stevia, Calcium D-Pantothenate), Chocolatey Coating (Sustainable Palm Kernel and Palm Oil, Sugar, Milk, Soy Lecithin, Cocoa Processed with alkali, Natural Vanilla Extract).
Benefits of Goli Calm Bites – What is Goli Calm Bites used for?

We already laid down benefits that you might be able to expect when taking Goli Calm Bites, but let's study them in detail so that you can conclude whether or not these will work for you.
1. Reduce Stress and Promote Relaxation
Adaptogens like Ashwagandha have been proven to help your body deal with daily stress. It also helps to control stress-related cravings and helps you remain calm and stay relaxed all through the day. It's okay to have a rough day at the office or a tough day with the kids, and our stress levels are sky-high. We often take easy refuge in food.
Most of us cope with stress by heading straight to the kitchen or fridge and indulging in comfort food which harms our health in so many ways. Research shows that KSM-66 ashwagandha helps in the reduction of stress-induced food cravings and binge eating. It can also help lower cholesterol which will ultimately result in a reduced and maintained healthy body weight.
2. Improved Sleep Quality
Several recent studies have shown that Ashwagandha has the potential to improve sleep efficiency, sleep duration, and sleep quality.
3. Support Memory and Concentration
KSM-66 Ashwagandha has been backed by extensive research and shown to support the improvement of memory and cognitive function as well as promoting information processing and attention- span in healthy individuals.
4. Improve Sexual Function
Ashwagandha has been proven to support and boost sexual function and wellness in both men and women. This ancient herb has been used as an aphrodisiac for several hundred years.
5. Enhance Physical Performance and Endurance
When used during exercise and other bodily workouts, Ashwagandha has been shown to boostthe flow of energy supply to our muscles, which helps build cardiorespiratory endurance and strength.
100% Money Back Guarantee
100% Money Back Guarantee
100% Money Back Guarantee
100% Money Back Guarantee
How to take Goli Calm Bites? – Goli Calm Bites Dosage
Goli recommends that you take one Calm Bite daily to feel the relaxing effects of Ashwagandha. Each chocolaty bite contains just 25 calories and sweet content, enough to satisfy even the sweetest of sweet tooths!
What is the cost of Goli Calm Bites?
$14 per bottle, or save money by buying in bulk.
How many servings come in a bottle?
Each bottle of Calm Bites from Goli contains a one-month supply.
Who Should Try Goli Calm Bites? – Goli Calm Bites Review
Goli Calm Bites are a perfect option for individuals who are unable to cope with the stress and anxiety of daily life that has become so common and an integral part of our lives these days. For those who find it difficult to relax and feel calm, Calm Bites might be able to help your mind be at ease and feel a little more composed.
In addition, anyone who struggles to cope with food cravings will reap good benefits from Goli's Calm Bites as it does not only have ingredients that are proven to help you reduce stress-related cravings, but they have a tasty chocolaty built that will make you feel like you're indulging in a sweet treat!
How is Goli Calm Bites Made?
As mentioned earlier, these calm bites are made in a cGMP-certified facility in the US. The complete facility is designed in such a way that the quality is kept at utmost priority so that the product is safe. Only reputable products which maintain the highest standard of quality assurance are carried out throughout the entire manufacturing process.
This is a common and reliable facility that is used to make a majority of health products. And for Goli, quality is the most critical aspect, and they have invested thousands of hours and time in facilitating such kind of world-class facilities. The calm bites are made in the USA with only the top ingredients that have been locally and globally sourced.
Also, these calm bites do not contain gelatin, gluten, high fructose corn syrup, artificial colors, added wheat, shellfish, agave preservatives, artificial sweeteners, yeast and salicylates.
Potential Side Effects of Goli Calm Bites
It is very uncommon to experience any side effects with using Ashwagandha as it's generally considered safe for consumption when taken correctly. However, some studies show that large doses of Ashwagandha can cause upset stomach, diarrhea, and vomiting.
Of course, this is extremely rare and not possible when taking Calm Bites as Goli has included a safe and effective dose of Ashwagandha. If for any reason you find yourself with an upset stomach after taking Calm Bites, consult your medical practitioner.
How do Goli Calm Bites Taste?
The chocolate acai berry flavor of Calm Bites offers it the perfect mix of sweetness and tartness. The rich and creamy milk chocolate and the soft and fresh nougat filling remind you of Milky Way! But calm down! They are not candy bars.They're a vitamin! But they sure offer relief from swallowing or chewing some tasteless capsules. In fact, Calm Bites allow you to enjoy something sweet with absolutely no guilt!
Ratings and Reviews of Goli Calm Bites

Although goli's calm bites are a new introduction, the brand itself has amassed over 20,000+ positive reviews with an average rating of 4.5/5 stars from genuine customers on trusted websites such as amazon, google, Trustpilot, Reddit, and more.
People are loving the calm bites. One happy customer stated "These taste so delicious and have me feeling amazing! I look forward to taking my vitamins now!!!!!"
Another one said "These are the best vitamins I have ever tried!! Can't recommend them enough."
A calm bite fan said "Always found it hard to keep up with all the pills for daily health. I'd often find myself starting a routine but quitting after a few weeks. Since trying these bites, I can confidently say that I will DEFINITELY not quit this daily routine. They are so good. Officially ditching the pill box."
Goli Calm Bites Reviews – Complete List of Ingredients
KSM-66® Ashwagandha, Reishi Mushroom Extract, Center (Sugar, Glucose Syrup, Sustainable Palm Oil, Milk Solids, Egg Whites, Cocoa Processed with alkali, Natural Flavors (Acai-Blueberry-Pomegranate), Baking Soda, Vegetable Monoglycerides, Inositol, Salt, Citric Acid, Soy Lecithin, Stevia,Calcium D-Pantothenate), Chocolatey Coating (Sugar, Sustainable Palm Kernel and Palm Oil, Cocoa Processed with alkali, Milk, Soy Lecithin, Natural Vanilla Extract).
Goli Calm Bites Pricing – How much is Goli Calm Bites?
The best part about Goli Calm Bites is that they all come with Free Shipping. Along with this, we recommend you buy Goli Calm Bites only from its official website. Following are the Goli Calm Bites Pricing plans.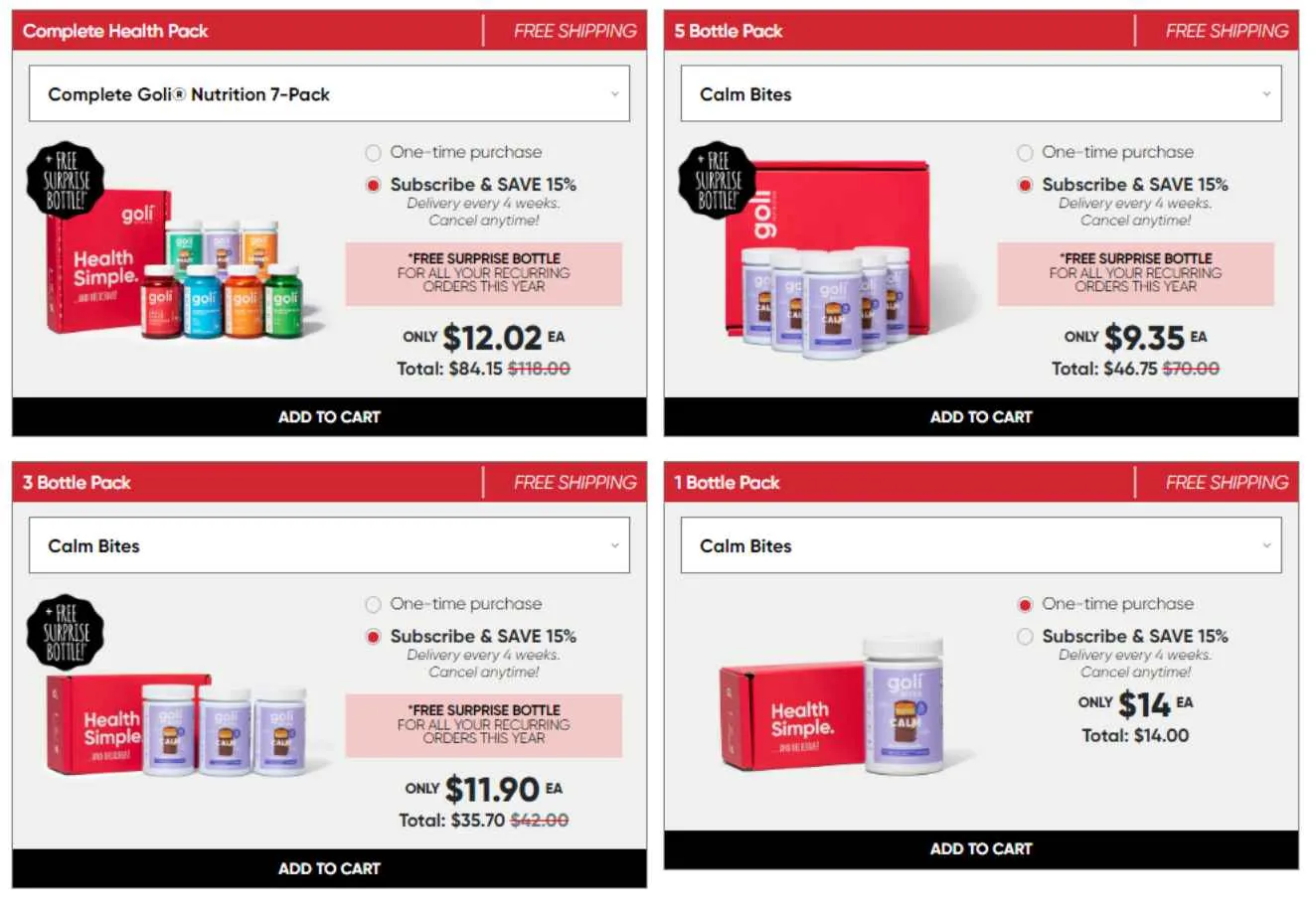 | Quantity | One Time Price | Price with Subscription |
| --- | --- | --- |
| 1 Bottle | $14 | $11.90 |
| 3 Bottle Pack | $42 | $35.70 |
| 5 Bottle Pack | $55 | $46.75 |
| Complete Goli Nutrition 7-Pack | $99 | $84.15 |
Top FAQ on Goli Calm Bites
When is the best time to take Goli Calm Bites?
You can take Goli Calm Bites at your convenient time but it is recommended to take it at the same time every day, for best results.
How does KSM-66 Ashwagandha compare with traditional Ashwagandha?
KSM-66 is a heavily concentrated root-only Ashwagandha extract, which makes it distinctive to the market. There is an extensive study and research behind it supporting a wide variety of benefits.
Are Goli Cam Bites kosher?
Yes! Goli Calm Bites are certified kosher
Should I take Goli Calm Bites with food?
You can take Goli Calm Bites with or without food. However, for best results, we recommend taking it with food.
Are Goli Calm Bites gluten-free?
Yes! Goli Calm Bites are gluten-free.
Are Goli Calm Bites vegan?
Yes! The Goli Calm Bites are vegan as they do not contain any gelatin or animal-derived ingredients.
Are Goli Calm Bites made in an allergen-free facility?
Yes! Goli Calm Bites are made in an ultra-modern, allergen-free facility.
Where can I buy Goli Calm Bites?
Goli Calm Bites are sold on the company website-www.goli.com–click here to see the packages and prices. Goli products are also available at select retailers – please reach out to [email protected] for more information about their current retailers.
Where do you ship to?
They are shipped worldwide! Also, to P.O. boxes.
How much is shipping?
The company provides free shipping on all orders worldwide.
Can I track my package?
You will receive a shipping confirmation email once your product is on its way, and it will include a tracking link to track your package.
When will my order ship?
Shipping is usually done within 1-3 business days. Once shipped, USA shipments can take 3-5 business days and worldwide shipments can take up to 15-20 business days. If there is a delay, you will be notified about it.
Is there a return policy?
In case you don't like the product, you can contact their support team at [email protected] within 30 days of your received order for instructions. The company offers a 30-day money-back guarantee on both opened and unopened bottles. However, the shipping cost will be borne by the customer.
Final Verdict: Goli Calm Bites Review – Do Goli Calm Bites really work?
Goli has encapsulated the unique healing properties of ancient adaptogenic herbs to develop a perfect combination of balance and wellness in one great chocolaty bite. This Holistic Chocolatey Bite helps you relax, compose & unwind.Extensive research and studies have gone into the benefits offered by Ashwagandha and it has been proved that Ashwagandha, the main ingredient of Goli Calm Bites helps in reducing stress, allows your mind and body to relax, and maintain balance within your body.
With Goli Calm Bites, you can now bid goodbye to stress-induced Food and cravings and say hello to a relaxed mind and chocolaty bites with benefits!
For anyone who is looking for a sweet, delicious way to relax, calm your mind, and experience one or more moments of pleasure during your day, I recommend you give Goli Calm Bites a try. Your body will thank you for your choice!
Quick Links:
Goli Calm Bites Review
Goli Calm Bites are a delicious way to help you relax and restore balance. The powerful adaptogen KSM-66® Ashwagandha is combined with rich milk chocolate and a fluffy center to create a delicious snack that can help you unwind after a long day.
Pros
They're chocolaty!
Only 25 calories per bite
Helps to relieve stress and help you relax
Goli's products are trusted and have a huge fan following
Improved cognitive function
Overall healthier well-being and quality of life
No artificial flavors, colors, or sweeteners
The delicious chocolate acai berry flavor
No Gluten.
No High-Fructose Corn Syrup.
You can take them as a sweet treat during your day, and still have no regrets!
Cons
There are some mixed theories regarding the benefits of Ashwagandha and taking it long-term
This product is recently introduced so there are few reviews
Calm Bites contain very little sugar