Hello Reader,
How are you today? Feeling Dull?
Do feel lethargic at the start of the day? Do you feel stressed out throughout the day?
Are you looking for some Natural organic Hemp supplements to recharge your life?
What you're looking for is the Palmetto Harmony CBD.
They produce natural essential oils as well as full-spectrum CBD products that are entirely safe for use. Palmetto Harmony's manufactured and sold products do not get you high.
To ensure the quality and efficacy of the products, they are all third-party lab tested.
The best thing about Palmetto Harmony CBD products is that the hemp derivatives are made from all-natural organically grown Hemp at their Family owned Vertically Integrated business in Conway, South Carolina.
The vertically integrated business model is essential because Palmetto Harmony CBD controls the product until it reaches the consumer.
This ensures that their CBD products are of high quality and have no impurities.
$129.99
Whether It Be for a Special Occasion or Not, Harmony Has Your Gift Covered!
Whether it be for a special occasion or not, Harmony has your gift Covered with Hemp Balm, Hemp Oil and Softgels. Shop Now
---
Detailed Palmetto Harmony CBD Review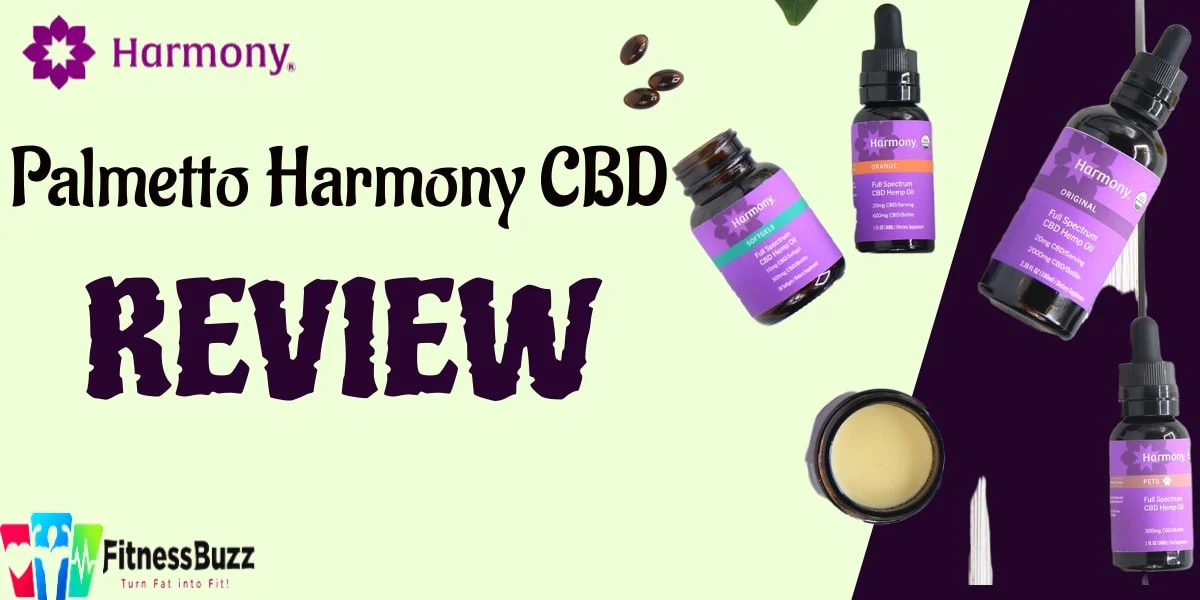 The company was founded out of a desperate need to provide long-term relief to a family member named "Harmony."
They named the product the same to raise awareness and promote wellness by associating the family's experience.
The Girl had a Smooth Brain, a genetic complication that made her prone to Intense Seizures.
Modern medicine does not provide a permanent or long-term solution to this problem.
As a result, treating such medical conditions becomes quite experimental, which is not always desirable.
As a result, the pharmaceutics involved may have unfavorable outcomes or complications.
As a result of this concern, the family considered a natural and organic solution.
Jane, Harmony's mother and the company's inspiration, took on this mission to start something that might help others in the same situation and are concerned about their loved ones.
Palmetto Harmony was founded in the year 2015. This had a positive effect on the patients who were surviving with such genetic complications.
Furthermore, the personal connection to the company's formation creates a relatable impact among its customers, who have excellent and positive things about the Palmetto Harmony products they have used or are used by their loved ones.
---
Are Palmetto Harmony's products safe to use?
When they first started, the company focused on CBD oils and capsules. However, they have steadily introduced cutting-edge new products, such as Topical and Vaping variants of Full Spectrum CBD.
The sophisticated, family-owned, and FDA-approved facility produces the highest quality hemp to extract high-quality CBD derivatives.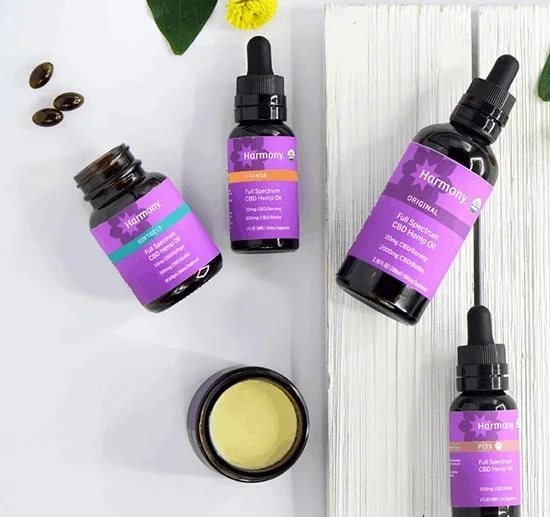 Third-party labs test the product to ensure the quality and integrity of each batch.
To maintain the transparency of the ingredients and their quantities in the products, the company makes all lab reports public.
Mycotoxins, Solvents, Heavy Metals, Pesticides, Cannabinoids, and Microbiological Contamination are all specified in the papers that have been made public.
---
Palmetto Harmony CBD Products (🔥🔥 Best Sellers)
Palmetto Harmony's flagship and most successful product. Hemp oil infused with MCT organic and entirely produced from coconuts is one of the ingredients.
The company has developed its extraction method. The technique is quite effective in maintaining the full-spectrum CBD and terpene profile quality.
Each 1ml of Palmetto Harmony Oil contains 20mg CBD. 30ml, 100ml, and 32oz bottles are all available.
Unflavored oil has been their best-selling product, but they've now added orange flavor, which is created by infusing essential oil extracted from oranges.
Pricing: $79.99 – $999.99

-25%
$79.99
A Product With a Full-spectrum Cannabinoid and Terpene Profile
Want to try Palmetto Harmony products? Click on the above button to activate the Palmetto Harmony coupon code & get 25% off on every order.
---
Palmetto Harmony Topical products are free of parabens and sulfates in any form. VERY EFFECTIVE for joint problems, tired muscles, and skincare in general.
Only natural and organically cultivated ingredients are used. The organic ingredients utilized have a natural scent.
There are no synthetic fragrance infusions in this product.
Pricing: $19.99 – $34.99
$19.99
Our Topicals Are 100% Synthetic Fragrance-free
Click on the above button to activate our exclusive CBD Hemp Topicals discount coupon that will help you to get it at a lower price.
---
Softgels are a simple, easy-to-use gel that aids with pain relief and skin care. Organic Hemp Oil and MCT Oil are the main ingredients in this product.
The gel consists solely of these two components. As a result, the Palmetto Harmony ensures product quality and the ingredient's integrity utilized in the gel.
Each Softgel contains Full Spectrum Terpene as well as Omega 3 fatty acid. The CBD content of each Softgel Suppositories is 10 milligrammes per softgel.
Residual-free glyphosate, non-GMO, and free of artificial tasting and additions
Pricing: $19.99 – $89.99
$19.99
Each Softgel Is Packed Full of Omega-3 Fatty Acids and Contain a Full-spectrum Terpene Profile
Looking for the best Palmetto Harmony discount coupon? Click on the above button to purchase CBD Hemp Softgels at the best price.
---
Choose from a variety of moisturizing and revitalizing skin-care products by Palmetto Harmony CBD
Harmony has a health product for everyone, from face creams to bar soaps.
Pricing: $22.50 – $42.50
This helps your skin to hydrate and rejuvenate.
4c Anti-Wrinkle Cream: Brightens your skin, anti ageing.
Lavender Night Cream: Applied to moisture the skin and also a make-up removal agent.
Mango Hydrating Lotion: Complete revitalization and moisturization of skin.
Bar Soaps: Rejuvenating and Cleansing agent for your perfect bath.
$22.50
Hydrating and Rejuvenating Skin-care Products
Click on the above button to get this Palmetto Harmony CBD Hemp Skin-Care Products. Shop Now!!
---
Harmony Aura Vape Oil is a popular and well-known vape oil for Sub-Ohm Vape Devices. The Vape Oil is made up of Hemp CBD Oil and Vegetable Glycerin.
The product is free of propylene glycol and includes 15mg of CBD per ml.
Comes in 2 Variants 30ml and 15ml bottle.
Pricing: $19.99 – $49.99
$19.99
Made With Only Two Ingredients, Vegetable Glycerin (Vg) and Hemp CBD
CBD Hemp Vape Products made with only two ingredients, Vegetable Glycerin (Vg) and Hemp CBD. Shop Now
---
The Gummies too come in 2 variants:
Focus (Apple) – CBD and CBG with Vitamin B12 and Green Tea Extract.
Sleep (Orange) – CBD and CBN, with Melatonin.
Each gummy contains 30 mg of CBD. There are also some other substances, such as natural flavors.
Pricing: $27.99 – $34.99
$27.99
Contains CBD and CBN as Well as Melatonin.
This full-spectrum, CBD Gummies comes in an easy-to-use bottle, each contain 30mgs of cannabinoids including CBD per gummy, as well as an array of other supplemental ingredients. Shop Now !!
---
Best CBD Oil to Shop Online
---
🌟 Palmetto Harmony CBD FAQ
✔What is Palmetto Harmony CBD?
Palmetto Harmony CBD, which was recently relaunched as Harmony CBD, is a leading supplier of organically grown essential living oils. Harmony CBD is a company that manufactures CBD products in Conway, South Carolina.
✔When should I stop taking CBD oil before a drug test?
According to Kaminski of Michigan State University, this includes ceasing topical CBD lotions, oils, and cosmetics. It also recommends containing two to three weeks before the test. That should be ample time for any THC and THC metabolites in your system to clean out.
✔Is Palmetto Harmony CBD good?
In the 10ml bottles I've tried, there's enough CBD, and the Harmony CBD vape juice tastes great. These new flavors haven't changed much, if anything, and they've outperformed the originals. Given the high cost of CBD, they've also managed to maintain the prices competitive.
✔What is the difference between CBD oil and hemp oil?
Hemp oil is derived from the hemp plant's seeds, which do not contain CBD. Hemp oil is similar to other common oils such as olive oil or vegetable-derived oils. Cannabidiol, or CBD, is an acronym for cannabidiol. It's a Palmetto Harmony CBD hemp-derived cannabinoid that's been proved to benefit the body and mind in a variety of ways. CBD oil is derived from the CBD-rich flowers and leaves of the hemp plant.
✔What are the side effects of CBD?
CBD can have adverse effects like dry mouth, diarrhoea, decreased appetite, tiredness, and fatigue, even though it's usually well taken. Other medications you're taking, such as blood thinners, can interact with CBD. The unpredictability of CBD quality and dosage in goods is another cause for concern.
---
Conclusion: Palmetto Harmony CBD Review 2021 | Are these products safe to use?
Palmetto Harmony is the most excellent available option on the market now. It has a perfect price-to-quality ratio. Thus we recommend it.
We'd like to see more research done in this field to achieve better results from these oils.
But at the very least, we now know what works!
Each ml of Palmetto Harmony oil contains 20mg CBD. The most popular oil is unflavored.
However, they've recently launched orange flavour Induced by the infusion of essential oil extracted from oranges.
Topicals containing CBD hemp oil are good for joint pain, sore muscles, and overall skincare.
Only natural and organically grown ingredients are used in these blends. The OrgaNatural Products Used Have A Natural Aroma.
Isn't infused with any synthetic fragrances. The softgels are a convenient and easy to use gel that asists you in your relief and skincare.
Organic Hemp Oil and MCT Oil are the main ingredients in this product. The gel contains only these two ingredients.
As a result, the Palmetto Harmony ensures the product's quality and the integrity of the ingredients used in the gel.
We hope it assists you in selecting the right product to provide relief to you or a loved one.🙂
Palmetto Harmony CBD Review
Palmetto Harmony is committed to offering hemp-derived CBD products that are safe, natural, and efficient for your health and wellness. Shop Now!!
Positive
Organic farming techniques are used.
Hemp plants are non-GMO
USDA-certified organic and glyphosate-free products
Negative
Less variety of flavors and scents

Palmetto Harmony CBD Review 2021: High Quality CBD Products