I'm sure protein powder and collagen powder sounds familiar to most of you. However, did you know that there are collagen protein products? Protein powder can provide you with energy before and after a workout, but collagen can have similar benefits in addition to reducing your recovery time and increasing endurance.
The supplement market is inundated with a lot of different protein powders, but choosing a collagen protein will get you some very specific and unique benefits. In this article, I'm going to be reviewing Primal Harvest's Keto Collagen powder. So let us get started!
About Primal Harvest – What does Keto Collagen do?

-20%
$27.16/mo $33.95
Free Shipping on Orders Over $75
Collagen powder and MCT oil Keto work together to provide the essential amino acids your muscles need for recovery, endurance, and strength.
Primal Harvest applies a holistic approach to the creation of its nutritional supplements. It focuses on whole body health and works hard to advance its research and work on creating new products to offer nutritional support to people who need a push in some way.
This is a very transparent brand that is honest about what they are including in its products and their uses. All of their products undergo third-party testing to ensure effectiveness, safety, purity, and potency.
What is Primal's Keto Collagen?
Keto Collagen by Primal Harvest is a hydrolyzed bovine collagen that is designed to support hair, skin, joints, nails, and gut health and increase energy. It also includes coconut-derived MCT oil to provide energy. The collagen in this product is got from certified grass-fed, cows that have not been treated with any added hormones.
Keto Collagen has a full panel of essential amino acids that can decelerate the aging process, protect your bones, offer comfort and mobility to the joints as well as improve the quality of your skin.
Claimed Benefits of Primal Keto Collagen – Is Keto Collagen Good for You?
You can achieve some splendid health benefits with the use of Primal Harvest's Collagen Protein product. Let's take a look at its benefits:
1. Supports Hair, Skin, and Nail Health
This special keto collagen formula helps promote healthier skin, hair, and nails from its roots. Collagen protein improves skin elasticity, reduces the appearance of fine lines and wrinkles, and can also hydrate the skin. You'll look younger, healthier, and happier with the consistent use of Primal Harvest Keto Collagen.
2. May Help Improve Gut Health
Collagen contains glutamic acid, which helps heal the gut. This acid also triggers muscle contractions in your intestines, which can help promote regularity and reduce the chances of constipation. Collagen can help heal a leaky gut, hydrate the digestive tract, and stabilize stomach acid. You may experience fewer bouts of acid reflux and gas courtesy of Keto Collagen from the Primal Harvest.
3. Could Help with Weight Loss
Keto Collage may have the ability to aid in weight loss by providing appetite suppression. Weight loss can also be achieved by balancing your gut by removing built-up waste and reducing the amount of bloating.
4. May Help Improve Joint Health
Primal Harvest Keto Collagen has been specifically formulated to support daily joint performance. When you increase your daily collagen intake, especially with advancing age, when your natural production of collagen is decreasing, you'll feel more flexible, comfortable, and agile. It also helps form the collagen, which exists in your joints, to become stronger and more elastic.
Keto Collagen Ingredient – Primal Harvest Keto Collagen Review
Type I & III Collagen – Hydrolyzed Bovine Collagen
To increase your daily intake of collagen, Primal Harvest's Keto Collagen powder is made using grass-fed, free-range bovine. It is hydrolyzed to support maximum bioavailability and absorption. Both types I and III collagen have been included to provide you with the maximum possible benefits.
Coconut-Derived MCT Oil
Premium MCT oil derived from coconut is also the main ingredient in keto collagen. This potent oil can provide fitness-boosting benefits as well as weight management, appetite reduction, and a boost in daily performance.
Essential Amino Acids
A full amino acid profile will improve your overall performance while also supporting an overall healthy lifestyle. Rich in naturally occurring collagen amino acids like glycerine and glutamine, Keto Collagen is more or less similar to the 19 amino acid profile that is found in collagen.
Safety and Side Effects of Primal Harvest Keto Collagen
Keto Collagen is generally very safe and can be used regularly. It doesn't really contain any other ingredients that would cause unwanted side effects. The only thing to watch out for with Primal Harvest's Keto Collagen is the fact that the MCT oil used in its formulation is derived from coconut, which is considered a tree nut by the FDA.
You should refrain from using this product if you have a tree nut allergy. If you're still concerned with the safety of this product, you can consult your doctor before starting to use it.
Is Primal Harvest Keto Collagen FDA-Approved?
Primal Harvest's Keto Collagen is manufactured inside a facility that has been approved by the FDA. Though Keto Collagen itself has not been approved by the FDA and neither has its claims been evaluated by them.
How to Use Primal Harvest Keto Collagen?
Keto Collagen is a dietary supplement; you can just stir one scoop of it into your favorite beverage with at least 8 oz. Hot or cold, you can even blend it into your favorite smoothie. It is recommended to drink it once daily, with or without a light meal. And to get the best results, you have to combine it with a healthy routine that includes a balanced diet, exercise, water, and plenty of rest.
Product Disclaimer

As your body gets accustomed to this supplement, it is important to remember that every individual is different, and health benefits may differ from person to person.

And if you are pregnant or you or a nursing woman, someone who is taking medication or even has any pre-existing condition, you should consult a health physician before taking it.
Where is Primal Harvest Keto Collagen Made?
Primal Harvest products are made in the USA using premium, internationally sourced ingredients (both domestic and imported) to ensure they give the best quality products to their customers.
Cost of Keto Collagen by Primal Harvest
1 TUB of Keto collagen is priced at $27.16.
$27.16 EACH
2. PURCHASE OPTIONS
You can subscribe and Save 20% OFF + FREE SHIPPING.
You can choose the delivery frequency, most people prefer every 1 month.
The subscription plan is flexible and can be changed or canceled easily at any time.
Primal Harvest as a Subscription
Primal Harvest offers an easy and convenient subscription service that enables you to have your Keto Collagen delivered every 30 days and right to your doorsteps. You can cancel or change the subscription anytime.
Refund Policy of Primal Harvest Keto Collagen
All Primal Harvest Supplements are backed up by a 90-day money-back guarantee return policy from the date of delivery for all sealed and unused items that are returned to their facility and cleared inspection.
They will refund your first order of any product only if you reach out within 90 days of your purchase, and all bottles except your first are unopened.
In most cases, you will be asked to return your unused products, and your refund (minus shipping charges) will be processed when your return is received at their facility. International shipments are not eligible for their 90-day money-back guarantee.
Return Procedure of Primal Harvest Keto Collagen
For a return to be eligible for a refund, Authorization from a Primal Harvest Customer Support Representative is needed. Also inside the package, you must provide your full name, email, and order number in case the package gets damaged in transit.
Shipping Policy of Primal Harvest Keto Collagen
Primal Harvest orders ship on Mondays through Fridays from different warehouses in the United States, using several shipping service providers. Most orders received by 1 PM EST during the business week will ship on the same day, however, if an order does not ship the same day, it will be shipped the following business day. If an order is received over the weekend, it will ship on Monday or Tuesday depending on the weekend volume.
Once your package leaves their warehouse, a tracking number will be sent to your email within 24 hours. If you have submitted only a phone number during checkout, they will send you a tracking message via SMS. If you do not receive any tracking message within 2 business days of placing your order, please contact their Customer Support team at [email protected].
Please allow up to 4 business days for your package to arrive before contacting customer service. The cost of shipping is calculated at purchase, but domestic orders from within the contiguous United States for $75 or more will be shipped free of charge.
They offer $5.95 standard ground service shipping to the contiguous United States and $9.95 standard shipping to Hawaii, Alaska, and all other outlying US Territories. They also offer expedited shipping services for an additional $5.
Primal Harvest International Shipping
Primal Harvest does offer international shipping where possible (see countries in the drop down menu during checkout). Some items may not be available to ship internationally due to restrictions on import. All international shipments are charged $9.95 shipping and can take 15 business days or more to deliver.
International shipments are subject to import duties and fees that have not been included in the order total. They may be demanded by the carrier at the time of delivery on behalf of customs. Primal Harvest is not responsible for these fees. International shipments are not eligible for their 90-day money-back guarantee.
Primal Harvest Contact Info
Primal Harvest: 2980 McFarlane Rd Miami, FL 33133
Phone: +1 631-769-2227
Service Hours: M-F: 9am – 5pm EST
Customer Support: [email protected]
Primal Harvest Keto Collagen – Customer Reviews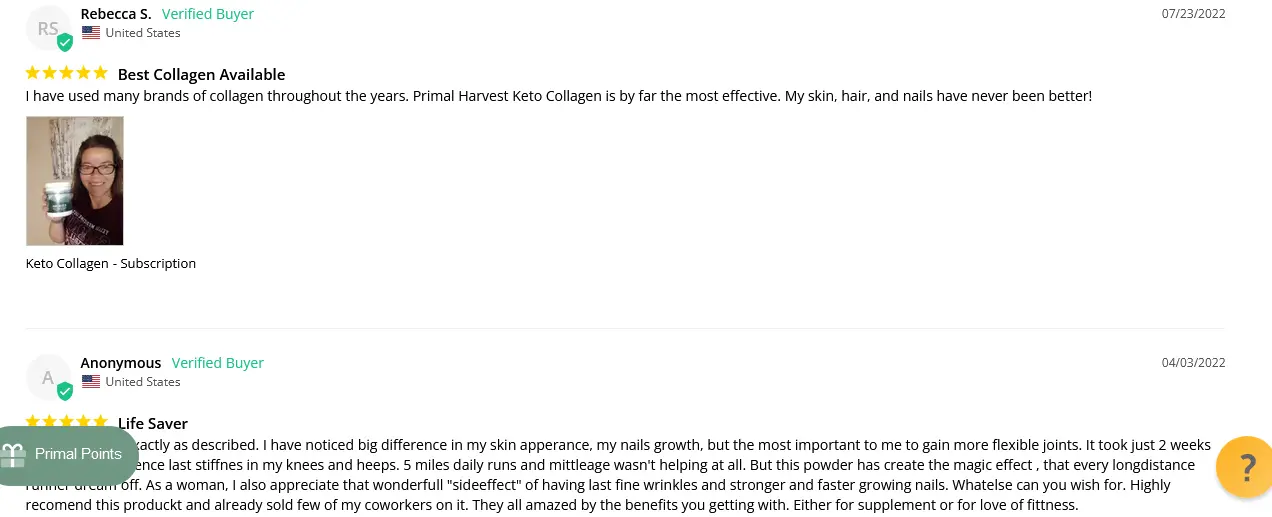 Many people who have reviewed this product have tried several collagen products in the past, indicating that Primal Harvest's version is the best they've come across. Initial benefits can be seen in the improvement of hair, skin, and nails. Gut health, energy, and joint health changes can be noticed after a couple of months of using Keto Collagen. It's a very versatile product and you can see that through the many reviews that are listed on the Primal Harvest website. Let's go through a few customer reviews posted by verified users on Primal Harvest's official website.
A user posted, "This product is exactly as described. I have noticed a big difference in my skin appearance and my nail growth, but the most important to me is to get more flexibility in my joints. It just took me 2 weeks to experience the last stiffness in my knees and hips. 5 miles daily runs and mileage wasn't helping at all. But this powder has created the magic effect that every long-distance runner dream off. As a woman, I also appreciate that wonderful, "side-effect" of having last fine wrinkles and stronger and faster-growing nails. What else can you wish for? Highly recommend this product and already sold a few of my co-workers on it. They are all amazed by the benefits you getting with. Either for supplement or for love of fitness."
A customer stated, "I have used many brands of collagen throughout the years. Primal Harvest Keto Collagen is by far the most effective. My skin, hair, and nails have never been better!"
Another one chipped in, "Add it to my coffee every morning. Tastes great! Noticed my nails are looking fabulous as well."
A customer remarked, "Love this product. My skin feels great even after one month! I add it to my water or any drink because it's tasteless. Very easy!"
Another commented, "I went on a 9-day liquid cleansing fast after receiving the collagen. I drank it every morning with my aloe and cranberry juice, and I know I wouldn't have made it 9 days without this! I felt fantastic and my energy level was up all day!"
Top FAQs related to Primal Harvest Keto Collagen
Which is the recommended way to use Keto Collagen?
You can take Keto Collagen in the morning, afternoon, evening or even before your bed. Also, there is no specific time to take Keto Collagen, but in general, you will get the best results if you take it consistently.
How to make the perfect Keto Collagen Drink?
To make a perfect Keto Collagen drink, simply mix one scoop of the powder into your favorite bevcerage, hot or cold. You can even blend it into your into your favorite smoothie.
How long does one container of Keto Collagen last?
With each bottle of Keto Collagen, you get 30 servings which is a one-month supply if you use it daily.
Are there any allergy concern with Keto Collagen?
Keto Collagen is manufactured in a facility which processes tree nuts, wheat, peanuts and Soy. Also it contains hydrolyzed bovine collagen keto and coconut derived MCT Oil. And we do recommend you to consult a doctor before you take any supplement.
Can you take Keto Collagen if you have any medical conditions?
The Keto Collagen is marked safe to be used for healthy adults who are over the age of 18. If you are suffering from a medical condition, taking prescription medications, or have any health concerns, please consult with your doctor before starting a new supplement routine.
How to store Keto Collagen?
To get the maximum effectiveness and shelf life of Keto Collagen, you have to store it in a cool, dry place and also away from direct sunlight, moisture and also from extreme temperatures.
What is the shelf life of Keto Collagen?
You have to store it properly and unopened. Then the shelf life of Keto Collagen is about 2 years. And once you open it, it is recommended to use it within 90 days for maximum effectiveness.
How many containers of Keto Collagen you should purchase? 
How much you should order totally depends on you. But consistency is the only key to take the maximum benefits of this supplement. So even after discounts when you purchase 6 or more container of Keto Collagen it is fine. Now that's because you are also backed by a 90-day money-back guarantee, which gives you plenty of time to try their Keto Collagen and see whether it benefits you or not. 
Final Verdict: Is Primal Keto Collagen worth it?
Keto Collagen by Primal Harvest is a simple yet effective formula for daily wellness support to help you support your hair, skin, nails, joints, bone, and gut health. Whether you're getting older and are anxious about the reduced collagen production in the body or you simply want to live a healthy lifestyle as possible, Primal Harvest allows you to take your collagen consumption into your own hands. Also, it's a perfect supplement for those who are interested in slowing down the aging process and maintaining a healthy weight.
The coconut-derived MCT oil delivers added fitness benefits and makes this the perfect Keto Collagen for those on a low-carb or keto diet.
You can use this supplement in many different ways, from drinking to cooking with it. You'll not only notice changes in how you feel with its consistent use, but you'll also start to see changes in your appearance as well that will make you look younger, healthier, and glowing. I encourage you to check out this product and let me know how and what you feel about this product.

Primal Harvest Keto Collagen Review
Sourced from grass-fed beef, this 100% Hydrolyzed Collagen and MCT Powder supports hair, skin, nails, joints, and gut health. It is made with full-spectrum type 1 and 3 collagen and includes MCT powder for increased vitality and energy.
Pros
Promotes hair, skin, nails, joints, and gut health.
Contains type I &amp
III hydrolyzed bovine collagen.
Contains MCT oil to improve your energy levels and offer support to your fitness regimen.
Contains no flavors so you can mix it into any beverage of your choice.
Free of gluten, soy, and dairy.
Sustainably made without gluten, soy, or dairy.
USA-made in a GMP-certified facility.
90- Day money-back guarantee.
Cons
Contains tree nuts (coconut).