Is a plant-based diet healthy? Interested in meal delivery services? Sakara brings you one. Filling meals per day with plant-rich, nutrient-rich ingredients. Metabolism Nutrient System to Detox program and more. Sakara incorporates all you need as a Holistic Health Coach.
In-Depth Sakara Life Review
Sakara Life is a delivery program for organic meals. This organic meal is based on a plant-rich diet and a whole-food diet. They provide you with plant-based healthy foods. Sakara Life's organic meal programs include nutrient-dense, fresh and delicious ingredients. These meal kit services by Sakara provide you with their premium delivery meal programs. Sakara Life's organic ingredients, which are fresh ingredients used, have 9 pillars of nutrition.
No 1 – No Calorie Counting: They say that the calories vary. Some are fattening, some are addictive, and some – boosts metabolism. Food contains information, not just calories.
No 2 – Plant Protein: They say you can be deficient in protein intake if you do not consume whole food of plant origin, that is legumes, 100% whole grains, fruits and vegetables. Only consuming products similar to refined foods and dairy gives the body more chance to be protein deficient. A Plant based diet gives the body enough protein.
No 3 – Eat Your Water: Water is healthy for the body. When we consume food elements that are rich in water, the body takes time to absorb water from that food. The body stays more hydrated throughout.
No 4 – Greens: Most essential for the body, which is skipped day in day out. Sakara Life has a diet that is enriched in greens with a lot of benefits.
No 5 – Good Fats: An essential factor of the human body, which makes up 15 to 30 % of the human body. Fats are considered unhealthy and harmful, causing many diseases. But the body always requires good fats as a building block, present in most of the plant based food.
No 6 – Eat The Rainbow: Food as a source of special ingredients transforms your health and prevents and treats most of the diseases. Every food inherits its particulars. Color plays a vital role in consideration of qualities. A colorful plate with a mix of various veggies and fruits contributed widely to the health.
No 7 – Nutrient Density: Micronutrients are essential for the body. Sakara Life provides nutrient-dense food containing all the healthy fats, vitamins, minerals, complex carbohydrates and lean protein.
No 8 – Sulfur-Rich Veggies: With nourishing cells and mitochondria, sulfur-rich foods help the body eliminate toxins more efficiently.
Sulfur-Rich Veggies have more benefits affecting our body health.
Liver Health
Blood Vessel Health
Detoxification
Antimicrobial Actions
Heart Health
Hormone Balance
Immune Cell Action Support
Anti-Cancer Properties
No 9 – Body Intelligence: Food carries information, just like the brain does. Gut health is most essential when it comes to the body. It is because the food we eat carries all the nutrients and other essentials which our body has intelligently discovered.
Why Sakara Meals? – Healthy Meal Delivery Program | Sakara Life Review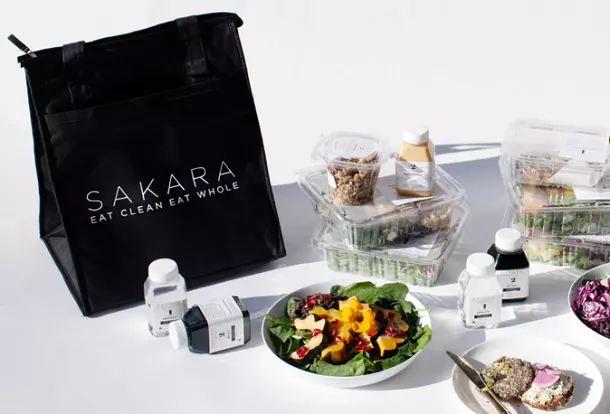 Sakara delivers food that contains colors, leafy greens, whole food, a plant-rich diet that are fresh foods and ready-to-eat-meals. These plant-based meals do not deliver any frozen meals. Sakara Life has a Customizable Weekly Schedule with the customizable meal plan, which is made to fit your lifestyle. It includes Teas, Fresh Meals, Supplements and Support.
The meals by Sakara Life are:
Gluten-Free
Plant-Based
Organic
Dairy Free
Non- GMO
No Refined Sugar
The food Sakara Life delivers is enriched with lots of health benefits. Sakara Life has a lot of options for their foods and meals including Detox Teas, various breakfast items, dinner options, and various detox programs as per the type of food you need. It can be your personal favorite considering health goals. You can choose maybe a light breakfast or even the days of breakfast with many healthy options and nutritious food.
Benefits of Sakara Life Plant-based, Organic meals
The clients of Sakara have seen the transformation in as little as a week. Sakara Life provides an experience of food as medicine. Acts as a Holistic Health Coach for your healthy living.
Reduce Bloat
Improve Digestion
Shed Excess Weight
Boost Energy
Improve Skin Clarity
Increase Focus
Nurture Gut Health
Curb Sugar Craving
Boost Up the Metabolism
Nutrient value in Sakara Meals
Sakara Life has wholesome meals. You can check on the social media channels of Sakara Life and on their Website for the Meals Review. The quality and ingredients are of premium quality and taste best with the flavors incorporated. Sakara does not explicitly count calories. Rather vitamins, minerals and other essentials needed for the body are calculated.
What does Sakara Meals include? What are Sakara Meals made up of?
Sakara meals are of high quality, protein-based diet. Sakara meals are with the wealthiest elements, colorful, and Vegan. Including soup bowls full of grains and nuts, with dressings of flowers and carrots.
The menu is inspired by Asian, Middle Eastern, and Indian Noodle bowls from Japan with lots of vegetables, bread with tropical jams, nuts and Grain Toasts. Most of the food is made incorporating lots of organics and from scratch. It includes light salads and curries.
For a sample, one of the meals includes Butterfly Bowl with a tie-dye carrot having kale leaves (chopped), purple rice, beet spread and more. One is Roasted Peach Masala Chana (Indian cuisine), a masala curry with a vibrant taste. Vegetable Moussaka and Ginger Almond noodles, with potatoes and greens. The meals per day can be chosen, but you do not have an option to choose your meals. Ingredients are organic with great sauce and dips.
Who should choose the Sakara Life meal program?
Individuals who want to try plant-based meals and are ready to spend an extra cost on these healthy foods. For people who have had a lot of contact with meat and need a new try, Sakara is a better option.
Who should not choose Sakara life meal programs?
Individuals who are with plant allergies or are more carnivorous might not enjoy this meal. The one who is not habitual of lots of sweet potatoes, or the one who wants to stick with a keto diet. People who do not want to disturb their budget.
Meals, Subscription, Delivery and Menu of Sakara Life
This organic meal delivery service provides you with a program schedule with a Weekly Subscription plan, where you can save up to 15% or with a One-time program. You can choose for the meals you require including for Breakfast, Lunch and Dinner.
The program length could be of 2 days (Thu -Fri)
3 days (Mon-Wed)
5 days (Mon – Fri)
You can choose your weekly meals and the meals per day as required from this Meal Delivery Program. You can supercharge your results with the Anti-inflammatory Green Smoothie i.e. earthy, refreshing and bright. The order will be delivered – Sunday + Wednesday from 7 to 11 pm per week. You can Swap Meals or Skip Meals and with easy cancellation. The meal is delivered across the continental United States.
Depending upon the Zip code, the meal plan and program could be created and to view the options available in your area. You can explore the menu for the upcoming week by adding the Zip code Here on their official website.
How much do the price ranges for Sakara Meal delivery plan? Sakara life Pricing
Starting with $16, there is a wide range of products available. The meals are worth trying but quite expensive. If you are interested in meal delivery services, Sakara is worth a try. The cost varies from $106 to $349 or more, depending on the plan you choose and the meals per day.
Signature Meal Programs – 2 days $109 to $169
For 3 days meal programs – $159 to $239
For 5 days meal programs – $269 to $420
They also have One-time program
For Signature Meal Programs, 2 days of breakfast, lunch, dinner or maybe a combination if you choose for – $119 to $185 + $10 shipping.
Three days of breakfast, lunch, dinner or maybe a combination if you choose for – $180 to $225 + $10 shipping.
Five days of breakfast, lunch, dinner or maybe a combination if you choose for – $299 to $440 + $10 shipping.
Ten days of breakfast, lunch, dinner or maybe a combination if you choose for – $598 to $880 + $10 shipping.
Twenty days of breakfast, lunch, dinner or maybe a combination if you choose for – $1196 to $1760 + $10 shipping.
$450 +$10 Shipping (5 days), detox level II, and one is
$1680 +$10 Shipping (20 days)
Are there any Discounts, Offers or any Promotions by Sakara Life?
You can get 25% off on your first Signature Nutrition Program or Metabolism Super Powder purchase. You have to sign up by email, and you will receive a lot of inspiration, tips and curated recipes. They have Sakara Promotions & Discountssince the price is not affordable for such a plant-based organic meal.
Top FAQ on Sakara Life Review
Is there any cookbook available by Sakara?
Yes, there is a Sakara cookbook available from international booksellers.
Who is the founder of Sakara Life?
Danielle Duboise and Whitney Tingle launched Sakara Life a decade ago. These two brought together $700 to start with Sakara Life.
Where is Sakara Life based?
Sakara Life has its kitchens based in New York, Long Island and California.
Does Sakara Life have all the Vegan meals?
Yes, Sakara Life has all the healthy meals, which are Vegan.
Does Sakara Life help you in Weight Loss?
Not specifically made for Weight Loss, but considering a healthy diet, Sakara Life provides you with the benefit of shedding excess weight. Got a few consumer reviews regarding Weight Loss as well.
Do the meals from Sakara Life require prep or cooking?
No, Sakara Life provides you with quality meals where there is no need for meal prepping. They provide you with prepared meals. No cooking is required.
Are the products certified for Sakara meals?
Sakara has used organic elements, some of which are certified, and a few of them are non-certified.
At what time is customer support available for Sakara Life?
You can contact customer service from Monday to Friday. Between 9 am to 6 pm EST.
Conclusion: Sakara Life Review – Should you really order from Sakara Life?
Sakara Life serves and delivers you the meal kit with your favorite meal, where you can choose the days of meals and meal delivery plan. It contains organic, whole food meals, and with a subscription, you can choose a fixed-term meal plan. Though as per the ingredients used, like avocado, pitaya powder, pistachio milk, date syrup and all nutrient-rich ingredients, the value is also a bit higher.
Sakara is worth the value incorporated in all their meal types. The meals review was quite positive, and the consumers were optimistic about this healthy meal delivery service. The review article was based on the information found on the official Website of this Food Delivery Service by Sakara Life.
Sakara Life Review
If you're looking for a change in your diet, Sakara Life is a great option. Their plant-based program can help you get fit, somehow help in losing weight by a healhy deit, try new flavors, and get all the nutrients you need for a fit life.
Pros
The quality and ingredients are of premium quality.
Meals arrive ready to eat.
Provides you with the benefit of shedding excess weight.
It includes teas, fresh meals, supplements and support.
Boost Up the Metabolism.
Meal programs are balanced and designed carefully.
Great taste and provides you with quality meals.
No shipping charges if your order exceeds $100.
Cons
Expensive.
Not all meal plans are customizable.