Intra-workouts are supplements that you take right before a training session. They're meant to provide the body with extra energy and nutrients so that it can perform at its peak during your workouts. The idea behind this type of supplement is that they help give your muscles more energy than what they would typically get from food alone.
It means that you won't be as tired after your workouts, which will allow you to train longer and harder. Power athletes and fitness enthusiasts often use power performance supplements to increase their performance in various activities.
Best Value
1

Shop these XTEND Original BCAA Powder Watermelon Explosion at the bet price.
2

IN-KAGED is a superior intra-workout BCAA powder that will help you exercise longer, harder, and better than sugary sports drinks.
3

Shop this Rich Piana 5% Nutrition All Day You BCAA & Joint Recovery Drink at the best price.
Intra workout supplements like pre-workouts, post-workouts, and recovery drinks help power athletes perform better during workouts and recover faster from them. Intra workout supplements are becoming increasingly popular, competing in strength sports such as weightlifting, CrossFit, bodybuilding, gymnastics, and powerlifting.
---
Best Intra Workout Supplements to Maximize Power Performance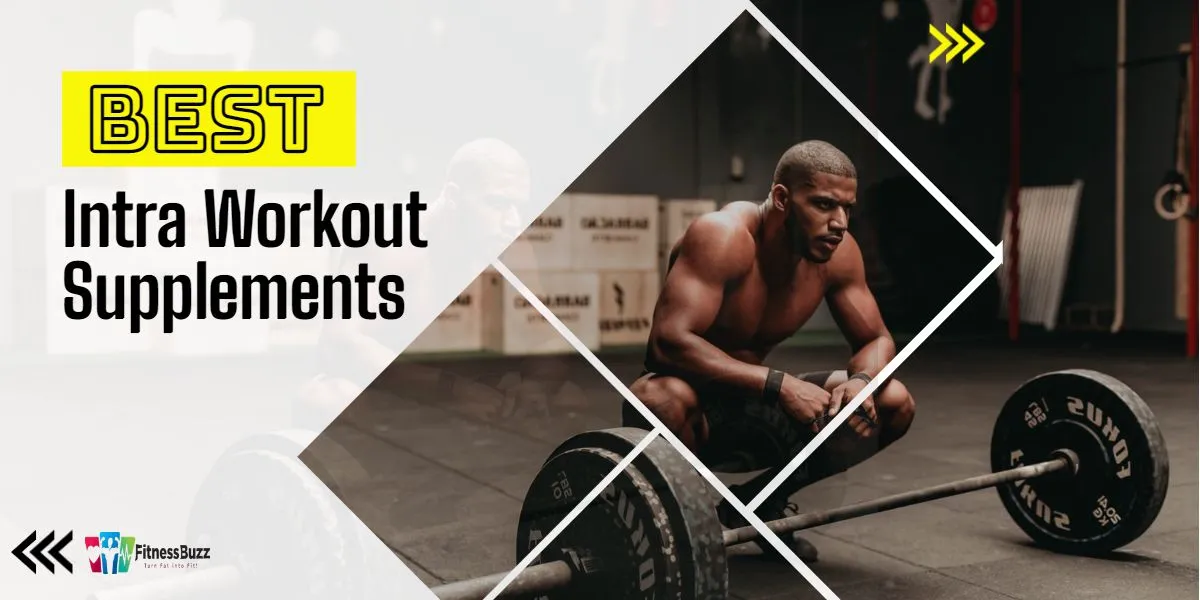 We have put together a list of the 13 Best Intra-Workout Supplements for you to get that ideal pump and a boost of energy!
This combination aids muscle healing and growth. You'll get 30 servings in each tub, all of which contain premium nutrients, including L-Leucine, L-Glutamine, L-Isoleucine, L-Valine, and Citruline Malate. The 7g of BCAAs in each serving, according to the manufacturer, have been clinically proven to enhance muscle recovery, repair, and growth. The supplement is carbohydrate-free, calorie-free, and sugar-free, and it has been third-party evaluated to ensure high product development standards and quality.
On the other hand, Citrulline malate may improve your pump by promoting an increase in nitric oxide levels.

$19.80
7g BCAAs for Men & Women
Shop these XTEND Original BCAA Powder Watermelon Explosion at the bet price.
---
It is designed to improve exercise performance and endurance. Each tub has 20 servings, all of which contain a blend of high-quality performance-enhancing substances. Five grams of fermented BCAAs, 3 grams of fermented L-Citruline, 1.6 grams of Beta-Alanine, 1 gram of Taurine, 1 gram of Tyrosine, 500 milligrams of coconut water powder, and 124 milligrams of organic caffeine are found in each meal.
According to Kaged Muscle, using In-Kaged can improve mid-workout performance and endurance, extend muscle pumps beyond your last rep, and improve overall strength and performance.

Kaged Muscle
They also claim that it can help you avoid muscle tiredness, improve focus, and work out for more extended periods.

-8%
$23.98 $25.99
Amino Energy Drink for Weights & Cardio
IN-KAGED is a superior intra-workout BCAA powder that will help you exercise longer, harder, and better than sugary sports drinks.
---
Designed to improve muscle repair and maintain an anabolic environment. Each tub has 30 servings containing 9g of the amino acid matrix, 609mg of joint support blend, and 201mg of caffeine. The supplement is sugar-free, calorie-free, and carbohydrate-free and comes in eight different flavors. According to Rich Piana's 5 percent Nutrition, the supplement may aid in muscle recovery, hydration, and joint support. They also claim that ADYM's raw coconut electrolytes provide an excellent source of vitamins, minerals, and enzymes.

Blue Raspberry
Shop this Rich Piana 5% Nutrition All Day You BCAA & Joint Recovery Drink at the best price.
---
Formulated to improve recovery time and fuel efficiency. Each tub has 30 scoops/servings, all of which contain high-quality nutrients that aid healing and help to decrease delayed onset muscle soreness. According to NutraBio, their EEA complex has been demonstrated to aid in protein synthesis and other critical physiological functions in the body. TMG and OKG together, according to the manufacturer, assist in retaining muscle tissue, minimizing fatigue, and boosting total endurance.

$44.99
Advanced Electrolyte Performance Matrix
Intra Blast is the most advanced intra-workout amino-acid product ever created. Shop Now!!
---
It was developed to improve focus, performance, and stamina! Each bottle has 45 scoops/servings containing 7000mg PurplEAA Complex and 2700mg PurplEndurance Complex. Purple Wraath, according to the manufacturer, can help with athletic performance, endurance, focus, stamina, and muscle recovery. They also claim that it promotes strength, power, and energy throughout an exercise by stimulating metabolism and reducing body fat. The amino acids in the recipe rush nutrition to the active cells in your working muscles, creating the ideal anabolic environment for lean muscle growth.

$59.99
Grape, 90 Servings
Enhances recovery and increases strength, endurance, and energy while maximising lean gains and fat loss.
---
Formula XII created this formula to help restore glycogen levels and boost muscle synthesis. Formula XII has 5g of Creatine Monohydrate, 10g of Cluster Dextrin, and 5g of organic ModCarbs, making it an ideal supplement to consume during or immediately after a workout. The supplement contains 12 different substances, the most notable of which are creatine monohydrate and fast-digesting carbs.

$64.95
IMPROVE MUSCLE FUNCTION
Shop this Formula XII Intra & Post Workout Formula at the best price.
---
Premium hydrolyzed whey isolate is used for 7 grams of critical branched-chain amino acids per 15-gram serving, as well as 2400 mg of L-Glutamine. Muscle strength, healing, and endurance are all aided by it. It aids in muscle preservation and is a flexible BCAA that can assist anyone, from the severe bodybuilder to daily athletes and fitness enthusiasts.

$69.24
Intra Workout Supplement for BodyBuilding
Shop this PhD Nutrition Intra BCAA+ at the best price.
---
REAL BCAA intra-workout powder supports lean muscle mass and reduces muscle breakdown while promoting muscle development and maintenance. BCAA powder is a calorie-free, carbohydrate-free, and sugar-free supplement that mixes readily with water. 5g of vegan micronized amino acids per meal, which aids with muscle recovery after exercise.

Best Intra Workout Supplement to buy
Intra-Workout Powder containing 5g micronized BCAAs for muscle growth, fat loss, and post-exercise recovery.
---
A functional carbohydrate designed to replace muscle glycogen quickly and improve nutrient absorption and muscle function. To jump-start muscle energy (glycogen) replacement and recovery, mix 1 to 2 scoops of power carb in 250ml of water and take immediately after activity.

Perfect Intra workout supplement
This Functional carbohydrate is designed to replenish muscle glycogen rapidly. Shop Now!!
---
This product aids in the production of energy, increased strength, improved recovery, and improved attention, allowing you to get through even the most strenuous workouts. Mix 1-2 scoops (1-2 servings) with 32-64 ounces of cool water for intra-workout. Drink about a third of the cocktail 20 minutes before strenuous training, then sip the rest throughout your workout. Use before or post-training as a pre-workout to improve endurance and recovery.

$59.99
Best Intra Workout Supplement
Shop this Leg Day – Intra Carb – Intra Workout by NutraBio at the best price.
---
L-citrulline is an amino acid that our body naturally produces. L-citrulline is converted to L-arginine, which is an amino acid. Arginine aids in the production of nitric oxide, a chemical that enables blood arteries to dilate by relaxing the smooth muscle cells that constrict them. 3–6 grams of L-citrulline or approximately 8 grams of citrulline malate per day is the suggested dose.
Citrulline plays a crucial role in the body, although it is not used to make proteins like other amino acids.

$29.99
Raw L-Citrulline, 300 Grams
This Blackmarket RAW L-Citrulline is made with fully dosed citrulline. Shop Now!!
---
HYDRAMINO's full quick hydration mix includes hydrating coconut water, alkalizing greens, natural antioxidants, and vitamins B and C to replenish and regenerate what perspiration and dehydration take away from the body. HYDRAMINO hydrates you optimally during strenuous exercise or daily activity, doubling the hydration effects of simple water or sports drinks to keep you operating at your best without adding sugar.

19.99
All-In-One Formula
These HYDRAMINO Electrolytes + Amino Acids help you rehydrate and recover from exercise and daily dehydration quickly!
---
Condition your body for more explosive strength and power gains than ever before, thanks to a tri-phase Creatine combination that provides unsurpassed bioavailability, absorption, and digestion. SIZEON also contains an industry-leading 4g of L-Leucine for maximum anabolism before and after training, as well as AmmoJECT to help reduce lactic acid buildup in muscle tissue.

$43.99
Increased Muscle Volume & Muscle Recovery
SizeOn can be used by anyone who wants to improve their recovery, muscle mass, and performance in the gym or during athletic competition.
---
Why should you use an intra workout supplements ?
There are several reasons why you should consider using an intra-workout supplement. Here are just a few:
It helps you recover faster
It gives you more energy
It increases your endurance
It improves your overall health
It reduces inflammation
It makes your workouts easier
It provides better sleep quality
It boosts testosterone levels
It helps reduce fat storage
It reduces stress
It improves mental focus
It helps build lean muscle
It helps prevent injuries
It allows you to eat less
It helps you lose weight
The most popular types of intra-workouts are protein powders, but there are many other options available too. Some people also use them for recovery days or when they want to increase their muscle mass.
---
How to start with intra workout supplements?
The first thing you need to do is decide on which intra-workout supplement you want to try out. There are many different brands out there, and some have been proven effective while others haven't. So make sure you read reviews and look into customer feedback before buying any product. Next, you need to find a good supplier who sells these products in bulk. If you buy directly from the manufacturer, then you might not always receive what you ordered.
But if you purchase from a reputable supplier like BulkSupplements.com, then you can rest assured that you'll receive only high-quality products. You can choose between liquid or powder form. Liquid forms are usually preferred because they dissolve quickly in water. However, you may prefer powder form if you don't like the taste of liquids. Next, you need to figure out the dose of each ingredient you'll need. To calculate the amount of each ingredient, multiply the number of servings by the recommended dosage per serving. Then, you'd multiply that value by the number of servings listed on the bottle.
For example, if you order 1 scoop of whey protein isolate, you'd need to add up all the ingredients listed on the label and divide it by 1.
---
🌟 Intra Workout Supplements FAQ
✅What is an intra workout?
Intra workouts are designed to help you reach your physical and mental limits during a workout. They are snacks or tablets containing ingredients that help peak performance, muscle recovery, hydration, and electrolyte replenishment.
✅What is an intra workout supplement?
Intra workout supplements are those that are consumed during a workout. They intend to boost workout capacity by increasing energy, hydration, and recovery.
✅Is Intra workout necessary?
An intra workout is something you take before, during, or after your workout. A good intra workout should help you power through the session by providing physical and mental energy. However, it should also clarify your hydration and electrolyte levels and get you on the road to muscle recovery.
✅Do I need BCAA after a workout?
Taking BCAAs before/after exercise may provide the same level of muscle protection.
✅When should I take carbs on intra workout?
Start slowly eating/drinking your intra-workout snack about 30 minutes into your workout.
---
Conclusion: 13 Best Intra Workout Supplements 2023
Exercise, proper nutrition, and good health habits are essential for staying fit. To ensure that you get an effective workout, you need to maintain good nutritional habits. It is not possible for someone who has no energy to exercise regularly.
In addition, exercising causes the breakdown of certain nutrients like protein, carbs, etc., in the body, promoting lethargy.
To avoid losing these essential nutrients from the body, we need to consume them through supplements like pre-workouts, intra-workouts, and post-workouts. During workouts, intra-workout nutrition refers to consuming nutrients during exercise to improve athletic performance and prevent nutrient loss from the body. There you have it! Choose your favorite and ace your workout routine!