Are you someone who wants to start each day on a healthy note and enjoy overall good health all your life? Do you face time constraints and wish to have your nutritional needs met quickly and efficiently?
If so, we are sure you must be searching for a wellness product. Today we'll be reviewing one such complete wellness product that has gained popularity in the supplement market; Morning Complete. Check our complete ✅ActivatedYou Morning Complete Review that includes its detailed information.
Is this prebiotic and probiotic-containing powder as beneficial as it claims to be? Do people who take this 'whole' nutritional supplement feel it is giving them all that they need in their diet? Read our detailed review on ActivatedYou Morning Complete that helps you to get the answer to the above questions.

-47%
$49 $79
ActivatedYou Coupon Code 2022
Click on the above "Order Now" button to redeem our special ActivatedYou discount coupon.
---
Detailed Morning Complete Review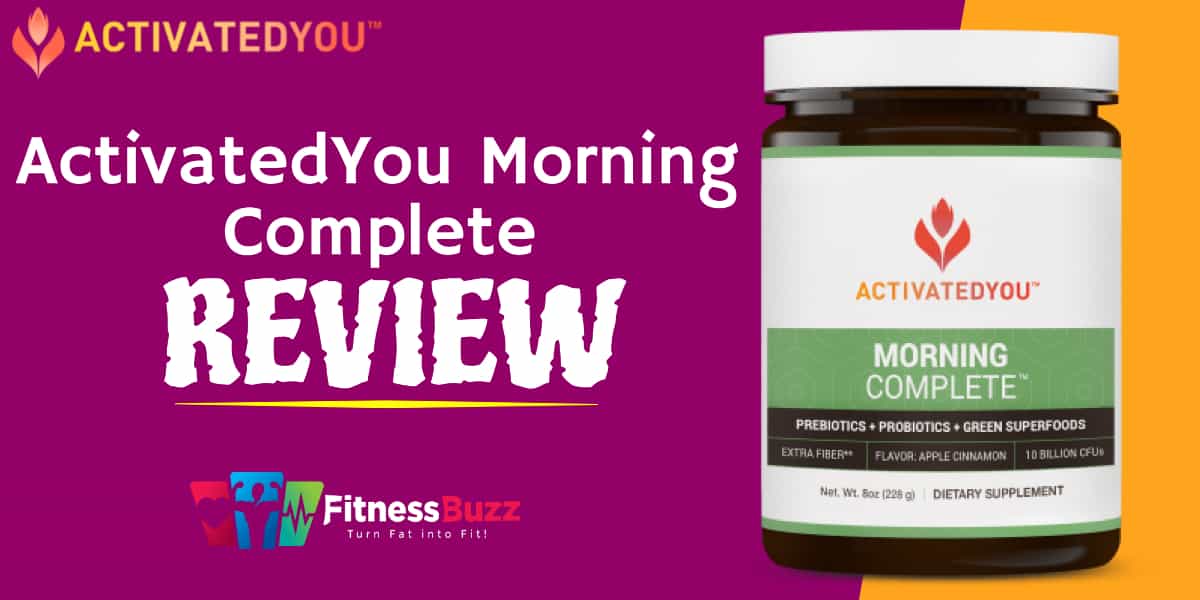 Morning Complete is a daily dietary supplement manufactured by ActivatedYou, designed for an overall healthy life. With one scoop mixed in 8 oz of water or tea, Morning Complete promises to start your day refreshed and nourished.
The supplement is a blend of nutrients and is designed to be an all-inclusive health drink that can boost your energy, promote regularity in stools, support digestive function, remove digestive issues, nourish your body, and offer overall wellness.
It comes in a beverage form and has the flavor of green apple cinnamon. Morning Complete uses a potent blend of prebiotics, probiotics, and green superfoods that help you enjoy optimum health all your life.
The FDA does not approve Morning Complete. This is because, in general, dietary supplements are not FDA-approved. Under the Dietary Supplement Health and Education Act of 1994, companies that manufacture dietary supplements do not need FDA approval before marketing their products. It is the responsibility of the company to ensure all its products are safe and give the desired results.
---
ActivatedYou – Introduction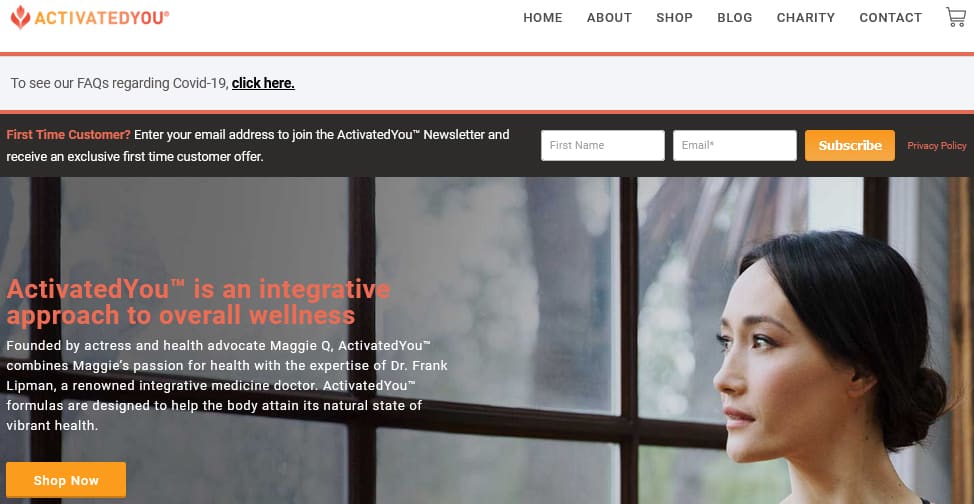 ActivatedYou is a relatively new yet reliable supplement company that manufactures Morning Complete. It focuses on holistic nutrition. Morning Complete is one of their leading products that promise to improve your body metabolism, offer cellular support, and enhance your overall health through natural and potent ingredients.
While we do not know for sure who started the company, two prominent people are promoting ActivateYou's products. One is the enigmatic actress and wellness expert Maggie Q, and the other is Dr. Frank Lipman, a celebrity doctor and an expert in gut health.
---
ActivatedYou Morning Complete Ingredients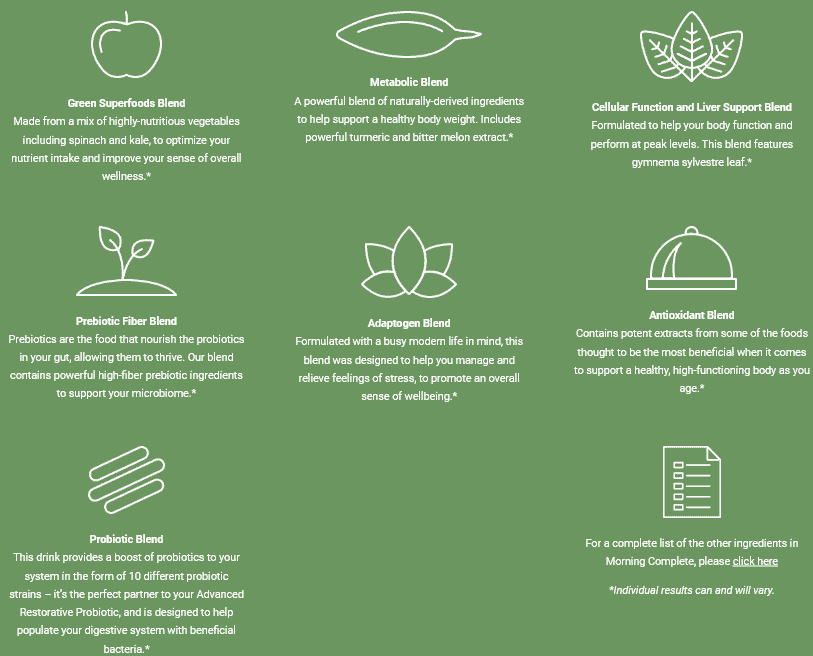 This health drink is loaded with quite a few ingredients. It comprises a blend of prebiotics, probiotics, greens, and other energizing ingredients. Let's know about these in detail.
Green superfood blend, which includes spinach, mulberry leaf extract, broccoli, barley grass, kale, alfalfa leaf, barley grass, and berberine HCl.
A metabolism-boosting blend with ingredients like green tea, ginger root, white tea leaf extract, bitter melon fruit extract, turmeric root extract, and black pepper.
An antioxidant blend that comprises pomegranate fruit extract, lyceum berry, and resveratrol.
Sugar balancing blend that uses fennel seed, pine bark extract, and Gymnema Sylvestre.
A cluster of adaptogens like astragalus root extract, DIM (diindolylmethane), and Rhodiola Rosea.
A probiotic blend with several bacterial strains like B. coagulant, L. Plantarum, B. longum, L. rhamnosus, B. bifidum, L. acidophilus, L. gasseri, L. casei, S. thermophilus.
A combination of prebiotics and high fiber levels, containing cinnamon bark and chicory root fructooligosaccharides.
Cellular function and liver support that includes organic aloe vera leaf, milk thistle seed extract.
It also contains natural flavors, rice hull concentrate, guar gum, citric acid, and monk fruit extract.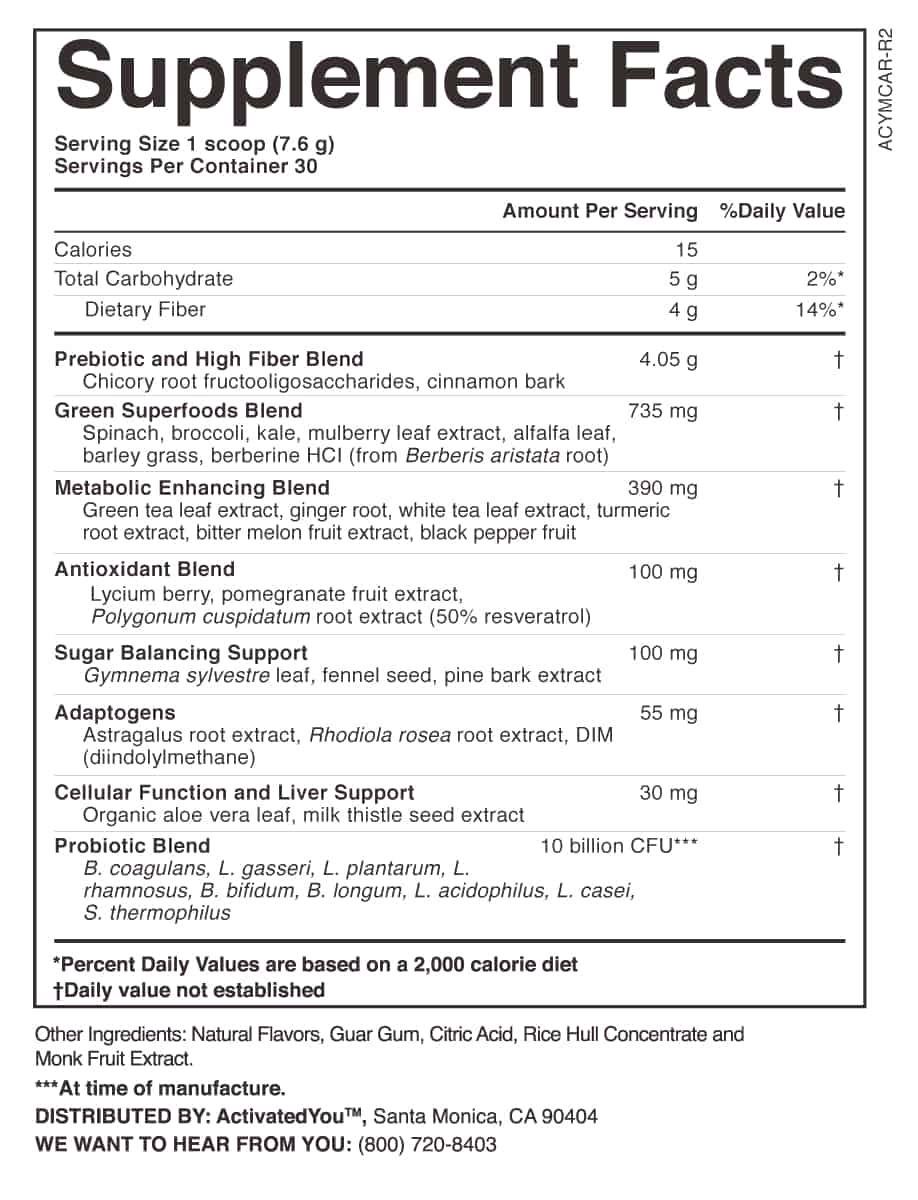 Most of the ingredients in Morning Complete are backed by scientific research to be part of a healthy diet for all. The supplement includes high-quality superfoods, probiotics, and antioxidants. It's loaded with different vitamins and supplements that help promote overall health. All the ingredients are compressed into a dehydrated powder to make mixing and blending easy. One scoop serving contains only 15 calories. Once this jar is opened, you can store it in the fridge to keep it fresh.
---
Health Benefits of ActivatedYou Morning Complete
Morning Complete is an "all-in-one" nutritional health supplement that can help you improve your overall health. We don't imply labeling it a "miracle" supplement that will cure you of all of your diseases.
How does ActivatedYou Morning Complete help with digestive issues?
However, it does follow a holistic approach to improving your overall productivity. Some ingredients support just about every part of your body's health. The ingredients improve gut health, heart health, skin health, weight management and support your immune system.
Taking it every morning helps you start your day on a healthy and efficient note. Moreover, the ingredients used are reliable and chemical-free and hence pose no risk of causing side effects. Overall, Morning Complete delivers several health benefits.
Taste of Morning Complete:
The taste of Morning Complete is pretty delicious. It has an apple cinnamon flavor that greatly helps in masking some otherwise bland flavors (i.e., green blends). It tastes natural, and a notable feature is that it uses a calorie-free sweetener.
---
Who Should take Morning Complete?
Anyone above 18 years of age looking to improve their body performance and lead an overall healthy life can use Morning Complete. It's perfect for anyone who wants to have a healthy and positive start to their day.

-47%
$49 $79
Exclusive ActivatedYou Sale
Click on the above button to activate the coupon code for ActivatedYou Morning Complete that enables you to save a flat 47% discount.
---
How to Use Morning Complete?

Follow the instructions of the manufacturer and use it accordingly. It is a healthy drink to be consumed in the morning, and you should use it carefully. Else, it may cause some digestive discomfort and irregularities. The directions for use are as follows: Mix 1 scoop of Morning Complete in 8oz of any liquid of your choice. We recommend you use water or iced green tea.
Note: The powder dissolves easily.
---
Morning Complete Pricing
You can purchase Morning Complete from the official website of the company. You can buy one jar, three jars, or six jars. The price is as follows.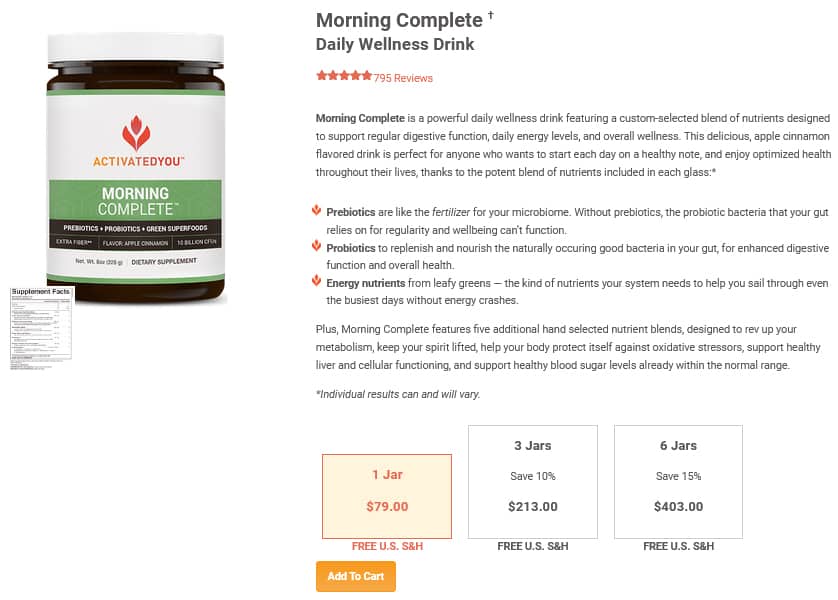 One Jar: $79
Three Jars: $213
Six Jars: $403
When their product buys in bulk, you save money. You can even use our ActivatedYou Morning Complete discount coupon code that helps you to save more money. If you intend to use this supplement regularly, we recommend you buy one of the multi-packs so you can save money. Every purchase comes with a 90-day guarantee, so you can go without hesitation.
---
Returns Policy of Morning Complete

ActivatedYou offers a 100% money-back guarantee just in case you are not satisfied with the product. You need to get in touch with their customer care and can return the products within 90 days from the date of order. You will be refunded the entire amount, excluding the shipping charge.
---
Side Effects of ActivatedYou Morning Complete

The only precaution you need to take when using this supplement is that you need to pay close attention to all the ingredients used to check for sensitivity to any of these. The product is generally safe and doesn't cause any harmful side effects.
However, some people may experience a slight digestive discomfort of taking this supplement because of its high fiber content. Also, Morning Complete contains aloe vera, which may cause digestive issues and potential side effects like diarrhea.
The product page also has a note mentioning the potential side effects of aloe vera. A plus point of this supplement is that it does not contain any of the top 8 major allergens, which cause severe allergies.
---
Is Morning Complete Worth Money?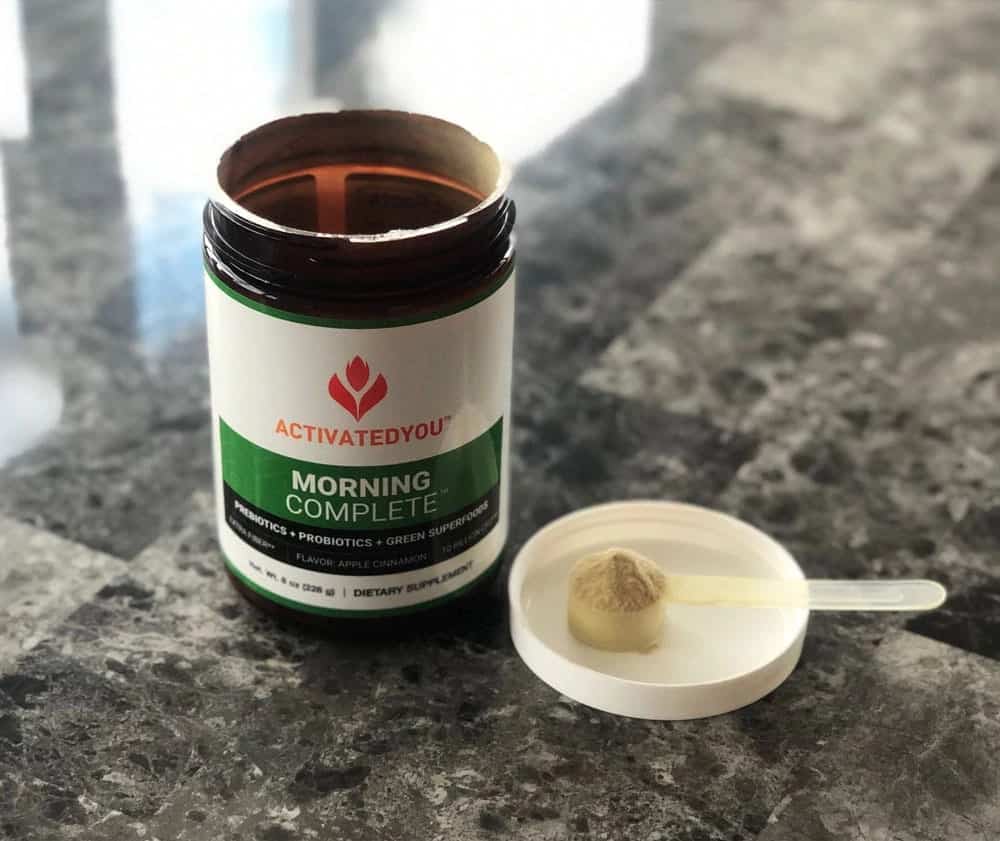 Morning Complete is filled with healthy ingredients that provide innumerable health benefits. All the ingredients are supported by thorough research, are of high quality, and are well formulated.
You'll hardly come across a product such as this, which is a combination of probiotics, prebiotics, antioxidants, adaptogen, and greens all in one. Although the high price may be a concern to some, we would still say that Morning Complete is definitely worth it. Moreover, the company provides a 90-day money-back guarantee, which is quite a plus point.
---
Pros & Cons
Pros
Undergoes stringent testing for quality, purity, and efficacy by an independent, 3rd-party.
90–Day money-back guarantee
Results can be seen within the first few days of active usage or maybe weeks.
ActivatedYou lays special emphasis on the purity of the product, and hence, so all of their products undergo rigorous testing for purity, quality, and efficacy by an independent, 3rd-party.
Cons
The product is not suitable for pregnant or breastfeeding women.
You need to check if you're not allergic to any of the ingredients.
Not to be used by people under the age of 18.
It needs to be refrigerated after opening.
Lack of evidence-based studies that show when and how this supplement enhances your metabolic or gut health.
Not approved by FDA
---
🌟 ActivatedYou Morning Complete FAQ
✅What is Morning Complete?
Morning Complete is a powerful dietary supplement which is created by ActivatedYou company. Morning Complete contains a powerful blend of nutrition that supports overall wellness, including proper digestive function, boosting energy level, etc.
✅Does ActivatedYou Morning Complete really work?
ActivatedYou Morning Complete is a daily wellness drink that includes Prebiotics, Probiotics, and other Energy nutrients. As we have already discussed in this Morning Complete review that the product is well researched and well tested that does not contain any artificial sweeteners. We can surely say that ActivatedYou Morning Complete is worth the money. Redeem our special ActivatedYou Morning Complete coupon code to get a 47% discount.
✅Is it necessary to refrigerate Morning Complete?
It is very crucial to refrigerate Morning Complete after opening.
✅Does ActivatedYou offer any coupons and discounts?
If you are looking to buy this supplement at the best price, use our exclusive ActivatedYou coupon code to save 47% off on Morning Complete.
---
Conclusion: ActivatedYou Morning Complete Review 2023 | Should you try this supplement?
All in all, Morning Complete is a dietary supplement that acts as an energy booster, providing you with quite many benefits. Not only this, it helps you start your mornings with an extra 8oz of water, which again is a kind of therapy to cure several ailments.
On the other hand, ActivatedYou, the company that makes this product, is reputed for providing products that are well-researched, tested, and of high quality. Their holistic approach makes Morning Complete a potent daily health and wellness product. The ingredients within it are all familiar and notable due to their benefits.
Having said this, we must keep in mind that each of us is different and has different needs. Therefore results may vary from person to person. What works for one may not work for someone else. It's recommended to consult a doctor before you start using this supplement. Overall, there is no evidence to show that this supplement is harmful, so you may consider trying this product.
Morning Complete Review
Morning Complete is the perfect energy drink that supports overall wellness. Activate the ActivatedYou Morning Complete coupon code to start your every day on a healthy note.
Positives
90 Day money-back guarantee.
No artificial sweeteners.
It used an easily dissolve formula.
The product is well formulated and tested.
Negatives
The product needs to be refrigerated.

ActivatedYou Morning Complete Review 2023: Should You Buy It?