9 Best Fidget Toys for Anxiety: Are these Toys Helpful?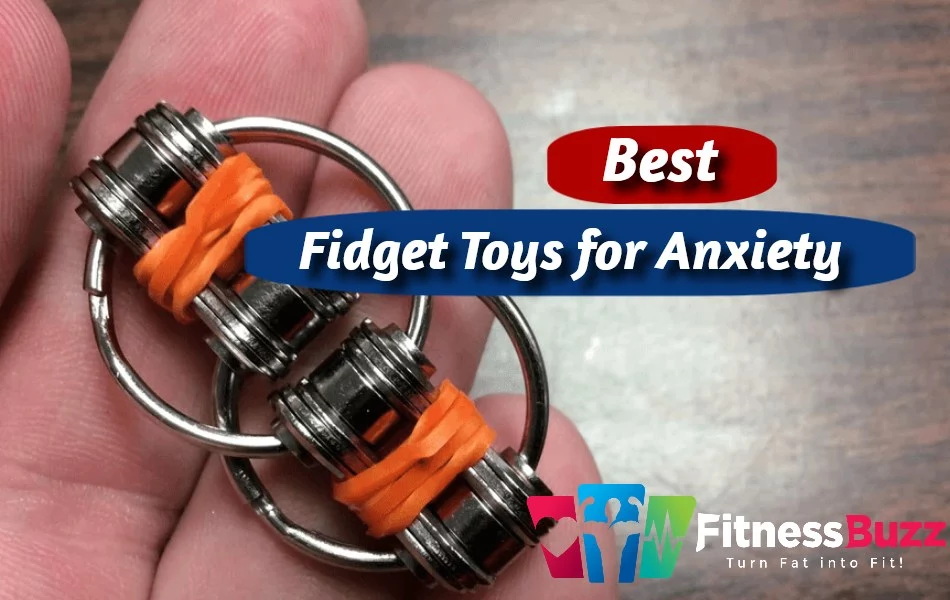 Weird gestures and movements are common when anxiety triggers. We must channel our energy in the right direction; otherwise, we would end up hurting ourselves or others when feeling anxious. In light of this, fidget toys have become increasingly popular amid the rise in the population of anxiety. They do not help reduce anxiety but facilitate channelizing the energy when getting tensed or nervous. And therefore, we decided to bring our list of the 9 Best Fidget Toys for Anxiety.
Of course, distracting the mind is essential to counter the effects of anxiety. Many people do not get the right person to talk to when feeling anxious. So, fidget toys serve as a helpful hand to provide them with a companion to channel their energy. Our top picks of the 9 best fidget toys for anxiety can help you get the one if you are anxious. If not, you can suggest any suitable toy to the needful.
---
Fidget Toy – Overview
What are Fidget toys?
It is not uncommon for those who are at their desk for hours on end to find themselves feeling restless, anxious, and panicky. Thanks to fidget toys that come in different types, shapes, and designs–research has shown that these can greatly help improve focus, attention, and concentration without needing medications. Commonly known as "desk toys," they are a great way of relieving stress.
The name is a bit deceiving because fidget toys are not the type of toys that you would traditionally buy for your children. Instead, they are discreet items that can be used to channel your anxious energy. Though the fidget toy is among the most popular ones, there can be other variations as well which include:
Chewable jewelry and accessories
Rings
Keychains
Fidget Cubes
Kneadable Doughs
It is not a playful object like conventional toys. Ordinary toys can also help a lot channel the energy. However, a fidget toy is made to help anxious people to distract their minds. There are many fidget toy types: fidget spinners, stress balls, chewable pendants, fidget cubes, and others. Thus, they provide somewhat relief when the anxiety levels increase. If you are still not able to control anxiety with fidget toys, please speak to the doctor.
Benefits of Fidget Toys for Anxiety
Fidget toys are suitable for those having anxiety, autism, depression, OCD, etc. Many fidget toys help distract the mind from anxiety. Fidget toys with maximum durability, safety, convenience, color options, and portability is safe for people with OCD, anxiety, and others. Interestingly, adults can also use fidget toys at any point in time. They help channel your emotions and energy in a positive direction. Hence, fidget toys help with stress, depression, etc.
There are many ways to stop fidgeting anxiety. In this regard, people can meet their friends or listen to calming music. They can spend their time with nature, reading positive books, etc. The great thing is that there are best fidget toys for adults to relieve anxiety temporarily. There are many benefits of fidget toys for adults and children.
---
9 Best Fidget Toys for Anxiety
1. Goda Acupressure Massage Rings
Goda Acupressure Massage Rings
as of November 24, 2023 7:45 pm
Acupressure therapies are essential in easing stress and tension. They emphasize the pain points to relieve anxiousness. Goda Acupressure Massage Rings work in the same procedure. They help energize and provide deep concentration. People need only to roll the rings up and down by wearing them on any fingers. Its triangle tip stimulates the meridian points to help ease the anxiety.
Thus, the stainless steel finger massage has therapeutic benefits and is multipurpose. One can use it while studying, traveling, working, etc. Anyone feeling tense, anxious, or nervous can use these rings.
Pros
A bracelet set is also available with the same benefits.
It looks cost-effective when bought in bulk.
Additionally, the rings are travel-friendly and do not require much hassle in their operations.
---
2. Solace Fidget Chair Kick Bands
Solace Fidget Chair Bands
as of November 24, 2023 7:45 pm
While sitting, many people feel anxious and want to get out for a walk. But, if you have urgent office work or study schedule, Solace Fidget Chair Bands can help you concentrate. They are affixed to the chairs to promote positive in-seat behavior. They help reduce boredom and provide a playful sitting experience. Therapists and teachers also recommend such products to facilitate children's classroom sitting. Hence, it helps fidgety people and is installed within minutes. The bands are durable to fit the standard chairs and desks. They suit different sizes of legs and are safe and effective.
Pros
There is a 100% no-risk money-back guarantee.
The therapist-approved product does not slip with maximum durability.
The bands are made with natural latex rubber that withstands pressure.
---
3. Fat Brain Toys Simpl Dimpl
The product is suitable for young and old and encourages calmness and concentration. Its frame is made of high-quality plastic, and the colorful buttons are formed using silicone. With a touch, it helps relieve your fingers and has exciting color options. Interestingly, it is sized to fit any keyset, and there is a mini carabiner clip to affix and remove it from the purse. With many positive customer reviews, the product encourages tactile stimulation to facilitate fidgety fingers.
Pros
You can continuously push, pop, and press it to relieve.
The exciting color options are also eye-catching elements: blue/lime, blue/pink, orange/lime, and purple/lime.
---
4. The Squeeze Aromatherapy Dough
Aromatherapy has healing powers and is of great help during anxiety. The Squeeze Aromatherapy Dough is a pocket-sized product that imparts great positivity with its aroma. It is highly recommended during travel when you get anxious due to various reasons like flight delays. The best thing is that different flavors of dough help refresh ourselves. Some include lavender, peppermint, eucalyptus, sweet orange, and more.
The jars are handcrafted to help you get naturalness and a rich smell. Many people feel stressed with sounds, rolling balls, and other fidget objects. For them, aromatherapy is the best advice to get out of the anxiousness temporarily.
Pros
The jars are infused with essential oils that help soothe the mind.
Also, the sea salts and olive oil help relieve tension.
The 100% pure oils and handcrafted jars make your day with an unmatched scent.
You can squeeze or roll it depending on the mood. The best thing is that the price is too low.
Many jars come at $11.99; you can choose depending on your smell preferences.
Cons
The therapy may not work for all.
---
5. ARK Krypto Bite Chewable Gem Necklace
ARK Krypto Bite Chewable Gem Necklace
as of November 24, 2023 7:45 pm
Next on our list of the Best Fidget Toys for Anxiety is a unique gem necklace from ARK Therapeutics. Moving the hands on the head and chewing the nearby things like pens, pencils, etc., are common for some people with anxiety. So, chewable products may be helpful for them. The ARK Krypto Bite Chewable Gem Necklace comes in three color-coded toughness levels to help different chewer types. It is made from a medical-grade thermoplastic elastomer (TPE), which is a type of rubber similar to silicone and even more durable. It is also free from BPA, heavy metals, latex and phthalates.
Moving the hands on the head and chewing the nearby things like pens, pencils, etc., are common for some people with anxiety. So, chewable products may be helpful for them. The ARK Krypto Bite Chewable Gem Necklace comes in three color-coded toughness levels to help different chewer types.
The standard one is for mild chewers and is the softest level. On the contrary, the XT one is for moderate chewers, and XXT is long-lasting with maximum toughness. It is recommended for those having anxiety and cannot control their chewing habits.
Pros
One can choose the color and toughness level according to the requirements.
Most products come at $12.99, which is affordable to reduce anxiety.
It is also safe, stylish, and convenient for different anxiety levels.
Cons
For small children, searching for other alternative products is better.
---
6. Kinetic Sand Kalm, Zen Box
It provides a sensory sand experience with a stylish sandbox. It is ideal for desks to relieve the hands while working or studying. There is a two-in-one tool to scoop the sand and get temporary relief from anxiety. In addition, there is a rolling ball to satisfy anxiety. Thus, it creates a playful setup and does not dry. You can create the shape again and again with valuable tools. It is easy to shape anything you want to sculpt. It provides you a 2 lbs of kinetic sand with three tools. Thus, it helps flaunt your creativity with an easy setup.
Pros
It has a beautiful set up for kids, adults, and older people.
You can call it one of the best fidget toys for adults.
The product helps pass the time creatively.
You can place it on desks, tables, and workspaces.
Cons
It may not be travel-friendly in all situations.
---
7. ForeverSpin Titanium Spinning Top
ForeverSpin Titanium Spinning Top
as of November 24, 2023 7:45 pm
Spinning tops are a traditional toy that was traditionally used to boost one's focus and creativity. This ForeverSpin fidget spinning toy is an elegant piece that can be used on the go or at your desk. In addition to the high-quality design, this spinning toy will keep your thought process and productivity working, especially while on your desk. This spinning top not only provides you calm and relaxation, but it also does improve your hand-eye coordination and in-hand manipulation.
It provides a tactile experience, and its tops are precision-machined. The spinning top helps you express your creativity and relieve the tension caused by anxiety. People of any age group can use the product while feeling anxious. It is a valuable item on desks to boost concentration and creativity. One can place it anywhere or carry it while traveling. You can beat your spin times to remain free from anxiety.
Pros
The product is safe and is checked for perfection.
It is handy and the best way to remain playful and learn new objects.
Also, the product helps remain competitive by beating spin times.
Cons
Many people do not prefer games like spinning. So, they should search for other options.
---
8. Tom's Fidgets Flippy Chain Fidget
Tom's Fidgets Flippy Chain Fidget
as of November 24, 2023 7:45 pm
Next on our list of Best Fidget Toys for anxiety is Tom's Fidgets Flippy Chain Fidget. This toy for anxiety has two stainless steel split rings and two small bike chain pieces. You can slide and flip around the rings for near-silent or discreet fidgeting. It also contains small silicone bands for added texture. As it is made from bike chain links, it does last long.
You can try different moves with this object. In this regard, you can spin between the thumb and the other fingers. It comes in a variety of color options like green, black, and blue. It helps relieve anxiety and restlessness and does not require too much energy. The manufacturer takes pride in the product's quality. You can play and fidget around and keep your hands busy without drawing too much attention from the people around you, all while still maintaining silence. It saves you from eating the pen and doing weird things during anxiety. You can flick it up and down with fingers to support your mind.
Pros
The product costs only $8 and helps you try your favorite moves.
Different color options help people relax their minds.
It even allows you to chew; however, you must be careful.
---
9. Impresa Products 5-Pack of Original Stretchy String Fidget
Impresa Products 5-Pack of Original Stretchy String Fidget
as of November 24, 2023 7:45 pm
They are best for the tactile experience, and you can stretch, wrap, or pull them. The product is hypoallergenic and free from BPAs. The strongness and durability are yet another reason for considering the product. They can stretch from 10 inches to 8 feet and come in a variety of colors. These stretchy strings are perfect for fidgeting with. You can pull, twirl, wrap, and squeeze them for your own fidgeting pleasure. Just knew that you would enjoy watching them return to their original form after you have messed with them.
They are suitable for people over three; however, children must not put them in their mouths. You will love when they bounce back to restore their position. One may carry it anywhere because of maximum portability. You can even create different shapes based on your creativity. This fidget toy can help you reduce anxiety levels and give you a sense of calm and increase your concentration level as well.
Pros
There are different color options, and the product is made using high-quality custom-formulated materials.
The product is safe for children and adults.
---
🌟 Top FAQs on Fidget Toys
Can fidget toys help with anxiety?
When anxious, restless, impatient, or nervous, people may fidget or make small movements. Fidget toys provide an outlet for these motions, which can help calm a person's nerves, ease tension, and serve as a distraction in an overstimulating environment.
What kinds of toys can help with anxiety?
Fidget spinners, stress balls, fidget cubes, chewable jewelry or accessories, putties, and doughs are just a few examples of fidget toys.
What exactly is the function of a fidget toy?
Fidget toys might help children relax by providing different sensory input, when they feel overwhelmed. Fidgets can also benefit people in salons or dentist's offices by giving them something safe to do or hold with their hands instead of touching the tools.
Are fidget toys beneficial for kids?
Fidget toys improve learning by allowing the brain to filter out excessive sensory information, allowing the child to actively listen, pay attention, and focus on the job at hand. Fidgeting improves attention by helping the youngster to concentrate on tasks in the classroom or online.
Are fidget toys good for adults?
Whether you struggle with focus, stress, autism, anxiety, ADHD, or another mental health issue, fidget toys can help you relax. And don't let the word "toy" fool you: these tools are helpful, effective, and fun for people of all ages.
Do Stress Balls work for anxiety?
Various studies have shown that if you squeeze a stress ball, your nerves and muscles get stimulated and contract, making them stronger. Also, it improves the overall nervous system, which causes a reduction in essential hormones by which you can control your stress levels.
 
---
Final Thoughts:
That was our list of the 9 Best Fidget Toys for Anxiety. New studies have shown that fidgeting is actually good for you, mainly if you are used to sitting for long periods. For example, if you are sitting down at a desk job, standing up periodically to stretch your muscles is essential. By doing this from time to time, the amount of stress on your body will be significantly reduced, and your mental health will also improve.
Convenience, portability, durability, cost-effectiveness, and handy nature make fidget toys worth using. If you develop anxiety symptoms, you can try any products from our list by knowing the proper techniques. However, there are no noted side effects with using fidget toys correctly. One should not use such toys for fun. Again, we will develop an informative article to help you know more about health and fitness products.
That's all for now! We hope it helps you avoid anxiety.
Disclaimer: The information in this article is from different internet sources and may update. We advise you to consult a doctor before availing yourself of any products. Before use, you should know its pros and cons, benefits, side effects, applications, and other implications.