We all have a knack for soft pink lips. We all want that all lips should have that plumpy-luscious look! Tell us honestly, don't we. We use certain lip masks to protect our lips from the assaulting environment. We apply lipsticks to make our lips more attractive. But could we rely on lipsticks forever? Because your lips might look attractive while using lipstick, but a study shows it has some serious side-effects on our lips health.
We need something more innocuous for our lips daily uses. Hence, we bring you yet another exciting article on ✅10 Best Lip Balms you will find ever for the soft baby lips! Keep reading this article to select the most appropriate lip mask for your lips!
Our Best Lip Balms for Dry Lips
---
Why Using Lip Balm is Essential?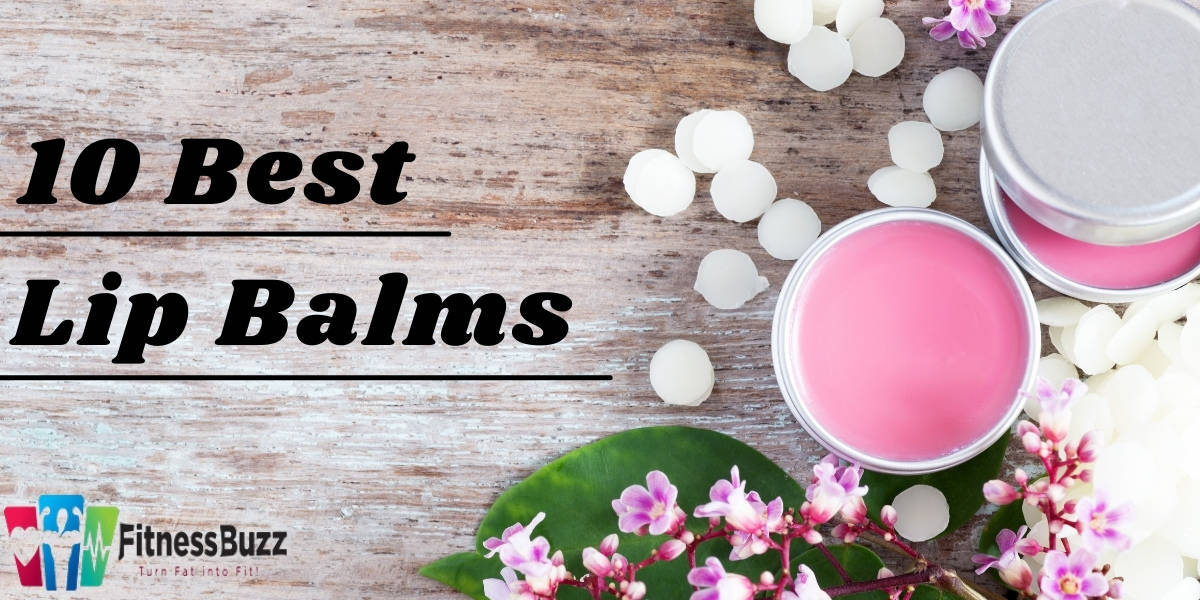 We live in a world where the minute we step out of our house; our skin is bound to get in contact with harmful particles. The sad thing is, we can do nothing to stop it. Besides outside, several internal factors can seriously affect your lips as well. We apply an SPF to protect our skin from harmful ways, but what are we doing for our lips which we just leave bare?
Like SPF & moisturizers, we have something for your lips as well. That thing is called a Lip Balm/Lip Mask. Do you know? Why is it more vital for you to take care of your lips even more than your skin? It is because, like skin, no oil glands are present in your lips. If you do not apply something to protect them, your lips begin losing moisture, resulting in dry and flaky lips.
A lip mask forms an outer layer on lips and seals the moisture so that the harsh elements do not get to harm your lips while your lips are covered with the lip mask. If you use a lip mask daily, your lips are likely to remain soft forever.
---
10 Best Lip Balms for Dry & Chapped Lips 2023
Let us have a look at the compendium of the 10 best lip balms you can try your hand on:
Maybelline New York is known for its perfect fit in the audience. Large traffic worldwide finds their ideal match in the Maybelline products. What is the reason for their popularity? The reason is simple; they know their audience. They know what quality will keep them in trend in the market. They know what is best for us.
Just like that, this edition of the Maybelline balms tends to give a plumpy look which we are looking for without frequent applications. Formulated with coconut oil & Vitamin E, this lip balm provides intense nourishment to the lips; also, it contains SPF 20, which makes it the best choice for us.
It adds a tinted pop color as well to our lips. This edition of Maybelline New york lips loves color comes in 4 different fruity variants, and they are Berry Crush, Rose addict, Pink Lolita & Cherry Kiss.
$10.99
Best Lip Balm for Dry Lips
Looking for the perfect lip balm for dry lips? Buy Maybelline New York Baby Lips Loves Color, which is the dermatologist-recommended lip balm.
---
A renowned British brand making ethical, creative, and naturally derived products, The Body Shop is known for showing utmost care for its audience. Their products are 100% vegan and cruelty-free. The Body Shop is mostly known for its award-winning natural products like tea tree oil, born glosses, hand protector, and new favorite ranges such as Spa, vitamin C, and color crush.
This body shop balm is suitable for dry & chapped lips and works great on sensitive lips! This premium quality product comes infused with naturally derived products like vitamin E, coconut oil, olive oil, shea butter & wheat germ oil. It also contains SPF 15 PA+++ to provide adequate protection to your lips, making sure it does not get dark over time.

$40
Best Lip Balms with spf
Want to purchase the best natural lip balm for dry lips? Order The Body Shop, which is a healing lip balm. Grab the offer now.
---
Forest Essentials is an authentic, traditional skincare brand with its deep root foundation in India. They believe that all their products' natural because they follow a 100% ayurveda tradition. The lip care item they offer is a complete hand-made product consisting of natural ingredients like Organic beeswax, Kokum Butter & Cocoa seed butter.
This lip balm is said to soften & replenish the dry & chapped lips and gently hydrate the upper and the inner layer of the lips. It gives your lips a hydrating texture. The different variants which this brand offer in this lip balm are 'Kokum & Honey,' 'Narangi Glaze & 'Sugared rose Petal.','
$32.00
Perfect Lip Balm for Dark Lips
Searching for the best hydrating lip balm for dark lips? Shop Forest Essentials Luscious Lip Balm at the best price, which is one of the best lip balms for very dry lips.
---
Laneige brand care believes that the utmost need of the skin is the perfect amount of hydration. If you are hydrating your skin well, then you will not have to worry about rather anything else. They offer a complete range of sleeping products which consists of sleeping masks, lip masks, and eye sleeping masks.
If we talk about the lip sleeping mask by Laneige, it comes in 4 different variants: Berry, Apple lime, Vanilla & Grapefruit. It consists of Hyaluronic acid & vitamin C, and applying a thick layer of this balm at night will remove the dead skin layer of your lips. If you are looking for a lip mask for the night, then this choice is the best to go for.

-8%
$14.74 $15.95
Best Lip Serum for Dark Lips
Want to buy the healing lip balm? Check and order Lips Sleeping Mask by 'Laneige.' which is a perfect natural lip balm for dry lips.
---
Summer Fridays are well known for their vegan and paraben-free products. They always come up with an extra touch to make your skin feel glowing and healthy. Real plant-derived butter makes the Lip Butter Balm by Summer Fridays, which will make your lips super silky to feel & touch. It is cruelty-free & fragrance-free so that you can be relieved from any synthetic materials. You can use it to give that 'Shine' to your lips, or you can use it as a lipstick base as well! (Good news, isn't it?)
$35.00
Good Lip Balm for Dry Lips
Summer Fridays Lip Butter Balm is the best lip balm for extremely dry lips. Order this most moisturizing lip balm at the best price.
---
Neutrogena is a dermatologist-recommended skincare brand that offers a large variety of hair and skincare products. It is an iconic brand that offers the best variety of skincare products. If you want to always go with the brand, you can go with Neutrogena's products without a second thought. If we use a sun-screen on our face, why should we not use an SPF treatment for our lips? This Neutrogena Soothing Gel provides an SPF PA 30+++ to ensure that your lips are not getting blackened by the harsh UV rays anytime soon.

-19%
$5.82
Dermatologist Recommended Lip Balm
Looking to buy the best lip balm for daily use? Order Neutrogena Moisture Shine Lip Soothing Hydragel today, which is the most hydrating lip balm.
---
The Chapstick brand offers a wide variety of lip-care ranges. This lip-care brand formula is so classic that you probably won't stop if you start using it for the first time. (Unless you lost the tube) This variant, known as Classic Cheery Flavor, will give your lips a soothing feel without any heavy residue! You can reapply for it anytime. The specialty of Chapstick is that their products are also affordable, that you can stock them up with fewer spending!

$19.99
Best Chapstick for Cracked Lips
Want to buy the top-rated lip balm? Click on the above button to buy Chapstick Cherry Flavor Skin Protectant Lip Balm, which is one of the best lip balms that actually work.
---
Burt's Bees is an American-origin company that is now famous worldwide. The company focuses more on being 'Natural' & 'Hygienic.' Therefore, all their products are nature-based products that are sulfate-free. This Burt's Bees Natural Moisturizing Lip Balm will keep you away with all your chapped lips worries because it consists of authentic variants like pumpkin, coconut & pear, & beeswax. Just one wipe of this original lip balm will keep your lips moisturized all day long. Burt's Bees knows how to provide you the refreshing flavor you were looking for!

-18%
$8.24 $9.99
Organic Lip Balm with spf
Want to purchase a good quality lip balm? Purchase Burt's Bees Natural Moisturizing Lip Balm at a lower price. Burt's Bees is the best natural lip balm for dry lips.
---
Fresh is an American brand; born in Boston and raised in New York. This brand specializes in fragrances, skincare, lip care & body care. The sensoriality of their product's texture is what sets them apart. And that is scientifically proven to work right as well. If you are a color pop lover, then you should go for this lip balm! It is an excellent combination of both tint and moisture. And also, it comprises SPF PA 15+++, which will work great for you!

-15%
$24.00
Best Lip Balm for Pink Lips
Shop Fresh Sugar Bloom Tinted Lip Treatment SPF 15 today and get flat 15% off on your order.
---
What is the most important thing to you people nowadays? Well, for us, it is hydration. We want to keep everything hydrated, including our skin, lips, or body! Go with Awake Beauty Moisture Balm Daytime Lip Mask, and get that pillow-soft lips all day long!
This Four-oil bend of olive, argan, rosehip & raspberry feels so much great on our lips! If you are finally ready to step up in the game of lip protection, then this lip mask is a total go-go for you! The best thing about this lip balm is that it works all day long to ensure your lips' hydration!

-15%
 $14.00
Best Natural Lip Balm
Want to purchase the best moisturizing lip balm? Purchase Awake Beauty Moisture Balm Daytime Lip Mask at a lower price.
---
🌟 Lip Balms FAQ
✅ What's the purpose of using lip balm?
Every lip balm is meant to protect the lips, even those called salves or butter. They have a moisturizing substance (such as petroleum jelly, shea butter, or lanolin) that keeps the skin from drying out.
✅What are the benefits of using lip balm?
Lip balm is crucial because it acts as a barrier between your lips and the freezing winter temperatures. Lip skin is sensitive and lacks sebaceous glands, which means it does not produce the same moisturizing oils like the rest of your skin.
✅ When is it suitable to use lip balm?
1. When they first wake up in the morning. Your lips are probably dry when you first wake up.
2. After every meal, if you eat three times a day, it's a good idea to change your lip balm after each meal.
3. Before going to bed.
✅Is lip balm healthy for your lips?
The use of lip balms soothes your lips, feels good, and can comfort you greatly. This can result in an unconscious habit that relieves stress or anxiety
---
Conclusion: Best Lip Balms for Dry & Chapped Lips 2023
To ensure what is right for you, you need to check them all! Go on, and give these lip balms a fair try! After all, you cannot settle for the best until you know which one works best for you! We hope you liked our latest review on 10 best lip balms suitable for every weather! Please go on; let us know which ones your favorite in our comments section down below.
---

10 Best Lip Balms for Dry & Chapped Lips You Must Try in 2023