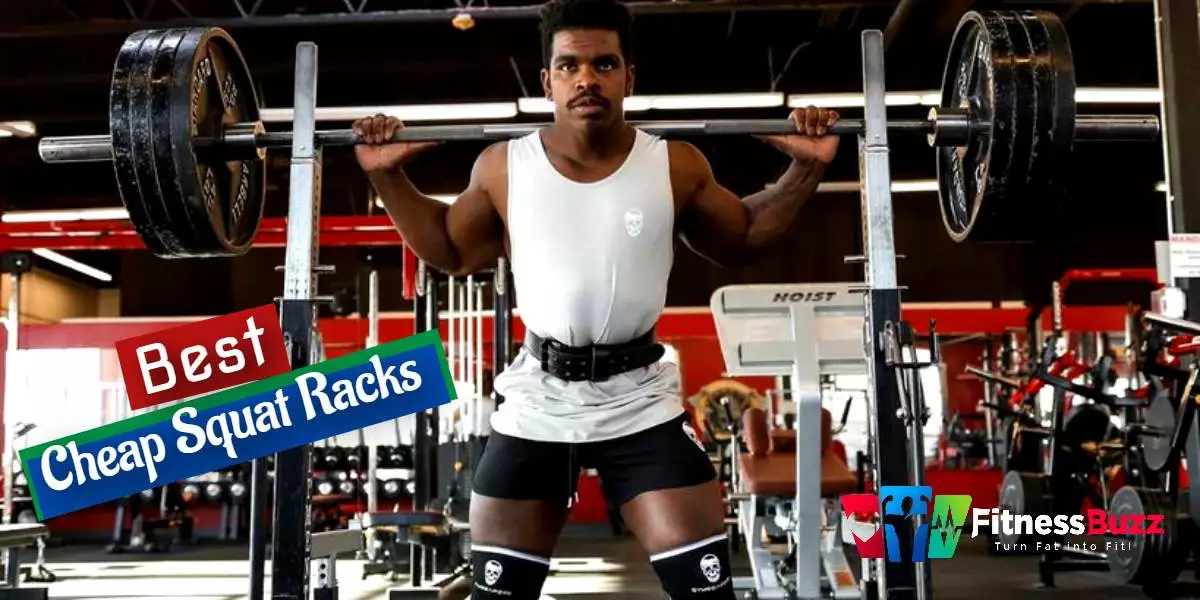 Are you a fitness freak who does not like to spend your time at gyms? Home gyms are the ultimate solution for you. If you want your body to stay fit, there are many ways to achieve that! Today, we will provide you with the 17 best cheap squat racks!
Even if you do not know what a squat rack means, you will get everything after reading. This article comprises every little detail about the squat rack and the best options you could choose from! If you want to live a healthy life, there is not always a need to go to gyms! Nowadays, it has become possible to achieve a toned body shape without spending a fortune on gym equipment.
Like that, you also get an option to get cheap squat racks, and this article will help you decide to choose one. If you are concerned that a squat rack won't fit in your home, then you must know there are also multiple sizes to consider. Let us get started and help you buy the best squat rack fit for you!
---
Are Cheap Squat Racks Effective?
This is a question with many possible answers. Firstly, you must know that, yes, setting up a gym at home is a possibility. When you decide to buy a squat rack to use at home, are you risking a fortune, safety, and a limb?
We would say that the answer is a big NO. Some affordable, decent, and safe power racks can help you get started with a healthy life. There are differences between a cheap power rack and an expensive one, and a few of them are the steel gauge, weight, stability, and the accessories included in the pack.
In the following article, we will talk about the extras and the accessories. But right now, let us focus on the stability part. One of the best cheap squat racks options, like the Titan T2, has weight racks at the bottom that gives more stability to the stand. If your budget is limited, you must look for features like this. Another crucial thing to consider is that a cheap squat rack is safer for lifting than a power pack, especially if you try lifting at home with no spotter around.
---
17 Best Cheap Squat Racks
1. Rep Power Rack – PR-1000
Power Rack is the best option if you are new to weight lifting, and it comes with a 2-inch spacing adjuster, and the height is almost 82 inches tall. This is a convenient option for tall people but not ideal for low ceilings. But this one has enough features that help beginners get started with their weight lifting routine. But if you are short heighted, you may want to give Red Power Pack a pass.
---
2. Powerline PPR200X by Bodysolid
If you want your purchase to be affordable, is Powerline the best option to go with? The first thing you would love about this is its heat-tempered safety bars that will safely catch your loaded barbell if you fail to weigh. The lift-offs are made up of tempered solid, which means they are stronger than the other safety bars and J hooks you will find in the market.
---
3. Best Fitness Power Rack
The Best Fitness Power Rack comes with sturdy welds and is made of gauge steel. This is an excellent option to buy if you want your purchase to be affordable. Compared to other options on the list, this one is better for beginners. Additionally, this inexpensive squat rack is coated with premium epoxy enamel that protects its new look for an extended time. The only issue is that it comes with a 3 inches adjustment spacing.
---
4. Yaheetech 2pcs Adjustable Squat Rack
This is a multi-purpose adjustable squat rack used for squat and bench presses. This adjustable squat rack makes your home a better place to tone your body shape. One can use this one quickly and use all the features without the help of a spotter. This is an easy-to-assemble inexpensive option for a novice who is just getting started with their weight lifting routine. The only issue is that the J hooks are short and must be entirely in level to be stable.
---
5. Titan T2 Power Rack Squat Deadlift HD Lift Cage
If you ask us which one is the most affordable and effective option on the list, we would answer Titan T2 Power Rack Squat Rack. This one is the most solid option that your home gym is missing! The rack measurements are standard compared to other options, and it is 44 inches wide and 48 inches deep with adjustment. One thing is assured that the rack is solid and stable, and you will not be disappointed for sure.
---
6. Body Champ PBC530 Power Rack System
This inexpensive power rack system is suitable to be used at home. The best part? It does not take much space of your home, but it does hold up to 300 lbs. The rubber feet will protect your floor, and it comes with a decent pull-up bar. Without a doubt, this one is the best squat rack around.
---
7. Super Open Rack Gym by NYB
This Super Open Rack holds up to 1000 lbs, has a proper structure, and comes with 2 inches adjustment spacers. There are weight pegs at the bottom for added storage and added stability. If you do not like traditional squat racks, this one is an excellent option.
---
8. Valor Fitness BD-9 Power Squat Stand Rack
The best part about Valor Fitness Stand Rack is that it does not take up a large amount of your room. It can be shifted easily around the room and holds a decent weight, up to 500 lbs. The upright comes with adjustable height and weight panels. Each stand of the squat rack comes with storage and weight stabilization. The only issue with this one is that adjusting the rack stand could be time-consuming.
---
9. Merax Athletics Fitness Power Rack
This power pack is slightly expensive compared to the other options on the list because it includes a lat, pull bars and a low row cable and can manage you and your spotter in the same room. If you are looking for an exact fit for your room, you could bet your money on this one by Merax Athletics! It also comes with added features such as weight pegs and padded utility bars.
---
10. Titan Fitness T-3 Series Fold Back Power Rack
This super-compact option will be excellent if you look for an affordable squat rack to fit your house walls! The rack is space-saving and stays easy on the budget. This one has a sturdy structure and can manage up to 800 lbs weight. It is made from 11 gauge steel, but the actual weight limit entirely depends on the surface you choose, and it also matters how robust the hardware is. One thing is assured, Titan Fitness T-3 is far sturdier than the pack of other ordinary squat racks.
---
11. Goplus Adjustable Power Rack
This option by Goplus is the most viable option for someone who is a beginner and cannot manage more than 300 lbs weight. If you are looking for an inexpensive choice to go with, you must give a Goplus Adjustable power rack a chance. The rubber feet protect the floor of your home from getting holed, and all the steel parts are powder-coated to prevent any injury.
---
12. Fitness Reality 810XLT Super Max Power Cage
Fitness Reality comprises 14 Gauge steel with solid steel safety bars. If you want to get into hardcore training, this Super Max Power cage would be an excellent option to fit your house walls. This one is both beginner-friendly and professional because it is customizable. If you wish, you can invest later in other tools such as lat pull down, landmine attachment, and Olympic plate holders.
---
13. TDS Power Rack/Squat Cage
This one by TDS power pack comes with tons of impressive features that will be worth every penny. It comes with a knurled chin-up bar, 2-inch adjustment panels, solid steel safety bars, and side bracing hooks. Some of the advantages of the TDS power pack are its 1000 ln weighing capacity and the 2-inches apart adjustment holes. One can manage the height of the lifters according to their convenience.
---
14. Force USA MyRack Folding Power Rack
The unique aspect is that it is both free-standing and foldable. Many foldable racks are bolted on the wall, so it offers ease of use according to your convenience. This power rack can stand alone and hold up to 2000 pounds. Once you are done using the setup, you can remove the pull-up bar and attachments and fold them up. Yes! This one takes a tiny part of your room when folded up, so even small walls can manage to keep Force USA in them.
---
15. Rogue Fold Back Wall Mount Rack
This one by Rogue fold comes only with two uprights and is the most affordable option to go with. As the name suggests, one can fold it inward or outward, depending on their requirement. When the rack is folded, it takes down over 5 inches from your wall, helping you save space at your home gym. This set includes additional tools such as a pull-up bar, a set of J-cups, and a customizable footprint.
---
16. Rogue Slim Door Mount Fold Back Rack
A squat rack that mounts on your door is not only the most space-saving option but can also add variety to your workouts. There is no wall to interfere in your lifting process with Rogue Slim Door Mount Squat Rack. Once your session is completed, the two uprights can be folded back to help you save space. Anyone who has a smaller living space but wants a squat rack at their home can go with Rogue Slim Door Back Rack!
---
17. Rogue HR-2 Half Rack
Finally, last but not least, Rogue HR-2 Half Rack. If you are tired of hitting up a standard squat rack, you must give this one a chance. You get two height options to choose from, including 90 and 180 inches. You can buy the standard version at an affordable price but with additional charges for advanced customization. Anyone with a moderate amount of space can buy this pick!
---
Why Use a Squat Rack?
When planning for a home gym, you always consider buying essential things first. Go on, and make a list of the 'essentials' and 'would be nice to have.' We are sure that the squat rack will come in the essentials when you do that. A quality power or squat rack is not only essential for a home gym, but it is also the main centre of attraction of your gym room. Following are other reasons to have a squat rack at your home gym!
One of the main reasons to have a squat rack at your home is its safety. When performing exercises such as squatting or pressing at home alone, you must have a squat rack to spot you. If you go for a safety rack, there are a few things to consider, such as pins, arms, or straps in the place to catch a dropped bar. These safety features not only protect you from hurting yourself but allow you to weigh you wouldn't be able to otherwise.
If you look at the history of weight training, things will go back to the circus strongman! Ordinary people like us were not usually involved in weight training because they needed extra support. There was no way to get the weight safety into position for the lift. And it was not possible to have certain people around you always to help you with lifting. The invention of the squat rack allowed strongmen to perform solid and new effective lifts. If you consider training at home, a rack is a must-have piece of equipment!
One last benefit that most people will look into is its versatility. A good power pack is not only suitable for squatting and weight lifting, but it can do much more things than that! Other than the obvious reasons, you also have a dip station at the back. The dip training is one of the core exercises that you will find in the practical training programs.
---
🌟 FAQ related to Squat Racks
---
Bottom Line:
Was the above information enough to help you purchase the best squat rack? We hope so. Remember, even buying a cheap squat rack will always be an expensive affair. If you plan to set up a home gym, you need to be prepared to spend a little more from your savings! Also, every option you get will differ according to height and weight, so make sure you look into critical details before purchasing.
That was it in our 17 best and cheap squat rack list. Go on and pick the right option according to your requirement. Comment below if you have any doubts or suggestions about the article.