Planning to make a home gym? Want to get a full-body workout done at home? Then you need an all-in-one workout system that will help you meet your workout goals! Presenting the Marcy Diamond Elite review! The perfect workout station offers an easy full-body workout right at home!
Keep reading to know more about this heavy-duty gym system, workout options, and design features with sturdy construction and excellent stability.

$1,299.99
All-In-One Home Gym Trainer System
Want to enhance your muscle-building? If yes, then order Marcy Diamond Elite, truly an all-in-one home gym equipment.
---
Quick overview about Marcy Diamond Elite.
Detailed Marcy Diamond Elite Review
With its built-in bench press bar, adjustable pulley system, and cable tensioning mechanism, the Smith Machine with Benches provides a complete exercise experience at home. With so many features, this piece of home gym equipment has everything you need for an effective workout at home. With the included adjustable catches, safe stoppers, and "ultra glide" linear bearings, these dumbbells provide an excellent workout experience.
Unlike most conventional machines, the Marcy Diamond Elite Smith Cage home gym system features pulleys that operate independently from one another, so they emphasize every precise movement performed during any given workout. It also has a dual-function leg developer with six oversize rocker pads.
With six Olympic weight plates stored inside, these strong, durable, and easy-to-use storage pegs keep your workout gear organized, ready for action when you need them most. Sturdy tube construction ensures years of reliable service at home.
---
What are the significant features of Marcy Diamond Elite?
Key Features of Marcy Diamond Elite
The frame structure has a seven-degree slope to accommodate natural upper and lower body movements.
The elevated base frame design improves stability.
Cage uprights have chromed diamond striker plates, an industrial-grade bar and safety catch, and one-inch chrome guide rods of the highest quality.
334-inch nylon pulleys with sealed ball bearings
Adjustable bar catches, and safety stoppers are included.
High pulley cable crossovers provide a complete pectoral workout.
Leg development with six big roller pads and a row/curl bar that works in both directions.
Leg developer pivot point for muscle isolation.
Adjusting the angle of the pop pin back pad is made simple with a chrome sliding track.
Non-slip diamond-plated foot brace for sitting row training.
There are six Olympic plate storage pegs.
Lat bar, triceps rope, shiver bar, ankle strap, chrome row handle, and two single handles.
Dimensions:
Length: 95″
Width: 79"
Height: 86″
Weight: 400 pounds
The design of the diamond cage for the Marcy Diamond Elite Smith line is perfect. It works well for presses and squats. It also has two other arms for providing pecs flies. With just one piece of equipment, you can get an entire workout done at home. The preacher curl pad comes included on the frame.
You can find both high-and low-pulley machines for working different parts of the body. You can also work out your lower body by utilizing a leg developer for extension exercises or curl movements along with a weight squat rack. With squat rack you can strengthen your leg muscles easily. It includes a lat bar, tricep rope, shiver bar and an ankle strap for convenience. You can also choose from 2 different types of handles – one has a grip, and the other does not.
Let's discuss the bench, stability and other essential factors of the Marcy Diamond Elite Smith Cage Machine!
1. The Adjustable Workout Bench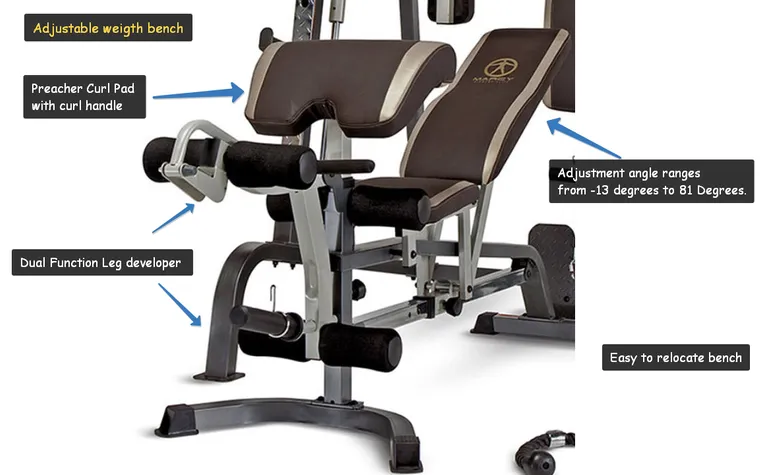 It has an adjustable bench. With its ability to produce quality parts at an affordable price, We would expect Smith to include one of these machines with every purchase. It doesn't disappoint; it was built from heavy-duty steel, has a maximum weight limit of 600 pounds, comes equipped with a preacher curl bar and leg curl attachments, which meets our requirements for an effective home gym.
However, we see one major problem with this workout system after looking at the seat. It does not include an adjustable seat! Adjustable seat posts will be necessary if you want to press lower than 45 degrees. An adjustable seat prevents your buttocks from sliding off the bench when sitting in an incline position. It does not affect how well you can perform presses. Its not a deal-breaker, but it could cause some issues for you if you don't address it!
2. Additional Stability
Think about whether or not others have tested the equipment you're considering. Stability is essential if you're lifting weights because otherwise, you could hurt yourself. Usually, commercial smiths are made from rock-solid steel. Because they're so big and strong, some of them are bolted to floors. It boasts two things, namely, its weight and its stability. If we remove the bench from consideration, its weight will be about 400 pounds. It is rather heavy for a budget-priced Smith machine.
In addition, it does not require any particular skill set to attach this device to the ground. After bolting it to the ground, the Elite will be stable. You can add more than one set of weights if desired. It will undoubtedly help reduce the need for bolting it to the ground. It has six olympic weight plate storage pegs.
There shouldn't be any stability issues once you've placed your plates into the plate holder. Although, don't worry too much about damaging your floors; they might get scratched up by the time you're done using the workout system. If you want to protect them from damage, consider buying rubber flooring!
3. Linear Bearings of the Smith Machine
To get an effective workout from a home gym, you need a good set of equipment. A vital component of any Smith machine is a smoothly sliding weight stack. A smooth traveling Olympic bar without any bearing system is impossible!
There are tons of machines out there using bushings, but bushings are a pain because they get stuck after a while, which can interrupt your workouts and even cause injury. With its unique design, the Marcy Diamond Elite will give you excellent performance when making beautiful bars.
4. Assembly of the Marcy Diamond Smith
It's easy to assemble this Marcy Fitness machine; the provided instruction booklet contains detailed instructions for assembling the machine. Since it's a complicated machine, the entire procedure could last for several hours.
It isn't quite a piece of lightweight exercise equipment, so you'll probably want at least two people to help carry the boxes inside your house. It doesn't move quickly because of its size, so don't expect to carry it around like an ordinary suitcase. You'll need an adjustable wrench and a Phillips screwdriver to get started!
Once assembled, the machine requires minimal maintenance; keep an eye out for any wear and tear and oil the parts accordingly. Keep the guide rods clean, so they don't get dusty.
---
Check some merits Marcy Diamond Elite.
Benefits of Marcy Diamond Elite
Advantages of Marcy Diamond Elite
It comes equipped with diamond striker plates for its uprights in addition to commercial-grade bars and safety latches. Both these characteristics point towards the fact that this machine has exceptional resilience and should be able to withstand extreme conditions for a highly long time.
In addition to the main machine, the Marcy Diamond includes several accessories. Among the accessories available for purchase are a triceps rope, an ankle strap, a shiver bar, a lat bar, two singles, and a chrome rower. It's multi-purpose equipment that allows you to perform various exercises such as lifting weights, working out your legs, etc., without needing multiple pieces of equipment.
You may be surprised that the Marcy Diamond uses free weights instead of machines. You'll get stronger faster when using free weights than machines.
It's pretty expensive, but it's worth every penny if you want quality.
With so many types of exercises available on the Marcy Diamond Elite system, you're sure to find something that suits your needs. As long as they're not too difficult, most of these exercises will be right for you.
---
Exercise Options for the Marcy Diamond Elite
The Marcy Diamond Elite offers a wide range of different options for exercising. While there are plenty of workouts available, I only recommend three. They are the following:
Bicep curls
Triceps extensions and press downs
Seated or standing trunk rotations
Cable twist and regular crutches
Back presses and flies
Chest presses, all types
Kneeling, aerobic, and crossover rowing
Pullovers with or without crunches
Standing or regular leg curls
Squats, twisting, jumping, regular
Shoulder presses and extensions
Upright rows
Lateral arm pulls
Front, lateral and lying front raises
Hip abductions and extensions
Regular and reverse lunges
Incline and lateral just flies
And many more beneficial exercises are offered!
These workouts are designed to give you maximum benefit for minimum effort. Each should last around 20 minutes and maybe be done at least two times per week. If you don't feel like doing a full workout, then pick one type of exercise and do it for 30 seconds. Repeat this process until you've completed the entire workout. Some of the Marcy Diamond elite comes with a DVD player so you can watch instructional videos while you work out. These videos are beneficial and will make your workouts much more enjoyable!
---
Warranty of Marcy Diamond Elite
Warranty offered Marcy Diamond Elite
This all-in-one workout station comes with a two-year limited warranty on its various parts and frame. The warranty is only applicable to regular usage and any other damage that can arise from manufacturer problems. But most of the time, the frame and other parts actually encounter difficulties with regular use. So in such a case, you might not be eligible for replacement. Also, you should be prepared to back your claim with evidence.
---
Shipping Process of Marcy Diamond Elite
Shipping Policy offered by Marcy Diamond Elite
Next in our Marcy Diamond Elite Review, we would guide you with the shipping policy offered by the brand. As soon as your checkout process is completed, your order starts processing. The shipping cost will vary depending on where you purchase from and what type of delivery you prefer. But some retailers like amazon offer free shipping. The brand will require at least 3-7 days in order to process prepare your shipment. As soon as your order is shipped, you will get a confirmation email along with tracking id. Once your order has left the companies facility, it would be either shipped via UPS or USPS. Also the orders shipped via Freight carrier will only be delivered from Monday-Friday and that too only in business hours.
---
Alternatives of Marcy Smith Diamond Elite
Valor Fitness Smith Machine Even though many might argue that it is not a complete home gym like the Marcy, you can still consider it. One of the problems that you encounter with a budget for a mid-level home gym is the pulley system. This system comes in low quality, and just after a few months, it becomes unusable, and the cables break. Also, it does not have all the bells and whistles. But the Valor smith machine is something that is no-fuss and is a heavy-duty beast of serious lifters. It does not have a pec deck and a cheap pulley system. Also, this machine comes under $1000. The weight capacity offered by valor smith machines is 1000lb which is thrice that offered by Marcy Smith Diamond Elite. Finally, if you can live without the extra attachment offered by Marcy and you just serious about weightlifting, you can undoubtedly consider Valor Fitness Smith Machine as an option.
---
🌟 Marcy Diamond Elite FAQ
What kind of accessories are included with the Marcy Diamond Elite Smith Cage?
The Smith Cage includes an Ankle strap, triceps rope, two handle grips, a lat bar, and a shiver bar.
How hard is it to assemble the Marcy Smith machine?
The Marcy Diamond Elite is a home gym that is easy to assemble and use as it comes with detailed instructions. It is a workout machine that indeed requires lubrication. You can add oil-based and silicon-based lubricant to cables and other moving parts, which would ensure the good durability of those parts.
What is a home gym machine?
A home gym machine is a piece of equipment designed to get you a full-body workout at home. There are several types, but they all have one thing in common: they may be used for various purposes, such as strength training or cardio.
Does Marcy Diamond Elite use latex material?
Considering that many people have an allergy to latex, Marcy Diamond Elite comes with high-density foam rubber and top-grade vinyl.
Does Marcy offer assembly facility?
The brand does not offer the setup/assembly of its products. You should also always handle the assembly carefully. Along with this, if you are calling a third party to assemble your machine, you should refrain from scheduling an assembler unless you receive your order.
Does the Smith machine make benching easier?
A free weight exercise is the standard bench press. The Smith machine is more along the lines of a cable machine because the bar's motion is fixed. The barbell may go wherever it wants because it is not linked to anything. Overall, the Smith machine bench press is user-friendly and suitable for beginners.
Why do bodybuilders use the Smith machines?
When doing "cheat reps," the Smith can be a helpful machine for maintaining constant muscle tension. If you don't have a training partner, you can utilize the Smith to perform really heavy 1-4 rep sets or failure exercises without getting injured.
---
Should you really buy this home gym equipment?
Bottom Line:
If you're looking for a high-quality home gym that won't break the bank, the Marcy Diamond Elite is the way. Its design is top-notch, features are numerous, and the price tag is reasonable. This machine will give you the versatility to achieve your fitness goals. If you're searching for a versatile piece of equipment to help you reach your fitness goals, look no further than the Marcy Diamond Elite Home Gym. We hope you have liked our Marcy Diamond Elite Review. Let us know how you liked this machine if you have tested it.
Marcy Diamond Elite Review
The Marcy Diamond Elite Smith Cage is an all-in-one workout system for serious home gym strength training with a dual-function leg developer and a press bar with sealed linear bearings.
Pros
Heavy-Duty Steel Frame, stable build
Linear bearings
Solid weight bench
It has standard Olympic weight plates.
Does slide in easily and does not make much noise.
Versatile over 100 exercises to choose from
Great for compound exercises, both smith machine and free weight rack
Cons
Challenging assembly
Large footprint
Weights are purchased separately

Marcy Diamond Elite
Marcy Diamond Elite is the best workout station for home gym. Order it online & achieve your fitness goal.
All-In-One System for Home Gym

Marcy Diamond Elite Review 2023: How Much Weight can a Marcy Bench Hold?