The fondest memories of childhood which everyone remembers are chocolate bars. With growing age those chocolate bars actually became protein bars. But one such stand out protein bar is the BUILT BAR! Before we go more detail on our topic, we need to understand what actually protein bar are and why are they healthy.
What are protein bar? The actually are small size pocket bars which contain calories ranging from 150 to 400, In which 10 to 20 g of protein is there along with several other nutrients. They actually add more nutrient value to your regular diet. Different protein bars contain different calories so the selection so before consumption forms an important part. So before consumption it is important to check all the ingredients.
---
Why One Should Have Protein Bar ?
Protein bars provides an instant energy booster into our body. They are contain good amount of protein and carbs, They also contain calcium, iron and various other vitamins. They actually are a good snack between your meals to get some extra kick of energy.
Protein bars have always been popular in gym culture. They are said to increase muscle mass and promote weight gain. These protein bars should be used alongside a healthy diet program and one must also follow regular physical activity. However, there are a lot of bars which are chocked full with sugar, fillers, syrups and other cheaper ingredients which actually taste good but are really harmful for our body.
So along the quest in search of a very good bar, we came across Built Bar! This nutritional bar helps you find the nutrition you need without the unhealthy sugar and carbs. Super soft and more comfortable to bite, these bars are the perfect substitute for munchies and dietary supplements for protein.
Ever since it was marketed, Built Bar took off with the audience. The product was sold in different flavors and had a very different type of consistency, making it even more popular. This supplement is highly recommended and loved. Apart from being just a Bar it's loaded with many health benefits which we shall discuss in the following article.
Read our latest ✅Built Bar Review to know more about these great protein bars. Also, do not forget to use our exclusive Built Bar coupon code that enables you to save some money on your purchase.

-12%
$38.70
Box Size = 18 Bars
Looking for discount on Built Bar? Click on the above "Shop Now" button to get 12% discount.
---
In-Depth Built Bar Review | What's changed in Built Bar?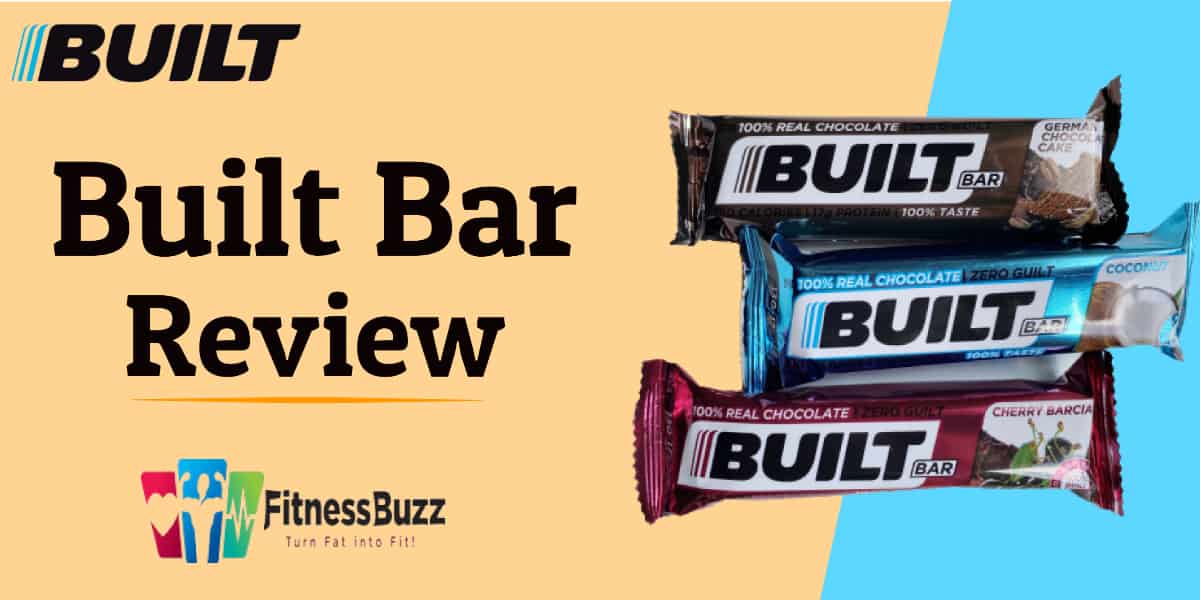 At one point, Built Bar had stopped its online sales. Offline sales continued, but the online sales did not come back up until Built Bar released a variety of flavors. The company has blended all the real ingredients and which actually have high quality protein content. The latest and the older products by Built Bar were quite different, especially in terms of consistency. On a more genuine note Built Bar brought out new products and in doing so they did actually manage to keep its products' quality. The more recent Built Bar products come with a softer consistency and many fruit flavors.
---
What is so different about Built Bars?
Ever since its launch, Built Bars have racked up a lot of hype, thanks to many people choosing these protein bars over others. This product has been hailed as one of the best protein bars in the market. What differentiates it from other healthy protein bars is that other ones might be good but could contain a little more calories in comparison with Built Bar. What's more is that many users feel that Built Bar is one of a kind product, which allows them to enjoy great tastes and get their nutrients for a protein bar post-workout.
Here is why the protein bars are so hyped up:
These protein bars contain natural flavors which many people love. These Bars don't contain artificial flavors, which is a huge plus point for users. In other words, there are no preservatives or colors added to the protein bars. 
Built Bar protein bars come with the right grams of protein which are just enough in terms of calories our body requires. Which means that there is a right balance in terms of calories our body requires. Usually, protein bars come with high sugar levels, making them taste good and have high levels of carbs in them. However, none of it is right for Built Bar Protein Bars.
Lastly, the protein bars are tied up with molecules to prevent the growth of fungus and bacteria.
---
🔥🔥Exclusive Built Bar Discount Coupons (100% Verified)
This is the exclusive Built Bar offer that enables you to enjoy 3 FREE packets of BuiltGo when you purchase the 18-Bar box.
Use this latest Built Bar coupon code that enables you to enjoy a flat 30% off on a BuiltGO purchase. Huge discount. Save now.
This Built Bar promo code enables you to get 9 packs of BuiltGO samples at only $9.95. This is a limited-time offer. Grab today!!
---
Built Bars Flavors
Built Bar comes in a variety of natural flavours which offers you with a variety of choices. But which ones your Favorite flavor? Well, we will try to solve this problem by giving you a brief info about the flavors built bar is offering. The company has successfully created a wide range of tasty protein bar which are listed below –
Mint Brownie
Double Chocolate
Salted Caramel
Coconut
Orange
Raspberry
Cherry Barcia
Caramel Brownie
Cookies and Cream
There aren't many nutrition or protein bars that come with as many flavors as Built Bars. All these flavors are completely natural and one must chose according to their personal preference and depending on their likeness. This international protein bar brand brings together the correct mixture of deliciousness and proteins.
---
Built Bar Ingredients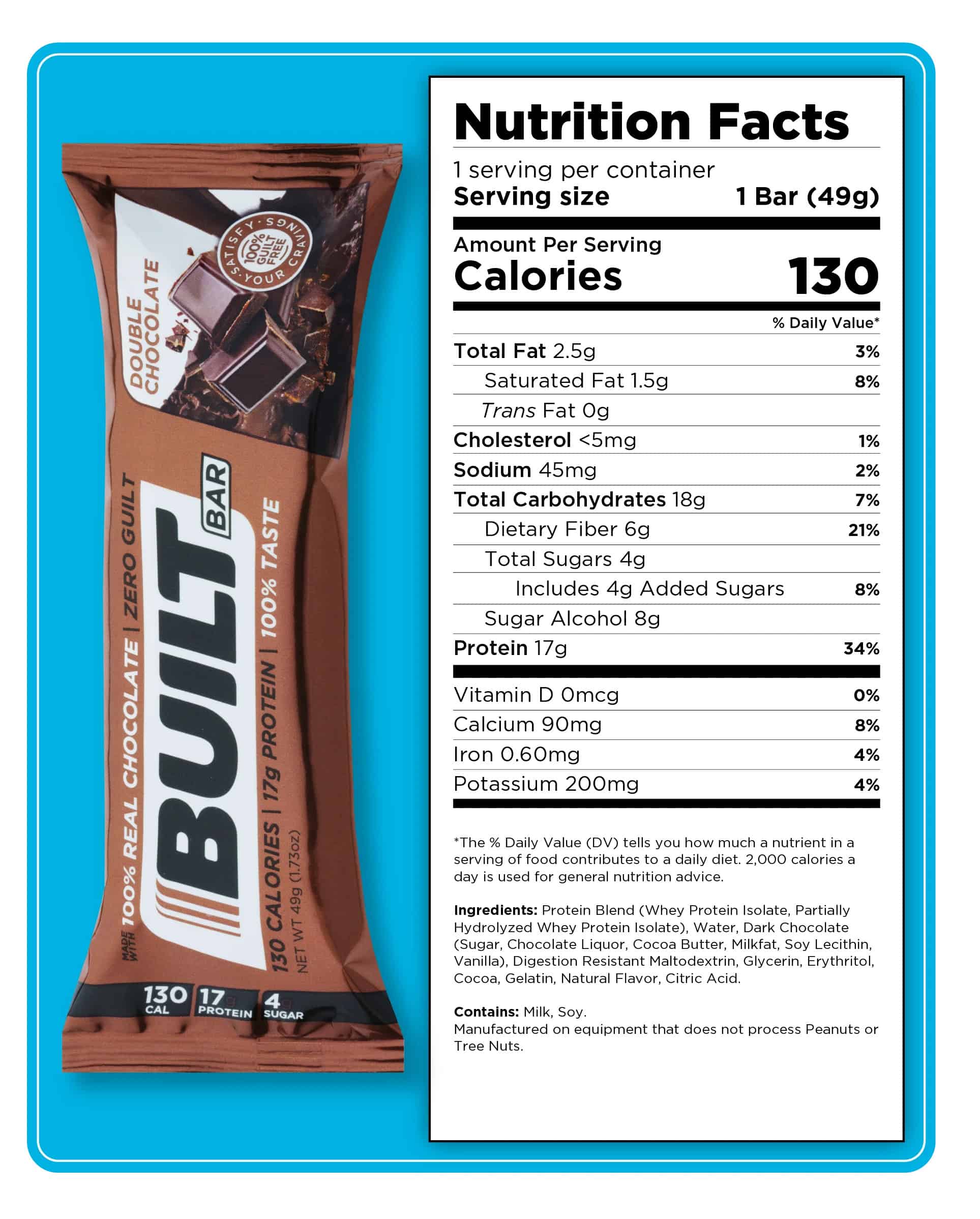 The brand website claims that the protein bar was designed to merge clean ingredients that would taste good. Every ingredient for Built Bar was selected to bring one particular benefit to the entire mix. Each ingredient of built bar has its own special benefit to add. Here is a list of all the ingredients:
Whey Protein Isolate?
The brand extensively researched and found that whey protein isolate was a better option for the protein bars. Built Bar's iteration of whey includes an easily digested, lactose-free, casein-free blend which actually are milk products that most people won't react to. This isn't a vegan option, but it does contain quality proteins. Egg whites and milk showed that there were inconsistencies; hence the proteins were separated from milk. Whey Protein Isolate contains all 9 essential amino acids.
Maltodextrin
Maltodextrin is a water-soluble fiber that helps in improving the texture of the protein bar. This fiber source was specifically chosen to ensure that the protein bar does not disrupt your gut's functionality. Built Bars makes use of Maltodextrin as a fiber source because it does not irritate, bloat, or create gas in your stomach.
Erythritol and Glycerin
These two are used as sugar alcohols and to improve the taste. The use of these two elements keeps the sugar levels of the product on the lower end. Basically glycerine also increases the shelf life of the product. Sugar alcohols are used to reduce insulin spikes and help those trying to reduce their intake. Furthermore, sugar alcohols are processed differently by the body and the stomach. Glycerin is used with Erythritol to improve the protein bar's sweetness and add value to the shelf life.
Chocolate
Every Built Bar comes with a dark chocolate coating. Built Bar's chocolate coating is pure, delicious, and does not have a hint of chemicals. Dark chocolate actually gives us antioxidants also also gives a descent after taste which many of the people would like. Though many would argue that chocolate does add sugar but the fiber content in the bar actually balances it. The chocolate coating on top is the only source of sugar in the entire protein bar. What's more, the protein bar's chocolate works in harmony with the proteins, thereby giving an actual candy bar flavor.
Gelatin
Gelatin is used in the protein bar as a stabilizer. This is used to combine the texture and foam structure of the bar. However, the use of gelatin has been considered a drawback for some users. It also helps in maintaining the form structure of the bar. In all honesty, Built Bars are the best source of protein available. If you are looking for a delicious dessert that works as a protein source, then this is the product for you!
Built Bar's popularity comes with the fact that it is delicious and provides the perfect protein source. The ingredient's used in the protein bar add many benefits to your body. Despite the bar not being vegan, it offers a lot more than any other substitute out there.
---
Benefits of Built Bar
Built Bar have become popular among users for many reasons. For those who wish to maintain a healthy diet, these protein bars do the trick. Generally most of the Built bars have the same nutritional content –
130 calories
2.5g Fat
18g Carbs
6g Fiber
17g Protein
Only specific nut bars are there which offer a little bit more macros.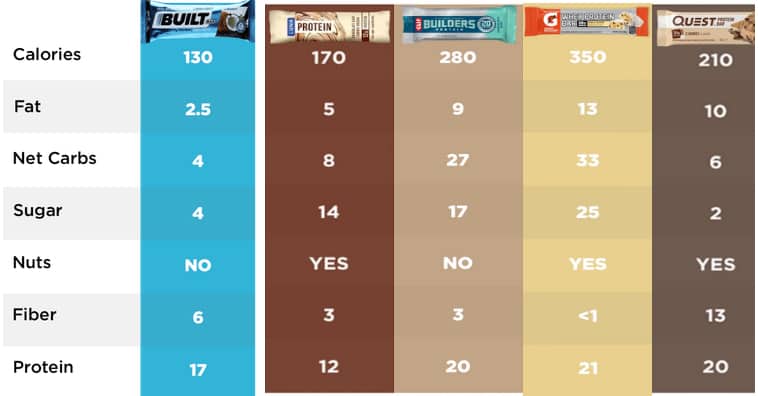 These protein bars contain no added or artificial preservatives and flavors. The brand does not state that it uses "natural flavors." However, the packaging of the product shows that no colors have been added to the product. If someone is weight watcher, certainly it has just 3 weight watcher points, so less calories and no weight gain
With Fat 4 Grams Net Carbs, the Built Bar's bars offer a great many benefits. The net composition of carbs, proteins, and fats is quite balanced and very different from the other alternatives. Compared to others, Built Bar's protein bars scored the least in fat, calories, net carbs, and sugar, making it better than most of its competitors.

-12%
$38.70
Exclusive Built Bar Promo Code
Click on the above Shop Now button to avail 12% discount on Built Bar.
---
Built Bar Review | Healthy & Delicious Protein Bars
Maintaining a healthy diet was never as simple as it is with Built Bars. With a mixed box of bars, the brand brings together health and taste. One of the best things that stands out for Built Bars is the great ingredient list. Coupled with health benefits it actually has no artificial taste.
Are Built Bars Healthy?
Well firstly to clarify, any of the protein bars can never be a replacement for a healthy diet. Eventually one should look at these Bars as an added diet go avail daily dose of protein. These bars actually help recovery and could be a great post-workout snack.One must include them in there regular routine so they can get all the missing nutrients from there diet. The wide range of Built bar natural flavours gives us the variety to chose from and all the flavours are equally beneficial.
For whom is Built Bar best for ?
Built bar suits good for everyone who frequently works out or for anyone who wishes for a quick snack. It actually not safe for those who are allergic or sensitive to milk products. Baring them, Built bar is even safe for diabetic persons.The bars are actually best suited for the Keto community as it has a zero calorie sweetener.
These bars actually don't contain nuts and soy, so its even safer for people allergic to them. Even though they don't have a delicious taste like the regular chocolates, but the nutritional value they add is certainly exceptional.
From Where to purchase Built Bar?
Built bars can be directly purchased from there official website. Once you signup into there website you can definitely get coupons and also regular updates when limited edition products go on sale.If we go for bulk buying that would certainly fetch us with more discounts. But it is highly recommend the bars should not be eaten after there expiry date.
Loyalty Program by Built Bar
Oh yes! Built bar does have a loyalty program from which you can earn points and then redeem them for availing further discounts on future orders. While spending every 1$ we would get 1 point. One can also earn points by writing reviews on various social media platforms like Facebook and can also follow Built bar on social media handles. One can earn $5 coupon on every 100 points earned.
Built Bar Taste Test | Are they worth the hype?
Built Bar Taste Test | Are they worth the hype?
With various flavors, such as Carrot cake, Peanut butter flavor, etc., the brand manages to get the taste and protein content right. Despite changing things recently, the brand has managed to deliver quality protein bars consistently. Whey protein isolate in built bar actually makes it a complete protein filled product.
The taste and the texture of the product are amazing. This product outdoes any and every other kind of protein bar in the market. Earlier, these protein bars had one downside, and that was "being too chewy." However, with the new and better protein bar recently launched, the bar's chewy nature has been eliminated.
These protein bars are neither too dry nor tasteless, making them the best option. The upgraded protein bars, however, are even better than the older ones. The texture has been improved a lot.
---
🌟FAQ related to Built Bar
---
Conclusion: Built Bar Review
Built Bar's latest product line up brings around 4-6 net carbs with minimal sugar, which is still very similar to other protein bars. With no preservatives and added colors, the brand brings you a delicious protein snack.
Perfect for any time of the day, this bar is fluffy, packed with protein, and tastes just great. Chocolate-covered bars bring you the best delicious healthy solutions. These built bars if eaten along with a healthy diet can really supplement your healthy lifestyle.
The protein bars so massively famous that different bloggers and reviewers have reviewed the product. Every review is stellar and speaks about the differences that make Built Bars the best protein bars. But one thing is clear that this cant be a substitute to any healthy diet.
If you plan to buy the product, remember to choose the Built Bar discount code that works for you. With that said, Built Bar protein bars are just great nutrition options. For those who want a long-term solution, the mixed flavor box can serve the purpose. So which ones your favorite protein bar? Do leave us your suggestions in our reply box.

Built Bar Review 2023 + Discount Coupon (Up to 30% OFF)