Even if we were lenient in our fitness before, we could not ignore its importance now. After Covid, it has become mandatory to look after our bodies! We are now well aware of the importance of immunity and fitness. And of course, we should be concerned about our body after all it is the home to our soul. One more issue that Covid-19 brought in our lives is the shutting down of gyms. Sadly, the favorite places of fitness lovers remain open hardly for 2 months a year.
The rest of the time, we are fighting to keep our bodies safe and maintain social distance as much as possible.
Does that mean we will have to negotiate with our fitness? The answer is an absolute NO! If a gym is somewhere you cannot go, that does not mean you have to cut yourself from fitness. How cool will it be to get your personal gym? This may sound expensive to you, but everything is possible and affordable when you have got an XMark Functional Trainer at your home.
Our ✅XMark Functional Trainer Review is the ultimate solution for all the people who miss their gym days. While other options are available, we only focus on XMark Functional Trainers. Why? Because in our in-depth and extensive research, we found this pick the best solution for our readers! If you want effective results, they can only be fetched from a reputed and trusted brand.
What is a Functional Trainer?
Functional training equipment is a strength training tool that provides dynamic resistance from the user's body weight by integrating an elastic band or a keychain weight. Using it can easily perform similar motions like actual squats, deadlifts, pull-ups, etc. This machine has various features which allow you to do various functional trainer exercises.
The main advantage of such kind of trainer machines is that you can easily perform exercises even at home and change your workout routine. Functional trainers, such as traditional strength training, are known for toning muscles and strengthening overall wellness. They include weight stacks that allow for a more intense workout that is also simple to set up. Also, with a cable pulley system, doing any exercise becomes easy and improves balance. It also comes along with attachments like ankle cuffs or wrist, think or thick pulley system and various other ones.
---
What is XMark Functional Trainer Cable Machine?
Detailed XMark Functional Trainer Review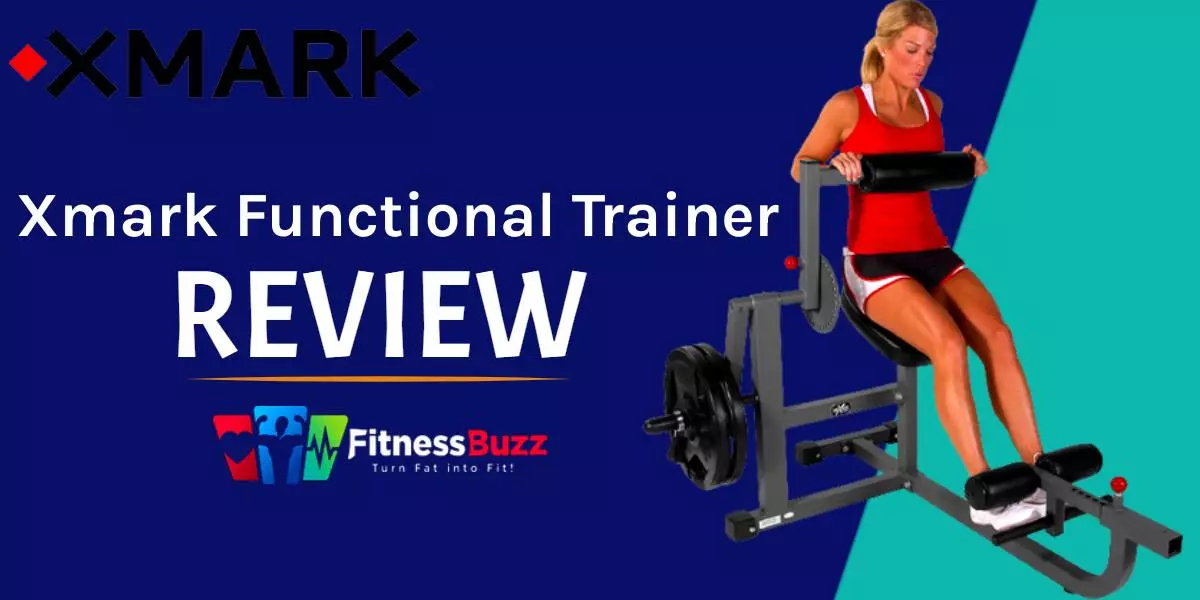 XMark XM-7626 is a functional trainer machine with the brand assurance of one of the finest gym equipment manufacturers, which is heavy-built and versatile home gymming equipment. If you're not aware yet, it's a cable machine that allows you to do many advanced exercises with 7 position adjustments. it has an ergonomic 3 position adjustable seat and a foot hold-down bar. It also has extra thick 3" Duraguard cushions, because comfort is a must. Double-stitched Duraguard vinyl which is sweat and tear-resistant is also present. These features help you perform a wide range of movements like leg presses, leg extensions, shoulder presses, etc. it is an all-in-one substitute for your heavy gymming machines such as cable crossover machine or the Smith Machine.
It also built-in transport wheel, to make it portable and traveling is not an excuse for you. it has a baked powder coat finish that is scratch resistant. it also has dual 200-pound weight stack, 2 adjustable cable pulleys, and an adjustable pull-up bar. The split-grip pull-up bar makes you do pull-ups and chin-ups with greater ease. Also has a leg extension leg curl strap and an ankle strap. Adjustment and resistance can be made accordingly. With its easy-to-use features, it provides the most efficient way to get your daily workout done. Moreover, it has a compact design which makes it one of the best choices if you want to save space. Also, this machine comes in with 19 different adjustment positions and various other accessories like handle grip, ankle strap, short bar and tricep ropes etc., really making this functional trainer an all-rounder option.
It also has a weight capacity of 1500 lbs. And the best part is its price which is comparatively cheaper than its other competitors. It is reasonable as well as affordable. However, that might be a reason that some may change their mind. But you need to understand that quality is expensive, and also that this is a one-time investment. And therefore keeping all these points in mind XMark XM-7626 is a great choice.
A quick overview of its design:
Dimensions – 65"W x 43.5"L x 83"H
60 inches between the pulleys
The space between weight stacks is 48"
The plate weights are 10 lbs, and each is 1 inch thick.
A workout poster that has 36 exercises and the dimensions of 24" x 34"
Cable attachments will extend up to 81" from pulleys
The length of the long strap is measured as 17″ and that of the short strap is 8″
Also has a 42-inch long bar and the triceps rope has a length of 23″
---
Is Functional Trainer Machine affordable?
Why Invest in a High-Quality Functional Trainer Machine?
Even though you may get some affordable options, will they offer the results you need? The question is dicey, and so is the answer. You should select the equipment that keeps your body on the priority list when it comes to your health. What do we expect from a functional trainer machine? It should have weight stacks, cables, and pulleys that we can use for different targets and issues.
Our options include versatility and effectiveness, which are the two terms that we expect from a good trainer machine. A functional trainer machine is the safest option you will get when it comes to your safety, especially for beginners. You will not have a fear of dropping the weight on your foot or your hair getting strangled in any machine. The cables and the weight stables allow beginners to stay safe even while performing extreme workouts. Also, it prevents any unwanted or unexpected damages. One can perform as many vigorous exercises as they want without feeling about a spotter. These are a few reasons that make a functional trainer machine the best and the safest option for all.
---
XMark Functional Trainer & its benefits
Why is the XMark Functional Trainer a Good Option?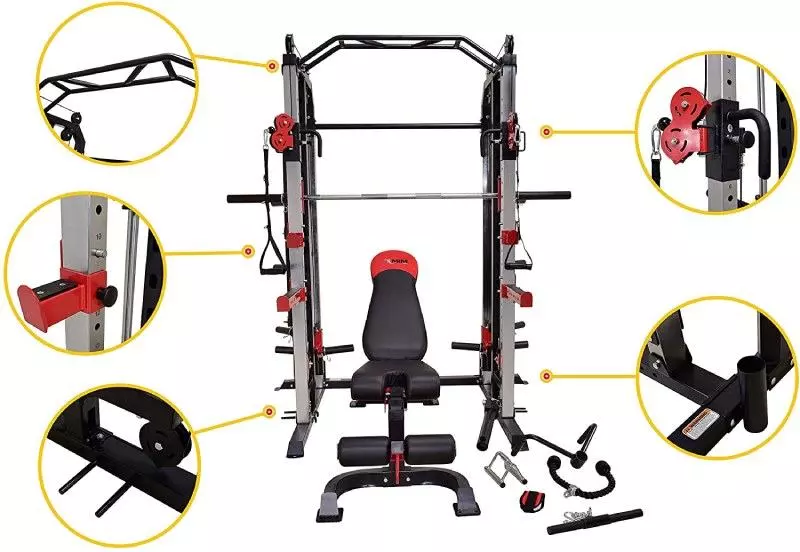 When people talk about the best brand offering household equipment in the fitness industry, the first name that comes to their minds is XMark. The company has been offering the best to their customers for 20 years, yet they strive to do the best they can! There is no surprise why the XMark functional trainer is one of the best cable machines in the market.
#1. Heavy duty and solid mainframe
The first thing you will notice about the XMark Functional is its heavy-duty! It has a steel body that is also 100% scratch-proof. Along with that, you get a corrosion-free 11-gauge steel 2″ x 3″ steady body.
#2. A match for beginners and experts
Whether you are a beginner or an expert in your fitness journey, this machine by XMark functional is suitable for all! Anyone can get a hand on this machine, irrespective of height, weight, or age. You can set up the intensity according to your need. Everything is customizable and makes XMark Functional trainer an excellent option for people of any age, height, or gender!
#3. Unlimited training possibilities
The possibilities with this item are many! This single machine can help with every possible workout form, an excellent option for people looking for a diverse version of a functional trainer machine. Other than that, you also get a set of more exchangeable accessories that you can use according to your form and demand.
#4. Space-saving design
Another appreciable thing is getting a compact design to fit your walls! You can fit this multi-benefit machine in any suitable place you think is okay for you to sweat out. Even if you have a tight place, the XMark functional trainer machine can be adjusted in any corner you want and storage is never a problem!
#5. Brand reliability
There is no way we won't keep XMark equipment on our list when it comes to trust. The brand itself has made its name in the fitness industry, making it an ideal choice for fitness experts. That is why, XMark is an intelligent choice, which is excellent in terms of quality and requires minimum attention.
#6. Exceptional warranty
When we are too excited about our purchase, we often ignore the importance of a warranty. If you want your machines to work long-term, you must keep the warranty period in mind. Do you want another reason to stick with the Xmark functional trainer machine? It offers you a lifetime warranty! Yes, you heard it right. After only a single purchase, you are all set! No matter which issue you face, the repairing is done without any external cost.
---
Exercises which you can do with XMark Functional Trainer
There are a lot of exercises that you can do with the Xmark functional trainer cable machine that can really tone your muscles. With workouts done on Xmark Functional trainer, you can work on many different target muscles in your body, allowing you to target key areas in a natural manner.
Starting with the beginners, exercises like a bicep curl, chest press and tricep extension can be easily done on it. But the versatility of this Xmark Functional Trainer unlocks a whole host of different capabilities that would otherwise not be available in other training machines. To improve your core strength, you can also make reverse lunges, plank tricep kickback and other tricep exercises. The Side Plank Cable Row is another exercise that can help you in strengthening your core and engaging the shoulder muscles. The Cable Front Squat engages the hamstring, quads, and gluteal muscles. Along with this, you can also do bridge curl, cable crunch, hip abduction, single-arm row and a whole lot of different variations.
---
Attachments that come along XMark Functional Trainer Cable Machine
To provide you with even more benefits there are a few attachments that this functional trainer come with. Let's have a look at those additional accessories:
A pair of 8″ hand straps and 17″ long strap handles.
23-inch tricep rope which will help with exercises such as hammer curls and kneeling crunches.
A short bar that is perfect for diagonal movements.
A knurled long bar of 42 inches, connect its end to the pulley and you are ready to perform barbell exercises such as squats, bicep curl, or benchpress.
A leg extension strap to help you on your leg day.
An ankle strap to be by your side for hip strengthening exercises.
A poster including 36 exercises also comes along to help you achieve your fitness goals much faster.
---
Negatives about the XMark Functional Trainer
We did not see or experience any negatives in XMark functional trainers. XMark Functional Trainer Cable Machine is an excellent option for beginners and professionals. However, there was one issue we would like to admit. The Commercial Cable Machine is a little tricky to assemble. The poorly written manual does not come in very handy.
Assembling being the most important part needs extreme perfectionism. And for this multi-function fitness machine bringing all its parts together is not an easy task. A handyman or a professional will be needed for this endeavour. After the machines and pieces are perfectly fit together in their respective places, it works smoothly, worth every penny that you paid for. Other than its assembling process no other issue was spotted. And if you give enough time, with the help of tutorials, the guide, you will assemble the machine in no time. Try not to lose your patience!
---
🌟 FAQ related XMark Functional Trainer
✅Is a functional trainer worth the money?
The functional trainer is an excellent piece of equipment to use. It improves your health, promotes weight loss and adds to overall wellbeing. The wide range of workouts that the trainer provides will help improve core strength, balance, and coordination while strengthening several different muscle groups in your body. Because it is multi-functional and very approachable, it becomes worthy of all the money you have spent. It not only makes you accessible to full-body workouts but also removes the additional cost of hiring a personal trainer.
✅What is a functional trainer machine?
A functional trainer machine is an exercise machine that helps you build functional fitness, which can move through an array of movements in your day-to-day life. It will improve your coordination, balance, and strength.
✅What is the difference between a home gym and a functional trainer?
A home gym allows you to do all kinds of exercises without joining a gym or paying someone else to do the exercises for you. A functional trainer allows you to perform functional exercises designed to take your body as close as possible to its limit of physical potential while using no equipment more than your body weight.
✅What should I look for in a functional trainer?
Ideally, there are certain things that you should look out for when looking for the perfect functional trainer.
1. Stack weight– the best machines have dual weight stack, however, the budget-friendly ones use weight plates. You need to keep this in mind.
2. Pulley– the best quality machines come along with 2 completely adjustable pulleys. They should be free to move while supporting the weights so that you can reap maximum benefits from your vigorous workouts. It is a very important simple machine in your functional trainer for cable machine exercises.
3. Warranty– consider looking at the warranty before the purchase. If you are paying such high value for a product you expect it to last longer. Compare the factor with other available competitors and you are good to go.
✅Where should a functional trainer be placed?
A functional trainer should be placed on a solid and level surface. The best place is a carpet that doesn't interfere with the rollers. The functional trainer is out in front of you so that your legs can extend and move freely.
---
Should you really buy this equipment?
Conclusion: XMark Functional Trainer Cable Machine Review 2023
The final question arises: Why should you invest your precious bucks in the XMark Functional Trainer Machine From the start, we have specifically mentioned all the advantages that you and your body get from this multi-functional machine. With the unlimited range of workouts, you can perform with this functional trainer you will be fuelled with power. Also, the purchase has hardly any disadvantages, which gives the XMark functional trainer machine an edge!
Only the assembly part is tricky, but when you get a lifetime warranty on a piece of equipment, doesn't that sound tempting enough to you? If you compare the advantages against the disadvantages, the choice is pretty simple to make. The benefits you get in your single purchase are endless! Many will say that the XMark functional trainer machine is a little costly compared to other options. While this is true, the premium quality and the reliable brand make the purchase satisfactory.
If you wish your home gym to work effectively, you will have to loosen up your pockets a little bit! Give the XMark Functional Trainer machine a chance, and we promise there will be no disappointments! If you have any doubts or suggestions or wish to share your experience, comment down in the section below! With this, we put an end to XMark Functional Trainer Review. Good day!
---
XMark Functional Trainer Review
We have put together the top qualities to look for in a functional trainer to help you achieve your fitness goals.
Pros
It is  durable and versatile. 
Lifetime warranty for parts and frame.
2 fully adjustable pulleys.
Heavy duty, steel frame.
Pull up bar
Dual weight stacks, each with 200 lb.
Cons
Assembly can be challenging.

XMark Functional Trainer Review 2023 | Save Upto 20% OFF