NutraBurst Review 2023: Premium Liquid Multivitamin from Total Life Changes
A majority of people, unfortunately, are unable to meet their daily intake of essential vitamins and nutrients. This is the reason many people have started taking multivitamins, as it can help you meet your daily recommended values for each micronutrient, vitamin, and mineral that your body requires. NutraBurst is a relatively new liquid multivitamin on the market that makes some tall claims. NutraBurst says it is more than the usual multivitamin.
It claims that it is formulated to detox your system while simultaneously supplying the essential vitamins needed to make your body work at its highest efficacy.
Unfortunately, there are too many multivitamins out there that make 'too good to be true claims. They may advertise that they help you achieve overall good health, but you may wonder, "am I just drinking a bottle of inactive minerals that are doing no good to me?"
Today, we are going to discuss NutraBurst by Total Life Changes. Read on to know if it is really worth the purchase or not.
Who Makes NutraBurst?
NutraBurst is formulated and produced by Total Life Changes (TLC), a health and wellness supplement company. Total Life Changes was birthed by CEO Jack Fallon in 2002 and grew in 2008. Fallon was motivated by his own experiences with health and wellness and wanted to ensure users feel healthier and energetic, and employees feel inspired and supported.
Besides the NutraBurst dietary supplement, Total Life Management sells many other health supplements and products such as herbal teas, probiotics, toothpaste, eye drops, and more. TLC's Better Bureau page has an A+ rating and an average of 4.0 out of 5 for 48 NutraBurst reviews. There are a few complaints on their account and mixed customer reviews, most of which are related to the company's billing and shipping.
Honest NutraBurst Review – What is NutraBurst?
NutraBurst is an all-inclusive liquid multivitamin that claims to be more than just a normal multivitamin providing average health benefits. NutraBurst claims that it provides your body with essential nutrients that will help to work at its best and make you feel healthy and good overall.
NutraBurst, however, is pretty vague on exact descriptions of the benefits and claims and simply lightly states that it will make you "feel good".
This is one problem we faced while writing the NutraBurst review. NutraBurst does not make any certain claims and just states that you will feel better overall. It does say that it can help detoxify your body, but there is no research-backed evidence to specify what is being detoxed and how. Since NutraBurst offers an impressive list of active ingredients, we can take it that something is sure to happen if someone takes this dietary supplement. NutraBurst says that it has more than 72 minerals, 10 vitamins, 22 phytonutrients, 19 amino acids, 13 whole food greens, and 12 herbs in this liquid supplement.
Total Life Changes NutraBurst Premium Liquid Multivitamin
as of July 6, 2023 4:22 am
NutraBurst Ingredients – NutraBurst Review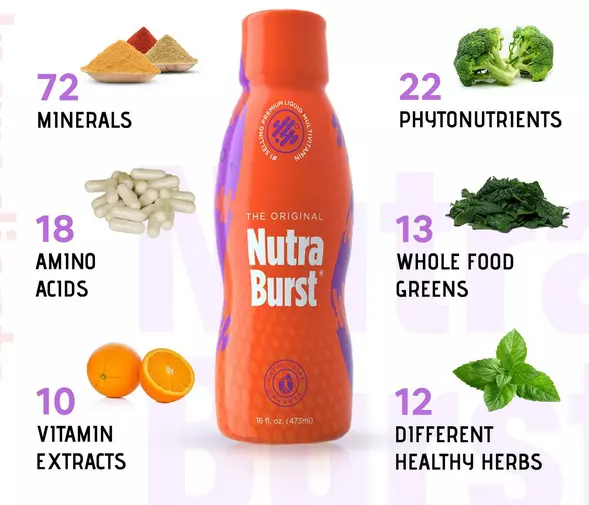 NutraBurst contains quite a long list of ingredients, so it would occupy a lot of space if we list them all here. NutraBurst's formula is divided into 5 different and unique complexes, each with ingredients targeted at specific primary benefits. The 5 complexes are as follows:
1. Mineral Complex
This blend comprises over 72 naturally occurring minerals including calcium, magnesium, chromium, boron, cobalt, potassium, and more. All of these minerals play critical roles in attaining a healthy balance of micronutrients.
2. Proprietary Herbal Complex
The herbal complex includes ingredients like Panax ginseng, bioflavonoids, corn silk, cranberry, goldenrod, grape seed extract, green tea extract, and juniper berry extract. These types of dietary supplements help improve overall health, providing antioxidants and particular micronutrients and superfoods.
3. Amino Acid Complex
This blend contains many important amino acids such as alanine isoleucine, serine, arginine, leucine, and threonine. The amino acid complex is formulated to give your body the essential nutrients to repair its tissues, while also offering the necessary building blocks required for protein levels in your body. Several essential amino acids have their own unique array of benefits as well, like helping you reach your weight loss goals and offering relaxation.
4. Phytonutrient Blend
the phytonutrient blend comprises several ingredients from fruits and vegetables and is fully loaded with healthy plant enzymes obtained from foods like pineapples, broccoli, apples, orange, cauliflower, celery, grapefruit, and raspberry.
5. Whole Food Green Blend
This blend contains several superfood greens such as buckwheat, wheatgrass, chlorella, spiraling algae, barley malt, mung bean, and soybean. These greens provide a good amount of fiber to help support healthy digestion and may even aid in weight loss.
Thus we see that the ingredients in NutraBurst are designed to target numerous things at once, as is the case with a most dietary multivitamin supplements. TLC claims that NutraBurst is most effective when used with Phyte, NRG, and ProZ, the 3 other supplements available in their store.
NutraBurst Makes 3 Claims on its Website
It detoxifies the system
It provides a daily dosage of all vitamins and minerals
It contains 19 amino acids that make the body perform at its maximum efficacy
These claims are very imprecise and, unfortunately, the site does not provide details about how these claims are achieved. The NutraBurst formula is a super vitamin that contains a little of everything your body needs. In that sense, NutraBurst encompasses a variety of daily vitamins that could prove to be beneficial in terms of daily supplements that help you achieve your health goals.
Benefits of NutraBurst – NutraBurst Review
NutraBurts is a complete vitamin supplement that meets and exceeds the recommended daily intake of vitamins and essential nutrients in just one tablespoon. These included ingredients are essential to maintaining a healthy body.
NutraBurst provides calcium for bones, teeth, and muscles; Magnesium for the nervous system; Chromium to help control insulin Potassium for maintaining fluid balance Phosphorous for supporting acid-base balance Iodine for metabolism; and many more important common and trace minerals.
NutraBurst is also a rich source of plant-based, whole-food ingredients. In studies conducted by the National Institutes of Health, diets full of plant-based whole foods have been shown to support your body's overall well-being.
NutraBest is best when used with phyte daily vegetable rejuvenation drink
Is NutraBurst Safe? – NutraBurst Review
NutraBurst does not point out any side effects and there is no evidence of potential side effects. A very common side effect of liquid multivitamins is indigestion, however, users taking NutraBurst did not experience this side effect too often, or at all. Some of its ingredients, like green tea extract, contain caffeine which can negatively impact those who are sensitive.
Moreover, it's vital to consult your doctor to decide if this liquid multivitamin is suitable for you. With any multivitamin, you are consuming a huge variety of minerals and nutrients, which can all result in certain side effects and affect your body in different ways, so this is something you need to be mindful of.
Where to Buy NutraBurst?
You can buy NutraBurst directly from the manufacturer's website or from third-party online retailers like Amazon. NutraBurst does not seem to be available in physical retail stores as of now. A 16 oz. A 32-serving bottle costs $64.95, which seems a bit pricey.
Refund Policy of NutraBurst – 30-Day Product Guarantee
Total Life Changes is dedicated to providing its customers with excellent products, which is why the company offers customers a 30-Day Product Guarantee! If for any reason a customer is not thoroughly satisfied with any product, the customer may request a full refund within thirty calendar (30) days from the date of delivery. If a customer returns a product after following our Return Procedure, within thirty (30) calendar days from thedate of delivery, the Customer shall receive a full refund, excluding shipping and handling charges. Products returned after more than thirty (30) calendar days from the delivery date are not eligible for a refund.
NutraBurst Product Details
Filled with so many vitamins and nutrients, NutraBurst is a tasty liquid multivitamin that re-stocks your body with essential elements much faster than multivitamin pills. With only 15 calories per serving, NutraBurst is a guilt-free way to charge up your body.
How to Take NutraBurst?
Shake well. It is best to have it early morning on an empty stomach. You can have it alongside some juice. Store away from heat and light and refrigerate after opening.
One tablespoon daily or as directed by your physician. People who are sensitive, intolerant, or allergic to any of the ingredients listed in the product should consult their healthcare practitioner before starting this supplement. Also note that because of the natural ingredients used in this dietary supplement, consistency, color, and taste may slightly alter.
A point to remember– This supplement is not intended to diagnose, treat, cure, or prevent any disease. It is not intended for use by children. If you are pregnant, nursing, or taking medications, seek the advice of your doctor before use.
Feel Better All Day and Night
The multi-blend formula contains eighteen amino acids to ensure your body is functioning at its maximum potential. Amino acids and proteins are the building blocks of life.A greater part of our cells, muscles, and tissue are madeup of amino acids, which implies that they perform many important bodily functions. The amino acids in NutraBurst may support muscle recovery during your healthy workout program.
Top FAQs related to NutraBurst
Does NutraBurst make you gain weight?
When used as directed, neither original NutraBurst nor NutraBurst+ should significantly have any effect on your weight.
How many calories are in NutraBurst?
1. Per serving:
2. Original NutraBurst: 15 calories
3. NutraBurst+: 10 calories
Does NutraBurst have to be refrigerated?
Both original NutraBurst and NutraBurst+ must be refrigerated after being opened.
Is NutraBurst sugar-free?
No. Both original NutraBurst and NutraBurst+ contain cane sugar.
Total sugars per serving:
– Original NutraBurst: 4g
– NutraBurst+: 2g
What is NutraBurst good for?
NutraBurst is a liquid multivitamin designed to provide essential elements to help boost your body's functions.
Does NutraBurst have carbs?
Yes, but very low in carbs as it contains only 4grams. If you are trying to follow or maintain a low-carb diet, this will be a great choice for you!
How many servings are in NutraBurst?
Each bottle of original NutraBurst and NutraBurst+ contains about 32 servings.
How long has NutraBurst been around?
NutraBurst was the first product launched by the well-known health and wellness company Total Life Changes, in 1999.
Final Verdict: NutraBurst Review – Is it worth it or not?
We say yes, NutraBurst is worth the money spent. The reason why we quickly said yes is that this liquid vitamin contains a wide array of important micronutrients and literally has a bit of every vitamin and mineral your body needs daily for an overall healthier body. In addition, NutraBurst contains more than 100 different ingredients which are guaranteed to least offer some positive effects, especially with regards to the superfood content you otherwise may not be getting in your diet.
The main benefits of this liquid vitamin are revolves around providing your body with the vitamins it needs on a daily basis, so it basically removes the need for you to have the plethora of vitamin supplements you may have in your wardrobe. So, this sort of justifies its expensiveness since you probably are spending more on the individual vitamin supplements included in NutrBurst rather than the multivitamin itself.
In addition, some may link NutraBurst with weight loss supplements due to many of the weight loss benefits that this company claims for some of its products on its website. NutraBurst is not really a weight loss supplement, but rather a medium to improve overall body health. The majority of weight loss supplements are formulated with ingredients that support either appetite suppression, excess doses of fiber, or metabolism-boosting ingredients. NutraBurst does not really include the ingredients needed to lose weight, so keep this in mind.
Overall, NutraBurst is a great multivitamin supplement to include in your daily routine. With many of the vitamins and minerals your body needs on a daily basis, this liquid vitamin is perfect for reaching your daily recommended doses for a healthy life. Although a bit expensive, it will fittingly replace the many supplement products you currently have lying used or unused in your cabinet.
NutraBurst Review
Amino acids play an important role in our bodies, helping to build and repair cells, muscles and tissue. NutraBurst's amino acids may help support muscle recovery during your exercise program.
Pros
A long list of active ingredients, including essential vitamins and minerals.
The liquid form makes it easier to drink.
Exceeds the recommended daily intake of multiple vitamins in just one tablespoon.
Contains 18 amino acids to improve your body's overall health.
Encourages a healthy balance.
Easy to add to food or drinks.
1 tablespoon of NutraBurst is equivalent to eating 10 salads.
Absorbs quickly into the body.
May Support Weight Loss.
May Improve Body Performance.
Fuels Your Body.
The joint mineral compound offers greater benefits than the sum of its parts.
Contains almost every nutrient your body needs daily.
Cons
It's comparatively expensive.
No definite claims backed by research or studies.
Has mixed customer reviews.
The science behind the effectiveness of liquid vitamins is still vague.
The aim is not clearly identified.