Supplements have become one of the go-to elements of our life. We count on them for brain, gut, immune, metabolic, and overall health. When coupled with a healthy lifestyle, the supplements can yield significant results. However, retail shops and the online market are loaded with innumerable brands which promise appealing benefits with their supplements. One such brand that is popular nowadays and produces research-backed supplements is Performance Lab.
Moreover, it sells products for energy, mind, sleep, vision, and other crucial health aspects. Interestingly, it also sells in the sports range to cater to a large target audience group. This Performance Lab Supplements review will highlight some of its products, differentiating features of the company, and the benefits of purchasing its products.
Detailed Performance Lab Supplements Review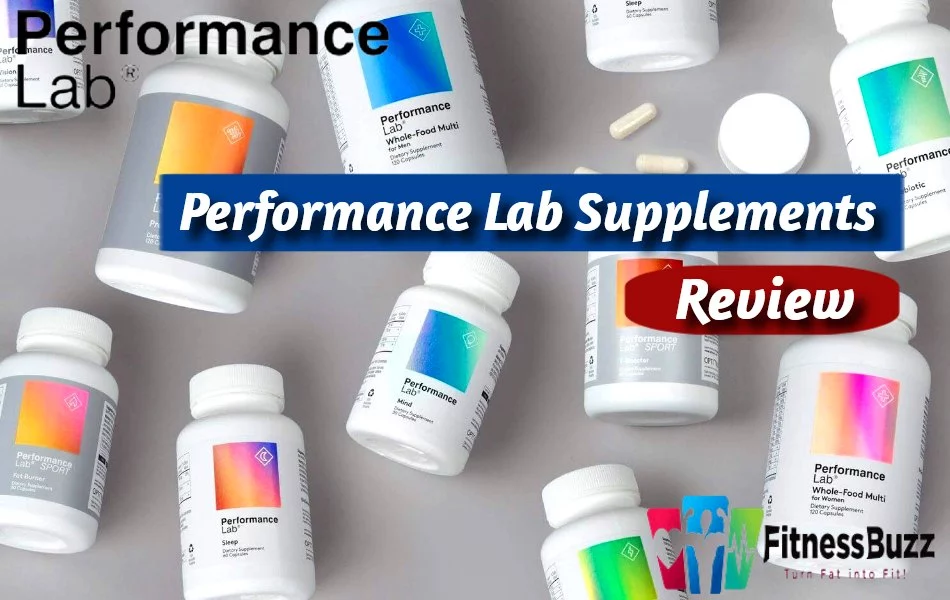 As they say, they are the world's most sophisticated nutritional supplement system for optimizing daily performance and long-range health. The company's products in the core range enhance sleep, vision, cognition, energy, long-range health, and more.
On the other hand, the products in the sports range cater to enhancing muscle growth, endurance, strength, fat loss, intensity, and all athletics. They incorporate quality control checks before, during, and after manufacturing. The company combines nutrition technology breakthroughs into innovative supplements that help revolutionize healthy performance nutrition.
Some Products You can Try with Performance Lab
Performance Lab NutriGenesis® Multi for Men and Women
It is a good way to support nutritional requirements with more than 17 essential vitamins and minerals. It is calibrated for gender-specific requirements. It is loaded with whole-food cofactors for optimal absorption and is the ultramodern multivitamin for overall health. Additionally, it has an ultramodern design with 100% plant-based capsules. Moreover, it is the foundational nutritional aid for healthy whole-body biological processes.
The product comes in separate bottles for men and women and supports daily vitality and long-range overall health. You get gender-specific dosages and stack them seamlessly with other Performance Lab formulas. However, the ingredient concentrations for men and women differ based on their health requirements. It is a customized way to fulfill gender-specific requirements.
The Performance Lab NutriGenesis supplement contains all-natural ingredients that provide essential vitamins and minerals for optimized male health.
Free Worldwide Shipping on orders over $250
Performance Lab NutriGenesis Multi for Women helps to replenish nutrients that may be lacking in your diet, supporting healthy cell function throughout the body.
Free Worldwide Shipping on orders over $250
It helps relax muscles, settle nerves, and soothe aches. In addition, it helps accelerate sleep onset and extends regeneration. You can awake revitalized with no after-effects. The natural melatonin from the tart cherry is one of the popular ingredients in many sleep supplements. The natural low-dose melatonin in this product helps promote deep sleep.
You also get additional joint and muscle-soothing antioxidants that help promote calm feelings and eventually support sleep quality. It enhances night cell renewal for revitalized performance for the next day. You get natural melatonin from premium CherryPURE® Montmorency Tart Cherry.
$44.00
Helps promote deep sleep
If you're looking for a sleep aid that will help you perform at your best during the day, look no further than Performance Lab Sleep. This product is designed to help your body regenerate overnight, so you can wake up feeling refreshed and ready to take on the day.
It optimizes cells' mitochondria powerhouses and boosts mental vitality. Additionally, the supplement helps you get clean and jitter-free energy to boost exercise intensity. You get the goodness of plant-based NutriCaps® for mind-body performance. It is a safe and natural way to revitalize mental and physical performance.
It provides stimulant-free energy to those who do not prefer or want to limit caffeine intake. The supplement helps exercise results by maintaining energy in muscle and metabolizing energy in fat. It helps upgrade the natural production of cell energy. It comprises the clean and advanced form of nutrients to boost the mitochondria.
$69.00
Boosts mental vitality
Performance Lab Energy is an energy supplement that does not contain caffeine. The manufacturers of this nootropic claim that it provides energy support by boosting the body's mitochondria, which are responsible for energy production for your cells.
It is the ultramodern nootropic for brain power. It helps boost brain energy and supports focus and memory. It helps recovery from intense cognitive exertion. The supplement encourages blood flow to the brain and supports a healthy neural structure. It also helps restore the brain chemicals for a healthier bounceback from mental exertion.
It helps optimize the brain cell membranes and provides a revolutionary stim-free mental energy for a clean cognitive function without the crash. It promotes peak mental performance in high-pressure environments.
$69.00
Boost brain energy
Performance Lab Mind enhances dopamine and noradrenaline production, provides antioxidant protection, increases brain cell regeneration, supports proper blood flow, and boosts brain energy.
It helps optimize cell performance for whole-body health and vitality. In addition, the supplement helps enhance brain and eye performance. It promotes cardiovascular health and supports muscles, and soothes joints. The product supplies safe and sustainable DHA+EPA Omega 3s directly from the original pure source. It is sourced from natural algae to provide a clean alternative to fish oil.
The formula is in potent, precise dosages to obtain maximum goodness. It supports protein synthesis and muscle recovery, and preservation. It also supports heart health, circulation, and overall cardiovascular performance.
$49.00
Promotes cardiovascular health
Performance Lab Omega-3 is a premium quality Omega-3 supplement sourced from algae. It is useful for supporting your cell membranes – especially those in your heart, eyes, and brain.
It helps you upgrade your performance fuel with the cleanest MCT oil. It is viable for appetite control, keto support, and fat loss. It is the fast-acting mind-body performance fuel. The oil is sourced from 100% organic, non-GMO coconuts and is cold-extracted with hexane-free technology. It is 3X distilled to retain purity.
The supplement helps optimize and protect brain cells' powerhouse mitochondria. It helps improve results across fat loss programs like ketogenic. It promotes mind-body vitality during intense exercise.
$39.00
Fast-acting mind-body performance fuel
Performance Lab MCT is a great source of pure C8 and C10 MCTs, extracted from organic coconuts using a chemical-free process. This product is perfect for those looking for a healthy dose of MCTs without any GMOs.
Performance Lab Supplements Review: Evaluation of Ingredients
The supplements have pure and natural ingredients with a research-backed formula. They have a stim-free formula to provide maximum benefits to the customers. The company features industry-leading ingredients with advanced nutritional technologies. It also follows the third-party independent lab verification technique to ensure the purity of the products.
The capsules are also easily absorbed and are highly bioavailable to perform well. The ultramodern nutrition and performance-enhanced ingredients deliver strong potency that provides greater support at a lower dose.
It has innovative delivery systems which are cleaner. It uses proprietary processes that improve safety and reduce side effects. Performance Lab supplements uses cutting-edge nutrition technologies to maximize benefits.
Differentiating features of Performance Lab Supplements
Effective dosage: Unlike other products, Performance Lab supplements are dosed effectively to provide benefits. They contain the ingredients in adequate proportions that help get the most of a supplement. They deliver superior bioavailability with these dosages. You can also view the concentration of every ingredient.
Cutting-edge processes: Performance Lab Supplements have an ultramodern design. Their advanced nutritional technology breakthroughs help you get healthy performance and nutrition. The supplements are lab-grown with patented technology to offer the essential vitamins and minerals for nutritional requirements.
Plant-based formula: Most people prefer plant-based formulas to supplements. Hence, Performance Lab Supplements offer them the goodness of plant-based formula. The vegan-friendly products without allergens make Performance Lab Supplements worth using.
Why should you try Performance Lab Supplements?
Performance Lab supplements are made for healthy people. You get natural ingredients without stimulants. The vegan-friendly supplements can be tried and tested by anyone looking to support various body aspects. It uses exceptional technology to produce supplements for maximum bioavailability.
Also, the supplements seem cost-effective considering their benefits. They cater to the needs of men and women by producing different multivitamin formulas. Thus, they have a customized approach to nutrition and are innovative about their products. The products are designed in such a way to suit most people's requirements.
Are Performance Lab Supplements safe?
The company uses tests to ensure the purity and quality of its supplements. Also, the ingredients are selected thoughtfully to ensure maximum customer safety. However, people with ailments and allergies should always consult a doctor before trying new supplements. Likewise, pregnant and breastfeeding women should ask the doctor before using new supplements.
Moreover, the Performance Lab Supplements are designed to provide maximum customer convenience. People should always read the complete ingredient list and ensure having no allergies to any ingredients before trying a supplement.
Top FAQ on Performance Lab Supplements
Why should I take Performance Lab supplements?
There are various benefits that you will get by taking Performance Lab supplements. Taking Performance Lab supplements helps you to enhance your human performance. For healthy biological function, one can even start by taking Performance Lab NutriGenesis Multi formulas for both men and women.
What is Human Performance Optimization?
It is nothing but the ultimate mission of the Performance Lab. They believe a human can leverage their power to gain a higher state of biological function.
How are Performance Lab supplements different from other products on the market?
Performance Lab takes supplementation designed to the next level. The nutrient formulas used in Performance Lab supplements have not been seen in any other supplements available on the market. In their every supplement, they use best-in-class ingredients and nutritional breakthroughs, including standardized botanicals, different forms of nutrients and vitamins, etc.
Are Performance Lab supplements safe?
Yes! Throughout each phase of their supplements creation, they take great care to make sure that their supplements boost your health and performance. They use premium quality ingredients in their supplements. At the same time, all the supplements of Performance Lab undergo dozens of quality control for more safety.
Are Performance Lab supplements legal?
Yes, all the supplements of Performance Lab are created with legal ingredients.
Conclusion: Performance Lab Supplements Review – Should you go for these supplements?
Most Performance Lab Supplements we saw are suitable for vegans. Hence, it opens doors for product safety and more target audience. The products are free from major allergens, and the company is transparent about every ingredient and its concentration. The products also come in easy-to-swallow capsules, making them convenient for the customers.
The dosage and instructions are also clearly written on the website. The ultramodern design and natural way of supporting health are also appealing. With fast shipping and reasonable prices, one can easily buy the products.
Their products have also gained positive customer reviews. They also mention who should take their supplements, which helps clarify the customers' queries. Above all, Performance Lab Supplements are worth trying if you look for a natural formula for different health aspects. All the products are available for purchase on its official website.
That's all for now! Stay tuned with us for more updates on health and fitness.
Disclaimer: You should always consult a doctor before using the product. The article does not guarantee anything that you will experience the desired results. Before buying a product, you must check its official website for updated information about the cost, specifications, and other details. Some information in this article may update; hence checking with a product's official website is essential. The article information is for educational and informational purposes only. The use of any information provided by us in this article is solely at your own risk. We are not medical health practitioners.
Performance Lab Supplements Review
Performance Lab offers a range of supplements that are designed to support specific performance goals and health benefits. Whether you are looking to improve your overall health or performance, Performance Lab supplements can help you achieve your goals.
Pros
100% Plant-based vegan friendly.
Overcome the negative effects of stress.
Increase mental and physical energy.
Support vision, digestive health, joint health and more.
Made for all lifestyles.
Improve memory, mood, and long-term brain health.
High-quality ingredients.
Free of additives and allergens.
Power up your immune system.
Boost fat loss.
Cons
Large capsule size.
The Performance Lab Supplements is only available on its official site.