Green supplements are all the rage these days and for a good reason! They offer a wide range of health benefits, including improved energy levels, better digestion, and hormone balance. And we are once again here with our Primal Harvest Primal Greens review.
Primal Green is a comprehensive green supplement that combines all of these benefits into one convenient formula. It's packed with nutrient-dense fruits, herbs, green foods, mushrooms, and probiotics, all of which work together to support your overall health.
If you're looking for a way to boost your energy levels, help with weight management, and restore balance to your body, this is the supplement for you!
Primal green is the product from the house of Primal Harvest, which is the best in their field. Primal Harvest is a whole-body wellness company that believes in a very holistic-focused concept that gives priority to supplements rather than pharmaceuticals. They have supplements that are geared towards beauty, immunity, and nutrient consumption. Let us review one of their best product, i.e., Primal Green.
Detailed Primal Harvest Primal Greens Review

$49.95
Free shipping on Orders Above 75$
This powder is packed with various ingredients that offer a range of benefits, from supporting gut health to boosting energy levels, hormone balance, vitamins, minerals, and digestive support.
Let's be honest. Sometimes taking the time to eat a good meal is difficult. Working full-time and having a family to take care of makes it all the more complicated. That's where Primal Green comes in! It's a convenient way for busy people to get all the benefits that other greens powders do, with none of the hassles.
Primal Green is made with nothing but the best ingredients possible. The powerful blend of fruits and vegetables supports your body and mind, while adaptogenic herbs and probiotics help to keep your systems functioning optimally. Primal Greens can be used as a quick meal replacement to increase GI tolerance and fat loss by improving digestion and increasing bile production. It also has anti-inflammatory properties.
Features of Primal Green
Support digestion, immunity, and gut health.
Instant Mixing Formula With 50+ fruits, herbs, and vegetables.
Gluten-free, soy-free and dairy-free.
Made in the USA with GMP certified facility.
90 days money back guarantee.
Free shipping on orders above 75$.
3.5bil CFUs of probiotics and digestive enzymes.
Core Benefits of Primal Greens
When it comes to finding a greens powder that offers a wide range of benefits, Primal Greens is hard to beat. Because it contains such a wide variety of ingredients, regular use of Primal Greens can offer a multitude of benefits.
Here are just a few of the benefits that people have enjoyed after adding Primal Greens to their daily routine:
If you're looking for a convenient way to get more greens into your diet, Primal Greens is a great option. Made with a blend of over 50 different vegetables, fruits, and herbs, it provides a wide range of nutrients that can support your health in many different ways.
Additionally, it also naturally reduces your intake of sugar so as to make you healthy and fit. By adding green powder to your diet, you get many types of vitamins and nutrients that your body needs to work in daily life.
Supports a Strong Immune System: Primal green is packed with all the necessary vitamins and minerals, which lead to a healthy immune system. With just a small intake of this green powder in your diet, you are adding all the immune-supporting probiotic strains in your body, which will automatically build your immune system strong and powerful. It can also help you with brain function and improved energy levels.
Promote Energy and Performance: Greens powders are known for their energizing properties, and Primal Greens is no exception. With a blend of nootropic and adaptogenic mushrooms, like reishi, maitake, and shitake, it helps you to boost your performance and support your energy level. If you're looking for a natural way to enhance your energy levels, adding Primal Greens to your daily routine is a great place to start.
Helps in Weight Control: Natural green tea extract in the primal green powder helps you to curb your appetite and control your cravings, which nothing but leads to a healthy weight loss. It is also noticed that it helps in reducing bloating too.
Instant Mixing Formula: The biggest advantage of Primal green is that it gets mixed instantly into water or any of your favorite drinks, making it a great way to get your daily dose of greens even if you're on the go. Many people are not comfortable with its taste because of the vegetable blend. Its taste is somewhat earthy, so it is advisable to mix it with any of your favorite drinks so that you can enjoy the green powder as per your taste.
Improve Digestion and Gut Health: Primal Greens contains 3.5 bil CFU probiotic blends that are known to aid in digestion and balanced gut health. Many users have reported better digestion after adding it to their diet. If you're struggling with indigestion or other digestive issues, give Primal Greens a try – it just might help!
Ingredients of Primal Harvest Primal Greens Review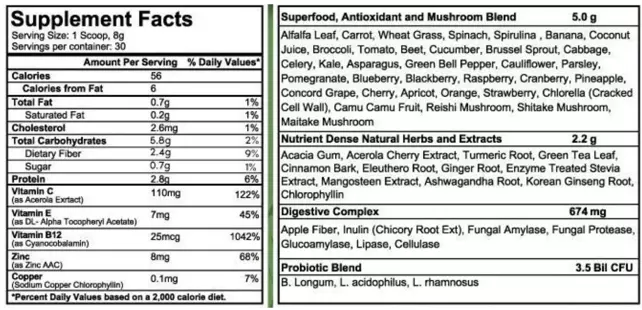 The main and core ingredients of Primal Greens consist of 50+ fruits, vegetables, and herbs. Here we can't discuss all of them but let's have a look at some of the important ones:
Chlorella
One of the main and most important ingredients of Primal Green is chlorella. Chlorella is a type of green algae that is rich in chlorophyll, protein, vitamins, and minerals. It is often used as a dietary supplement due to its high nutrient content. Chlorella is also known for its detoxifying properties and is often used as a natural remedy for digestive problems.
Wheatgrass
Wheatgrass is considered a superfood as it has many health benefits. It is rich in nutrients, and that is the reason it is often used as a dietary supplement. Also Consist of vitamins and minerals, which have been shown to boost immunity, improve energy levels, and promote detoxification.
Probiotic Digestive Complex
Primal Greens contains 3.3 billion CFUs (colony forming units) of B. longum, L. acidophilus, and L. rhamnosus. These probiotics will benefit the health of your GI tract and overall well-being, boosting immunity, appetite control, easier digestion, and healthier skin through increased energy levels and an easier breakdown of fats in our foods. Apart from these ingredients, Vitamin C, Vitamin E, Vitamin B12, Zinc, and Copper are also present in Primal Green powder.
Shitake Mushrooms
This brown mushroom is found in East Asia and is known to have the same amount of amino acid as in meat. It is also known to aid in heart health, strengthen bones and boost the immune system.
Maitake Mushroom
This ingredient is found in China, Japan and North America. These are adaptogens that assist the body with fighting against mental or physical difficulty. They are also known to improve immune function and helps in preventing and treating breast cancer along with lowering cholesterol levels.
Korean Ginseng
Ginseng is a root that has been used for medicinal purposes for ages. It is known for its detoxing and anti-inflammatory properties and is also known to improve brain function, boost the immune system along with helping in fighting fatigue.
Are there any side effects of Primal Harvest's Primal Greens?
After reviewing Primal Greens, we did not find anything that is known to cause any sort of side effects. The Primal Greens formula is 100% natural and contains herbs, algae, vegetables etc. With such contents, it is highly unlikely for side effects to occur. Though you can experience mild stomach issues such as discomfort or stomach cramps initially, that's all. But if these side effects don't go away quickly, you should stop taking the supplement and consult your doctor.
You should also note that the dietary supplement is not approved by the FDA. The Food and Drug Administration does not pay attention to supporting natural supplements like green drinks, which is really not good as these products are really excellent. And if you simply wait for it to get approved by FDA, well, we must tell you that your wait is going to be forever.
Who is Primal Greens best for?
As Primal Green is a nutritional supplement, it can be consumed by anyone who is above 18 years of age. There is no age barrier. But as it is recommended, you should always consult your doctor before trying any new health supplement. The company claims if you want the best result from this green powder, combine it with good sleep, exercise, proper meals, and plenty of water. As mentioned on the company's site, there are some people who should mandatorily consult their physician before taking this supplement, namely
Person who is already taking some prescribed medicine
Pregnant woman
Nursing mother
Having some existing disease and on medication for the same.
Which is the Best Way to take Primal Greens? – How to Take Primal Greens?
The best way to take Primal Greens is to simply add 1 scoop to a cold glass of water and mix it thoroughly. You can add Primal Greens to juices, smoothies, protein shakes, or anything else you like.
You can take it in the morning, afternoon, evening or even at night before your bed. Also, there is no specific limit to taking Primal Greens in general, but to maximize the benefits of the product, it is recommended for you take it consistently. You can set the best possible time as per your liking.
How does Primal Harvest Primal Greens Taste?
The Primal Greens mix contains Stevia extract along with various fruit extracts. Therefore the taste is naturally sweetened. Also, the blend tastes natural and has a classic, yet natural super greens taste because of the natural sweeteners. Many of its users have suggested that it has appealing and tastes refreshing and light.
Where to Buy Primal Harvest Primal Greens?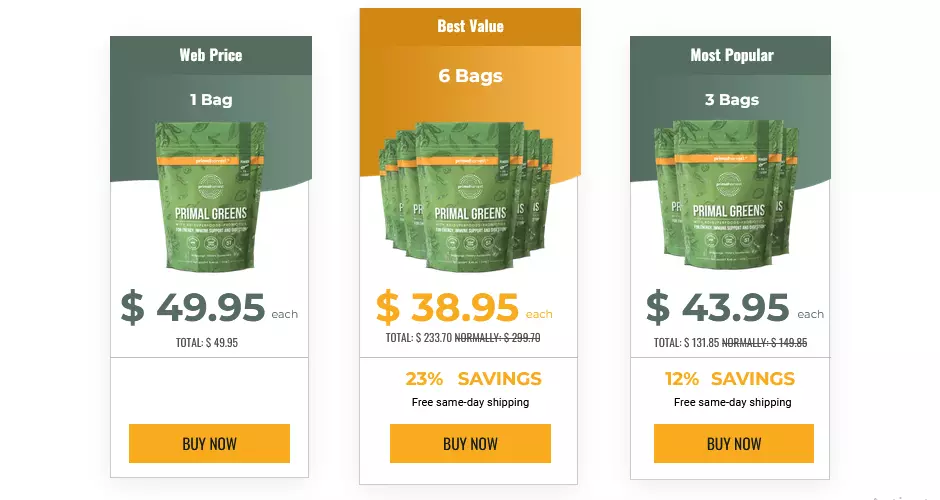 You can purchase primal green from the official website of primal harvest. The Primal Harvest Primal Greens can either be purchased as a single bag, three bags or six bags. The bags of the Primal Primal Harvest Primal Greens powder are 6oz (170g).
The recommended serving of Primal Greens is 4.4 g which is one tub that will last you one month. But we feel that the suggested serving size of 4.4g is extremely small, and you will most likely have to double it. So, in that case, one tub might last only 15 days.
| Quantity | Price | Shipping |
| --- | --- | --- |
| 1 Bag | $49.95 | No free shipping |
| 3 Bags | $131.85 or $ 43.95 per bag | Free same-day shipping |
| 6 Bags | $239.70 or $ 39.95 per bag | Free same-day shipping |
And if you subscribe, you can save up to 12% of 3 Bags and 20% on 6 Bags.
With the subscribed option, you get the free delivery benefit, whereas if you are ordering one time, then free shipping is available on orders above 75$. Primal Harvest also offers a 90-day money-back guarantee. So in case if you are not happy with your purchase, you can opt for a refund. Make sure you return the product within 90 days of purchase to claim your money back.
Does Primal Greens Work?
Today, there are so many green supplement options available on the market. So the big question is: does Primal Greens actually work? The simple answer is yes! Primal green is made with a blend of 50+ natural fruits, vegetables, and herbs which makes it a powerful and most effective green powder to consume.
With healthy ingredients, you'll get not only antioxidants but also a boost of protein, fiber, and nutrition to keep your body running smoothly throughout the day. These greens are versatile enough to add to all your favorite recipes—they taste great in smoothies and shakes. Nowadays, it is hard to find something that is both delicious and also packed with good nutrition you can feel confident about eating, but with Primal Green, you get both things. So don't think twice. Just try once to feel the difference in your body.
FAQs on Primal Harvest Primal Greens
What are Primal Greens?
It is a superfood green drink that contains vitamins and minerals in the perfect ratio. It has a unique blend of fruits, vegetables, and superfoods, along with other probiotics and digestive enzymes, to boost the body's immune system.
Why choose Primal Greens?
Primal Greens has the perfect blend of vegetables and fruits, and it is low in sugar and sodium. At the same time, it comes with a 90-day money-back guarantee, which means there is no risk in trying Primal Harvest Primal Greens. 
Are Primal Greens suitable for vegetarians?
Primal Harvest Primal Greens is the perfect superfood green drink for vegetarians as it does not contain dairy, eggs or other animal products.
How to take Primal Greens?
Taking Primal Greens is very simple and easy. You only need to add 1 scope of Primal Greens to a glass of water and mix it thoroughly. You can even take Primal Greens with smoothies, juices, protein shakes, etc.
How do I store Primal Greens?
For maximum efficiency, you can store Primal Greens in a cool and dry place away from moisture and direct sunlight.
Can you take Primal Greens if you have any medical condition?
Primal Greens is marked safe for healthy adults over 18 years old. But we will recommend you always first consult your physician before use if you are taking any prescribed medication or are treated with any kind of medical condition.
Bottom Line: Primal Harvest Primal Greens Review 2023 – Should you buy it?
If you're looking for a daily greens supplement that comes with a long list of benefits, you'll want to check out Primal Greens. This powder is packed with a variety of ingredients that offer a range of benefits, from supporting gut health to boosting energy levels. Not only does this green smoothie mix have all of the same benefits you'd find in a typical greens supplement, but it tastes amazing and is unlike any other greens blend on the market today. You'll wonder why you ever bought any other greens supplement because it's so easy to use.
And best of all, there's no better way to get your greens than with Primal Greens. One of the best things about Primal Greens is that it's suitable for everyone, whether you're a Paleo enthusiast or just looking to add more greens to your diet. And because it's easy to mix into water or juice, it's a great way to get your daily dose of greens even if you're on the go. If you're looking for a daily greens supplement that can help you achieve all of these benefits, give Primal Greens a try.
Primal Harvest Primal Greens Review
Primal Greens is a potent greens powder made from 50+ superfoods designed to improve gut health through better digestion, increase energy levels, get better sleep and help with weight management.
Pros
It helps curb unhealthy cravings.
It contains probiotics for improved gut health.
Made with high-quality vegetables & fruits.
Made in our GMP-certified facility.
100% money-back guarantee within 90 days.
Gluten-free, soy-free and dairy-free.
Support digestion, immunity, and gut health.
Manufactured in the USA and 3rd-party tested.
Cons
Some consumers report poor taste.