Actor
Sommer Ray
Born: 1996, Colorado
Sommer Ray is an American social media star and model. She first gained popularity through her YouTube channel, where she uploaded vlogs and lifestyle videos. She is famous for her fitness workout routine and informative diet videos. Sommer is one of the famous American fitness influencers on the social media platform. Sommer has almost 27 million followers on Instagram and 1.8 million subscribers on the YouTube channel. Sommer Ray's earnings are in millions, and has a retailer shop.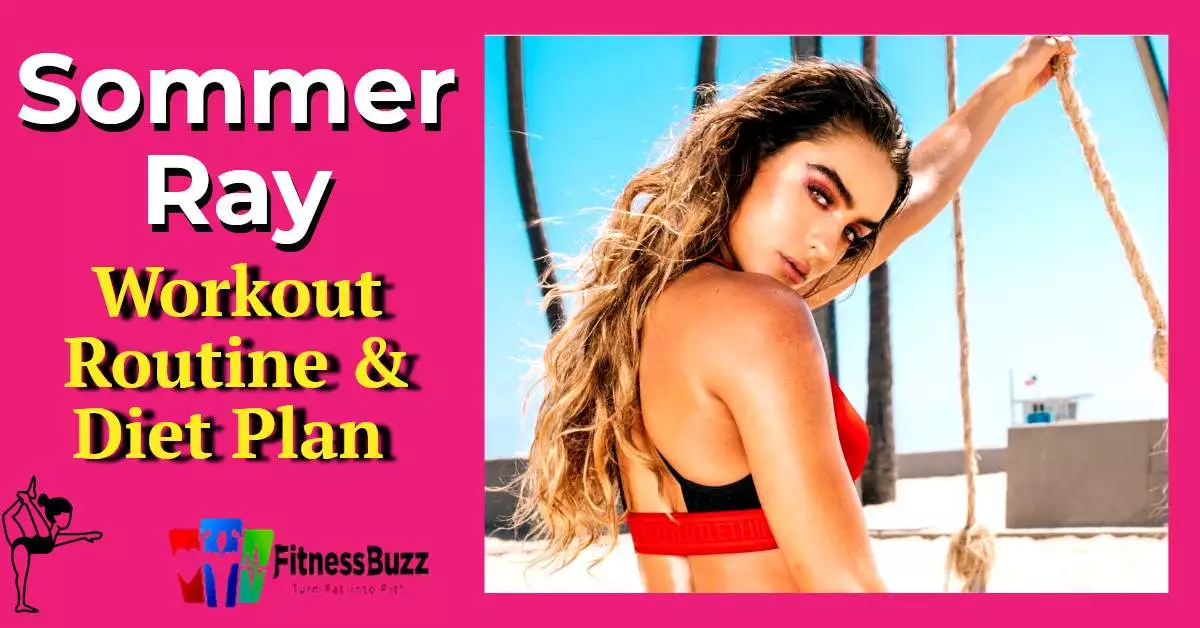 The rise of Sommer Ray: An influencer reshaping beauty standards.
Sommer Ray is an entrepreneur, model, and YouTuber who has amassed over 2 million followers on her YouTube channel and an astonishing 26 million followers on Instagram.
Sommer Ray was born on 15th September 1996 in Larkspur, Colorado. She is the elder of two sisters. Sommer's parents were fitness enthusiasts and bodybuilding. Her father trained her in her basement until 2015 when he passed away.
Sommer posted her workout and diet routine on the YouTube channel and became an internet sensation. Sommer's ultimate transformation into a lean body, physique, and routine is widespread and popular. Her followers have a dream to achieve it.
One lesser-known fact is that Sommer Ray is an entrepreneur and has an online retailer shop called " Sommer Ray Shop."
---
Current Stats
Birthdate – September 15, 1996
Accolades – 26 million followers on Instagram
Sign up now
Make Your Weight Loss Journey Easier ????

Achieve your weight loss goal by using science and personalization techniques. Get the best nutrition and exercise plan that offers long-lasting change. Take control of your health for good today.
---
Sommer Ray Workout & Diet Plan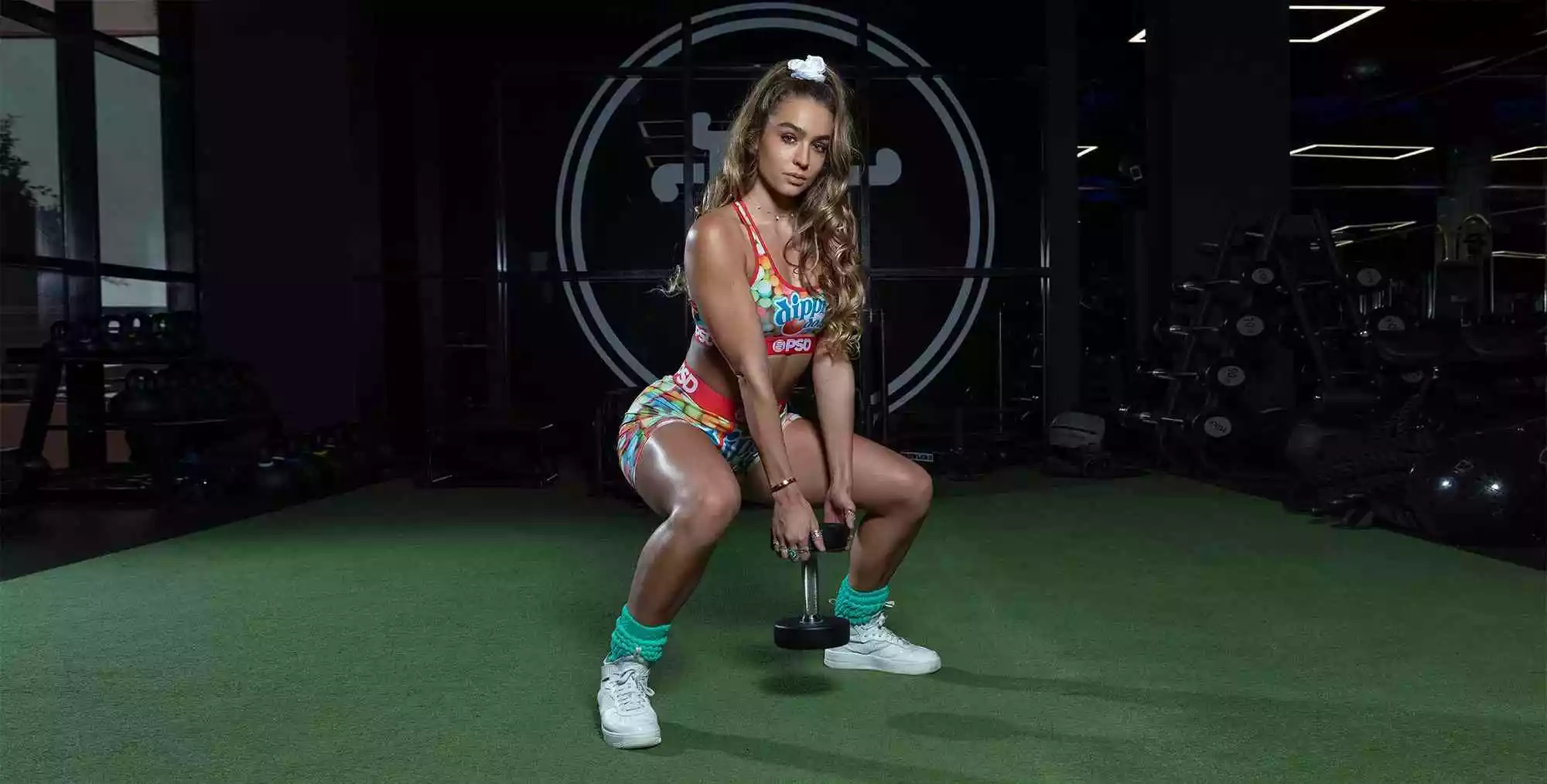 👉 Into the genes
Sommer Ray's parents are into bodybuilding, and she starts bodybuilding at the age of 16.
Her workout has shown marvelous effects on her body within one year of fitness training.
👉 Dedication for a perfect body
Sommer Ray is a famous fitness model who achieved her figure by following a strict regimen.
She has maintained her figure through years of dedication, discipline, and hard work.
Sommer Ray's workout regimen is an efficient guide for those who want to attain the exact figure as Sommer Ray.
This guide will list all the details needed to follow her workout plan.
👉 Stick to the simple but effective routine
Sommer is dedicated to her bodybuilding goal; she knows which exercise routine is crucial to maintaining muscle mass. She hits different exercises on different days.
Secondly, she is not a gym freak and has a huge kit and specific routine.
If you want to get in shape without exerting on the rods and lifting heavy dumbbells, this workout routine is for you.
---
Sommer Ray Workout Routine
Let's look at the detailed workout routine of the Sommer Ray.
Sommer Ray's full-body workout
Resistance Band Bicep Curls : 3 sets with 15 reps 
Resistance Band Squats : 3 sets with 15 reps 
Standing Donkey Kicks: 3 sets with 15 reps. 
Sidekicks (Using a loop band around ankles) : 3 sets with 15 reps
Lateral Walks (Putting the loop band around knees) : 3 sets with 15 reps 
Medicine Ball Slams : 3 sets with 15 reps 
Plank Up-Downs : 3 sets with 15 reps 
Medicine Ball Mountain Climbers : 3 sets with 15 reps 
Lying Flutter Kicks : 3 sets with 15 reps 
Lying Scissor Kicks : 3 sets with 15 reps 
Crunches : 3 sets with 15 reps 
Lying Leg Raise: 3 sets with 15 reps. 
Russian Twists : 3 sets with 15 reps 
Stretching: 20 minutes. 
Summer Ray booty workout
Summer Ray is one of the top fitness influencers. Sommer posted great videos on fitness and bodybuilding. People want to know how she managed her lower body and well-shaped booty. Her perfectly shaped booty is the talk of the town. Sommer put enormous lower body exercise to maintain butts. Her booty workout is the simple lower body exercise that would help you. She posted many videos on her lower body workout.
Let's look at the Sommer Ray's booty workout.
Mini Band Squats: 3 sets with 15 reps. 
Banded Good Mornings : 3 sets with 15 reps. 
Cable Leg Side Kicks : 3 sets with 15 reps. 
Cable Squats : 3 sets with 15 reps. 
Leg Press (keeping feet wide apart and pressing with the heels): 3 sets with 15 reps. 
Squat Press on a Ball (with an overhead press at the top) : 3 sets with 15 reps. 
Bosu Ball Squat Jumps : 3 sets with 20 reps. 
---
Sommer Ray Diet Plan
All wonders started when she tried to step into the boots of her parents at the age of 16, and she gave in to try to lift some weight and follow a healthy diet to tone down. In one year, she turned around to be Barbie and started competing in the bikini track and field championship.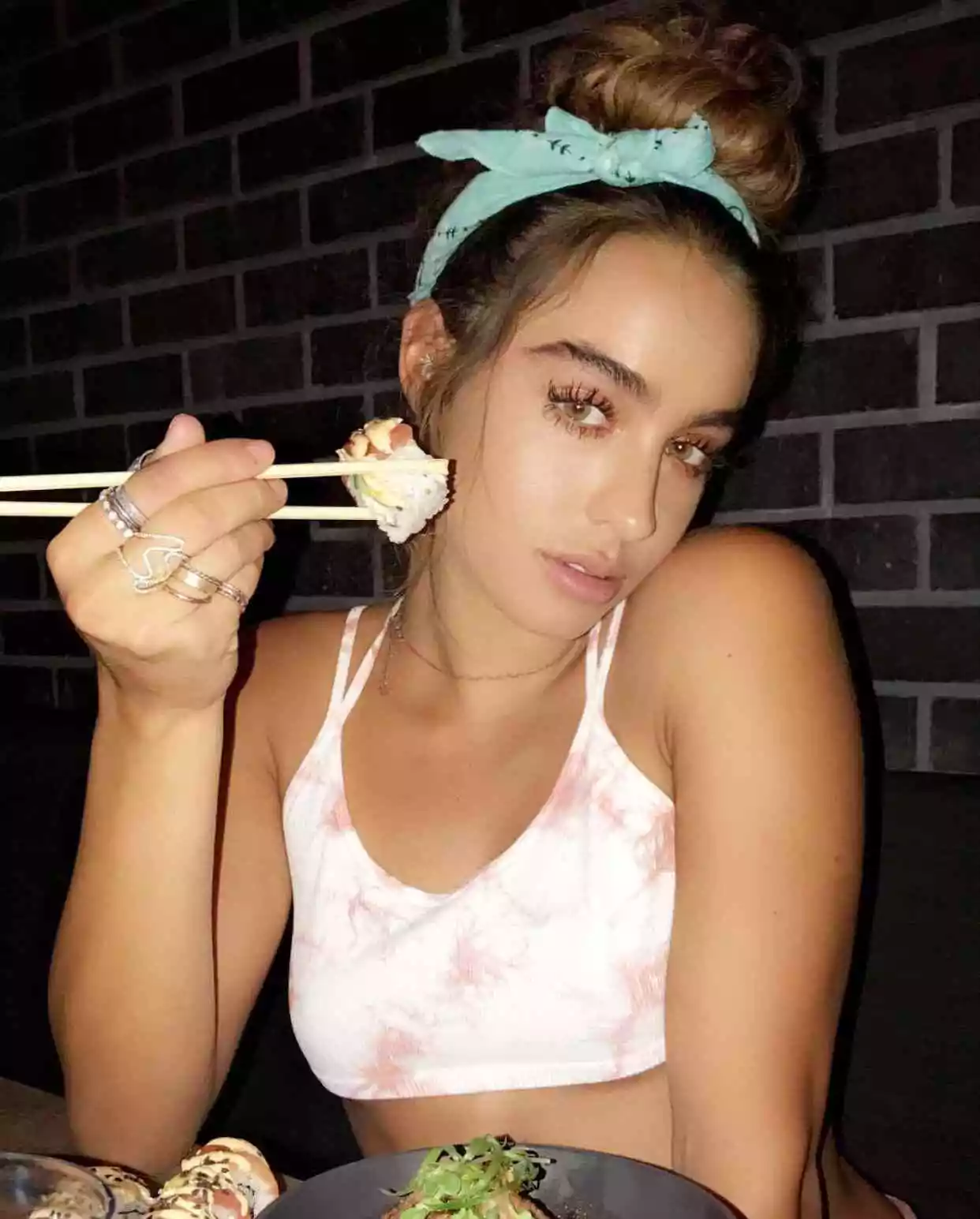 Sommer Ray's concentrate weight loss system uses one's body's natural energy for metabolism. Ray claims that her plan can help users lose weight without starving themselves or exercising excessively.
Her book, "Slimmer You," provides easy-to-follow instructions on how to achieve this goal.
Ray claims that her plan promotes weight loss by breaking down the food consumed into three categories: proteins, veggies, and complex carbs. She recommends eating more protein and vegetables while limiting carbs to one serving each meal.
Sommer emphasized maintaining muscles while she was okay with some carb intake; when she moved out to California, she hardly got a chance to work out and lost some muscle gain.
Let's check out the daily routine of Sommer Ray.
Sommer starts day her breakfast, and her goal is to take them at least 70 grams of protein daily to maintain the muscles mass. Why not – she starts her day with Protein Shake.
Meal 1
Protein shake 
Mixed Fruit 
Spinach
Flax Seeds
Meal 2
Meal 3
Salamon 
White rice
Steamed vegetables
Meal 4
Protein Shake 
Slice of Fruit 
Meal 5
Slice of Pizza
Salad with mixed greens 
Spinach 
Cucumber
Tomatoes
Sommer takes a bite of Pizza, but still, she restricts some foodstuff, including Junk food.
| Sommer Ray advices to eat | Sommer Ray's advice to avoid |
| --- | --- |
| ✔ Mixed Fruit | ✘ Junk Food |
| ✔ Spinach | ✘ Chemical Additives |
| ✔ Flax Seeds | ✘ High Sugar foodstuff |
| ✔ Granola | ✘ Preservatives |
| ✔ Greek yogurt | |
| ✔ Salamon | |
| ✔ White rice | |
| ✔ Steamed vegetables | |
---
Sommer Ray Lifestyle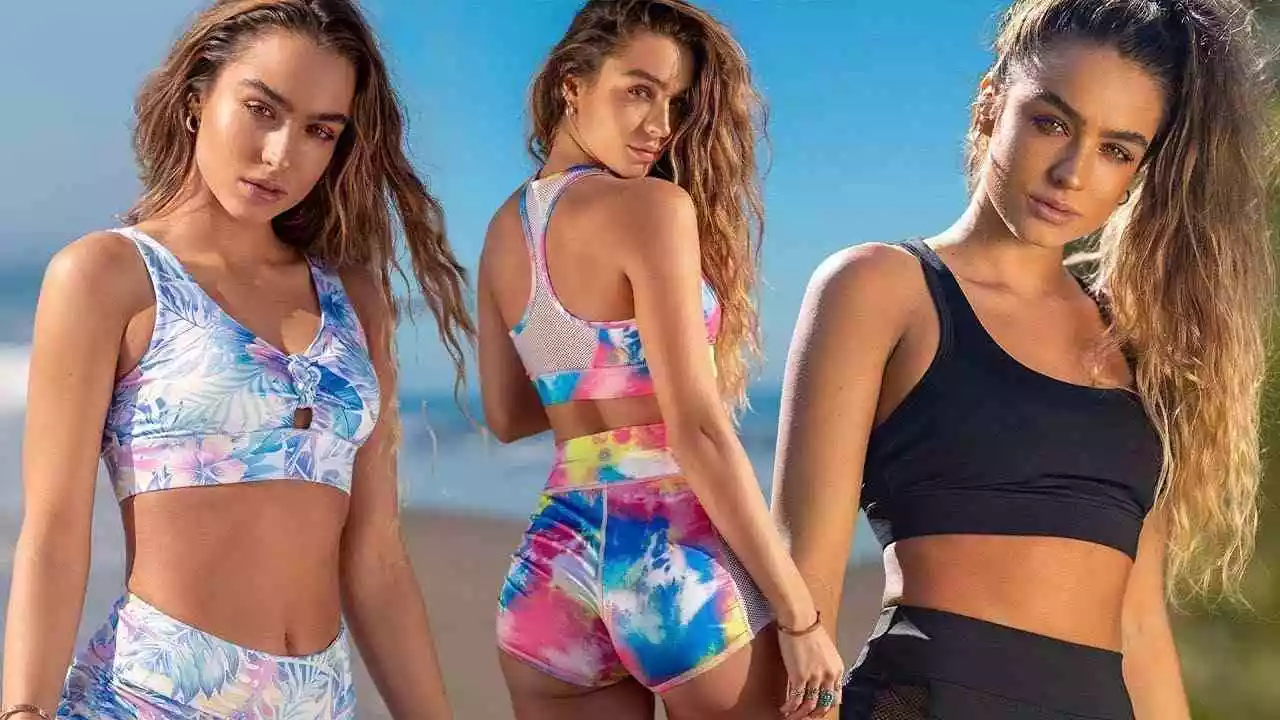 Family ritual
Sommer Dad's and Mother Shanon Ray are bodybuilders and fitness enthusiasts in the community.
At the age of 15, her dad trained her in the gym situated in the basement.
Unfortunately, her dad passed away in 2015, but sommer's says his memory is with her.
Clout -gang
Sommer Ray is a member of the California-based Clout-gang, consisting of famous tv personalities, YouTuber TikToker, and Social media influencers.
Home-schooling
Sommer was bullied a lot in school; her mom Shanon decided home school was the best for Sommer. After 1st grade, she started homeschooling.
Million-dollar baby
Sommer Ray is one of the most successful fitness social media influencers. On the YouTube channel, the subscriber count is more than 1.8 million, and her Instagram followers are in the range of 26 million.
Sommer videos are more popular and have more views than many Hollywood movie trailers.
Luxurious lifestyle
Sommer Ray has an online retail shop," Sommer Ray Shop," where you can purchase various luxurious make-up accessories, shoes, and t-shirts.
Sommer has a luxurious house containing 3 floors and a garage gym. Each floor has a guest room. Sweet home has an elevator, but Sommer said she uses stairs instead of an elevator for pets.
In 2017 Sommer purchased the Mercedes G class.
Inspirational Quotes from Sommer Ray
"My mom is Czechoslovakian, and my dad is adopted, and I'm not sure what his parents are."
"You can have a big butt, and its just like, meh, gross."
"I've dated 4 guys."
---
Recommended Bodybuilding Products (Hurry! Limited Stock)
Last update was on: September 23, 2023 2:10 am