Stamina has designed a new glider that offers a less expensive solution for indoor rowing. An efficient machine that lets you get a full-body cardio workout. You can adjust the resistance level of the machine to accommodate your fitness level. This product is best for anyone who wants to get into shape or lose weight, especially for individuals with injuries or limited mobility. The glider features a durable steel frame with padded handles, an extra-wide footplate, and an easy-to-use adjustable tension system.
It is perfect for users looking for an affordable, lightweight option that provides the ergonomic benefits of the traditional rowing machine. Stamina's new glider is perfect for people looking for an affordable, lightweight option that gives ergonomic benefits to the traditional rowing machine – not only are they cheaper to purchase, but they are easier to move around indoors.

$149.99
Compact, Portable Rower | Smooth Hydraulic Resistance
Shop this BodyTrac Glider 1050 Rowing Machine at the lowest price.
---
Detailed Stamina Body Trac Glider 1050 Review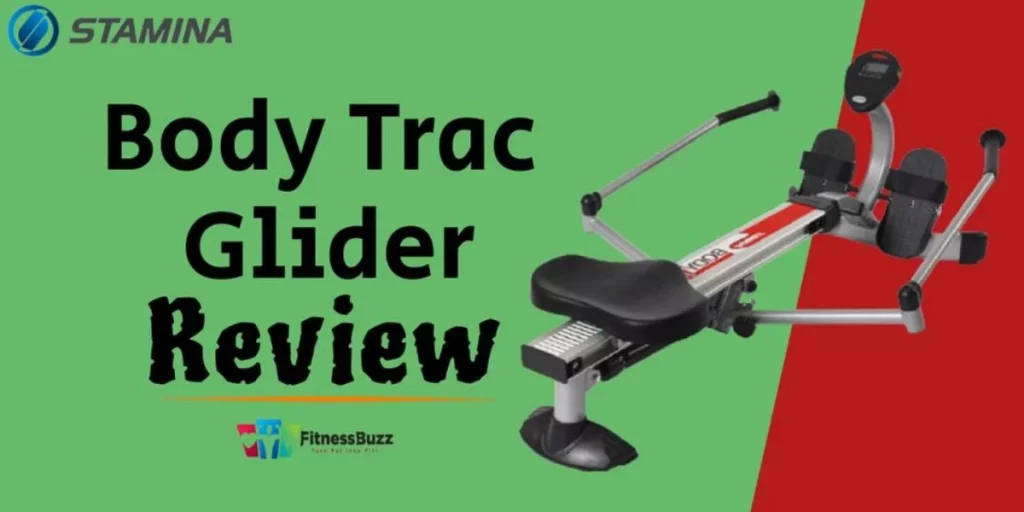 It's one of the best affordable fitness equipment for home use. It doesn't include everything that would be included in a pricey version.
It has some noteworthy features:
A steel frame construction allows independent arm movements for a real rower experience.
Hydraulics provide smooth, quiet operation.
Foldable arms allow convenient transport and storage.
A padded seat offers more comfort.
Handgrips are made from soft foam for comfort. They're padded and non-slippery.
Foot straps, so your feet don't slip out with 12 adjustable resistance levels for a more realistic rowing experience.
The Trac Glider is also equipped with a multifunctional LCD monitor to keep an eye on your performance and workout time!
---
Design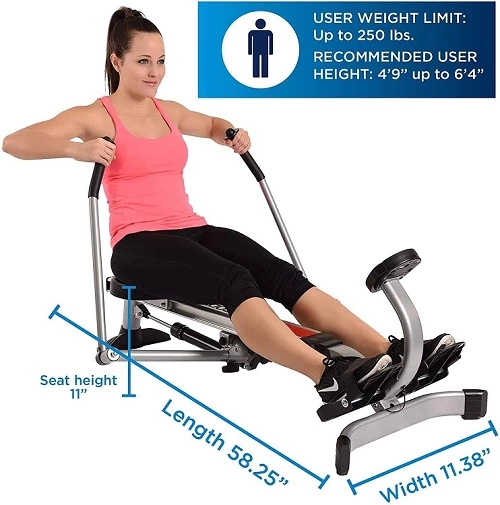 A throwback in terms of workouts! Most current rowing machines employ fans or electromagnetic for resistance, and a few even use tanks filled with water. The Body Trac Glider is more traditional, with a single hydraulic cylinder providing resistance. For a pleasant workout, a steel frame and a seat move up and down on rollers on an easy-glide track.
The majority of rowers have a single handle tied to the type of resistance they are using. The Body Trac Glider 1050 rowing machine by Stamina is unique in that it has two handles, giving it the appearance and feel of a "real" rowing boat with oars.
After your feet are strapped in, you drive off with your legs and pull with your arms, just like most other rowing machines. By adjusting the setting on the hydraulic cylinder beneath your seat, you may change the difficulty of your workout. There are a total of 12 resistance levels. When you start rowing, the battery-powered LCD console lights up and displays your speed, workout time, and an estimate of calories burned.

Fold the arms away and slide them below a bed when you're done working out. It's also easy to pick up and store, weighing only 39 pounds. It is a valuable design feature for individuals who have limited workout areas, such as those who live in apartments.
---
Difficulty Level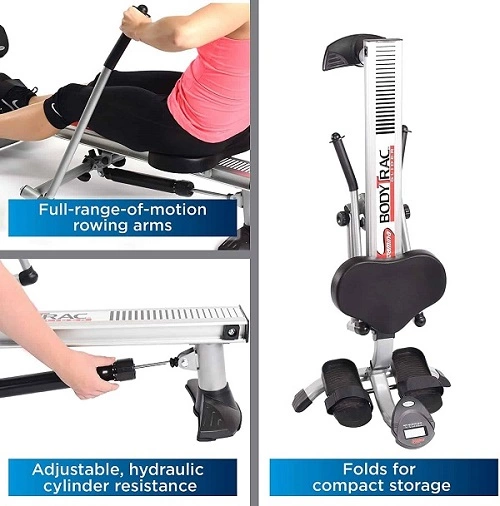 Rowing machines are often easier to use than spinning bikes because you don't have to change seat or handlebar height to get a pleasant workout. Because the computer does not need to be programmed before you begin your workout, the Stamina Body Trac Glider 1050 Rowing Machine is even easier to use.
To use this machine, place your feet on the footplates and tighten the straps. Then take the handles and go to work, keeping an eye on the computer screen to keep track of how far you've rowed and how long you've been working out. The Stamina Body Trac Glider is a low-tech rowing machine that should appeal to anyone who enjoys low-tech exercises or wants an easy-to-use rowing machine.
---
Specifications
Rowing machines are frequently large and unwieldy, making them unsuitable for household use. The Stamina Body Trac Glider 1050 rowing machine is substantially smaller and lighter, suitable for tiny gym environments. It also folds flat, making it easy to store beneath a bed when not in use, and it's light enough to move from one location to another.
The Stamina Body Trac Glider 1050 rowing machine has the following dimensions:
Length: 5′ 10″
Width: 3' 7"
Weight: 17kgs
Storage space: 46" x 26" x 19"
Maximum user weight: 113kgs
Sample Item
---
LCD Features
The integrated computer on the Stamina Body Trac Glider 1050 rowing machine DOES monitor your workout performance, but it's highly rudimentary. However, it's not awful for the price and gives you the majority of the information you'll need to track your workout success.
The Stamina Body Trac Glider 1050 rowing machine display console has the following features: Distance, Time, and Calories. There is no Bluetooth connectivity on the computer, and there are no pre-programmed workouts to complete.
---
Assembly and Assurity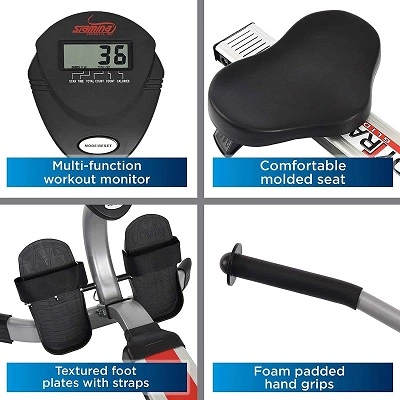 The Stamina Body Trac Glider 1050 rowing machine requires some assembly, but it's an easy process due to the equipment's simplicity. In most cases, consumers were able to assemble their rowing machine within 30 minutes. All assembling tools are included.
The Stamina Body Trac Glider is a budget-friendly rowing machine with a decent warranty so that you can buy with confidence:
A 90-day warranty covers Parts.
The frame will last one year.
Some rowers come with a 30-day money-back guarantee, allowing you to buy and try the equipment before returning it if you are dissatisfied in any way. This feature does not appear to be available on the Stamina Body Trac Glider.
---
Drawback of Stamina Body Trac Glider 1050
You cannot deny the fact that the Stamina Body Trac Glider 1050 is a budget-friendly rowing machine. It's well-made and provides a good workout. However, there are several disadvantages to consider before purchasing this rowing machine.
The footrests are not movable.
A simple performance monitor
The seat is uncomfortably contoured.
It is not recommended for those who are over 6′ 6″ tall.
With regular use, it loses its durability.
In terms of the final point, hydraulic cylinders have a propensity to lose strength over time. Owners of this rower have complained that even the maximum resistance setting is too easy after a few months of use.
It isn't a problem if the cylinder fails within the first 90 days of ownership, but it might leave your rower nearly worthless if it happens beyond that.
---
Benefits of Rowing
Rowing is a form of cardio activity that burns about 300 calories per hour. Rowers typically spend 30 minutes to an hour on their machines. Using a rowing machine has numerous benefits. They are low impact, can be used at your convenience, help you build muscle and burn fat, and improve your cardiovascular health.
When it comes to rowing workouts, there is no right or wrong way. You need to find what works best for you regarding the
workout intensity
, exercise duration, and frequency.
If you want to get fit and stay healthy, then a rowing machine is a great choice. You'll enjoy the fact that you won't have to worry about straining muscles, joints, or ligaments. A rowing machine is safe for all ages and fitness levels.
There are many different types of rowing machines available. Some are designed to work specific parts of the body, while others are meant to strengthen the entire body. If you're searching for a rowing machine that will challenge your strength and endurance, consider purchasing one that offers variable resistance. These models allow you to increase or decrease the amount of force required to operate them.
Variable resistance allows you to select how much effort you wish to exert during your workouts. When you first start using a rowing machine, you may not know how much effort you should put into each stroke. However, over time you'll learn how hard you should push yourself. If you prefer a rowing machine that provides a steady stream of resistance, choose a model that offers constant resistance throughout its range of motion.
Another consideration is if you'd like a rowing machine that uses air or hydraulics to provide resistance. Air-resistance rowing machines are quieter than hydraulic ones. Air-resistance rowing machines tend to cost less than hydraulic models. On the other hand, these types of machines don't offer adjustable resistance.
Hydraulic rowing machines are more expensive than air-resistance models, but they usually come equipped with better quality components. They are also easier to maintain. The type of rowing machine you purchase depends mainly upon your personal preferences and budget. Once you've made this decision, you'll need to decide which features are most important to you.

$149.99
Compact, Portable Rower | Smooth Hydraulic Resistance
Shop this BodyTrac Glider 1050 Rowing Machine at the lowest price. Limited time offer.
---
Points to consider before buying the rowing machine
The following are some things to think about before buying a rowing machine:
How often do you plan to use the rowing machine?
Do you expect to use it daily or once a week?
What kind of exercises would you like to perform?
Do you want to focus on building muscle or burning fat?
How much money do you have to invest in a rowing machine?
How long do you plan to keep it? Will you use it every day or just occasionally?
Are you interested in learning new skills?
A rowing machine is a versatile piece of equipment. There are so many ways you can use it to achieve your goals. For example, if you're looking to lose weight, you could row for 30 minutes three times per week. Each session should last between 20 and 25 minutes.
Or, if you're trying to build muscle mass, you could spend 15 minutes doing cardio followed by 45 minutes working out with weights. Rowing machines are an excellent tool for improving your overall fitness level. The key is finding a suitable rowing machine for your needs.
If you've never tried rowing before, you may not know which one is right for you. But if you do decide to buy a rowing machine, make sure you choose one that provides enough resistance to allow you to achieve maximum results.
---
🌟 Stamina Body Trac Glider FAQ
✅What is Body Trac Glider?
The Stamina® BodyTrac® Glider is a small, portable rowing machine that fits into any space and folds up for easy storage between workouts.
✅What are the benefits of a rowing machine?
Rowing can help with stamina, overall fitness, and strength, as well as cardiac strength. Due to its repetitive, low-impact movement and noises can also improve immune system function and mood and even give a soothing, meditative effect on the mind.
✅What is a hydraulic rowing machine?
Hydraulic rowing machines, sometimes known as piston rowers, are the most affordable indoor rowing machines available. They are usually portable, run silently, take up little room, and be inexpensive.
✅Is a rowing machine a good workout?
Rowing activates roughly twice as much muscle mass as running and cycling. The rowing machine worked out the quadriceps, hamstrings, glutes, core, arms, and back muscles with a single stroke.
✅Does a rowing machine need to be plugged in?
It also doesn't need to be connected to a wall because it employs natural resistance, which eliminates the need for cords. The rower has an adjustable footpad and seat and wheels on one end for simple vertical storage.
✅Is a rowing machine good workout for seniors?
Rowing is well-known as a low-impact activity that is very beneficial to the elderly. Using a rowing machine as an older person has also been demonstrated to improve physical stamina, stimulate bone growth, and increase bone mineral density.
---
Conclusion: Stamina Body Trac Glider 1050 Review
If you are looking for a different workout, Body Trac Glider is perfect for you. It's not your average type of machine. The rowing machine features a strap design that offers a real workout and helps you get the most out of it.
The Trac Glider has a solid build, durable construction, and an excellent range of features, making it a good choice for general use. The Stamina BodyTrac Glider 1050 rowing machine offers good value for money and is ideal for novices and those looking for a low-intensity workout regularly.
The independent arm motion is a beautiful variation to the more frequent bilateral action seen on most other rowers, and it's smooth and comfortable to use. On the other hand, the resistance is relatively modest, and the LCD console doesn't provide much workout feedback. We can say it is pretty basic exercise equipment.
Stamina BodyTrac Glider Review
The Body Trac Glider 1050 from Stamina is ideal for beginners. It includes adjustable resistance levels, a stats panel, and is reasonably priced.
Positive
Compact design
Solid-construction
Lightweight
Easy storage
Adjustable resistance
Dual handles 
Negatives
It's difficult to keep your feet in place when working out because of the foot-strap design.

Stamina Body Trac Glider 1050 Review 2023: Home Rowing Machine