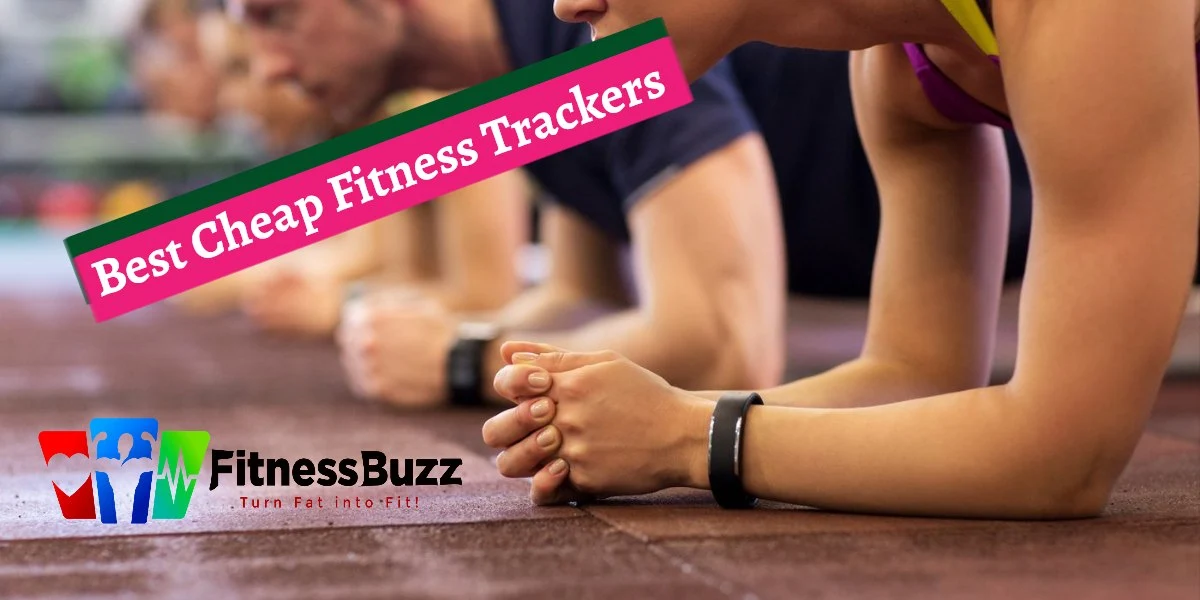 We see these everywhere, but what features do these watches offer? Some offer a built-in GPS, a heart rate monitor, blood oxygen levels, sleep trackers, and much more. Are you in the market for such a Best Cheap Fitness Tracker within a budget? We've got you covered! Keep on reading to find the best wristband which fits your needs!
Here is a list of the 12 best and cheap fitness trackers!
Best Cheap Fitness Trackers
1. Fitbit Charge 5
It makes it on top of our list as its relatively very easy to use and affordable fitness watch. This fitness watch is loaded with fitness related features and secures a top position in the fitness tracker of the year. This fitness watch is equipped with a built-in GPS, a continuous heart monitor and has more than 20 exercise modes which do track your activities throughout the day. It has easy connectivity to your smartphones and you can even control your music and receive phone calls and text just from your wrist.
Fitbit Charge 5 comes in three colours and you also get a 6-month free Fitbit Premium membership along with this watch. In this membership you would get access to on-demand workouts, mindfulness sessions. You can even get healthy recipes, sleep scores; wellness reports and you can get community challenges as well. Later on you can also renew your membership for $9.99 per month.
2. Fitbit Inspire
The key feature which makes this watch the best cheap fitness tracker is that it simply nails the basics. It features a heart rate monitor and an accurate workout tracking along with logging sleep stages. It does has a slimmer profile with respect to the above fitness tracker. It does measure pace and also distance when you connect it to your phone. Its accuracy might not be that good when we compare it with Charge 5, but it did solidly perform while measuring heart rate. It also has a 20 goal-based exercise modes and also tracks sleep stages and mind well its really sleek looking which goes with your attire.
3.
007 Plus Fitness Tracker
One of the best fitness bands for beginners because it's easy to use. It's not flashy, but it looks good nonetheless. It's one of the best low-cost fitness trackers available. It has an easy interface so that anyone can use it without any difficulty. It can help track your daily activity levels, monitor your sleep patterns, and even gently wake you from deep slumber when you've been inactive for too long. Its built-in alarm clock function allows you to wake up at any time — even when you're asleep!
It connects your smartphone via Bluetooth so that you don't need to be awake to check messages. A helpful feature is that it lets you control your phone from afar. Its shell is made of plastic. It's made from TPE (thermoplastic elastomer), which is a type of rubber material. It is also waterproof within reason, rainproof, and even moisture resistant.
It's an excellent way for people who don't want to spend hundreds of dollars on an expensive fitness tracker to get one. They can use every day at their desk, at school, or even when working out at the local gym. It's among the top affordable fitness trackers because it has an IP68 rating which means that you can swim without worrying about water damage.
Many of the top fitness trackers out there don't offer any absolute waterproof protection for their devices. With its ability to track steps taken, calories burned, sleep quality, stress levels, and heart rate, the YAMAY fitness tracker also includes an extensive display that allows you to monitor your activity on social media and even send texts.
It tracks many different things, including your heart rate, monitors your sleep patterns, reminds you to stand up and walk every hour, and keeps tabs on how many steps you take each day. With its 14 different sports modes and silent alarm reminders, it's easy for anyone to use.

Activity Tracker with 14 Sport Modes
Automatically monitor your heart rate throughout the day and night and manualy monitor your blood pressure with yamay 336 fitness watch.
5.
MoreFit Fitness Tracker
We think the MoreFit Fitness Tracker makes an excellent choice for anyone looking for a simple tracker that does everything they need without breaking the bank. You can choose from five different colors for your fitness tracker—black, blue, green, pink, and red. With an adjustable strap, it tracks every aspect of your daily life, including your heartbeats, steps taken, calories burnt, sleep quality, stress levels, etc. You would be able to sync it with your smart device and receive alerts whenever your mobile phone rings.
It is also one of the best cheap waterproof fitness trackers because it is both sweat and splash-proof. It tracks your sleep cycles, as it does for remote operation of the camera on your smartphone. It's easy enough to buy more bands if you want different colors.
6.
LETSCOM Fitness Tracker HR
The many things that a device can accomplish at once might often propel it to the top of the best cheap fitness tracker list. The LETSCOM Fitness Tracker HR is one example of this. It has 14 distinct modes! The LETSCOM Fitness Tracker HR is available in a variety of colors. You have a choice of ten distinct band colors, and that doesn't even include the replacements.
It is fantastic because many individuals wear their fitness trackers all the time, not just in their home gym. It is capable of tracking 14 different sports. It's also waterproof and sweatproof, and it has a "sedentary alarm" that alerts you when you've been sitting for an extended period.
7.
Willful Fitness Tracker
Because it is just that – wearable – The Willful Fitness Tracker is the best wearable fitness tracker. This device is both convenient and valuable. It's also quite vibrant, especially if you choose the green or red ones. These have a multicolored inner and black outer. The grey version is also designed in the same manner.
However, it should be emphasized that this device is excellent in every way. It charges via any USB connection and includes a heart rate and sleep monitor. It also features 14 distinct sports modes, can track your steps, and has a 12-month guarantee and lifetime technical support. This company truly believes in its products.
8.
Gulaki Fitness Tracker Watch
If you like to wear a watch even if you have a smartphone, you'll like this inclusion on the top fitness tracker list. The Gulaki Fitness Tracker Watch serves a dual purpose by displaying the time as the first thing you see when looking at your wrist. The Gulaki Fitness Tracker Watch is available in two primary colors: black and blue, with additional bands available in green and a different shade of blue.
This device connects to your smartphone and other mobile devices via Bluetooth. It can monitor your heart rate, track your steps and calories burned, and even give you the time.
9.
AUSUN Fitness Tracker
The AUSUN Fitness Tracker is included on this list of the top affordable fitness trackers because it includes a feature that many others do not: a built-in USB connector. It means you can charge it from anywhere simply by connecting it to a USB port. There is no need for an additional charging cord or anything else.
This feature alone makes it suitable for usage outside of your home gym. It is one of the best low-cost waterproof fitness trackers available. The AUSUN Fitness Tracker is available in various hues, including blue, green, grey, silver, pink, and purple. It has its app, which you can get from the Google Play Store or the iTunes store.
10.
Xiaomi Mi Smart Band 5
The Mi Smart Band 5 has a new, brighter screen, continuous heart rate monitoring, 11 distinct athletic modes, and the ability to record outside cardio sessions by linking to your phone's GPS. The bright color display (one of the best on a device this size) also shows notifications, weather forecasts, and app notifications, and it comes with music controls so you can use it to control music apps on your phone with a tap and a swipe. While complete onboard GPS is more convenient, and configuring 'linked GPS' on your phone is a little clumsy, the Smart Band 5's meager price means we don't feel short-changed.
Xiaomi Mi Band 5 (Black)
as of September 21, 2023 12:00 am
11.
Garmin Vivofit 4
Its among the least expensive fitness trackers of Garmin and covers only basic; steps and sleep. The always-on display viewable in the sunshine is a significant upgrade over the entry-level Vivofit 3. Basic metrics such as daily steps, distance, calories, and sleep are covered, and the Move IQ technology detects activity automatically. It is accomplished admirably without losing the special third edition's year-long battery life.
Well this cheap fitness tracker does not feature a heart rate sensor nor does it has a buit-in GPS. Even you cannot receive any notifications on your phone. But its clear good for basic objective like recording your daily motions and via Gramin app you can also set custom goals for yourself and can also challenge other Gramin Users. You can also get a local weather update with Vivofit 4.
Using the Garmin Connect app, you can modify the display and set timers and alarms directly from the wrist. Best of all, the Vivofit 4 is 20% less expensive than the Vivofit 3's initial pricing in 2015. Of course, you won't get premium features like heart rate tracking or GPS, but that's to be anticipated at this price.
Garmin vívofit 4 activity tracker
as of September 21, 2023 12:00 am
12.
Huawei Band 3 Pro
One of our favorite low-cost fitness trackers is the Huawei Band 3 Pro. There's a lot to like about this health band, especially given its affordable price, stylish design, and excellent battery life. It has GPS, an accurate heart rate tracker, a waterproof design, and a color screen to display all of your metrics. That is not a feature set that you will find in every tracker on this list. You get a nice colorful OLED touchscreen display, a heart rate monitor and a built-in GPS. And the price of this fitness band makes it an even affordable fitness watch.
If you're looking for a fitness-focused device, the Huawei Band 3 Pro should be a decent fit thanks to its accurate GPS and heart rate monitor, but there's not much else to get excited about. However, for this price, you really can't ask for much more.
Essential Features of Fitness Bands
A fitness tracker is a device used to monitor daily physical activity and the quality of sleep, which in turn helps people stay healthy and fit. A person can use it to record calories burned, distance walked or run, heart rate, exercise duration, and intensity.
Fitness Bands contains sensors like an accelerometer which tracks one's movement and displays this data on a map. A smartwatch with GPS can also be used as a fitness tracker combined with a mobile app that monitors health or maps out routes.
Features of Fitness Tracker
Track steps, exercise duration, and intensity
Monitor health: calories burned, heart rate, distance walked or run
Map out routes using GPS- Record sleep patterns
Display notifications
Waterproof
Types of Fitness Tracker
There are different types of fitness trackers available in the market. They include:
Activity tracker
Heart rate monitor
Sleep tracker
Pedometer
Smartwatch
Uses of a Fitness Tracker
Fitness trackers have become popular among users because they help them stay active and motivated. They can be worn while exercising, working out, running errands, going to school, traveling, etc. The most common uses of these devices are to keep track of daily activities, monitor sleep patterns, and motivate people to work towards their goals.
1. Activity trackers
An activity tracker is a tiny wearable gadget that measures various parameters related to physical activity. These gadgets usually come equipped with a pedometer, which has various workout modes! A step counter, a calorie counter, a timer, a stopwatch, and other similar functions.
Users can connect the tracker to their smartphone via Bluetooth and download apps to view their progress and receive alerts. Some of the top brands offering activity trackers include Fitbit, Fitbit Versa, Jawbone, Misfit, Withings, and TomTom.
2. Heart Rate Monitors
Heart rate monitors measure heart rates by detecting changes in blood flow caused by the heart's pumping action. These gadgets usually consist of two parts: a chest strap and a wristband. The chest strap connects to the user's skin through electrodes and transmits the electrical signals from the heart to the wristband.
The wristband then sends this information wirelessly to a receiver connected to a computer or smartphone. Some of the leading manufacturers of heart rate monitors include Polar, Suunto, Garmin, and Apple Watch, which also monitors your stress level.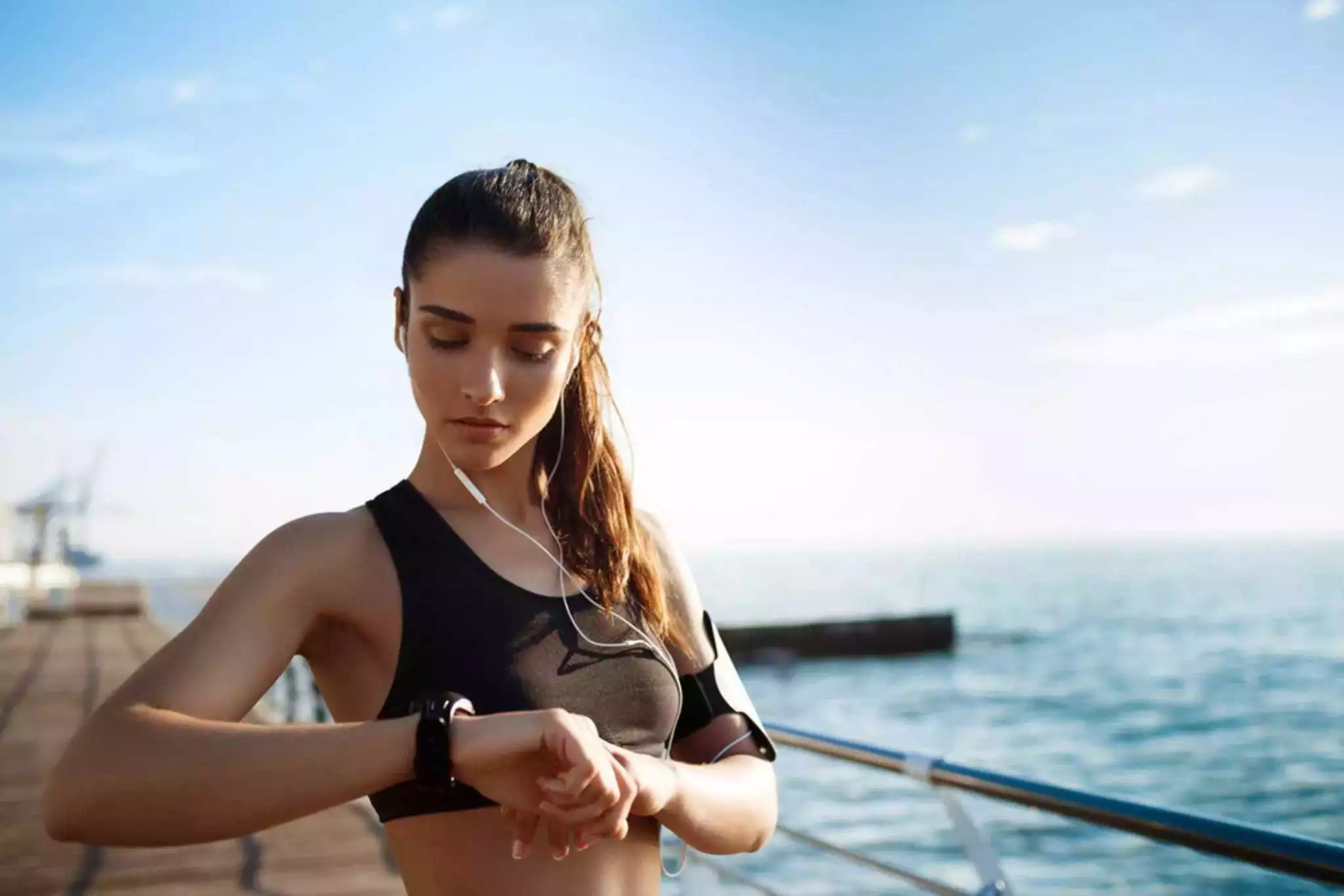 3. Sleep Watches
Sleep watches are designed to monitor sleep cycle and wake-up times. They are typically worn around. The neck during sleeping hours and track the time spent asleep each night. Many sleep watches also contain a thermometer that allows users to check body temperature before falling asleep. It helps determine if a person is getting enough rest. Some of the leading brands offering sleep watches include Philips, Samsung, Sony, and Jawbone.
3. Pedometers
Pedometers count steps taken over a certain period. Their innovative features usually display the number of steps taken per day, week, month, year, or lifetime. They can be attached to clothing or worn as a standalone device. Some of the leading companies producing pedometers include Nike+, Fitbit Versa, and Withings.
4. Smartwatches
Smartwatches combine smartphones and fitness trackers into a single device. They offer many of the same features as fitness trackers but also allow for more advanced functionality. For example, some smartwatches can provide notifications about incoming calls, texts, emails, calendar events, social media updates, weather reports, and more. Some have compelling battery lives!
Smartwatch models even allow users to make phone calls using voice recognition technology. Smartwatches are available from several major brands, including Apple, Motorola, LG, Microsoft, Pebble, Samsung, and Sony.
5. Stick-On Fitness Trackers
Stick-on fitness trackers are wearable gadgets that attach directly to clothing. They usually feature a small LCD screen and an accelerometer that tracks movement. You can use Stick-on fitness trackers to track walking, running, biking, swimming, weightlifting, yoga, Pilates, cardio workouts, strength training, and other activities.
Some stick-on fitness trackers have GPS capabilities so that they can record location data. Some stick-on can also serve as a remote control for your TV or stereo system. Stick-on fitness trackers are sold under different brand names, including Fitbug, FITBIT, iSport, and Zephyr.
6. Wristbands
Wristbands are wearable gadgets that fit snugly on the wrist. They usually come with a built-in accelerometer that measures activity levels. Wristbands can be used to track daily physical activity, exercise, calorie consumption, heart-rate monitoring, and sleep patterns.
Like most fitness trackers, wristbands are available from multiple vendors, including Fitbit, Garmin, Jawbone, Misfit, Nike+ FuelBand, Polar, and Withings. Most wristband models are waterproof and sweatproof.
🌟 FAQ related to Fitness Tracker
What can you do with a fitness tracker?
A fitness tracker is a small wearable device that measures your progress and monitors your activity. It can help you become healthier and fitter. It will assist you in achieving your fitness goal.
Is it worth getting a fitness tracker?
Yes, It is always great to be fit and healthy. Fitness trackers can assist you in getting in shape and staying healthy.
Can you use a fitness tracker without a phone?
Yes, a fitness tracker can be used without a phone. It is the latest technology.
How long do fitness trackers last?
It is dependent on your usage habits. If you wear a fitness tracker every day for a week and don't take it off, you'll need to replace the battery at the end of the week; fitness trackers can last up to five years.
Does the fitness tracker have Bluetooth?
No, not all fitness trackers rely on Bluetooth to operate and track health data. Many fitness trackers use Bluetooth to communicate with your smartphone and make the data more accessible.
---
Conclusion: 12 Best Cheap Fitness Trackers 2023
Anyone can get a fitness tracker these days. There are many different kinds of trackers on the market, all with different features and prices. Some of the best trackers include:
Advanced health sensors
Track irregular heartbeat
Heart rate sensors
Female health tracking
built-in heart rate monitor
Days of battery life
Sleep tracking
Do you want to start a workout routine? It is never too late to make a change in your life for the better.😊

12 Best Cheap Fitness Trackers for Your Health Goal 2023