American Bodybuilder
Ernestine Shepherd
Born: 16th June, 1936
Age defying success story of Enrstine Shepherd; Holder of Guinness book of world record.
Ernestine Shepherd is a woman with an incredible story. She has been on top of the world at the age of 85 and proved that age is just a number. She started bodybuilding in her late 40's, despite the age she never gave up and continued to pursue her passion, even when society told her that she was too old to do so. Ernestine Shepherd, also known as the "Oldest women participated in the Body building competition in 2010," was born in 1936 in Baltimore, Maryland. Shepherd had an incredible life and she is an inspiration to many people around the world.
Shepherd's life was full of hard work and struggles. She faced many challenges that she overcame with determination and perseverance. Shepherd's story is one that should be recognized by many people in today's society because it shows that it is never too late to follow your dreams. Ernestine Shepherd is not only an inspiration for women but for all people around the world who are looking to overcome obstacles and fulfill their potential.
Current Stats
Birthdate: 16th June, 1936
Accolades: Guinness book of the world record of the oldest competitor in the female athlete in 2010.
SIGN UP NOW
Make Your Weight Loss Journey Easier 🎉

Achieve your weight loss goal by using science and personalization techniques. Get the best nutrition and exercise plan that offers long-lasting change. Take control of your health for good today.
Ernestine Shepherd's Workout Routine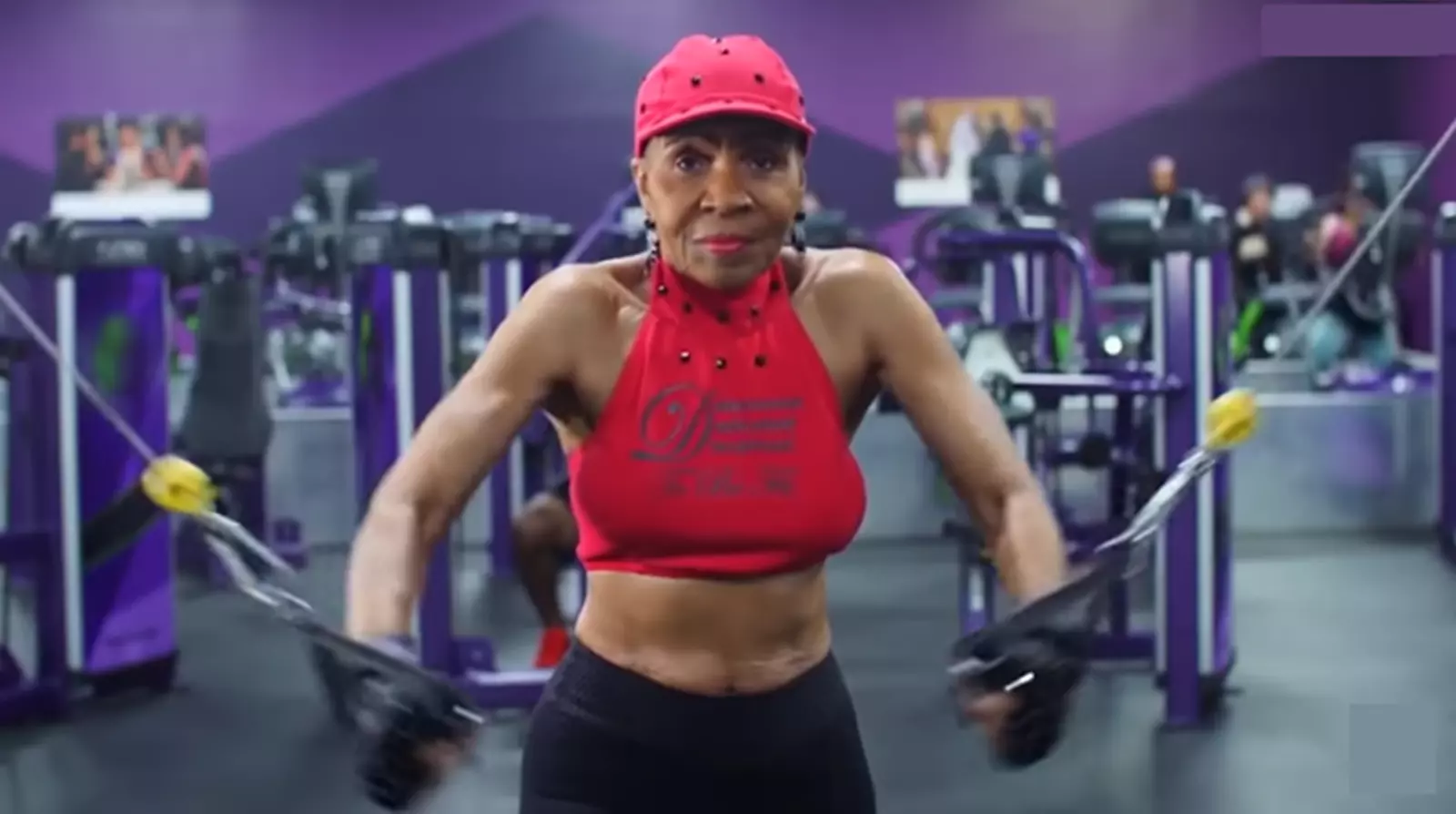 Would you believe that a person in her 80's is lifting weights and maintaining a toned body with nice curves and shape? Then you have to believe it, the Guinness book of world record holder Ernestine Shepherd maintained a defined physique and amazed the world with her age-defying body physique. Ernestine set the standard and completely changed the mentality of people who think fitness workout is gone era activities you can't do in the 60s or 80s.
It is out of the question and people call the person crazy, who is trying to participate or even think about participating in a competitive fitness tournament in his/her 60's, But Ernestine is an exception to that common thought process. It is not a natural phenomenon; you might be thinking that some emotional drive or extreme passion for the sport led to this tremendous feat. Then you are right.
She was quite depressed by the passing away of her sister, and another sister convinced her to take up the sport, which is a great tribute to the late sister's memory. Shepherd lifestyle is based on a simple but efficient mantra- healthy lifestyle and workout. Ernestine is a successful example of a late bloomer. She took up bodybuilding in 50's.
The Baltimore native still works with many seniors as a fitness coach in the city and shares her personal experience, which helps immensely to motivate the seniors. Shepherd says, "I know what exercise has done to my life profoundly — not just my body, but my mind" Exercise has a huge impact on her life. She loves to stay fit and dedicates most of her time to working out and maintaining a healthy lifestyle. Ernestine starts her day by waking up early at 3 in the morning, and her workout schedule starts with a 10-mile long run. Afterward, she hits the gym for an hour, where she lifts weights and does various exercises for at least forty-five minutes.
Ernestine's workout is a simple one, which includes all important workouts that are vital for maintaining a good physique. Her 10-mile run aided her in her Cardio workout. She used to lift different weights for the weight resistance workout. 3 days a week, she lifts the weight to maintain her strong muscles, and it helps her in toning the muscles. The one thing she never misses out on is running. Early morning running keeps her refreshed throughout the day.
Erestine Shepherd dedicated women to her workout routine and fitness.
Let's look at the daily workout schedule Ernestine shepherd.
Ernestine Shepherd is a tidy woman, and self-care is a very important part of her life. She takes care of everything, including her fingernails; she makes sure her fingernails are safe while working out in the gym. Her ponytail especially looks good with the attire. Despite her age, she can bench press the 150 lbs and lift the 20 lbs dumbbells. This is nothing but a pure miracle for some people, how she is going to manage all lifts with heavyweight at 85.
She starts daily with a warm-up of 10-mile-long running.
Monday Workout Routine
On Monday, she does the chest and biceps routine without fail.
Wednesday Workout Routine
Ernestine saved Wednesday for the biceps and shoulder.
Friday Workout Routine
Shepherd on Friday works on her back and legs.
1. Cardio
10 Mile run in the morning daily.
Ernestine's mantra is to stay fit and healthy.
Ernestine always advises starting with baby steps. Otherwise, it is overwhelming for the newcomers to hit all exercises with many reps. Earlier Shepherd did not like to work out, but she slowly started taking an interest in it. One day she made up her mind about what she wanted to do and started with great enthusiasm for bodybuilding. She initially started with aerobics and lightweight workouts with different exercises.
She emphasizes to slow start in the beginning and then slowly gets a pace on to the workout by lifting heavy weights in a phase-wise manner. Your body must be habitual of heavyweights; otherwise, it will end up in injury.
2. Lifting Weight
Ernestine did not even think in her dreams that one day she would take bodybuilding seriously. But when she decided to do bodybuilding, Lifting weight was a crucial part of her workout; she thought lifting weight made her bulky, but it resulted in the toned physique that she desired.
3. Having a Perfect Lifestyle
Ernestine's days started at 2:30 in the morning. She is a religious person; she gives gratitude to God for blessings and thanks to him for blessing such a beautiful life. She sleeps for 3 to 4 hours a day. It is best for you if you are logging up for a proper lifestyle and want to improve the quality of your life.
Be careful not to overdo your workout.
Dedication to the workout has many positive effects on your health, but it is advisable not to exert yourself in an excessive workout; overdoing a workout will dwindle your energy. The body needs a certain amount of rest to recover from a workout and to restore the muscles. It is always beneficial if you chalk out a plan with your fitness coach.
Ernestine Shepherd Started Working Out at What Age?
Ernestine Shepherd took up bodybuilding at the age of 56; her transformation at the age of 80 is miraculous. The journey is not easy for Ernestine, though it is the inspiration for millions of people worldwide. Ernestine's sister helped her a lot in the initial days of bodybuilding. She started participating in the competition at an age when most bodybuilders had already retired.
And her dedication to climbing to the top position is beyond mere appreciation; she even defeated the opponents who were in their 20's and 30's. She does not restrict herself to the bodybuilding Championship, She participated in many other events, including 8 marathons, and she has come out more successful even before.
Ernestine Shepherd Diet Routine
Shepherd has been credited for being the oldest female competing bodybuilder in the world at age 85. She has not only proven herself to be a successful athlete but also an inspiration to many people around the world. The diet played one of the key roles in her physique, her well-disciplined and routine diet helped her to get a good physique. Nowadays, people are suffering from obesity in their 20's and 30's due to poor lifestyle and a lot of junk food in their diet, so well controlled, and clean diet is crucial to maintaining good metabolism in the body; what we eat is all about good functioning of the body. Bad eating habits are directly linked to heart health and various health conditions.
Shepherd maintains a good diet; she never compromises with diet. She counts everything that she is consuming, including calories. You are surprised to hear that she is still not participating in the championships. She loves to keep hydrated, which is essential for her workout routine. She consumes around 16oz in the morning to keep up with her workout, which requires a lot of energy and drinks a lot of water without a miss. Ernestine's diet consists of some main foodstuff which she relies on most of all: vegetables, chicken, boiled eggs, and egg white drink. She hates to mix up her diet frequently. Her daily intake of calories is 1700 kcal.
Shepherd's diet routine consists of six meals a day, which are usually small in size but high in protein content. Her breakfast includes eggs with tomatoes and cheese. For lunch, she has a chicken salad or fish with salad greens and veggies. This is because she believes that these foods are not necessary for our health and can cause weight gain due to their high-calorie content in them. The Ernestine Shepherd Diet Routine is a lifestyle change that includes healthy eating habits and regular exercise routines. When it comes to the cheat meal, she prefers the sugar-free Jello. Her diet routine contains high protein. Low carb and low fat are enough nutrients to keep her body fit and healthy.
| Ernestine Shepherd advises to eat | Ernestine Shepherd advises to avoid |
| --- | --- |
| ✔ Egg whites | ✘ Beef |
| ✔ Skinless chicken | ✘ Saturated Fats |
| ✔ Tuna | ✘ Processed Carbs |
| ✔ Turkey | ✘ Food with Preservatives |
| ✔ Handful of walnuts | ✘ Junk Food |
| ✔ Green vegetables | ✘ Sweets |
Ernestine Shepherd Supplements
Order HERE
Vitamin D
Vitamin D is a fat-soluble vitamin that can be found in some foods and made by the body when exposed to sunlight. As you get old, you are less likely to get Vitamin D from the Sun, you need a longer period to stay in the sun. Vitamin D is a nutrient that can be obtained from natural sources, such as food, or it can be taken in supplement form. It is important to take vitamin D because it helps the body absorb calcium and phosphorus which are needed for bone growth and maintenance. Some of the benefits of taking vitamin D supplements are: it may lessen the risk of osteoporosis, better immune system function, better moods, stronger bones. Shepherd is against taking the performance enhancing supplements, But she takes the Vitamin D supplement , which is essential for her. Her workout routine is the best anti-aging supplement for her claims Ernestine Shepherd.
Conclusion: Ernestine Shepherd Workout & Diet Plan
Ernestine Shepherd was born in 1936 in Maryland, USA. She was a competitive female bodybuilder until she became the world's oldest living competitive female bodybuilder at the age of 74.
As of 2023, she stopped participating in the professional bodybuilding competition of the bodybuilding, but still, she is actively participating in the various health-related programs in Baltimore, and she is a fitness trainer for seniors.
Recommended Weight Loss Supplements (Hurry! Limited Stock)
Last update was on: September 29, 2023 5:02 am
Last update was on: September 29, 2023 5:02 am