Injuries are a part of everyone's life. We cannot tell when something's going to hit us that can affect our entire lives! Accidents are prone to happen. No one can tell when anything will happen. One of the most delicate parts of our life is our bodies! If we cannot keep health in check, there could be many more consequences one can face.
Constant aches and pains in different parts of the body have become so much standard nowadays.
No matter what your age is, all age group has an equal probability of facing this issue. If someone faces an injury in an accident, it takes sweet time to recover.
Best Value
1
Ossur Cold Rush offers a variety of hot and cold therapy options to suit your particular need.
2
ARS Aqua Relief System therapy unit is a machine that circulates cold water through a pad to decrease pain and swelling.
3
Game Ready Cold and Compression Therapy Unit is an example of an active cooling device combined with a pneumatic component. Shop Now
During the recovery, one may face several challenges in their body and constant pain. You cannot take pills and use bandages on your injuries all the time! Drugs might save you some time, and bandages make you look cool, but they are not ideal for fighting this issue.
If you are looking for an effective treatment for your swellings and injuries, then our list of ✅Top 7 Best Ice Therapy Machines will come to your rescue! While various options are available in the market, we scrapped down the best ones to not get overwhelmed during your purchase.
So, without further discussion, let us get started with our list already!
---
What is an Ice Therapy Machines?
An ice treatment machine is a device that uses an icy liquid to assist relieves pain and edema in the body. Ice treatment machines aid with this by using ice water and freezing chemicals, which aid wounds and discomfort speed up the healing process.
Ice therapy machines are just an advancement of them. If you have already used ice packs, you may be familiar with the process.
At the same time, ice packs need to be stored in a refrigerator constantly before using them. Ice therapy machines do not require refrigerators to do the same. These machines have more Ice in them, and the results are much quicker.
---
7 Best Ice Therapy Machines for Shoulder
This pick from Ossur comes with a large shoulder pad, making it the most efficient choice for people going through shoulder pain. A motor in this helps deliver constant cold water to the pad, for instance, soothing relief. When the machine is a full tank, it can run for about 6-8 hours for calming results.
$199.99
Perfect Ice Therapy Machine
Want to buy a cold therapy ice machine for shoulder press machine injury? Buy Ossur Cold Rush for the shoulder.
---
This one is also a shoulder wrap with a shape that fits accurately to the shoulder size. The entire mat is filled with water and freezing compounds to deliver instant soothing and pain relief to your body. Once charged, this can run for 2 hours, and you do not need to fill the matt with water or Ice.
Portable Ice Therapy Machine
Buy ice shoulder wrap and get a huge discount. It is designed to treat general shoulder pain, swelling, rotator cuff tears, tendonitis.
---
This one has a universal cooling pad that can be used on any part of the body. With the apparent features, you also get a security feature with this one. The top lid can be locked to prevent the machine from the unnecessary spill.
Compact Cold Therapy Machine
Looking to buy ice shoulder machine? Then buy Cryotherapy Arctic Ice at the lowest price.
As the name suggests, this one can be used as both hot and cold water therapy. The hot treatment helps relieve the pain, and the cold therapy pad helps in decreasing the body swelling due to any injury.
$179.99
Affordable Ice Therapy Machine
Buy the ARS Aqua Relief System Hot or Cold Water Therapy Device with the best offer.
---
This product comes with an active ice system that helps you eliminate all the possible pain you might have. You can pour water and ice into the section by opening the lid and letting the machine do its work! Once switched on, the machine will run automatically for 30 minutes. The auto shut-off feature prevents over-cooling.
Best Ice Therapy Machines for Shoulder
Polar ice therapy system helps you eliminate all the possible pain. Once switched on, the machine will run automatically for 30 minutes.
---
This one is a motorized machine that comes in a small size. The portable shape of the device makes it convenient for traveling and other home use. If you must know, Breg is one of the most renowned orthopedic brace providers in the US.
Best Rated Ice Therapy Machine
Breg Polar Care Wave comes in a small size. Buy the Breg Polar Care Wave with the best offer. Grab the discount today.
---
This one from Game Ready is the most convenient choice from the others on the list. It is easy to use and comes with an auto shut-off feature to prevent over-cooling of the product. The cooling sensations offer instant relief to the problematic areas.
$467.07
Top Ice Therapy Machine for Shoulder
Game ready cold compression therapy system comes with the best price of $467.07. The cooling sensations offer instant relief to the problematic areas.
---
The proper way to use Cold Therapy Machine
Ice therapy machines are pretty straightforward to use. You have to remove the upper lid and fill it with cold water or Ice to use it. This water or Ice will be later converted into a freezing gel. This gel will travel through the tank to the cod pad.
The pad will continue to be cold until you have set the temperature or the water/ice is evaporated. The pad offers a soothing flow to the problematic areas and is more effective in shoulder and muscle pain.
---
Benefits associated with Cold Therapy Machines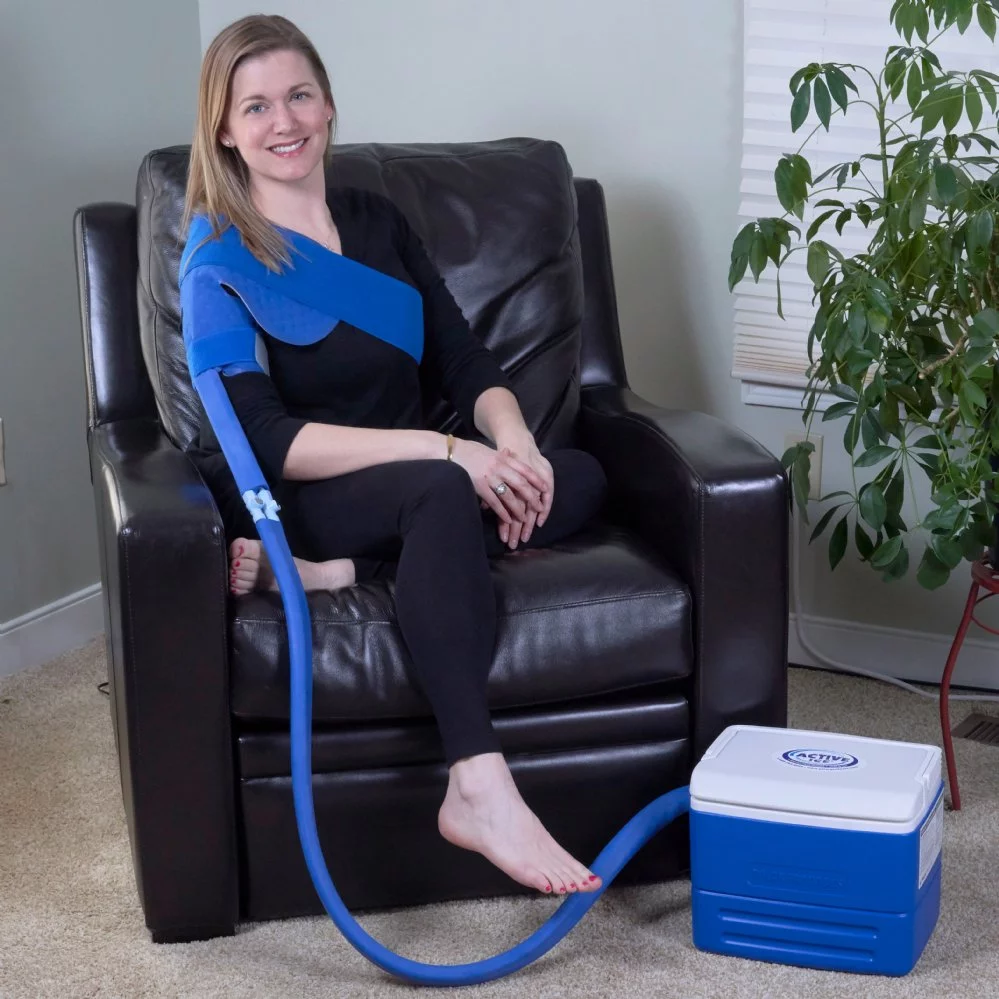 There are several benefits associated with cod therapy machines. This machine works in different ways to make sure you get the desired results that you want.
Let us have a look at the few benefits!
They are and will be a better option than Ice Packs. One might confuse between ice pads and cold therapy machines. But let us tell you, these machines work entirely differently than the regular ice packs.
First of all, you do not need to place in the freezers. Whenever you want to use them, you only need a socket and some water.
Other than this, ice therapy machines are much colder than the ice packs and relieve the pain by targeting the inner muscles. Unlike ice packs, these machines point to the deeper areas of the problems. Once you start using them, there is no turning back.
---
Why should I buy Cold Therapy Machine?
Whether the pain is in your head or shoulder, there are no body parts that cannot take advantage of these ice therapy machines. The ice therapy machines may be specially built for knees and shoulder, but that does not mean you cannot use them on other parts of your body.
Other than the apparent regions, cold therapy machines can be used on ankles, calves, thighs, and even your neck! This product is convenient and targets the root cause of the problem. This is not like a painkiller or a bandage that will only work on specific body parts. This is a handy machine that people of different ages can use. They reduce pain quickly.
The results are not temporary as ice packs. As ice therapy machines target the body's deeper areas, they send cold sensations to get relief. On the other hand, the cold sensations go deep in the nerves, resulting in better outcomes. These machines work in a way that will help you get relieved faster than the other products, and the swelling will get reduced in no time.
---
Points to consider when purchasing Ice Therapy Machines
Ice therapy is not a cheap investment as ice packs are a great chance that you might purchase a machine only once in your life. There so there are a few things that you need to consider while buying one of them.
👉 The Tube Length
This is one of the most critical factors that you need to consider before your purchase. Only the length of the tube will decide whether the flow of the cold sensations to the pad is adequate or not. So for best results, watch out for the tubes that are bigger in length.
👉 The Machine Size
The machine size should be portable enough to travel and store easily. The smaller the machine is, the more costly that will be.
👉 Auto-shutoff
This is the most critical feature to look out for! Your machine should have an automatic shut-off system, so you do not have to worry about switching it off. If the device is not automatic and kept on for a long time, you may face some issues with the functioning in the long run.
---
🌟FAQ related to Ice Therapy Machines
✅How long should I use ice therapy for?
You can ice up to 3-4 times per day for up to 72 hours after the accident, or until the pain, swelling, and throbbing have gone away.
✅How do you use an ice machine for shoulder surgery?
Icing is critical for the first 7-14 days following surgery. While the post-operative dressing is in place, the icing/cooling machine should be used as often as possible. After removing the dressing (usually after 48-72 hours), ice is applied for 20-minute intervals 3-4 times per day or as much as permitted.
✅How do ice therapy machines work?
Cold therapy machines operate by cycling water through an ice reservoir. The reservoir is linked to a wrap that provides compression, which may aid in swelling reduction. A cold therapy unit combines the benefits of therapeutic cold and targeted pressure to aid in healing.
✅How long should you ice after shoulder replacement surgery?
Ice your shoulder for at least 8 hours per day. If you are unable to use the iceman, we recommend using ice in a small plastic bag. As needed, ice your shoulder for 30 minutes every 3 to 4 hours.
✅What are the benefits of ice therapy?
Cryotherapy is another name for cold therapy. It works by decreasing blood flow to a specific area, significantly reducing inflammation and swelling that cause pain, particularly around a joint or a tendon. It can transitorily reduce nerve activity, thereby relieving pain.
---
Bottom Lines:
An Ice therapy machine is an excellent option for those who go through constant aches and swellings! You can choose one of the machines from the list to get effective results. We hope that our Top 7 Best Ice Therapy Machines were helpful to you!
Leave comments and suggestions in the section below.